Synchronize Music With Android, Windows Phone & Blackberry [Mac]
Instinctiv Music Player like the name says is an intuitive jukebox kind of media player for managing various media files on your Mac. It has a very clean interface that comes with only the essential features unlike many other similar players with a cluttered layout and so many features you don't even use.
It lets you organize your media files by allowing you to sync files from various desktop and handheld devices. Supported platforms include Android, Windows Mobile, Blackberry and Symbian OS. The device is intelligent at recognizing the devices and quickly detects any attached ones. Other than that, it promises a smart search option, which means you can find the media files you can't spell and remember the name. It does that by offering "Fuzzy" search option, which finds you all the files matching your generic search.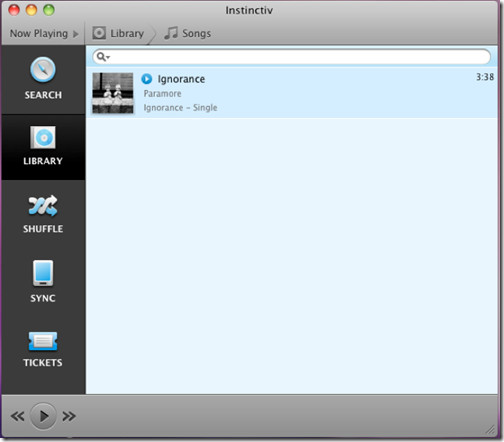 With smart shuffle, you can create a personalized experience by playing back the media you most frequently listen to.
Library management has been made very simple to use. The crisp interface allows one to separately manage songs, artists, albums & playlists.  Under the Sync tab, you can see any connected devices, where you can sync your library with the device with one click, and also view the available space. The screenshot below shows our test unit, a Samsung GT-I5700 Android phone, connected and ready to be synced.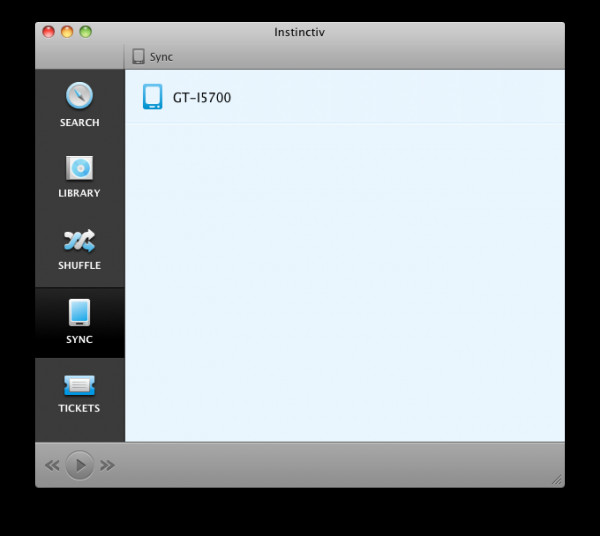 Like most media players today, it too has connectivity options for downloading media online and for sharing your files with others using Facebook & Twitter.
In a nutshell, Instinctiv Music Player is a simple yet useful application for Mac users specially the ones already scratching their heads on iTunes!
Download Instinctiv Music Player