Billy: Simple & Fast Clutter-Free Mp3 Player
With the huge array of free media players available, why use a new one? What is so good about it? It is very natural to question this, and hence we have an answer. Billy is great because it's a no-nonsense, pure audio MP3 payer that can play an entire directory with just one click. Furthermore, it is also portable.
The software interface is without any fluff (literally) and is completely controllable through keyboard. There is an upper menu bar giving access to certain features, and a lower pane which lists the files being played. Playlist support is build-in.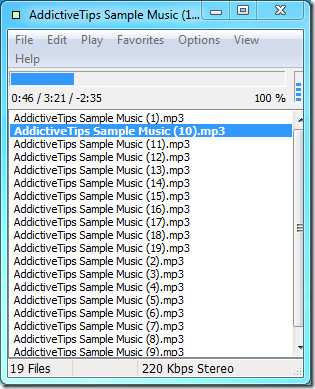 The software plays all tracks without gaps. Other than a single folder, additional folders and files can also be added to a playlist. Billy remembers the last playlist selection and will load it automatically on the next start.
The Edit menu gives access to features like finding tracks, viewing in Explorer and cropping, which can shorten a given track as per your choosing. The seek bar can be used to jump places within a track, which arrow keys can be used to move back and forth in 5 second increments.
All features are keyboard controllable, for example, play/pause can be toggled through Space Bar, playback can be stopped with the '0' key and resumed with Enter. Shuffle and repeat functions are also available.
Under Options menu, you get to access program settings, which offer control over file associations, default music folder, sorting path, and so on.
Billy is lightweight with a memory footprint of merely 1.5MB. The software can be downloaded either as installable version or portable. We tested it on Windows 7 32-bit OS.