Toggle Mac OS X 10.7 Lion New Features On / Off With Lion Tweaks
The latest Mac OS X 10.7 brings a whole lot of improvements along with a dozen iPad inspired UI features and animations. Although these improvements don't come into conflict with UI design and core features of Mac Snow Leopard, many users hate the idea of bringing the iPad like UI elements and animations to Mac OS X. If you're amongst those who want to keep Mac OS X 10.7 installed on your system but also want to toggle some of its new features, window options and animations on/off, Lion Tweaks is probably the best Mac Lion tweaking application that you can try.
The application has been developed to quickly turn off numerous exclusive features of Lion; the list includes, enable 2D-dock, remove system window animation, remove mail window animation, disable auto-spelling correction, change iCal and Address Book leather UI to aluminum look, enable permanent scrollbars, show hidden files, disable crash dialog popup. The provided toggles are present on the main interface. All that is required is to click Yes or No for those Mac features which you wish to change.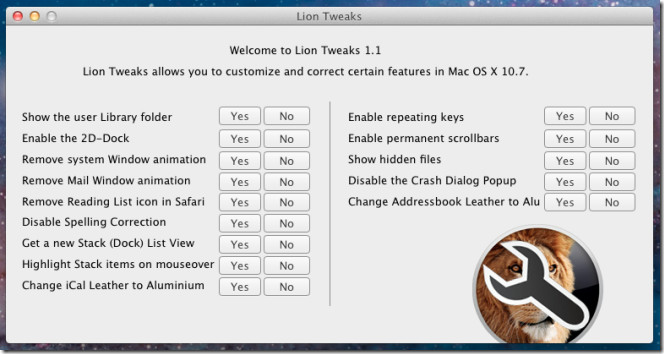 When you, for instance, want to replace 3D dock style with 2D Dock, it will restart system dock and load the new 2D dock, thus it's recommended to close all applications before start tweaking with Mac Lion core components.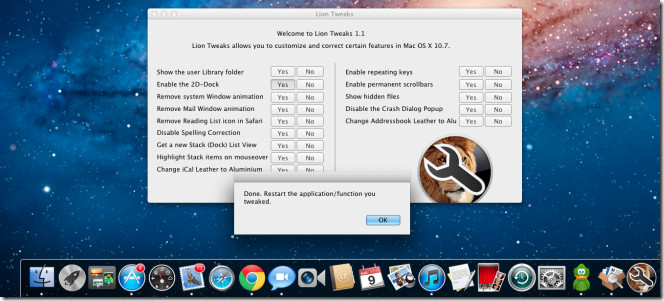 Lion Tweaks works only on Mac OS X 10.7