We are reader supported and may earn a commission when you buy through links on our site.
Learn more
Best Stremio Add-ons for 2021
Stremio has been making waves in recent months as the first viable alternative to Kodi. The software is fast, easy to use, friendly to all sorts of media, and it supports a massive variety of third party content. By grabbing the right add-ons you can extend Stremio's default streaming capabilities to include everything from torrents to Netflix to Twitch. Below we'll take a look at some of the best Stremio add-ons, gearing you up for endless entertainment!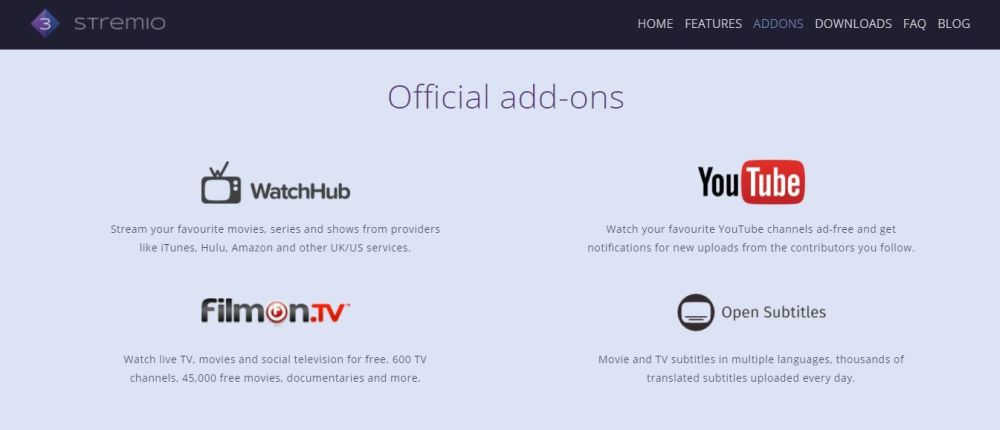 30-days money back guarantee
Secure Your Streams with a VPN
Virtual private networks have become a necessity in today's connected world. Using the internet normally means sending data through servers around the world without any sort of protection. It's easy for anyone, including hackers and government agencies, to see what you're doing and trace all activity back to your location. With a VPN in place, however, data gets encrypted before it leaves your device. This makes it impossible to determine where a packet was going or who sent it, giving you complete privacy to download, surf, and stream whatever you like.
NordVPN – Best VPN for Stremio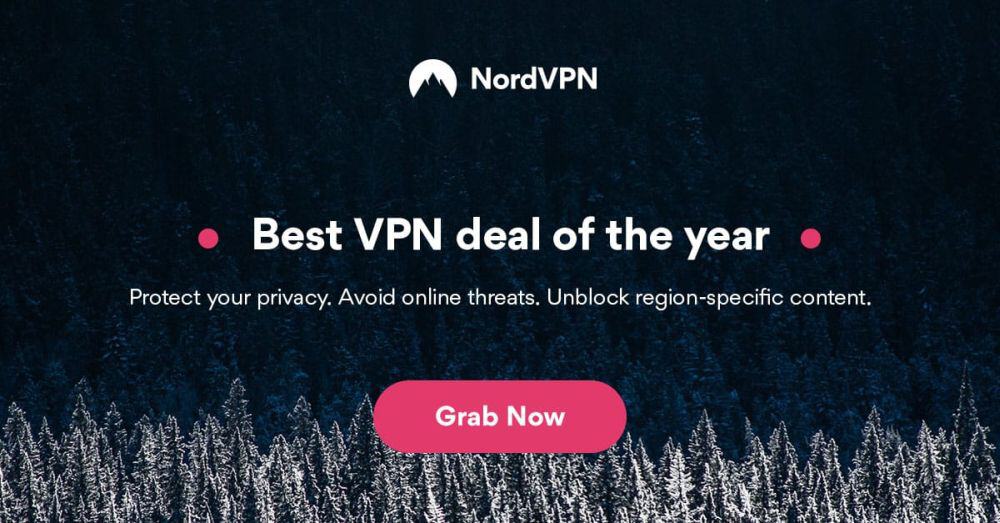 When paired with a service like Streamio, NordVPN offers the ultimate streaming experience. Rather than being locked into a limited selection of content based on your geographic region, NordVPN lets you break through digital borders to "spoof" into other countries, thereby accessing an entire world of geoblocked content.
NordVPN's impressive network makes this possible, offering connections to over 5,800 servers in 59 countries. These are protected by unbreakable NordLynx encryption, which does double duty of disguising your traffic to fool sites and hiding the nature of your activity from ISPs that would otherwise block or throttle you.
It's a robust system on its own, but NordVPN offers a wealth of additional privacy tools that make artificial Internet restrictions a thing of the past. These include a built-in smart DNS mode, obfuscated servers, rotating IP addresses as well as static IPs, double encryption, and many more besides. And with the industry's best no-logging policy on your side, you'll never leave a trace of your activity on NordVPN's network behind to identify you with.
Read our full NordVPN review.
Pros
Very fast speeds make this a strong choice for 4K streaming
Extensive server park of over 5,400 different servers
DNS leak protection, kill switch
Extra-secure Double VPN for data encryption
Live Chat Support.
Cons
Apps can sometime be slow to connect.
Setting Up Stremio
Stremio is an incredible platform for movies and TV shows. The software works on a great variety of platforms, including Windows, Mac, iOS, and Android. This means you can start streaming something on your smartphone, pause it, switch to your PC, then pick up right where you left off. Combine this with Stremio's well-stocked default interface and stellar support for community add-ons and you've got the perfect recipe for a one-stop entertainment resource.
If you want to learn more about Stremio, or if you need help setting things up, check out our guide on how to install Stremio. It covers everything you need to know, from downloading to creating an account and adding new content. Once you've got the software on your device, come back here and grab some of the best add-ons!
Basics of Stremio Add-ons
Stremio's add-ons are incredibly simple, arguably even simpler than add-ons for Kodi. You can install them from the web or by pasting a URL into Stremio's interface. Once they're installed, the content they feature seamlessly integrates into the main Stremio layout.
How to Install Stremio Add-ons
Stremio add-ons are divided into two broad categories: official and community. For now, the titles simply separate content made and approved by the Stremio team and add-ons developed by Stremio fans. Functionally, though, there's very little difference between the two. They both install in the same way, and both interact with the main layout flawlessly.
To install any Stremio add-on, all you need to do is find a working repository URL. These will look different depending on where the add-on is hosted, but the links should look something like this:
Note the /stremio at the end. When you click a link like this, it takes you to an install screen like the one displayed above. If you have Stremio on your device, you can click the "install" button to add it. The Stremio program will open, ask for confirmation, then you're ready to go.
Another way to install add-ons is to paste the URL directly into the Stremio app. To do this, open your web browser and hunt for a repository URL like the one displayed above. Copy it, then run Stremio. Click on the puzzle piece icon in the top right corner of the screen to view the add-ons library. Scroll to the bottom and you'll see a box labeled "add-on repositories". Paste your URL here, click "add", confirm when the small window pops open, then you're set!
How Add-ons Work
Installed add-ons pull content directly into your main Stremio flow. You don't have to launch them separately, and you don't have to change your regular browsing habits to put them to use. Instead, Stremio is built around content delivery, plain and simple.
When you want to watch a movie or TV show, simply run Stremio, click on the "Discover" tab, then type something into the search box. Stremio will scour its sources for all matches to your request. Click on one that looks promising, then you'll be taken to the streaming screen. Stremio will display a list of possible sources on the right, including purchasing options from vendors like iTunes, Amazon Video, and Google Play as well as free sources. Simply choose an option, click play, then kick back and enjoy.
Sometimes Stremio won't be able to find a source for a movie or TV show you request. In this case, no sources will show up on the right. You'll instead be able to visit the add-ons page directly, encouraging you to find more add-ons and install them to find the content you're searching for.
Are Stremio Add-ons Safe?
One of the advantages of the Stremio experience is that add-ons are much safer than in competing products, even with Kodi. The code used is minimal, the impact on your system is minimal, and very little is actually downloaded to the local app. Official and pre-installed add-ons are also incredibly safe, as they've been approved by the Stremio team and won't access potentially illegal content.
It's not always possible to verify a community add-on's sources, however. Since many are developed by community members without oversight, it's possible they can source illegal or pirated content without our knowledge. Addictive Tips does not condone the use of any software that allows access to copyrighted content to which you have no right. We're not responsible for what you decide to do with the contents of this article. We neither support nor condone piracy and would like to encourage streamers to be conscious of the sources they access.
Best Stremio Add-ons
Stremio comes with a handful of surprisingly useful add-ons pre-installed. These track down places where you can buy the movies or episodes you're looking for, scrape trackers for metadata, and even integrate free services like YouTube into the mix. By installing community add-ons, however, you can get Stremio to do even more.
To install any of the add-ons below, simply copy or click the URL and follow the instructions in the "how to" section above.
WatchHub
An official add-on that does something we wish every online streaming resource would do: search multiple sites at once. Looking for a movie to settle in and check out? Search for the title in Stremio and WatchHub will display a list of purchasing options on the right. Both "buy now" and rental rates are include, and the add-on indexes everything from Amazon to Google Play, iTunes to Fandango and Vudu. If the movie is still in theaters, there's even a link to buy tickets!
WatchHub add-on link:
YouTube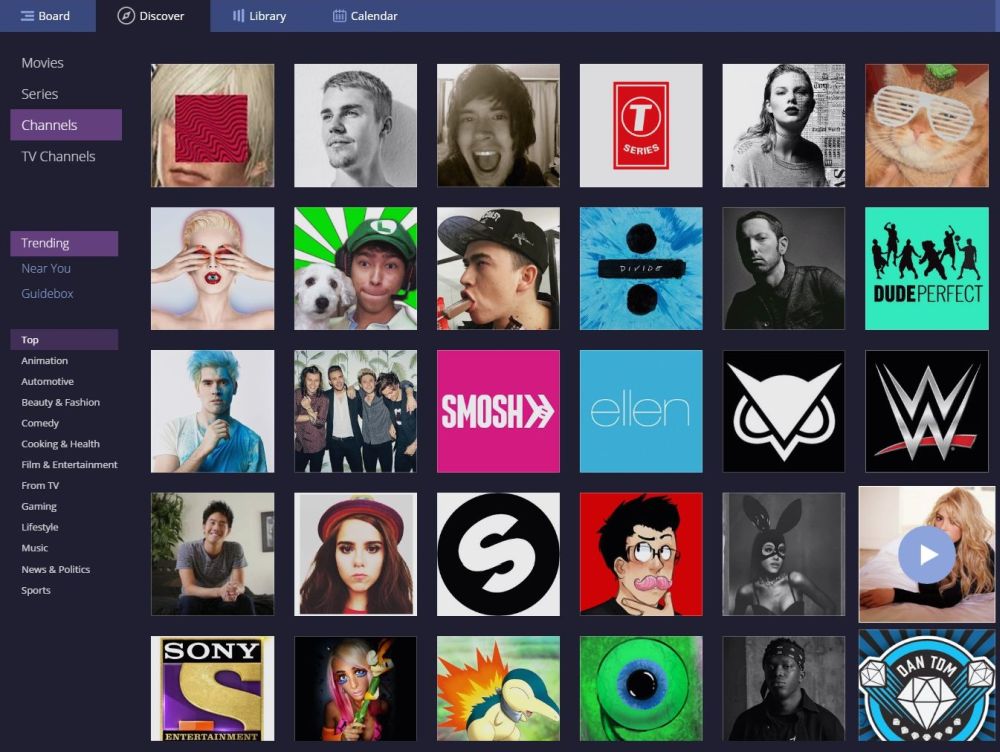 YouTube is somewhat underrated as an entertainment platform. Yes, there are millions of videos with hundreds of thousands more added every day, but when it comes time to watch something objectively "good", few people turn to YouTube first. Stremio's YouTube add-on might just change that. Installing it gives you the usual content integration options like other add-ons, but it also adds a Channels section where you can browse new and popular YouTube publishers from a handy grid. Pick one that looks interesting, then start streaming ad-free content right away. You can even subscribe and get notifications for your favorite creators.
YouTube add-on link:
Juan Carlos 2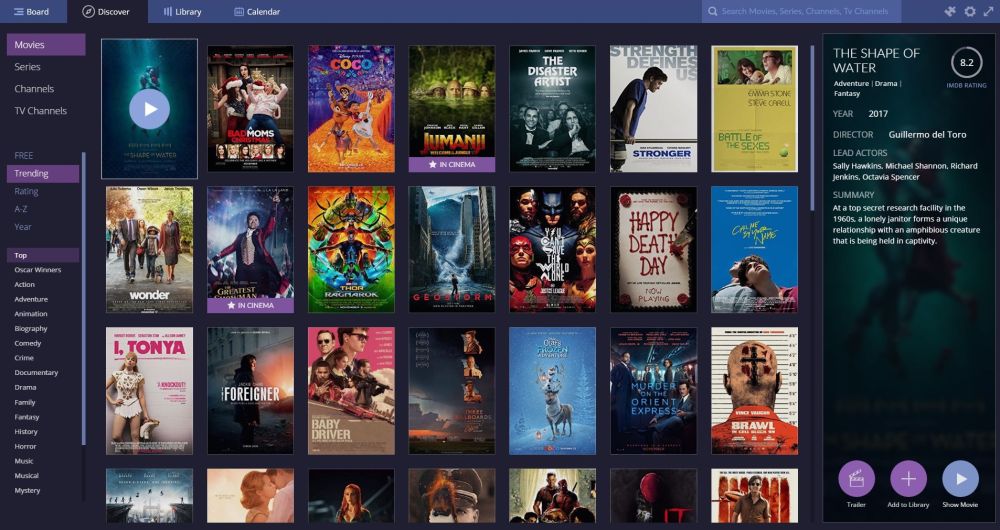 If you only install one add-on from this list, make it Juan Carlos 2. This incredibly useful extension fetches content from a huge variety of sources, providing alternative links for a lot of popular content. Movies and TV series are the add-on's specialty, and it delivers both SD and HD content whenever possible. Once Juan Carlos 2 is installed, all you have to do is hunt for the content you want to watch, and if a new (and free) source is located, it'll be available on the sidebar.
Juan Carlos 2 add-on link:
Twitch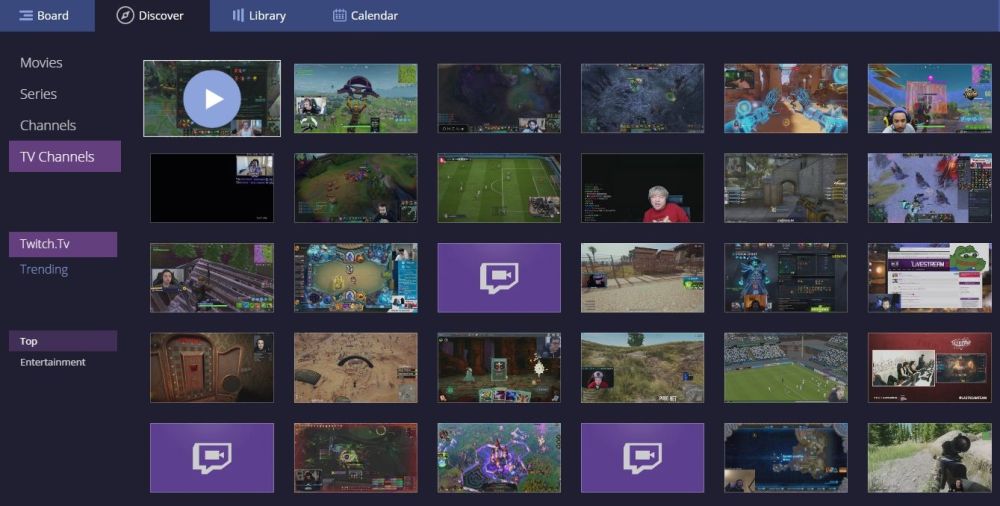 Twitch has gradually gained prominence as the go-to destination for both live video game streams and Sports. You can catch people playing everything from League of Legends to Hearthstone to Super Mario Maker, subscribe to their feeds, and cheer them on as they fail (or succeed!) in front of the entire world. The Twitch apps and website won't win any design awards, unfortunately, which is why the Twitch.tv add-on for Stremio is so useful.
After installing this community extension, go to Discover, then click on TV Channels. A new menu option will show up called Twitch.Tv. A "Trending" tab will be just beneath it. Clicking it shows the top streams currently popular on Twitch. You can watch them with another quick click, or add them to your library for fast access at any time.
Twitch add-on link:
FilmOn.TV VOD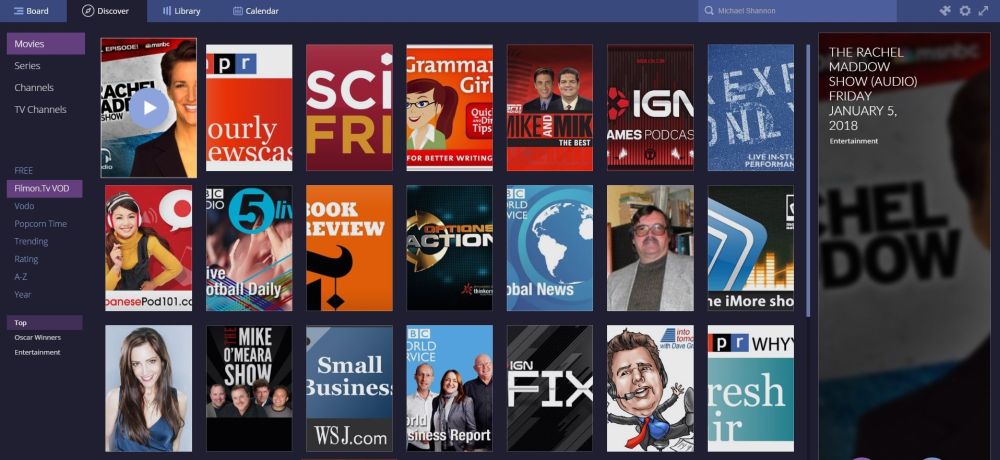 The FilmOn service describes itself as an alternative streaming aggregator. It gathers up everything from podcasts to vlogs to professionally produced content and organizes it by creator and date. If you're looking for something fresh and unique, FilmOn will likely have just the thing. NPR's Fresh Air, audio from The Rachel Maddow Show, Grammar Girl's English language tips, even some science, documentary, and talk show content, all easy to access and stream.
FilmOn add-on link:
RARBG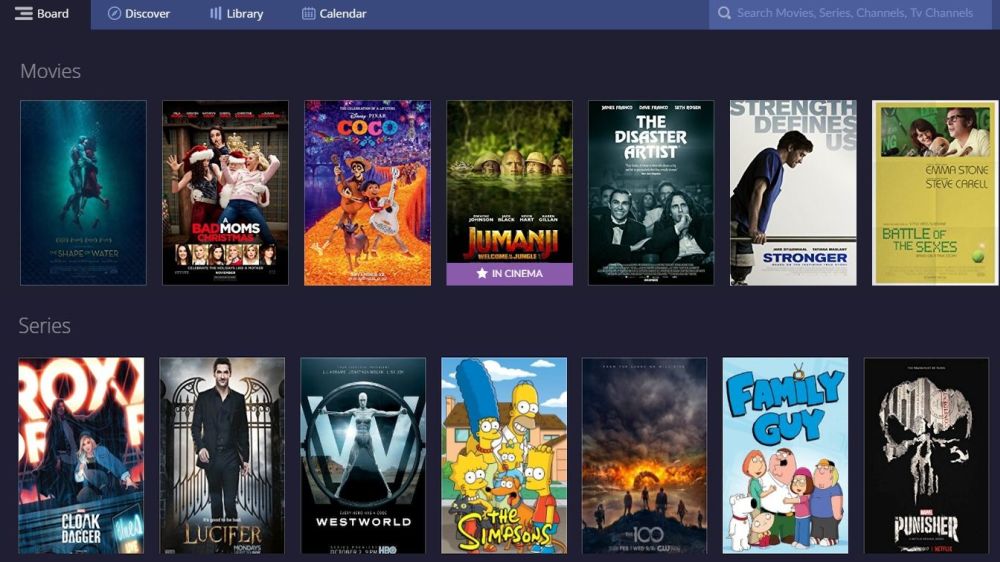 The popular torrent site received a huge bump in activity with sites like The Pirate Bay and Kickass Torrents went under. Even when they returned, RARBG enjoyed a steady community of uploaders and sharers, all keeping the torrents alive and well. The Stremio add-on pulls magnet content from RARBG and allows you to watch it just like a streaming service. No need to download first, then launch the movie file, just kick back and let the show begin. RARBG also integrates as a source just like Juan Carlos 2 and the other add-ons for a seamless experience beginning to end.
RARBG add-on link:
How to Manage Stremio Add-ons
Stremio wouldn't be complete without a few management options for its add-ons. There are very few configuration settings for most extensions, but you can still get rid of problematic content and share URLs with your friends.
Uninstall Add-ons
Add-on not working? Install something you don't really like? While Stremio usually keeps things unobtrusive, it's possible for an add-on to get in the way sometimes, especially if it's loaded with sources that clutter up your play menu. Instead of getting angry about it, all you have to do is get rid of the add-on. Head to the puzzle piece icon in the top right of the screen, then highlight the add-on you want to manage. The purple button at the bottom will change from "Installed" to "Uninstall". Simply click it and Stremio will automatically remove it from your system.
Share Add-ons
One of the more useful features buried in Stremio's capabilities list is the option to share add-on URLs with just a few clicks. Go to the puzzle piece icon at the top right, then mouse over the add-on you want to share. Click the node network icon in the bottom right and you'll see four options: Facebook, Twitter, Google+, and a link icon. Choose the former three to share directly on that platform, or click the link icon to copy a raw URL you can send via e-mail or SMS.
Conclusion
Stremio is gaining ground both as a Kodi alternative and as a competent streaming platform on its own. The mobile support has won over a lot of new users, but it's the small selection of reliable, easy to install add-ons that's the real draw. As the platform matures more and more developers will take note, creating newer and better add-ons the community can enjoy. We'll stay on top of the best Stremio content throughout the year, so be sure to check back for exciting new updates!