We are reader supported and may earn a commission when you buy through links on our site.
Learn more
How to Watch Clueless on Netflix Anywhere in the World
Clueless is considered to be one of the best movies of all time that focuses on teenagers, and there's a very good reason why the film is so popular to the point of having a cult following. Every time we want to watch Clueless, we turn to Netflix, so let's see exactly how you can enjoy the film as well.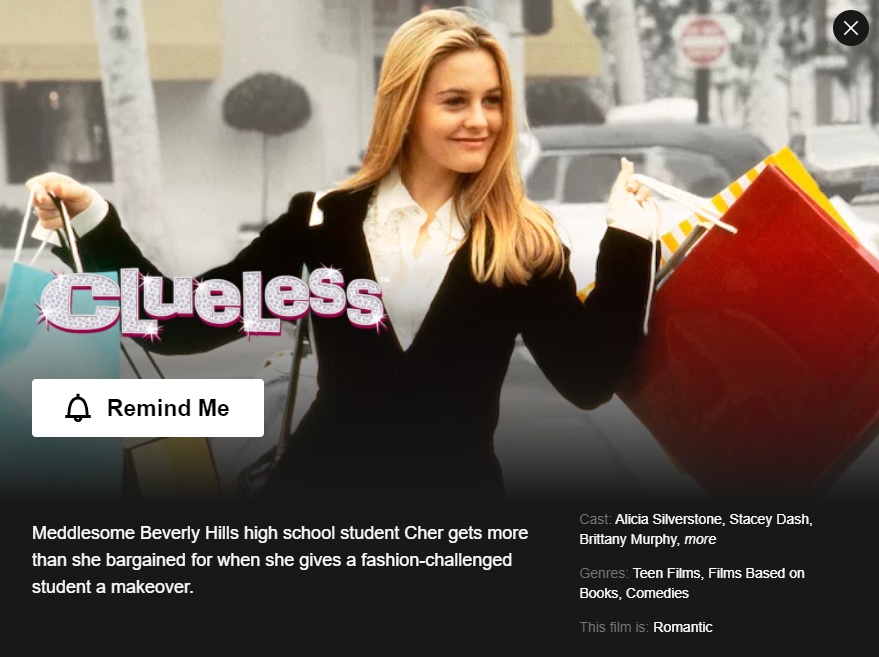 Clueless was released in 1995, and it comes with a cast that remains iconic to this day – Alicia Silverstone, Stacey Dash, Paul Rudd, Donald Faison, and even the late Brittany Murphy.
The film follows students from a Beverly Hills High School and puts the focus on the things they go through with their friendships, their love lives, and puts a comic twist to it all.
The film had a $12 million budget and managed to bring in over $56 million dollars at the box office. In the 25 years since the movie was released, it has had a massive success, getting broadcast time and time again and included on major streaming platforms.
Can I watch Clueless on Netflix?
Clueless is indeed present on Netflix, but it's not available everywhere across the world. We did manage to find the film on Netflix in the United States, Canada, or the United Kingdom, which should be enough for us to find a way to enjoy the film from anywhere.
As you already know, Netflix has different libraries for each country the platform is available in so people cannot watch content that is restricted unless they have a little bit of help.
30-days money back guarantee
How can I watch Clueless from anywhere?
Watching Clueless on Netflix can be done from any corner of the world as long as you have an internet connection and an active Netflix subscription. However, since each individual Netflix library is geoblocked, you're going to also need to use a VPN.
VPNs can route your internet connection, so you appear to be in a different country as they assign a new IP address to your device as soon as the connection is established. With Netflix libraries being geoblocked, but everyone paying pretty much the same subscription prices, it's obvious why people are trying to bypass these blockades to enjoy the content they love.
If you don't know which VPN to use, our recommendation is to go for NordVPN because it comes with thousands of servers all over the world, including in the countries we are currently interested in, namely the United States, Canada, and the United Kingdom. It will also protect your privacy with the help of encryption, so your data is safe from any snoopers.
Here's how you can use NordVPN to watch Clueless from anywhere:
You'll first need to subscribe to NordVPN. Our readers get 68% OFF for the 2-year plan at $3,49/month and 3 months for free!
Next, you need to download the right apps for your devices and to find a server located in one of the countries we mentioned – the United States, the United Kingdom, or Canada.
Once you've made your choice and the connection is established, you'll be able to load Netflix in your browser or relaunch the app.
It's not too difficult, and we hope we've made it easier for you.
Doesn't Netflix know when people are using VPNs?
It's true that Netflix has VPN detection software, but this technology works by blacklisting various IP families they know come from VPNs. However, when it comes to premium tools like NordVPN, they managed to bypass the problem entirely. Of course, it doesn't mean that all servers will work or that the problem cannot pop up overnight with a certain server.
However, you do have the option of contacting the NordVPN support team and asking which server to use instead. They'll be happy to help you figure out which one to connect to and see to it that it all works out for you. They are available 24/7, so it doesn't matter what country you're in.
Why not use a free VPN instead?
There is a saying that when you use something for free online, you're actually paying with your data. When it comes to free VPNs, there are even more risks.
One of the biggest risks is the fact that this type of VPNs that are supposedly free hide malware in the code. The malware can collect information from your devices, such as your login details for your email and social media accounts, the credentials for your online banking account, or even data on your employer. Unfortunately, all this information can lead to you getting your identity stolen, banking fraud, data breaches for your company, phishing attempts on your friends and family, and so on. The risks are real, and they are as serious as can be.
Another thing we must discuss when it comes to free VPNs is that they often get blacklisted by the likes of Netflix, so you are unlikely to bypass the blockade when using one of these. Even if they do somehow managed to circumvent the security layers put in place by Netflix, you still won't be able to properly stream content.
Editor's note: NordVPN is our #1 choice for unblocking Netflix. Sign up for the 2-year plan with NordVPN at $3.49 per month, as well as 3 months for FREE. A 30-day money-back guarantee is included on all plans, so you can cancel any time and get your money back.
Since the tools are free, they often have little to no funds available, so they won't have loads of servers at their disposal. However, since the app is free, it will have loads of users, so when servers are overcrowded. That means you can very well expect lousy internet speeds that are going to make it impossible to stream a movie like Clueless or anything else on Netflix.
There are other free VPNs that will offer you the chance to use them by not paying a dime if you allow them to use your computer or mobile device as a sort of server for others to enjoy. This will impact your device's performance, and it will also run in the background even if you're not using the app. This can result in poor device performance for a long time. Overall, these are not the best tools for the job.
Paying for yet another subscription may not seem ideal, but if you want to protect your privacy, your data, and have good results, it is the way to go.
Final thoughts
Clueless defined a generation, and it continues to be available and help teenagers go through their own situations while older folks get to relive an important film from their youth. We hope you can now easily stream Clueless on Netflix.