We are reader supported and may earn a commission when you buy through links on our site.
Learn more
How to Watch Jurassic Park Trilogy on Netflix US from Anywhere
Who wants to watch some dinosaurs? The new Jurassic World films are super cool, but it's the originals that managed to blow everyone's minds. So, let's go watch them all again on Netflix!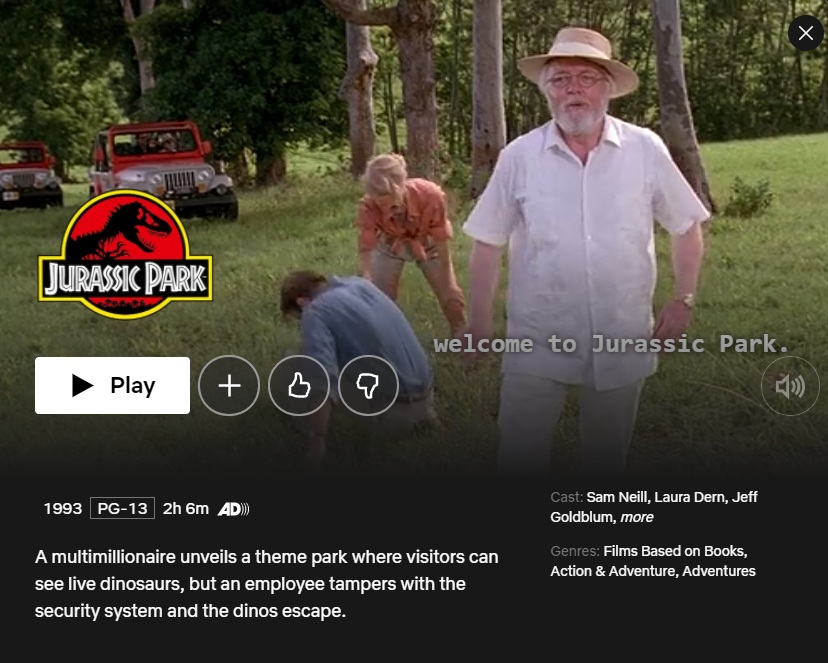 Back in the early '90s, Jurassic World took the world by storm. Directed by Steven Spielberg, the film featured dinosaurs that looked real, that walked like such a prehistoric creature would, that was just as terrifying as the real thing.
Not only did they use life-sized animatronic dinosaurs, but they also created groundbreaking computer-generated imagery to compensate. All in all, the budget of the first film was over $63 million, but it managed to make over $1.03 billion at the box office. It was, at that time, the highest-grossing film released worldwide.
The second movie, The Lost World: Jurassic Park, was released in 1997, while Jurassic Park III saw the light of day in 2001. Neither managed to have the same success as the first, but they're still notable.
Are the Jurassic Park films on Netflix?
The Jurassic Park films are all available to watch on Netflix; it just depends on where you are. You see, Netflix has separate libraries in each country where the platform is available, and that number is nearing the 200 mark.
So, we dug a bit and found that all three Jurassic Park films are available to stream on Netflix US, but you'll also find the first two are up on Netflix Canada as well.
30-days money back guarantee
What if I don't live in the US or Canada? How can I watch Jurassic Park on Netflix?
The answer to this question is one word – VPN. Now that that's out of the way, we'll dig in and give you the lengthier explanation. VPNs are great tools that are super complex, and they'll route your Internet connection through their own servers and assign a new IP address to your account in the process.
With this new IP address, when you access a new website or platform, they'll think you're in this new location where your IP seems to be coming from. So, if you're in Germany and use a VPN to connect to a server in the US, Netflix will think you are in the United States.
One of our favorite VPNs, which also managed to get great results when we reviewed it, is NordVPN. The service has thousands of servers in pretty much all corners of the world. It also makes use of some great encryption protocols so your connection is safe, and your data remains private.
Here's what you have to do:
First, you need to subscribe to NordVPN – they offer 3 months for free and 68% OFF the 2-year plan! Grab that deal and sort out the details of your account.
Next, you'll need the right app for your device and to find a server in the US (or Canada, if you're only interested in the first two Spielberg Jurassic Park movies) to connect to.
Once that part is also done, you'll need to reload Netflix in your browser or relaunch the app on your device.
That's it! Pretty easy, right?
Won't Netflix know I'm using a VPN?
Years ago, Netflix figured out that people were trying to access libraries from other countries, mostly the United States, since they have the most content. Since everyone is irked that we all pay the same subscription fees, and yet the content differs vastly, it was bound for people to start using such tools.
So, Netflix introduced VPN detection software on its platforms, which may or may not work with your chosen tool. We've had a pretty good record with NordVPN , so that's another thumbs up in their direction.
However, it doesn't mean that Netflix won't sometimes blacklist NordVPN IPs – it's just that they'll work fast to replace what's blocked. Plus, if you ever have issues, you simply have to contact the NordVPN Support team, and they'll guide you towards a better server that can circumvent Netflix's blockades.
Why not use a free VPN?
NordVPN falls in the "premium VPN" category, so it does come with a monthly (or yearly) subscription, much like many other similar tools. There are, of course, also many free VPNs available on the market, but we advise against getting any of them. Our reasoning is not to promote premium tools in particular, but to keep you safe.
Let us explain. Often times over the past few years, we've seen "free VPN" pulled from app stores as they were actually malware in disguise. This malware could steal your credentials to your accounts, your banking information, login details pertaining to your employer, and even other, more personal information. This could lead to data breaches to your employer, identity theft, theft, and so on.
Editor's note: NordVPN is our #1 choice for unblocking Netflix. Sign up for the 2-year plan with NordVPN at $3.49 per month, as well as 3 months for FREE. A 30-day money-back guarantee is included on all plans, so you can cancel any time and get your money back.
Other VPNs that don't carry such dangers are pretty much useless. You see, free VPNs have little finances, so they have few servers. However, they have loads of users. Overcrowded servers won't perform well, and your Internet speeds will drop considerably. While you'll barely feel your Internet is routed by a VPN with a premium tool, with a free tool, you'll sometimes have issues loading text-based webpages.
There are also other VPNs that are trickier as they use your device as a server of sorts for other users. This will actually impact your device's performance, so it's not necessarily ideal.
Overall, it's absolutely worth it to get a premium VPN to protect your data, yourself, and more.
Final thoughts
If you really want to watch Jurassic Park on Netflix, you have a way to do that. Mix in an active Netflix subscription with a VPN, and you're good to go.