We are reader supported and may earn a commission when you buy through links on our site.
Learn more
How to Watch Family Guy on Netflix from Anywhere?
Family Guy is easily one of the most famous animated sitcoms in the world, and we're lucky that it's fairly easy to follow the show online, especially through Netflix.
The sitcom debuted in 1999 and has since amassed hundreds of episodes, some better than others. Nonetheless, we carry on with the story of Peter, Louis, Meg, Chirs, Stewie, and Brian and their whole town at least through 2021, as a 21st season was promised.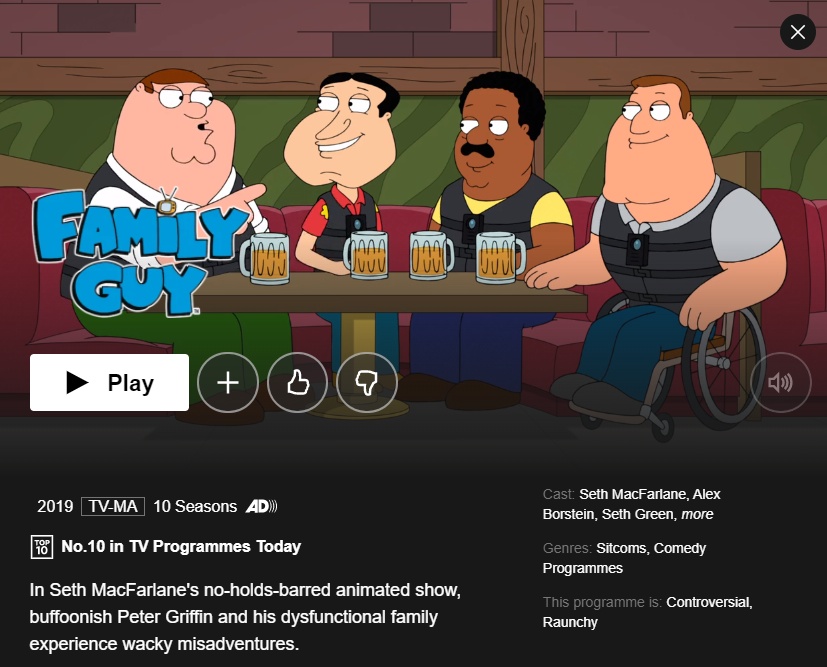 Seth MacFarlane, Alex Borstein, Seth Green, Mila Kunis, and Mike Henry are just some of those who voice the characters in Family Guy. Over the years, they've also had numerous guest stars, such as Ray Liotta, Alyssa Milano, Hugh Laurie, Will Ferrell, Jimmy Kimmel, Dakota Fanning, Tony Danza, Jennifer Love Hewitt, Andy Dick, Jon Favreau, Jane Lynch, Drew Barrymore, Patrick Stewart, Robert Downey Jr., Bryan Cranston, Betty White, Carrie Fisher, Hugh Hefner, Johnny Knoxville, Debbie Reynolds, Charlie Sheen, Anne Hathaway, Mick Jagger, David Bowie, Johnny Depp, KISS, and many others.
How many Family Guy seasons are there?
So far, we've had 19 seasons come and go, and the latest premiered in late September 2020, so we have a few more months to enjoy the episode. Just like the past 5 seasons, the current one will also have a total of 20 episodes.
Is Family Guy on Netflix?
Family Guy is surely available to watch on Netflix, but it simply depends on what country you're in. Like with pretty much any other show or movie on Netflix, Family Guy is only available in certain markets, depending on what licensing deals the company have managed to sign.
Is Family Guy on Netflix US?
Unfortunately, Family Guy is missing from Netflix US. The rights for the show belong to Hulu. Of course, if you continue reading, you'll find out how you can actually watch Family Guy with your Netflix subscription.
Is Family Guy on Netflix Canada?
Family Guy is present on Netflix Canada. The show has 10 seasons available in Canada, namely 9 through 18.
Is Family Guy on Netflix UK?
Family Guy is available to watch on Netflix in the United Kingdom, which is pretty great. They have several seasons available – 13 through 18. Sure, it's far from ideal, but they at least have something.
Can I watch Family Guy on Netflix?
Regardless of the country you live in, you can still watch Family Guy on Netflix as long as you have the right tools. First of all, of course, you need to have an active subscription with Netflix. Then, you're going to need to have a VPN.
30-days money back guarantee
Since Netflix is present in some 190 countries, it also has individual libraries in each of these nations. This means that you can't watch the content designed for your neighbors, and they can't watch yours. This whole situation can be rather frustrating since we all pay pretty much the same subscription price.
A VPN will help you do some virtual traveling so you can appear to be in any country you want. This will unlock the content Netflix has in that specific region and allows you to watch Family Guy.
Our recommendation is to use a premium tool that has a good track record, and our go-to app is NordVPN. The service comes with thousands of servers in close to 100 countries, great encryption protocols to ensure your privacy, and more.
Here's what you have to do:
First, you need to sign up for NordVPN. They offer 3 months for free and 68% OFF the 2-year plan, so make sure you take advantage of that deal!
Then, you have to get the apps and sign in to your account. Continue by picking a server in the United Kingdom, Australia, or even Romania.
Once your connection is established, you need to load Netflix in your browser or relaunch the app on your device. Search for Family Guy and start streaming the episodes you want!
The whole process is pretty easy to go through, and we think you can easily follow the instructions now.
Won't Netflix know I'm using a VPN?
It's true that some years ago, Netflix announced that it would be blocking VPNs. However, this doesn't always work, and it's mostly efficient against free tools that have very few protections.
We haven't had any problems when using NordVPN, but of course, that doesn't mean that it can't happen. If you will face any problems with NordVPN you can contact their customer support team, which is available 24/7 as they are more than eager to help you find a server that will work with Netflix in your desired country.
Customer support is available around the clock, so it doesn't really matter what country you're in as you'll always be able to contact someone. Before getting in touch with Customer support, we do think you should try the two most frequent solutions to the problem – clearing out your cookies and picking a different server.
Why can't I use a free VPN instead?
It's true that free VPNs are available online, but we never advise anyone to get any of these for multiple reasons. One of the main problems you will face with free VPNs is that they are unsafe. Basically, cybersecurity experts have discovered quite a few times over the years that so-called VPNs were actually malware in disguise.
Obviously, this led to these tools being pulled from the App Stores but not before they did a lot of damage. Once one of these apps is installed on a device the malware will start collecting personal information that can be used for identity theft, financial fraud, or even data breaches against employers. For very obvious reasons, we think that it's best to avoid this type of tool entirely.
Editor's note: NordVPN is our #1 choice for unblocking Netflix. Sign up for the 2-year plan with NordVPN at $3.49 per month, as well as 3 months for FREE. A 30-day money-back guarantee is included on all plans, so you can cancel any time and get your money back.
There are also VPNs out there that will actually work, but they won't be much good when it comes to Netflix. First of all, Netflix is going to quickly figure out who is using VPNs when free tools are involved. There's also the fact that it's quite likely that Netflix has already blacklisted many of these apps already.
Furthermore, you should also take into consideration the fact that these free tools have little resources, so they also have few servers at their disposal but lots and lots of users. This immediately translates into really low Internet speeds due to the overcrowded servers. So, even if the app did work with Netflix, you would still have troubles in streaming the content.
There's also another situation that we must discuss, namely apps that use peer-to-peer routing. Basically, they will use your device as a server for other users and give you access to theirs in trade. The problem is that such a thing will heavily impact your computer's performance. Even worse, after you stop using the app, the tool continues to work in the background, exploiting your device. There are also loads of security concerns regarding this type of apps as they rarely use encryption and your data is easily exposed. The fact that they also hold logs of your online activity is even worse.
Final thoughts
We understand perfectly why you want to watch Family Guy on Netflix and that it doesn't matter where you are as you want to access the show. Our advice is to use NordVPN for the job so you don't have any issues in enjoying Family Guy, or any other title.