We are reader supported and may earn a commission when you buy through links on our site.
Learn more
How to Watch Modern Family On Netflix from Anywhere?
Modern Family is a sitcom that has made quite an impact in the 11 years it was on the air. Whether you've always been a fan and want to rewatch some old episodes, or you're just getting started and want a good show to binge on, you can find Modern Family On Netflix.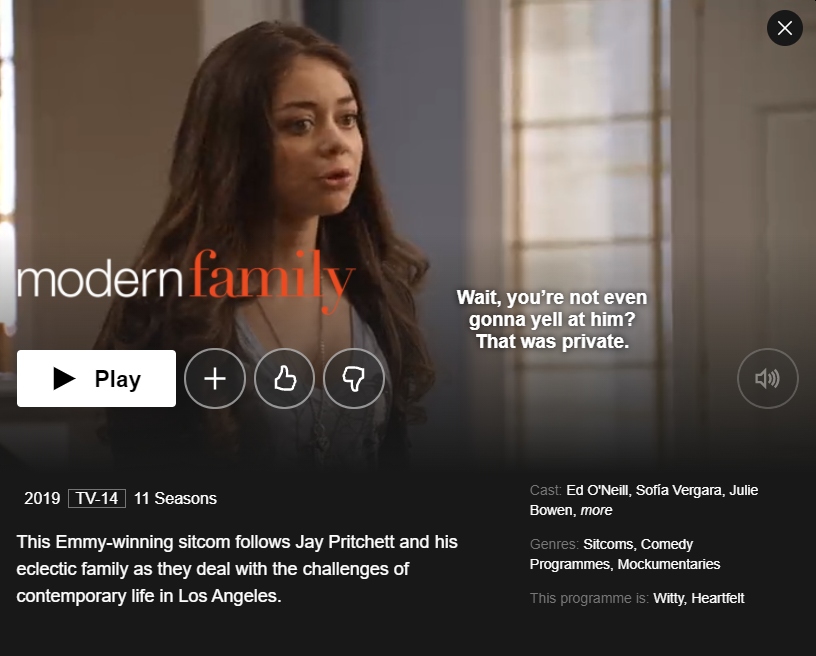 The show premiered back in 2009 and ran for 11 years before coming to an end in April 2020. Modern Family was created by Christopher Lloyd and Steven Levitan and featured an awesome cast that includes Ed O'Neill, Sofia Vergara, Julie Bowen, Ty Burrell, Jesse Tyler Ferguson, Sarah Hyland, Ariel Winter, Eric Stonestreet, Nolan Gould, and Rico Rodriguez, to name a few.
The story follows three different types of families in the Los Angeles area, who are all interrelated. There are some stereotypes throughout the sitcom, but the show also handles some important themes, including age differences, family values, gender, homosexuality, racism, and so on. The most important thing is that it promotes acceptance and tolerance, as well as family love.
Is Modern Family on Netflix?
Modern Family is available on Netflix, just not in the United States. In fact, the series is not currently available to stream on any platform in the US. A few months back, the show was removed from Hulu, likely to be heading for Disney+. However, as of now, it's not made an appearance.
30-days money back guarantee
How many seasons of Modern Family are there on Netflix?
As far as we've seen in several Netflix libraries across the world, they have the show up to season 10, so you can't enjoy the latest one on Netflix yet. However, 10 seasons is better than none, so we'll take it!
How can I watch Modern Family on Netflix?
As we've mentioned already, Modern Family is available to stream on Netflix, just not everywhere in the world. Netflix is present in over 190 countries, which is pretty much the whole world. They also have curated libraries in each country, but they're geoblocked, so you can only access them locally.
You can overcome the blockades with the help of a VPN. VPNs can route your Internet connection through a server of your choice and assign you a new IP address, so you match that location.
If you're wondering what VPN to use, our recommendation is NordVPN, which has a ton of servers all over the world and also makes use of some great encryption protocols. This tool is the best we tested, and we continue using it day in and day out.
Here's what you need to do:
First, make sure you subscribe to NordVPN. They offer our readers 3 months for free and 68% OFF the 2-year plan, right now!
Sort out the apps and sign in to your account as soon as possible before looking for a server in Canada or the United Kingdom.
Once the connection is established, you can go ahead and load Netflix in your browser. If you're using a device, you should also relaunch the app. Look for Modern Family and start streaming.
Won't Netflix know I'm using a VPN?
Some years back, Netflix decided to introduce technology that detects when people are using VPNs. The purpose of this was to stop them from watching content they weren't technically allowed to have access to from across the world. However, premium VPNs will work perfectly with Netflix, especially the likes of NordVPN, which we already discussed.
If you face any troubles, you should know you can change your server and try again. If that doesn't work, you can always contact the Customer support team from NordVPN, which will be more than happy to help you figure out an alternative that works with the Netflix library you want to access.
Since they are available 24/7, you won't have any problems with reaching someone regardless of where you live.
Can't I use a free VPN instead?
If you're hoping to use a free VPN instead we completely understand, but given the many problems that such apps have been discovered to have, we really don't recommend you take this route.
First of all, free VPNs are the first to get blacklisted by Netflix, so it's unlikely that you'll get to bypass the blockade in the first place. Even if you did manage to watch anything on Netflix with a free VPN, your internet speeds would be super low, so good quality is not to be expected.
We say this because free VPNs have little resources and only a few servers at their disposal, but there are lots and lots of users that want to take advantage of the fact that the apps are free. That means the servers will be extremely overcrowded, so the Internet speeds will suffer, making them unsuitable for watching Modern Family or anything else.
Editor's note: NordVPN is our #1 choice for unblocking Netflix. Sign up for the 2-year plan with NordVPN at $3.49 per month, as well as 3 months for FREE. A 30-day money-back guarantee is included on all plans, so you can cancel any time and get your money back.
Another problem you need to take into consideration when you are thinking about free apps is that VPNs have often been used as a shell for malware in App Stores. Basically, security researchers have discovered time and time again that some VPNs were actually malware. They could then steal information from those who installed them, information that was then used for identity theft, financial fraud, and so on.
There are also free apps that work better, but you still need to stay away from them because they will take advantage of your device and your data. Apps that use peer-to-peer routing will use your computer's resources to allow other users to connect to your device as they would a server and get a new IP address.
Sadly, these will deeply impact your computer's performance, and the apps don't even stop when you stop using them but continue running in the background. This type of apps also has little to no encryption deployed, and they will also collect information on your internet browsing, which is a major red flag.
Final thoughts
Using a premium tool that you have to pay for is certainly something that is not ideal, especially for many of us who have a limited budget, but it's something that should be done in the best interest of our privacy and online security. Plus, it's totally worth it to watch Modern Family on Netflix in any country, as well as other cool titles.