We are reader supported and may earn a commission when you buy through links on our site.
Learn more
How to Watch Hannibal on Netflix US from Another Country
Hannibal is certainly a name that will send a shiver down your spine, given the books the characters stems from, or the movies we've all seen. The three-season Hannibal show is just as twisted and enticing as you'd expect. Thankfully, Hannibal is available to stream on Netflix, so let's see how you can do that too.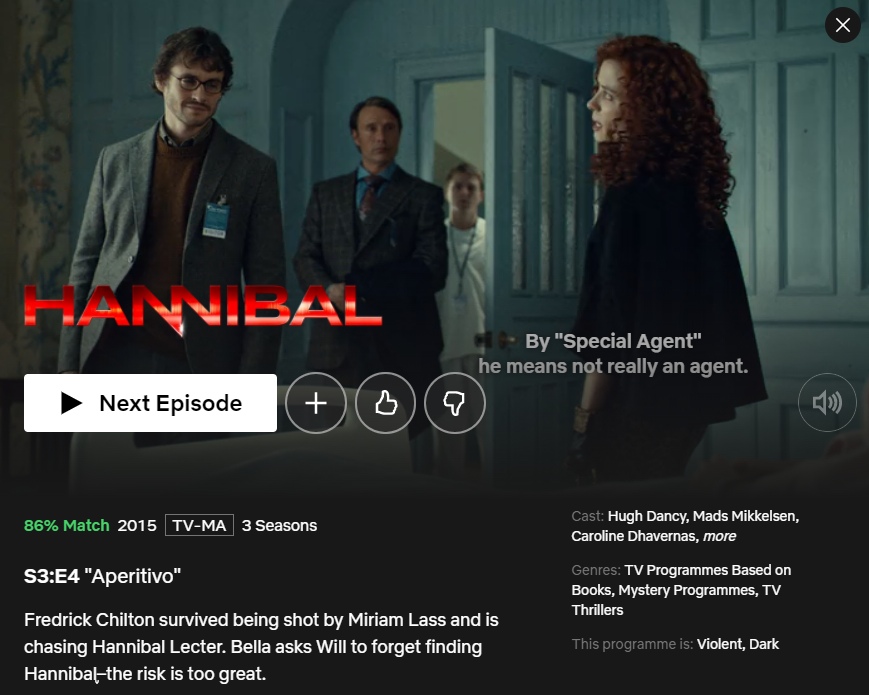 Hannibal featured three seasons and premiered back in 2013, with the finale airing in August 2015. The series was wildly popular, receiving critical acclaim and a lot of fans. In fact, the show has garnered what is called a "cult following," with tons of passion being poured in by fans.
The show features Hugh Dancy, Mad Mikkelsen, Laurence Fishburne, Gillian Anderson, and many other prominent names.
Is Hannibal on Netflix?
Hannibal is an awesome show, so it's no surprise that it's available on Netflix. The problem is that it's not available worldwide. As you may know, Netflix is available in close to 200 countries and for each of these countries, they have separate libraries. This means that even though we all pay pretty much the same subscription prices, we don't all get access to the same content.
The same applies to our favorite horror show – Hannibal. The series will be available in some countries, but not in others. For instance, we found the show's three seasons are up for watching in the United States and Canada, but missing from the likes of the United Kingdom or Australia. However, as long as you have a Netflix subscription, we know a trick that will get you any Netflix content you want.
30-days money back guarantee
How to watch Hannibal on Netflix from anywhere?
Watching Hannibal on Netflix US or Netflix Canada from anywhere in the world is a fairly easy thing to do. All you're going to need – on top of your active Netflix subscription – is a VPN.
VPNs are complex tools that have the power to change your IP address by routing your Internet connection through one of their servers. The connection is completely encrypted and a new IP address to match the location of the server is assigned to your device. Thus, Netflix will think you're in whatever country you choose a server from.
We are quite fond of one of the best tools we ever tested, namely NordVPN. The service managed to impress us during the review process and we've used it many times before, taking advantage of the thousands of servers it has at its disposal and relying on the top-grade encryption used to protect our privacy.
Here's how you can use NordVPN :
First, you'll need to subscribe to NordVPN. They have a deal offering 3 months for free and 68% OFF the 2-year plan, so take advantage of that immediately!
Then, you have to sort out the apps on your device and find a server that's in the United States (or Canada).
Once the connection goes green, you have to load Netflix in your browser or relaunch the app. Look for Hannibal and enjoy the show!
See? It wasn't that difficult at all.
Won't Netflix know I'm using a VPN?
It is perfectly true that a while back, Netflix implemented anti-VPN technology on its platforms. Basically they blacklist certain IP families that they deduce come from VPNs, but they certainly don't do that for all of them.
Proof of this is the fact that we've been using NordVPN with Netflix successfully for a long time. Of course, it doesn't mean that it will work every time or that groups of IPs can't be blocked overnight, but there's an easy fix to that.
What you need to do is to contact the NordVPN Customer Support. Once you verify your identity and explain your situation, they'll direct you to a better-suited server. They'll even wait for you to test them out and tell them if it worked.
Why not use a free VPN instead?
It's true that NordVPN, as well as other similar premium tools, will cost a bit every month, but it's well worth it. You see, free VPNs are a risk we don't advise you to take. From our experience, there are two types of VPNs – the dangerous ones and the ineffective ones.
The first category – the dangerous ones – are the many tools that are VPNs only in name. Oftentimes, security researchers have dug through app stores in search for malware and found them hiding behind so-called VPNs. If you stumble upon one of these apps and install it, your data is as good as gone. You'll feed cybercriminals with personal data, passwords, banking information, and whatever else they choose to program the malware to steal. Therefore, these are a serious risk, as they can lead to identity theft, banking fraud, or attacks on your employer, to name a few.
The second category is filled with apps that are actually free VPNs. The sad part about them is that they have a few servers and many users. Overcrowded servers often mean that your Internet speeds will not be any good for video streaming, much less binging on Hannibal's three seasons. Not to mention the fact that "free VPNs" are unlikely to go unnoticed by Netflix and will get blocked.
Editor's note: NordVPN is our #1 choice for unblocking Netflix. Sign up for the 2-year plan with NordVPN at $3.49 per month, as well as 3 months for FREE. A 30-day money-back guarantee is included on all plans, so you can cancel any time and get your money back.
There are also free VPNs that will use your computer as a sort of server for other users around the world, which will impact the performance of your device. Obviously, this is not something you'd want, and it's always advisable you avoid it.
All in all, using a free VPN is not something that you're going to want for any reason beyond the financial one. Even though we understand this is something to be taken into consideration, the risks are simply too high to take the risk.
Final thoughts
We hope you've found this guide helpful and that you'll join us in binging on Hannibal from anywhere in the world. After all, all you need is an active subscription and a VPN. It's all pretty easy.