We are reader supported and may earn a commission when you buy through links on our site.
Learn more
How to Watch Million Dollar Baby on Netflix US from Anywhere
Back in 2004, when it came out, Million Dollar Baby was certainly a hit with everyone, whether we're talking about critics or audiences. Now, you can definitely enjoy the film on Netflix.
Million Dollar Baby is a sports drama that features Clint Eastwood as director and co-producer. Eastwood also stars in the film alongside Hilary Swank and Morgan Freeman, Michael Pena, Jay Baruchel, and many others.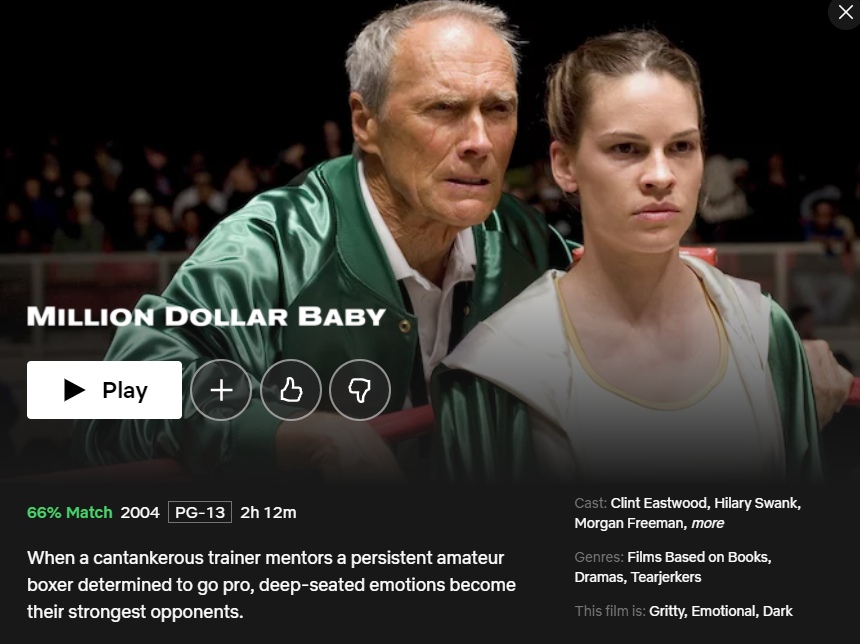 The film had a budget of about $30 million but managed to pull over $216 million in the Box office. It also received seven Oscar nominations that year, winning four awards – Best Picture, Best Director, Best Actress (Hilary Swank) and Best Supporting Actor (Morgan Freeman).
Can I watch Million Dollar Baby on Netflix?
Netflix is available in close to 200 countries and has close to 200 million subscribers. Each of these countries has its own Netflix library as the service manages to bring in licensing deals for certain films and shows, but not for others. As far as Million Dollar Baby goes, the movie is only available on Netflix US, which can be quite annoying for those living in other countries.
Since we all pay pretty much the same subscription prices for Netflix, finding out that some countries have movies we can't watch can be frustrating. Nonetheless, it's how things are and there's not much you can do about what Netflix adds to your local library, other than complain to them.
On the other hand, as long as you have a Netflix subscription, you can still watch Million Dollar Baby from any corner of the world. You will have to use a VPN, however.
30-days money back guarantee
How can I watch Million Dollar Baby on Netflix US from anywhere?
The situation is as follows – all versions of Netflix are geoblocked and you can't, theoretically, access them. However, if you were to have a VPN that can change your IP address, you could bypass the blockade.
VPNs are super useful tools that will route your Internet connection through their own servers, encrypt your connection, and assign a new IP address to your device. Therefore, when you access Netflix US while using a US-based IP address, you'll circumvent their blockades entirely. The same applies for any other country you may want to access Netflix in.
When it comes to VPNs, our recommendation is NordVPN. This is the tool that performed best during our testing period and it has thousands of servers in all corners of the world. Dozens of these are located in the United States. It's also quite helpful that they have apps for pretty much any device you own.
Here's how you can use NordVPN:
First, you'll need to subscribe to NordVPN, which we suggest you do soon in order to grab 3 months for free and nearly 70% OFF the 2-year plan!
Then, you have to set up the apps and find a US-based server to connect to.
Once the connection is established, you'll get a notification about it. You can now load Netflix in your browser or relaunch the app and look for Million Dollar Baby. Have fun watching the movie!
Will this method always work?
Unfortunately, we do have to admit that Netflix has VPN-detection software on its platforms. This means that it can, technically, detect people who use VPNs. The good news is that they do this by detecting various IP families used by VPNs and blacklisting those. With NordVPN, we've generally had no issues like this.
If it does happen for Netflix to display a notification, however, you'll need to contact Customer Support. Once you explain your situation, they'll help you find a server that works for Netflix so you can switch to that one instead.
Why can't I use a free VPN?
As we've all become accustomed to using free tools online, we understand the attraction to free VPNs. However, this time, it's really not an advisable move to make.
Time and time again, security researchers have discovered VPNs in App Stores hiding Trojans and other types of malware. This means that all your data gets fed to cybercriminals who can then use it for identity theft, financial fraud, blackmailing, phishing, and so on. They can even attack your employers with the information they get from you.
Editor's note: NordVPN is our #1 choice for unblocking Netflix. Sign up for the 2-year plan with NordVPN at $3.49 per month, as well as 3 months for FREE. A 30-day money-back guarantee is included on all plans, so you can cancel any time and get your money back.
Even if the VPNs are actually clean, we don't think you should use them. Free VPNs have few servers and loads of users. When you mix these two together, you'll get overcrowded servers and Internet speeds that rival dial-up. Basically, streaming any high-quality video will be a nightmare.
It's true that premium VPNs will cost a pretty penny, but they're absolutely worth it when you take into consideration that it's your security at risk when using free tools of this kind. Plus, free VPNs are usually blocked by any service you may want to access.
Final thoughts
Watching Million Dollar Baby on Netflix is super easy to do if you have the right tools so we hope we've made it easier for you too. NordVPN will certainly come in handy in this endeavor..