We are reader supported and may earn a commission when you buy through links on our site.
Learn more
How to Watch Deadpool on Netflix from Anywhere?
If you love the Marvel Universe, then you know that Deadpool is one of the coolest characters there is, and Ryan Reynolds is certainly the perfect one for the role. Thankfully, you can watch Deadpool on Netflix if you know where to look.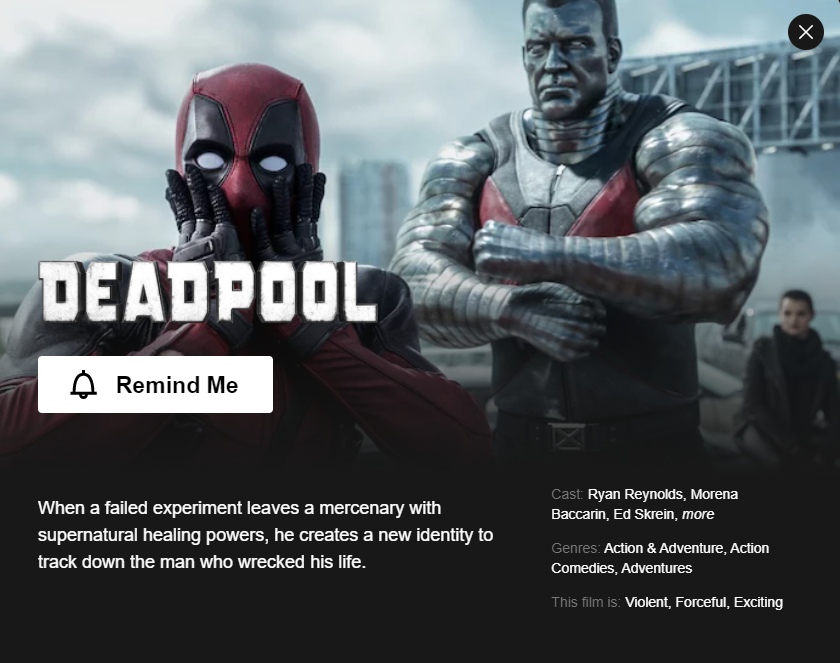 The first Deadpool film was released in 2016, and a sequel was released two years later. The film follows the Deadpool character, whose actual name is Wade Wilson. He is an honorably discharged Special Forces operative that discovers he has cancer. After undergoing an experimental cure for his disease, some latent mutant genes are awakened, and so he gains superhuman healing abilities. In no time, he starts on a path of revenge.
Each film has some really great action scenes and a lot of hilarious situations. Still, you need to remember that even though this is a superhero movie, it is not exactly the cleanest character. His films are not necessarily recommended for children, given all the language and the gore.
Can I watch Deadpool on Netflix?
We haven't managed to find the first Deadpool film on Netflix, but we did find the second one. If you are going to watch Deadpool on Netflix, you can do that on Netflix Canada since we didn't find it anywhere else.
30-days money back guarantee
How can I watch Deadpool on Netflix?
Netflix is a widespread platform that is available in over 190 countries across the world. In order to respect the licensing deals they have signed, they also implemented some geo-blockades, which means that you cannot technically enjoy the content that is not available locally on Netflix. However, with a little bit of tinkering, you'll be able to watch Deadpool just fine on Netflix Canada.
The situation is quite frustrating because you want to have access to your favorite movies, and the blockades stop you from doing that. However, a VPN can help solve your problem by simply routing your internet connection through a foreign server.
If you do not know which VPN to use, well, our recommendation is to go for NordVPN, which is a great tool that has thousands of servers all over the world, including in Canada. NordVPN managed to rank best among all the VPNs we reviewed over the years, and it's a tool that we rely on day in and day out.
Here's what you need to do to watch Deadpool on Netflix Canada:
First, you're going to subscribe to NordVPN, which is something that only takes a short time to accomplish. Grab the 3 months for free and a huge discount for the 2-year plan that they have to offer so that you can enjoy the service more.
You now need to get the apps for your device and find a server in Canada so you can connect to it. As soon as the connection is established, you can go ahead and load Netflix in your browser or relaunch the app on your device.
Search for Deadpool and start streaming the second film since that's the one that's currently available.
See? It really wasn't that difficult, and you should probably hurry since we don't know exactly until when Netflix has the steam rights for the film.
Won't Netflix know I'm using a VPN?
Some years back, Netflix revealed that it was using technology to block out VPNs in order to respect the licensing deals they have with the content providers. However, this technology doesn't work with all VPNs, much like it doesn't work for other streaming services either.
We've had pretty much smooth sailing with NordVPN on Netflix, but it doesn't mean that the service can't be blocked out at one point or another. If this happens to you, you should try changing the server you are connected to and clearing out your cookies.
If that doesn't work either, you can contact the NordVPN customer support team. The NordVPN customer support team is available 24/7, so you should not have any problems contacting them no matter where you live.
Can't I use a free VPN instead?
Using free VPNs is truly not something we can ever advise people to do due to this type of app's many problematic aspects. One of the main problems we can see is the fact that free VPNs are the first ones to get blocked by Netflix.
Furthermore, even if they did manage to bypass the blockades, you would be unable to stream content properly. Since they have few financial resources, the apps are also going to have a few servers at their disposal. Considering the apps are free, however, you're going to notice there are a lot of users – which means the servers will be overcrowded, and overcrowded servers usually translate into really low internet speeds. This kind of situation would not be that great for streaming Deadpool, or anything else for that matter.
Editor's note: NordVPN is our #1 choice for unblocking Netflix. Sign up for the 2-year plan with NordVPN at $3.49 per month, as well as 3 months for FREE. A 30-day money-back guarantee is included on all plans, so you can cancel any time and get your money back.
Another aspect you need to consider is the one related to your security online because free VPNs have often been discovered to mask malware. Once infected, your device will start pushing all your personal information toward cybercriminals, including those related to your bank account or your employer. More personal information could be used for blackmail and other things that could impact you tremendously.
There are also free VPNs that are dangerous from another point of view. These apps use peer-to-peer routing, which means that you would be allowing other people to use your computer as a sort of server. This would impact your computer's performance quite deeply. The apps also don't stop when you close them, and they continue to work in the background – which again is not something you want to permit. These apps have also been discovered to use little-to-no encryption and log people's internet activities. Of course, these are major red flags, especially with a VPN since it is an app that you don't only use to connect to servers from other countries so you can watch something on Netflix, but also as a means to protect your privacy online.
Final thoughts
Free VPNs are not something we would ever advise you to get. Although we know that paying for yet another subscription may not fit your monthly budget, it is truly something that you should invest in, especially if you want to use Netflix at its full potential. We do hope that you will enjoy Deadpool on Netflix Canada for as long as possible.