We are reader supported and may earn a commission when you buy through links on our site.
Learn more
How to Watch Venom on Netflix from Anywhere?
In 2018, we had the pleasure of meeting Venom for the first time in a dedicated film. Thankfully, if you want to watch or rewatch Venom, you can definitely head over to Netflix.
Venom is one of those controversial Marvel characters, and the film stars Tom Hardy in the leading role of Eddie Brock (and Venom later on). The story follows Brock, a journalist who gains superpowers after being bound to an alien symbiote whose species is planning to invade earth.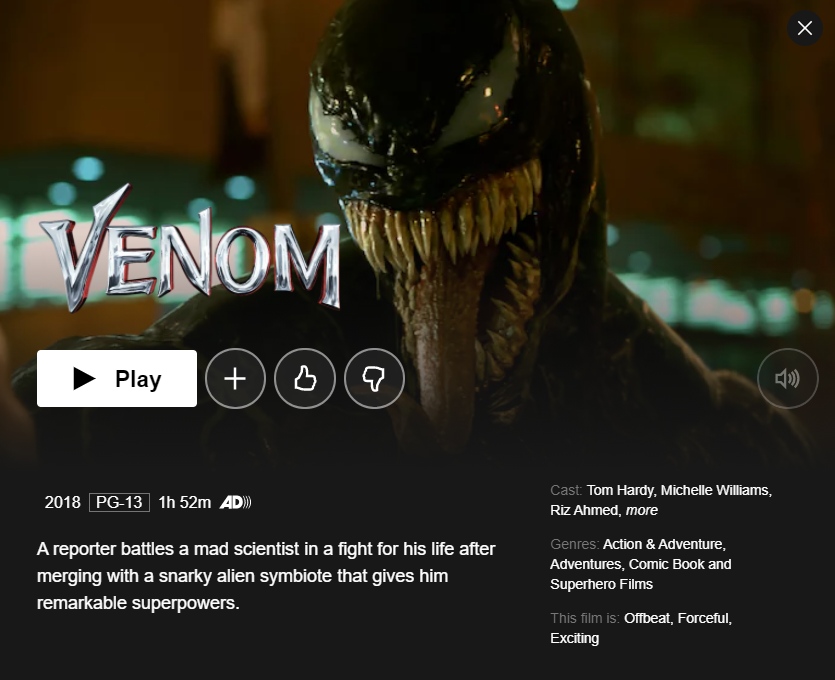 The film was a success at the box-office, but it received wide criticism for various aspects. However, we think it's actually one of the best movies in the whole Marvel series.
Venom was nominated for a few awards, although none of them major like the Oscars. The film did manage to bring in over $850 million at the box office, with a budget that was around $100 million.
Can I watch Venom on Netflix?
Venom is present on Netflix, so you can definitely enjoy the show. You need to keep in mind that Netflix does not have all the movies available in all areas of the world due to various licensing deals. As much as we've searched, we only managed to find Venom over on Netflix Canada, which is quite a bummer, but it's still manageable if you have the right tools.
30-days money back guarantee
Netflix is available in about 190 countries across the world, and it has individual libraries in each of these nations. All the libraries are geo-blocked, so you can't technically watch the content that is designed for other countries because of those same licensing deals we already mentioned. However, it's quite annoying that we don't get to watch all the content we want when we pay pretty much the same subscription fees as everyone else.
That being said, if you use a VPN and connect to a server from Canada, you'll be able to watch Venom just fine. A VPN can route your internet connection through a foreign server of your choice, which will change your IP address so that you appear to be in that particular location.
We recommend you use NordVPN simply because it's one of the best tools on the market, and it features thousands of servers all over the world. It's also one of the tools that managed to get the best results during our testing phase, and we use it every day for various purposes.
Here's what you need to do to watch Venom on Netflix Canada:
You need to start by subscribing to NordVPN, which is something that won't take a long time to complete. Grab NordVPN free for 3 months today and 68% OFF the 2-year plan!
Then, you need to get the apps for your device and sign in to your account on the app. Follow up by looking for a server in Canada, so you can connect to it.
When the connection is established, you can simply load Netflix in your browser or relaunch the app on your device.
That's it! You can now start watching Venom on Netflix Canada!
Won't Netflix know I'm using a VPN?
One of the things that are true about Netflix is that it blocks out VPN users, but they can only do that if they know you are using one of these tools. Premium tools like NordVPN often go undetected by Netflix, so you can simply enjoy watching Venom on the platform.
However, it doesn't mean that they cannot block NordVPN at one point or another, so we suggest you change the server you connect to and try again if you can't reach your movie. If that doesn't work, we advise you to contact the NordVPN support team, which is available 24/7. They will be more than happy to guide you towards a server that works with Netflix Canada so you can continue enjoying Venom. Since they are available around the clock, it doesn't really matter what country you're in, as you'll be able to contact someone that knows how to help you.
Why not use a free VPN instead?
One of the things we have to discuss when it comes to free VPNs is that they are most likely useless in getting you to watch Venom on Netflix. First of all, free VPNs are the first to get blacklisted by Netflix since they are the easiest to track. Second of all, even if you could use the free VPNs to watch anything on Netflix, you will have a really tough time doing that. Since the financial possibilities are limited, they have few servers at their disposal, which usually translates into really low speeds for you, as lots and lots of people are using the same few servers.
Editor's note: NordVPN is our #1 choice for unblocking Netflix. Sign up for the 2-year plan with NordVPN at $3.49 per month, as well as 3 months for FREE. A 30-day money-back guarantee is included on all plans, so you can cancel any time and get your money back.
Another thing we have to discuss is the security aspect, which in our opinion, is the most important part. Security researchers have tracked down lots of so-called VPNs in app stores that were actually hiding malware in the code. Once installed, the apps would funnel information to the cybercriminals, which could then be used for hacking into your account, cleaning out your bank account, financial fraud, identity theft, and so on. The risk is simply too high to take.
There is also another type of apps available that use peer-to-peer routing. Basically, you would be allowing other people to connect to your computer's resources as a sort of server if you use theirs in exchange. The bad part is that this will impact your computer's performance, which is not something you would desire. Another thing that you have to know is that the apps do not stop working when you cease using them, which means that your computer's performance will be impacted even later on unless the app is properly closed. This type of app also uses no encryption, so all your data is exposed to anyone who wants to take a peek at it, which goes against the elementary privacy that is usually associated with VPNs.
Overall, we feel that simply paying for an app like NordVPN is the right way to go because it means you have the sure way to access Netflix in whatever country you want, but also a way to protect your privacy and security online.
Final thoughts
It's truly sad that Venom is not available to watch worldwide on Netflix, but it is what it is, and we have a way to overcome the problem. That being said, we hope you enjoy watching the movie on Netflix Canada.