We are reader supported and may earn a commission when you buy through links on our site.
Learn more
How to Watch Spider-Man: Into the Spider-Verse on Netflix from Anywhere
When it comes to Spider-Man, there have been lots of conflicts between Disney who owns Marvel and Sony, who has the rights for Spider-Man movies. Nowadays, even though they have an understanding, there are still Marvel movies that are missing from Disney +. Luckily, however, this means that you will get to watch the film over on Netflix.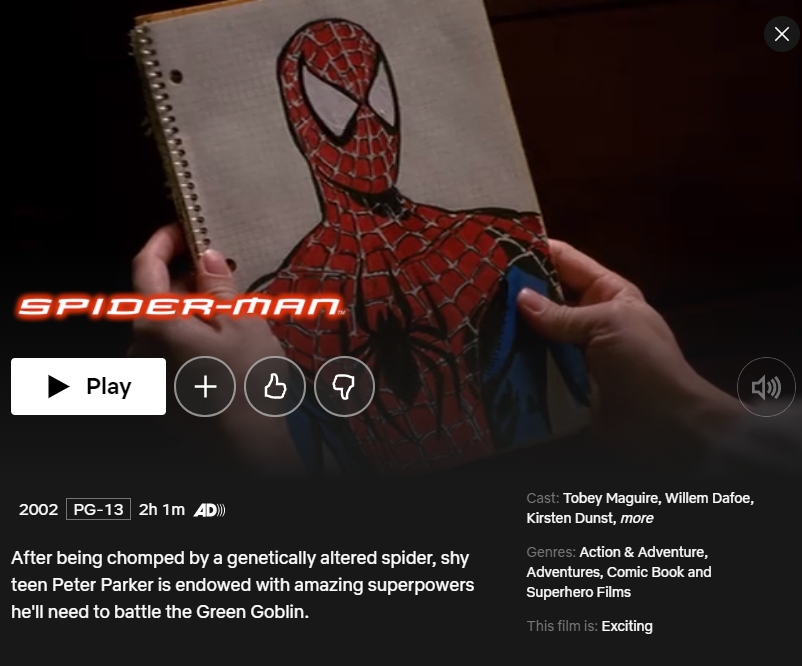 Spider-Man: Into the Spider-Verse is a 2018 animated superhero film that focuses on Mike Morales as Spider-Man. It actually features multiple Spider-Man versions as they all work together to help New York City.
The film is funny and full of action, and it has also received a lot of great reviews from critics and quite a few awards. In fact, it was the best animated feature film at the Academy Awards as well as the Golden Globe Awards. There is currently a sequel in the works that is scheduled to be released in 2022 but with the current pandemic, who knows when that's actually going to happen. Either way, we hold on to the hope that we're going to watch it sooner rather than later.
Is Spider-Man: Into the Spider-Verse on Netflix?
Since this film cannot be streamed by Disney right now, it is still available on Netflix, so you can definitely enjoy it anytime you wish to. We found the film present in the U.S. library on Netflix, but it's also available in other countries.
The thing with Netflix is that they do not have the same films in all countries where the platform is available in so even though we all pay the same subscription prices, we don't all get the same content, which can be extremely frustrating and annoying. Thankfully, as long as you have a Netflix subscription and an active internet connection, you can enjoy watching Spider-Man: Into the Spider-Verse regardless of the country you're in.
30-days money back guarantee
How can I watch Spider-Man: Into the Spider-Verse if I live in a different country?
Regardless of the country you're in, you can still watch Spider-Man: Into the Spider-Verse on Netflix. In order to do this, you need to use a VPN. VPNs may seem like simple tools, but they are actually pretty complex, and they will help you route your internet connection through a foreign server and assign a new IP address to your device. By doing so, you will be able to bypass the blockade and watch all the content you are interested in, no matter your location.
Our recommendation is to use NordVPN, which is a tool that has thousands of servers everywhere in the world and some great privacy features thanks to the encryption protocols they use.
Here's how you can use NordVPN to watch Spider-Man: Into the Spider-Verse.
You'll first need to subscribe to NordVPN. They offer 3 months for free and 68% OFF the 2-year plan so you're going to want to get that deal as soon as possible.
Then you need to install the apps and look for a US-based server that you can connect to.
Once the connection is established, you can load Netflix in your browser or relaunch the app on your device and simply start streaming Spider-Man: Into the Spider-Verse.
It's not exactly complicated and we do hope you found a way to make it work as well.
Won't Netflix know I'm using a VPN?
Netflix has separate libraries in each country it's available in, so it figured out pretty fast that people want what the neighbors have, so it geoblocked each one of them.
Netflix implemented technology that helps them discover who was using VPNs in order to block their access. Luckily for us, this doesn't always work, especially with premium tools. In fact, we really haven't had this problem while using NordVPN since they have a vast collection of IP addresses and servers across the United States and elsewhere.
Even if you do face any problems with NordVPN, you can contact the Customer Support team and explain your situation. Once they know everything, they'll be able to guide you through it and find a server that you can use to bypass the blockade on Netflix. They are available 24/7, so you'll be able to contact them from any country.
Can't I use a free VPN instead?
Free VPNs are quite attractive, and rightfully so, but they are also dangerous to use. Security researchers have managed to discover that cybercriminals often use VPNs as their go-to shells for malware. Basically, even though they posed as VPNs, they were actually riddled with malware that siphoned your data.
That information includes your login details for your email account, your banking account, and even information on your employer if you use the same device. This information can then be used for identity theft, for cleaning out your bank account or to hack into the servers of your employer. It is all quite complicated and, frankly, it's not worth it.
Editor's note: NordVPN is our #1 choice for unblocking Netflix. Sign up for the 2-year plan with NordVPN at $3.49 per month, as well as 3 months for FREE. A 30-day money-back guarantee is included on all plans, so you can cancel any time and get your money back.
There are also real free VPNs out of there, but they are also not exactly ideal. Free VPNs usually have only a few servers to use, which means that they are quite overcrowded, which makes your internet speeds less-than-ideal when using them. In fact, free VPNs are often the first to get blacklisted by Netflix, so you may not even be able to get past the blockade to watch the Spider-Man movie.
There is also another type of free VPN available that will use your device as the server for other users in exchange for you using the tool for free. This can impact your devices quite heavily, so we also advise against using them.
Ultimately, it's your decision, but we do not think using such tools is worth it in the end. You may save a little bit of money every month, but you risk so much more.
Final thoughts
Spider-Man: Into the Spider-Verse is a really cool film, and you should definitely watch it, whether alone or with your kids. Either way, we're happy to still be able to find a Marvel film over on Netflix and think that it's great that we can all enjoy it in this matter. We do hope we've managed to help you figure out how you can watch this great film from anywhere in the world with a simple Netflix account.