We are reader supported and may earn a commission when you buy through links on our site.
Learn more
How to Watch The Social Network on Netflix Anywhere in the World
Facebook is a platform that has taken the world by storm and The Social Network follows the story behind creating the world's biggest social platform. The creation of the service was a scandalous affair and that was perfectly put into the spotlight with The Social Network. Those who want to watch The Social Network, can easily find it on Netflix.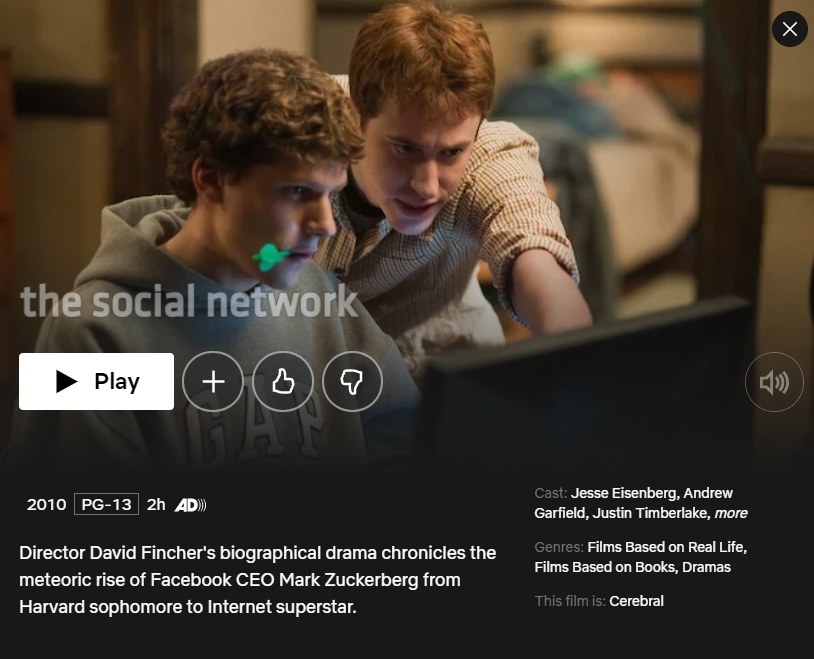 The Social Network is a film that was released back in 2010 and it is directed by none other than David Fincher. Written by Aaron Sorkin, the film tells the story of how Facebook came to be and the problems between Mark Zuckerberg and the other founders of the platform.
The film features Jesse Eisenberg, Andrew Garfield, Justin Timberlake, Armie Hammer, and many others. It was also quite well received, getting eight Oscar nominations, including for Best Picture and Best Director, as well as Best Actor for Eisenberg. It also managed to win several awards, the most important of them all being for the Best Adapted Screenplay. It also received a few trophies over at the Golden Globe awards that year.
Can I watch The Social Network on Netflix?
The Social Network is present on Netflix, but it does depend on where you live because it's not available in all the libraries the platform has available worldwide. We managed to find it in the United States, the United Kingdom, and in Canada, but it's missing from a lot more than these.
As you know, Netflix is present in about 200 countries it also has individual libraries for each of these, which means that while everyone is paying roughly the same subscription price, not everyone is getting the same content. Since every library Netflix has is geo-blocked, you can't practically access the content from another region. However, we actually know a way you can do that.
30-days money back guarantee
Can I watch The Social Network on Netflix if it's not locally available?
Even if the social network is not available in your own country on Netflix it doesn't mean that you can't enjoy it. In fact, you're going to need a little bit of extra help to get you across the border. That help comes in the form of a VPN that has the power to root your Internet connection to a different country through its own servers and assign a new IP address to your device. This will help you bypass the blockade and get you access to the Social Network as well as any other film that's available in that location.
When it comes to VPNs our recommendation is NordVPN because this is a tool that managed to get great results when we tested it. It also has thousands of servers all over the world, which can certainly come in handy when you're trying to watch Netflix from all over the globe. Furthermore, it also encrypts all the connections so your data is safe.
Here's how you can use NordVPN to watch The Social Network:
You need to start by subscribing to NordVPN. You can get 3 months for free and 68% OFF the 2-year plan by taking that deal now!
Then, once you've sorted out to the apps, you'll need to find a server that's located in the United States and to connect to it.
As soon as the connection is established you will go on and load Netflix in your browser or relaunch the app on your device. You should now be able to look for The Social Network and enjoy the film now.
Doesn't Netflix know when you're using a VPN?
This is a valid question because a while back Netflix introduced technology that allows them to know when people are using VPNs. Of course, not all VPNs are created equal so, most often than not, it won't be able to figure out when people are using premium tools for instance.
If you do have any issues while using NordVPN, however, they have a 24/7 support team that is ready to help you figure out what server you should use in order to make things work on Netflix. Once you explain your situation and tell them which library you're trying to access, they will lead you two words a new server word that works in that specific region.
What if I use a free VPN instead?
We Know That free VPNs have a certain attraction to them and it's clear that using all this free software and free tools online has spoiled us a bit. When it comes to VPNs however we always advise people to head for a premium tool because there are so many advantages to doing this and so many risks to going for the free tools.
For instance, free tools have been found to feature malware on app store, basically posing as free VPNs and tricking people into downloads. The malware then went on to collect information on these people, including credentials from their other apps, email account, or banking account. The data can then be used to steal all your money from your account, to steal your identity, send phishing emails to your friends and family and co-workers, or can even lead to a data breach for your employer.
Editor's note: NordVPN is our #1 choice for unblocking Netflix. Sign up for the 2-year plan with NordVPN at $3.49 per month, as well as 3 months for FREE. A 30-day money-back guarantee is included on all plans, so you can cancel any time and get your money back.
There are also free VPNs that are malware-free but aren't any better when it comes to actually using them. Free VPNs have a few servers so they also have little finances coming their way. When a large number of people are using those same servers, you will get really low internet speeds that are not ideal to stream a movie on Netflix. Furthermore, free VPNs are also the first to get blacklisted so there's a very very low chance that you'll get past the blockade with these tools in the first place.
There are other free VPNs that will actually trade using the app for free to them using your device as a sort of server for other people. This will have an impact on the performance of your computer or device and unless properly closed will continue using your computer's resources.
Paying for VPN may not have been in the plans for you but nowadays, for security, and for freedom of using all internet tools and watching anything you want, having a subscription as we do for NordVPN is ideal.
Final words
Streaming The Social Network on Netflix can be done from any corner of the world even if you don't have it available locally. Hopefully, NordVPN will help you watch this movie and many others henceforth.