We are reader supported and may earn a commission when you buy through links on our site.
Learn more
Is ET on Netflix? How to Watch ET from Anywhere in the World
Back in the '80s, we didn't have the fancy aliens we do todIs ET on Netflixay, but we did have ET the Extra-Terrestrial. It was absolutely fabulous at the time and continues to be a movie that everyone has got to see. Thankfully, ET is now present on Netflix in some areas, so you can definitely stream it.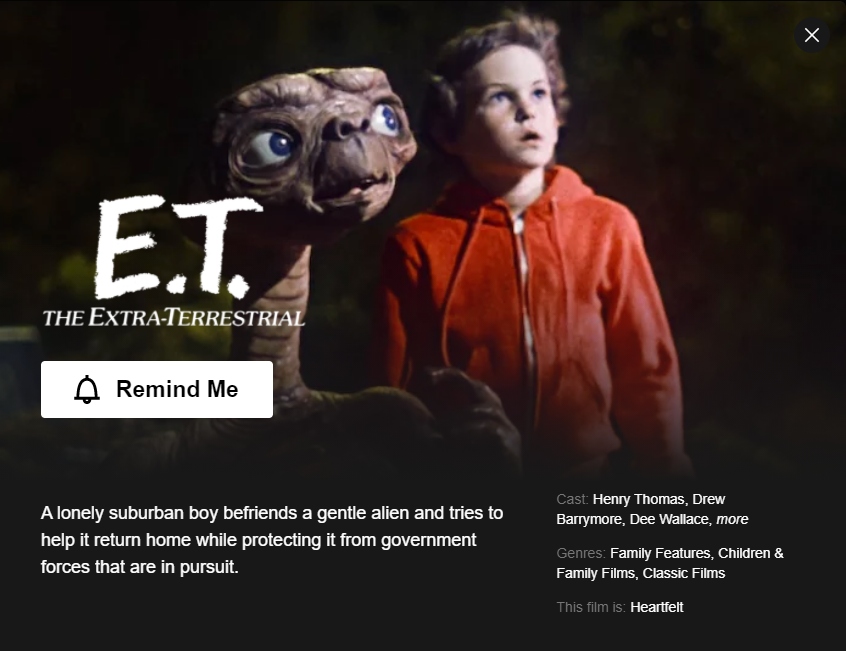 ET was launched in 1980, and it was produced and directed by none other than Steven Spielberg. The film tells the story of a boy called Elliot, who befriends an extraterrestrial dubbed ET. The adorable alien is stranded on Earth and tries to find a way to return back home.
The film features Dee Wallace, Henry Thomas, Peter Coyote, Robert MacNaughton, Drew Barrymore, and many others. At the time, ET surpassed Star Wars and became the highest-grossing film of all time, earning over $619 million worldwide. It also generated over $1 billion in sales over the years, which the latest number is coming from 1998, so you can imagine how much that number has grown since then. The film won four Oscars, six Golden Globe Awards, and many other accolades.
Can you watch ET on Netflix?
ET is available to watch on Netflix, but you have to find the right platform to do that because the film is not available in all the Netflix libraries in the world. In fact, you're going to need to head over to Netflix Canada if you want to stream the film.
While we are sure the movie is also available in other markets from the ones we've scoured, we did find it in Canada, which is also pretty easy to reach with the help of a VPN.
30-days money back guarantee
What if I don't live in Canada?
One of the biggest issues we have when it comes to Netflix is that not all movies are available in all libraries where the company is present in. Therefore, if you live in the United States, for instance, you won't get to watch ET because the film is not locally available right now. Of course, it doesn't mean that it's never going to be, it's just not present now and may take a while before it becomes available. That being said, you can still enjoy the film over in Canada if you have the right tools at your disposal.
A VPN has the power to change your IP address so that you appear to be in Canada. This will enable you to watch the film anytime you want. It will also encrypt your internet connection, so you become untraceable online.
We advise you to use NordVPN because it is a tool that has servers in close to 100 countries, which should easily enable you to watch content on Netflix from everywhere.
Here's how you can use NordVPN to watch ET:
The first thing you need to do is to subscribe to NordVPN. Luckily, they have a deal that offers you 3 months for free and 68% OFF the 2-year plan, so go ahead and take advantage of it right now!
Then, you have to get the right apps for your devices and find a server located in Canada to connect to.
Once the connection is established, you need to simply load Netflix in your browser or reload the app so you can enjoy ET.
That is all! Simple as that!
Won't Netflix know I'm using a VPN?
Some years ago, Netflix introduced technology that enabled it to figure out when people were using VPNs, but luckily, this doesn't really work with premium VPNs.
NordVPN is a service we've had success with unblocking Netflix in pretty much any market. Of course, it does not mean that it cannot happen for Netflix to figure out which IPs come from NordVPN and blacklist some of them, but it will certainly not work on all of them.
That being said, with NordVPN, if you ever have any issues like getting the dreaded message to shut down your VPN and reload Netflix, you can first head over to the NordVPN support team. You can then explain your situation along with which Netflix library you're trying to access. They'll be happy to help you figure out what server to use that can go untraced with the platform.
Why not use A free VPN instead?
When it comes to software, we've all become accustomed to not paying for accessing various services, which expands to VPNs as well. However, when it comes to this type of tool, it's really not advisable to go for a free VPN. One of the main issues we have with these tools is that you never know what you're going to get, and it often has been the case over the past few years that people downloading free VPNs have actually managed to get malware on their devices instead.
Posing as VPNs in app stores, these tools were actually carrying dangerous malware to people's devices. There's can easily translate into people getting hacked, getting their identity stolen, and their bank accounts emptied. Furthermore, if the devices are also used for work, data breaches for the employers can also result from using what seems to be a simple app.
Editor's note: NordVPN is our #1 choice for unblocking Netflix. Sign up for the 2-year plan with NordVPN at $3.49 per month, as well as 3 months for FREE. A 30-day money-back guarantee is included on all plans, so you can cancel any time and get your money back.
Another reason why you think you should steer clear of free VPNs is the fact that they are also among the first to get blacklisted by the likes of Netflix, so you won't even get to stream the content you want, as the app won't get you through to the service in the first place. Furthermore, even if they would work with Netflix, free VPNs have few servers at their disposal but lots and lots of users. This usually results in people barely having internet speeds to load text-based web pages, much less stream content like ET on Netflix.
Therefore, even if it's going to be an extra cost to your monthly bill, we think that is something you should invest in as it's your security on the line.
Final thoughts
VPNs can really be of help in getting to watch all the content that's not locally available on your Netflix library, and you should take into consideration everything we've discussed and make the right choice for you and your family.