We are reader supported and may earn a commission when you buy through links on our site.
Learn more
Is Stardust on Netflix? How to Watch Stardust from Anywhere
When you're in the mood for a little bit of romance and a little bit of fantasy, as well as a sprinkle of adventure, Stardust is one movie that you can rely on. Thankfully, watching Stardust on Netflix is something that you can do, so you can enjoy the film rather easily.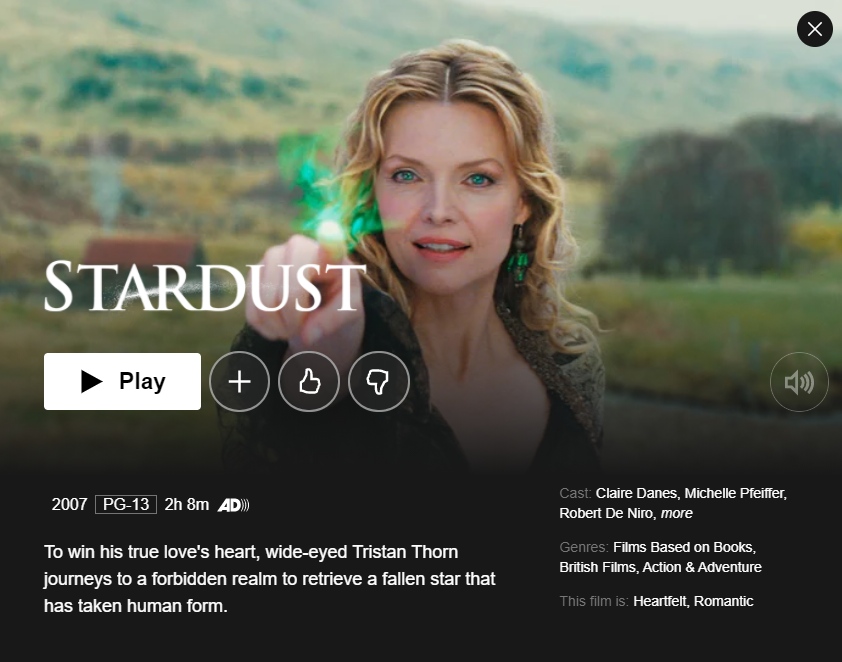 Stardust is a film based on a 1997 novel with the same name, written by the famous Neil Gaiman. The film itself comes with an impressive cast that features Claire Danes, Sienna Miller, Charlie Cox, Ricky Gervais, Rupert Everett, Peter O'Toole, Michelle Pfeiffer, and none other than Robert De Niro. It is narrated by Ian McKellen, so what more can you ask for?
The film was launched back in 2007, and it received positive reviews while bringing in over $137 million at the box office. The story follows a young man that enters the magical world to collect a fallen star for his beloved to ask for her hand in marriage. Of course, things get complicated, and it's all just a fabulous experience.
Is Stardust on Netflix?
Stardust is indeed present on Netflix, but it's not going to be available everywhere since it's not an original movie. As you may know already, Netflix has individual libraries for every country that it's available in, so it's going to offer different movies in each country. We managed to find Stardust present on the American library for Netflix.
One of the most frustrating issues about Netflix is the fact that it features different libraries in different countries, even though pretty much everyone pays the same subscription price. Thankfully, watching movies from different countries is not that difficult, but it does require extra steps, which may not be ideal for many people.
30-days money back guarantee
What if I don't live in the United States?
Watching Stardust is possible from any country of the world as long as you have an internet connection, a Netflix account, and a VPN. You see, VPNs can route your internet connection, and assign a new IP address to your device, which will enable you to watch content from any corner of the world.
VPNs can serve multiple purposes, as they will also encrypt your connection, so your privacy is also protected while you visit various platforms online.
Our recommendation is NordVPN, as it is a great tool that can help you connect to thousands of servers from all over the world and access Netflix from any country you wish to. It also uses some great encryption to protect your privacy and identity while doing so.
Here's what you need to do for this to work:
There you go! It wasn't that difficult!
Won't Netflix now I'm using a VPN?
Netflix does indeed have technology that can trace people who use a VPN. The good news is that this mostly works with free VPNs that are used by many people and aren't as strong. Generally speaking, Netflix blacklists a series of IP addresses that are assigned to these VPNs, but we haven't had issues while using the likes of NordVPN.
If this situation occurs to you while using NordVPN, they have a team of customer support that can help you find a different server to work with the Netflix library you intend to access. Once you explain your situation, they'll do the best they can to help you find a way to access the platform you are interested in.
Since the customer support team is present 24/7, it doesn't matter where you live, as you'll always find someone to talk to.
Can't I use a free VPN instead?
Using free VPNs is a risky thing to do because there are many issues that can come attached to these tools. First of all, as we already mentioned, free VPNs are the first to get blacklisted by Netflix, so it's unlikely that you'll get past their tracking.
Then, there are security problems that arise with such tools because many of them have been discovered to carry malware. Moreover, they collect personal information, like login details for your mailing account, your social media, and even your banking account. This can easily lead to people stealing your identity, cleaning out your bank account, or your employee getting hit with a data breach.
Editor's note: NordVPN is our #1 choice for unblocking Netflix. Sign up for the 2-year plan with NordVPN at $3.49 per month, as well as 3 months for FREE. A 30-day money-back guarantee is included on all plans, so you can cancel any time and get your money back.
There are also real free VPNs that we can talk about, but we do have to mention that using such tools may not be ideal simply because free VPNs have few servers at their disposal but lots and lots of users. Usually, this means that you get internet speeds so low that you won't be able to stream Stardust or any other movie or a video properly. If you even get through to watch Netflix at all, we are circling back to the fact that free VPNs are the first to be blacklisted by the likes of Netflix.
In the end, we know that this will cost you a little bit every month, but it's well worth to have considering the risks you would take to simply avoid paying a few bucks.
Final thoughts
Using a VPN to reach Netflix US so you can watch Stardust or any other film they have on that library that's missing from yours is, as you can see, very easy to do. Hopefully, you'll now be able to watch all the things you are unable to by using your local Netflix account.