We are reader supported and may earn a commission when you buy through links on our site.
Learn more
Best Official Kodi Skins to Spice Up Your Interface
Kodi is well-known for being customizable. You can install official and unofficial add-ons, change the look and feel through builds, even tweak how the software operates by editing hidden configuration files. One of the more overlooked areas of customization are Kodi's official skins. These free and safe add-ons change how Kodi looks without installing a bunch of random add-ons. When you want to spice up the interface a bit, an official skin is the way to go!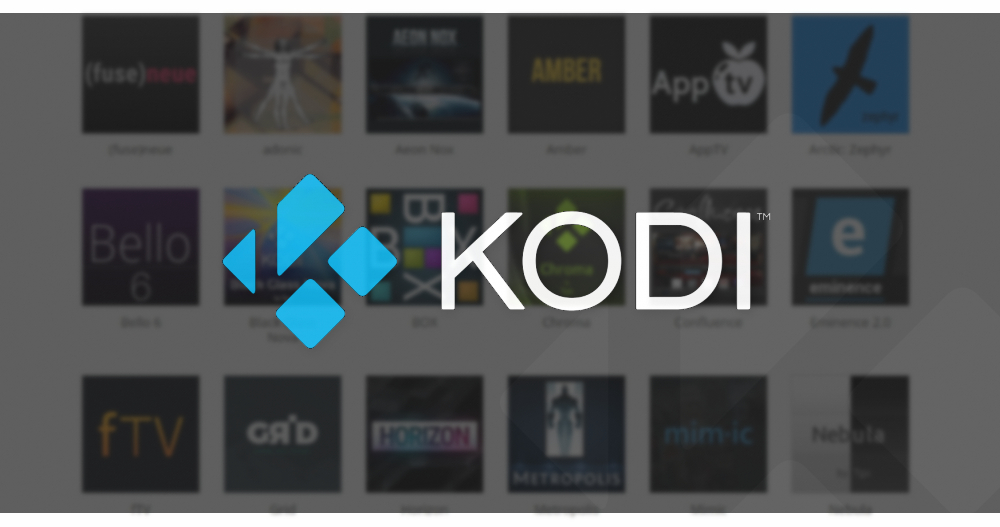 30-days money back guarantee
Before Using Kodi, Get a Good VPN
No matter what you're using Kodi for, it's always a good idea to keep a reliable VPN running in the background. VPNs provide much-needed encryption to help secure your online activities and keep you safe online. With a VPN active, all data leaving your device is cloaked by heavy cryptography, making it impossible to read. No one can tell what you're doing, what sites you visit, or who you are, allowing you to stream anything you want without worry.
In addition to basic online privacy, VPNs also provide a variety of benefits. You can watch videos from other countries on Netflix, Hulu, BBC iPlayer, and more. Of course, if you yourself are jet-setting through different countries, a VPN provides protection for your personal data while traveling or using public Wi-Fi. No matter where you go or what you do, you can rest easier knowing that you've effectively stopped all websites and government agencies from tracking you. By the same token, you can unblock censored websites and geo-restricted content with ease.
IPVanish – The Best VPN for Kodi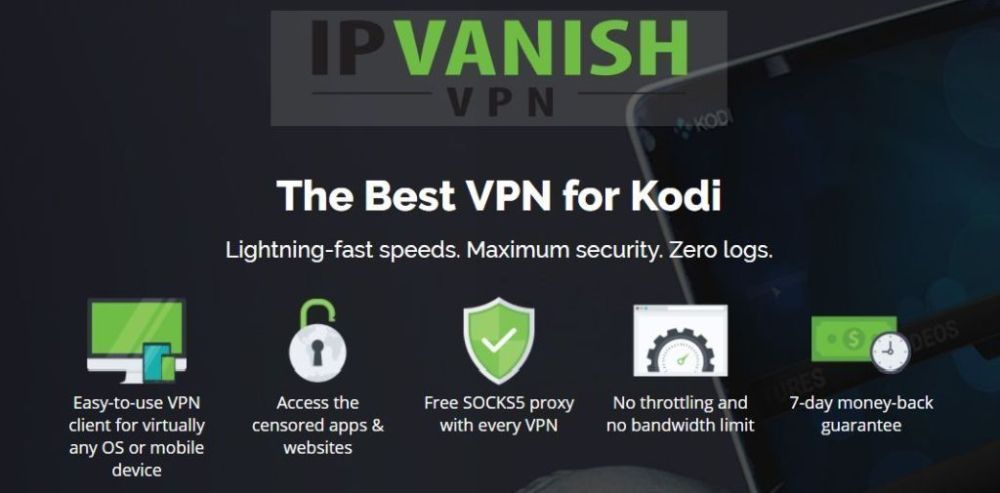 IPVanish has all the right features to keep you safe while streaming on Kodi. The VPN deploys a huge network of over 950 servers in 60 different locations, perfect for delivering fast, lag-free connections no matter where you live. All data passing through these servers is secured with 256-bit AES encryption, and IPVanish's custom software provides both DNS leak protection and an automatic kill switch. You also get unlimited bandwidth, full access to Kodi's add-ons, anonymous torrenting, and an amazing zero-logging policy on all traffic!
IPVanish offers a 7-day money back guarantee which means you have a week to test it risk-free. Please note that Addictive Tips readers can save a massive 60% here on the IPVanish annual plan, taking the monthly price down to only $4.87/mo.
About Kodi Skins
The Kodi community can be a confusing place to navigate. There are official add-ons, unofficial extensions, builds and wizards, skins and themes, and everything in-between. If you're not sure what to look for, check out our handy comparisons below.
Builds vs Skins
Kodi is open-source, meaning anyone can look through the official code, make suggestions, or use it to create their own extensions. Third party add-on developers take advantage of this by creating unofficial builds. Builds rearrange just about everything in the Kodi interface while providing a host of pre-installed streaming resources. When you grab a build, you're essentially getting a customized version of Kodi made for a specific purpose. There are movie builds, TV show builds, anime builds, and so much more. They tend to be slow and won't always work, but it's hard to argue with all the extras they include.
In contrast to builds, skins are much simpler. Think of them like app themes. A skin changes the look and feel without messing with the core code. No add-ons or extensions will be installed, and for the most part, no new interface changes will happen. Skins let you switch up the basic layout design without overhauling Kodi from the ground-up.
Official and Unofficial Content
There are two broad flavors of content featured in the Kodi community: official and unofficial. The latter refers to anything made by outside coders unaffiliated with Kodi's core team. The former are either made by the Kodi developers or approved by them to be distributed to the community.
Official content is always safer than unofficial. You may not get as many options, but it's worth the sacrifice just to know you're not in any danger. Official skins and add-ons always come packaged in Kodi's default repository. If it's there, or if it's listed on Kodi.tv, you know it's legit.
How to Install Official Kodi Skins
Installing anything on Kodi is a pretty simple process. Installing official content is even easier. Add-ons and skins usually come packaged in external repositories, files that contain tons of different extensions. All of Kodi's official content is included in a repo that's part of every Kodi installation. Since we're only installing official skins, there's no need to add any new repositories. Simply follow the steps below to access Kodi's official repository.
From Kodi's main menu, select Add-ons on the left hand navigation bar.
Choose the box icon at the top.
Select Install from repository on the right.
Click the Kodi add-on repository in the list.
Select the Look and feel category, followed by Skin.
Best Official Kodi Skins
Ready to jazz things up a little? All of the skins below are free and official products, making them both safe and legal to use. Install as many as you like and see how unique Kodi can look!
adonic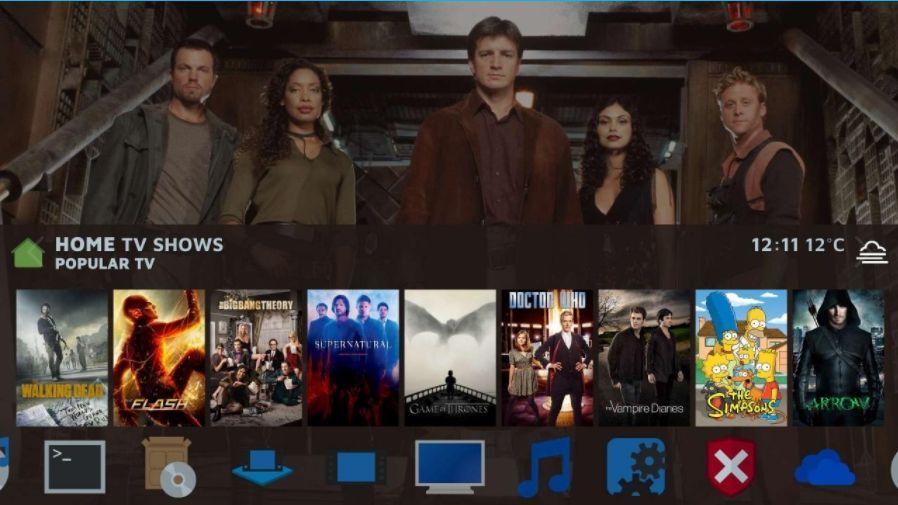 The adonic skin is designed to be fast, attractive, and feature-rich. It changes the vertical Kodi layout into a more horizontal orientation, tucking most of the standard icons away in favor of a content-centric approach. Movies, TV shows, and related information are all front and center. You even get to see ratings, descriptions, and cast information from inside Kodi!
Aeon Nox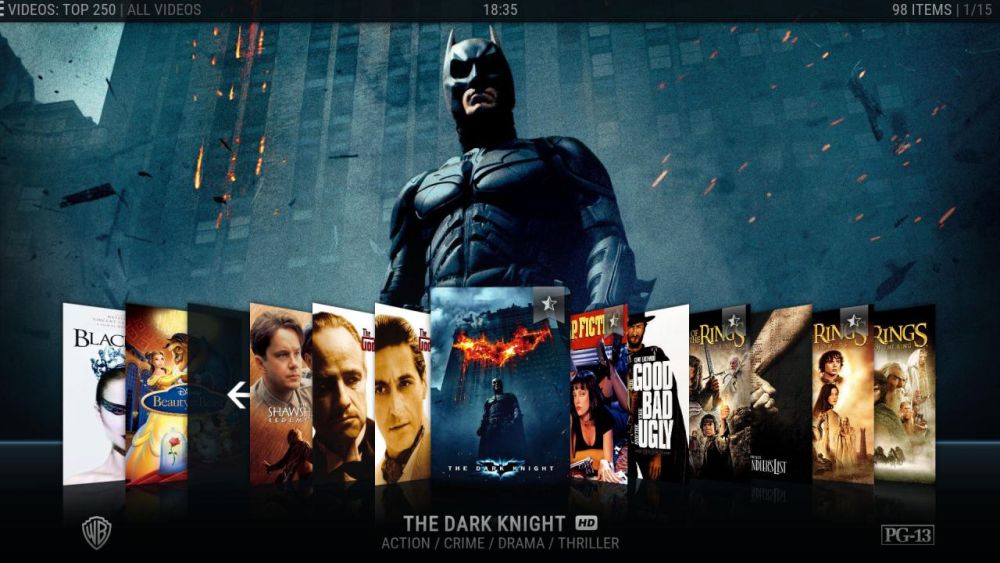 Aeon Nox looks like it was taken from a futuristic kiosk interface. It's dark and moody, sleek and responsive, and it pushes all the most important information right to the front. Access movies and TV shows with just a click, then head off to the skin's deep customization menu to tweak the look and feel until it's perfect.
fTV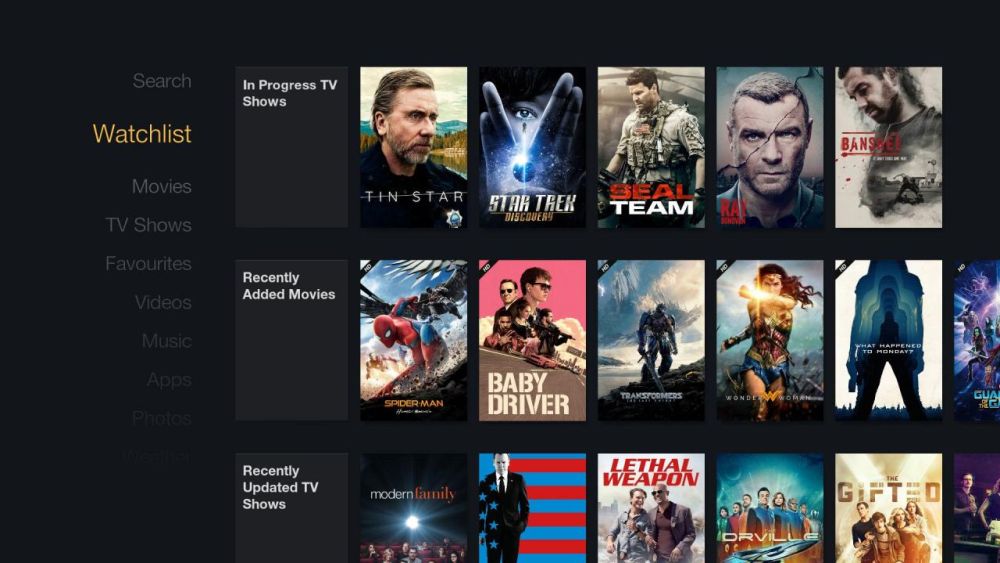 Love the Amazon Fire TV interface and wish you could use it everywhere? The fTV official skin lets you do just that! This extremely attractive layout mimics the Fire TV almost perfectly, including everything from similar typefaces to fan-made movie images. Sometimes you'll swear you're on a real Fire TV, and that's a good thing!
Grid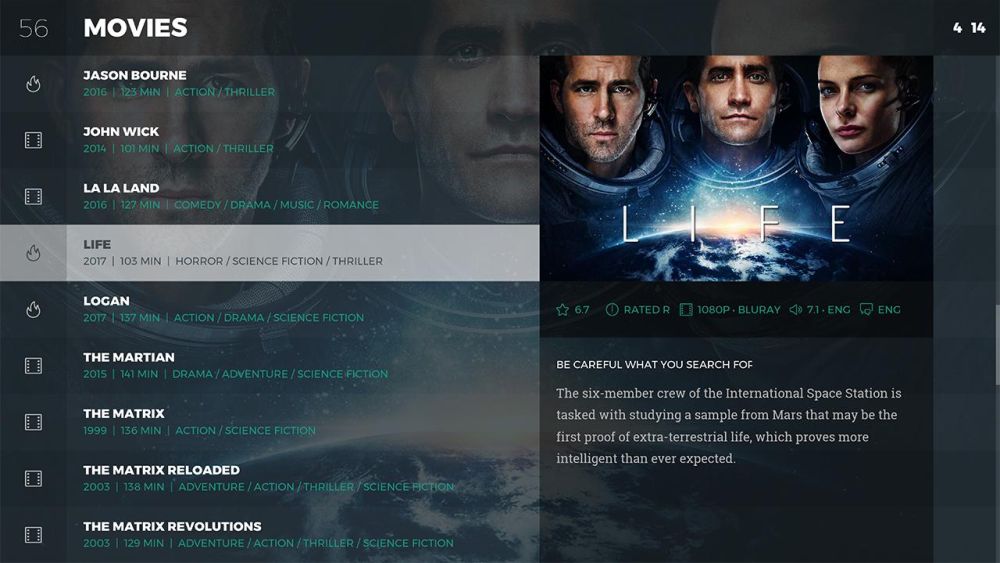 An elegant and intuitive skin that looks as good as it controls. Grid is simultaneously clear and minimalist, offering just the right balance of stream-centric features and configuration options. Everything about the skin is designed to place quality over quantity. No garish background images or crazy color schemes, just calm, muted, attractive design.
Mimic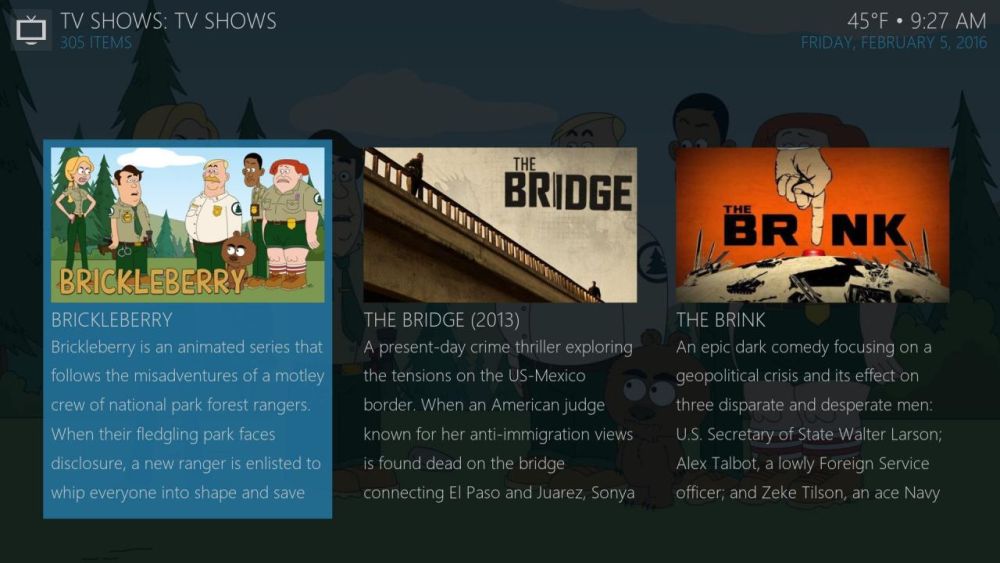 The aptly named Mimic skin is one creator's shameless attempt at combining his favorite features from a variety of other skins. Mimic ends up being a quiet and minimalist yet dynamic experience that shuffles content access front and center. You'll get lush backgrounds and lots of show information when browsing content, and when you're not, Mimic keeps things speedy by reducing bloat.
Omni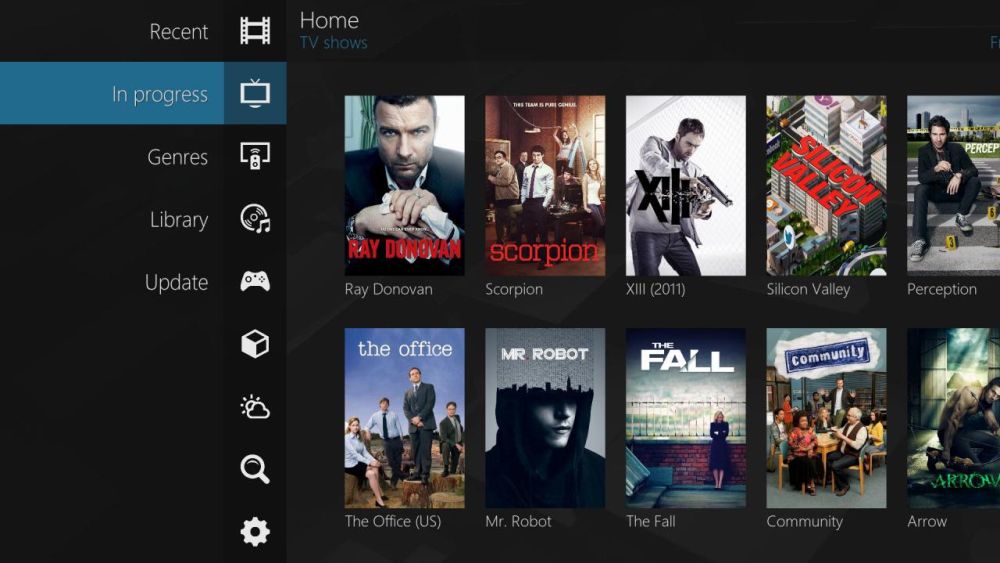 Omni's biggest feature is its menu, a convenient yet small navigation bar that stays in the same place no matter what you're browsing or watching. This makes it the perfect solution for small devices with awkward control schemes, such as Fire TV or even smartphones. Outside of its omni-bar, the skin features dark, sleek, soothing layouts that stay out of your way while you're browsing content.
Rapier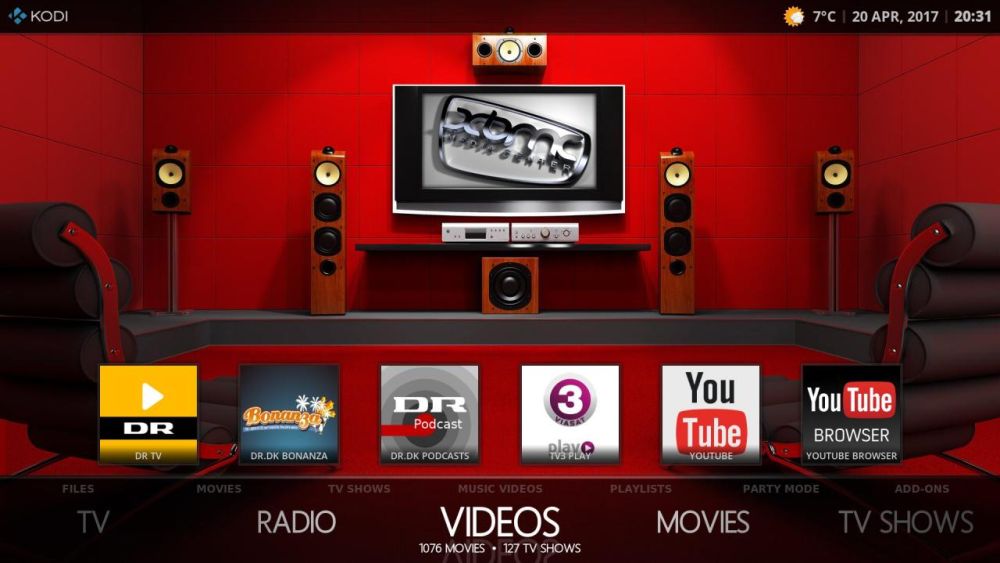 Rapier puts efficiency above all else. The frequently updated skin focuses on easy browsing through an interface that tries to act like we think. No nested menus or crazy organization schemes, just the information you want right where you need it. If usability and performance are at the top of your list, Rapier is the official skin for you.
SiO2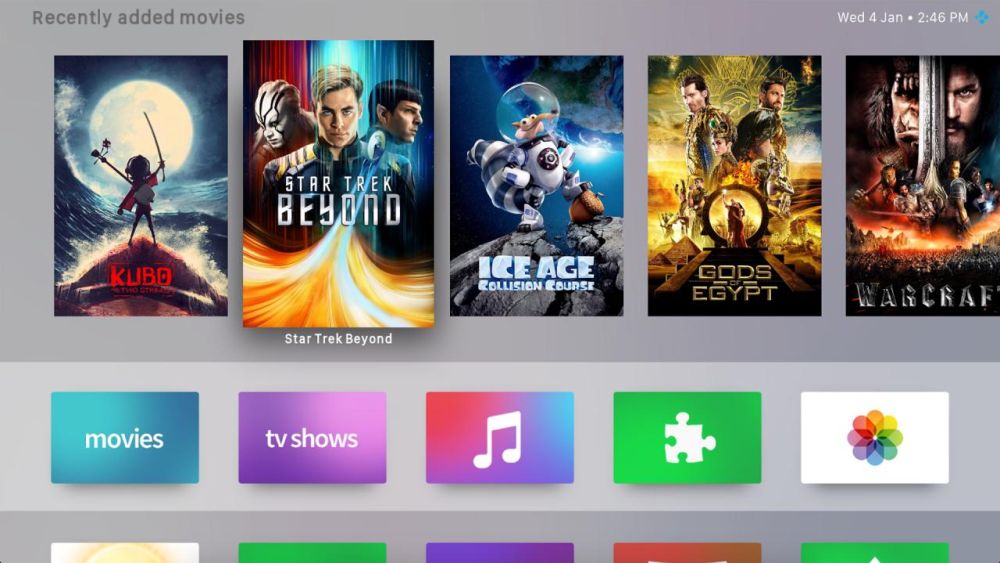 Big fan of Apple TV? SiO2 brings the same design sensibilities to Kodi, mimicking Apple's products with surprising accuracy. The skin copies both the layout and color scheme but also gives you plenty of options to tweak things yourself. And if you're not paying too much attention, you'll swear you're on an Apple TV.
Xperience1080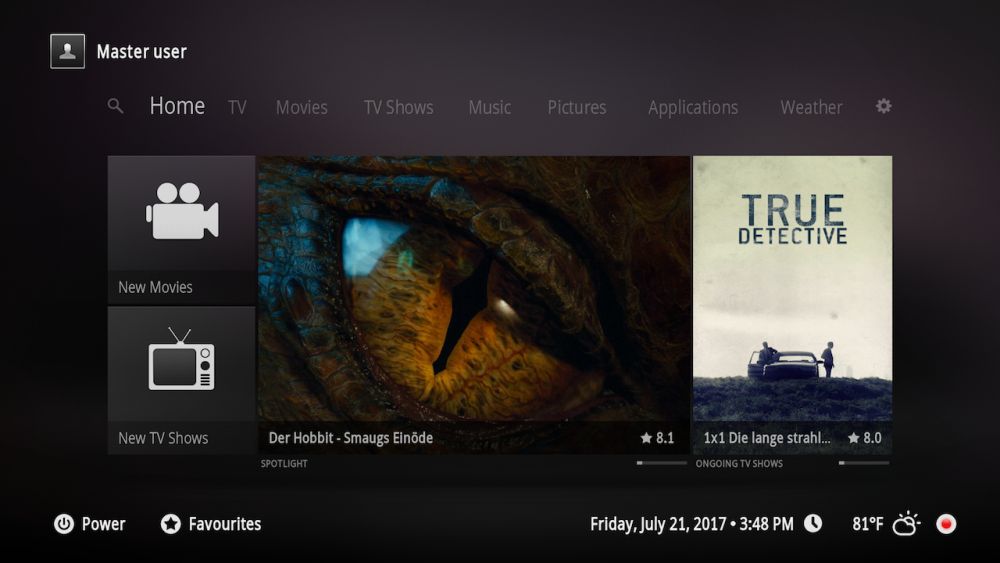 Clean, modern, elegant, and… panels! That's how the creator of Xperience1080 describes his skin. The wonderfully designed theme focuses on high quality images and buttery smooth animations to make your Kodi installation look like a dream. You'll have a tough time running Xperience1080 on low-powered devices, but if your PC is up to it, you won't regret the install.
How to Manage, Switch, and Configure Kodi Skins
After installing skins, it's important to know how to customize, change, or even remove them.
How to Switch Kodi Skins
Installed a bunch of skins and want to try them out one by one? Kodi offers a quick change option that's incredibly easy to use. Follow the steps below to switch skins at any time. Note that the exact names can change depending on which skin you have installed, but the locations themselves will remain the same.
Go to Kodi's main menu and select the gear icon.
Choose  the Interface Settings option.
Select Skin on the top left menu.
On the right, click where it says "Skin". A new window will pop up.
Choose the skin you'd like to try out.
Kodi will show you a preview and ask if the change is ok. Click "Yes".
Enjoy your new look and feel!
Configuration Settings to Speed Up Skins
Most official Kodi skins are speedy by design. They don't add a lot of junk to your system, and they won't lag on most low to medium powered devices. Still, if you want to speed up skin performance, there are some options you can toggle. Check out the tweaks below and see if they help!
Go to Kodi's main menu and click on the gear icon.
Click the Interface option, then make sure Skin is selected in the left hand menu.
On the right, click Configure Skin.
Select the General tab on the left menu.
Toggle the following settings: Use slide animations – OFF; Show weather info in top bar – OFF; Show media flags – OFF
Go to the "Artwork" tab.
Switch the "Show media fanart as background" OFF.
How to Uninstall Kodi Skins
Once added to your system, Kodi skins can be removed just like any add-on. Once you follow the steps below, you can even uninstall several of them in quick succession.
Start by going to Add-ons > My Add-ons > Look and Feel
On the right, select the Skin section.
Choose the skin you want to uninstall and click it.
In the next window, click the Uninstall icon at the bottom.
After confirming, Kodi will remove the skin from your system.
How to Restore the Default Kodi Skin
No matter how careful you are, there's always a chance Kodi will stop working correctly after installing a skin. The odds are overwhelmingly against it, especially when dealing with official downloads, but just in case, we've provided a restore method below. If Kodi freezes or crashes after installing a skin, just follow the instructions to get back to basics without having to delete Kodi entirely.
If you can't change back to the default skin because of a new skin, all you have to do is shut down Kodi, then open up your device's file manager. Find the "userdata" folder, navigate to the "addon_data" subdirectory, then delete the folder containing the problematic add-on. You may need to sort by date or manually look for the skin by name. It should follow the format "skin.SKINNAME".
If you need help finding your userdata folder, the most common locations are listed below. Note that some installations may name the add-on folder "addons" instead of "addon_data".
Android – Android/data/org.xbmc.kodi/files/.kodi/userdata/addon_data
iOS – /private/var/mobile/Library/Preferences/Kodi/userdata/addon_data
Linux – ~/.kodi/userdata/addon_data
Mac – /Users//Library/Application Support/Kodi/userdata/addon_data
Windows – Start > Run ? type %APPDATA%_data ? press <Enter>
Conclusion
There's nothing like a new look and feel to change your Kodi experience. Whether you enjoy the tidy settings of Grid or something with more pizzazz like Xperience1080, all of Kodi's official skins give you new excuses to fire up the software and start streaming. Need more options? check out our 8 best minimalist skins for Kodi as well.
Got a favorite official skin you like to use? Let us know in the comments below!