We are reader supported and may earn a commission when you buy through links on our site.
Learn more
DailyMotion Kodi Addon: How to Install and Quick Guide
"Video killed the radio star" went the lyrics of a famous 1980's song by pop group The Buggles, which marked the arrival of MTV onto the music scene. Some 40 years later, the concept of video has changed markedly and it plays a huge influence on everything from music and entertainment to the way we consume information and communicate with each other.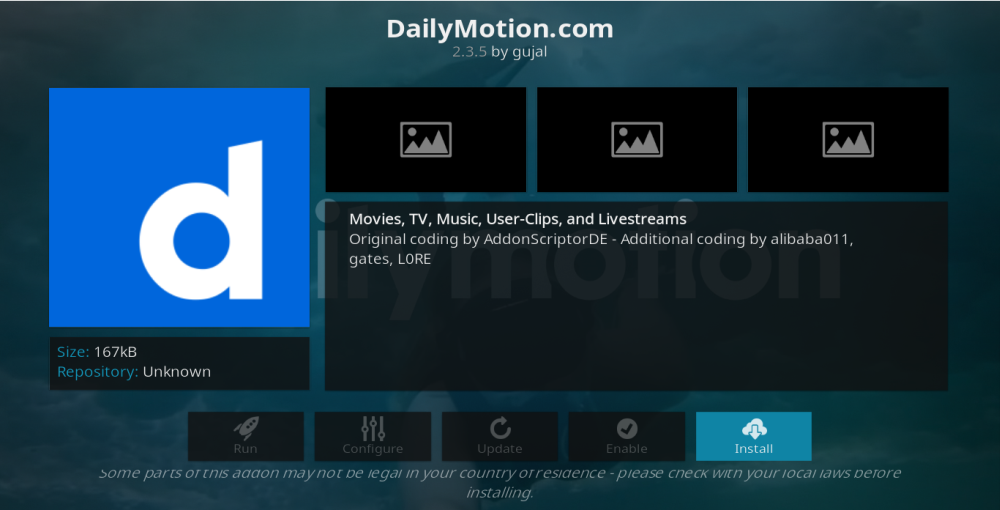 The DailyMotion website is one of the video-sharing websites which have been at the heart of this latest revolution. When people think of video-sharing, YouTube is the first name that springs to mind, but with 300 million users and more than 3.5 billion views every month, DailyMotion is another huge player in the market.
DailyMotion differs from YouTube in a number of ways. It is based in France and has slightly less stringent content guidelines than its American rival. As a result, DailyMotion plays host to many videos which are not available on YouTube, making it a worthwhile addition to anyone's video streaming toolbox. For Kodi users, there is even an official DailyMotion addon which they can use to access the massive range of content hosted by the site directly through their Kodi player. In this guide, we will tell you how to install this DailyMotion addon as well as everything else you need to know about it.
30-days money back guarantee
Before You Download DailyMotion, Install a VPN
When using any Kodi addon, whether official or unofficial, it is always advisable to make use of a VPN too. This is because a VPN offers valuable security and privacy features which are beneficial to all Kodi users. While Kodi itself is 100% legal, some unofficial addons allow users to access content which isn't. As a result, some users have received legal notices and even faced further legal action. A VPN can protect you from such repercussions. By encrypting all your online data, a VPN protects your online activity from hackers and other prying eyes, and by changing your IP Address, it offers valuable privacy protections as well as allowing you to access geo-restricted content from around world. For most Kodi users, the big question about a VN is not whether to use one, but which one to subscribe to. There are four core criteria that should be applied when choosing your VPN provider:
Fast connection speeds – A VPN can slow down your connection speeds, but a fast connection is vital when streaming video so Kodi users need a provider which has a minimal impact on connection speeds.
Strong privacy settings – Kodi users are advised to use a VPN for security and privacy purposes, so the stronger encryption and privacy available, the better.
No restrictions on data or traffic – Some VPNs have restrictions on the amount or types of data you can download. But streaming video can be data intensive and also use various different types of files, so it is important to choose a provider with no such restrictions.
Broad server availability – More servers means faster speeds as demand is spread more evenly. It also means access to more geo-restricted content too, so the more servers available the better.
The Best VPN for Kodi – IPVanish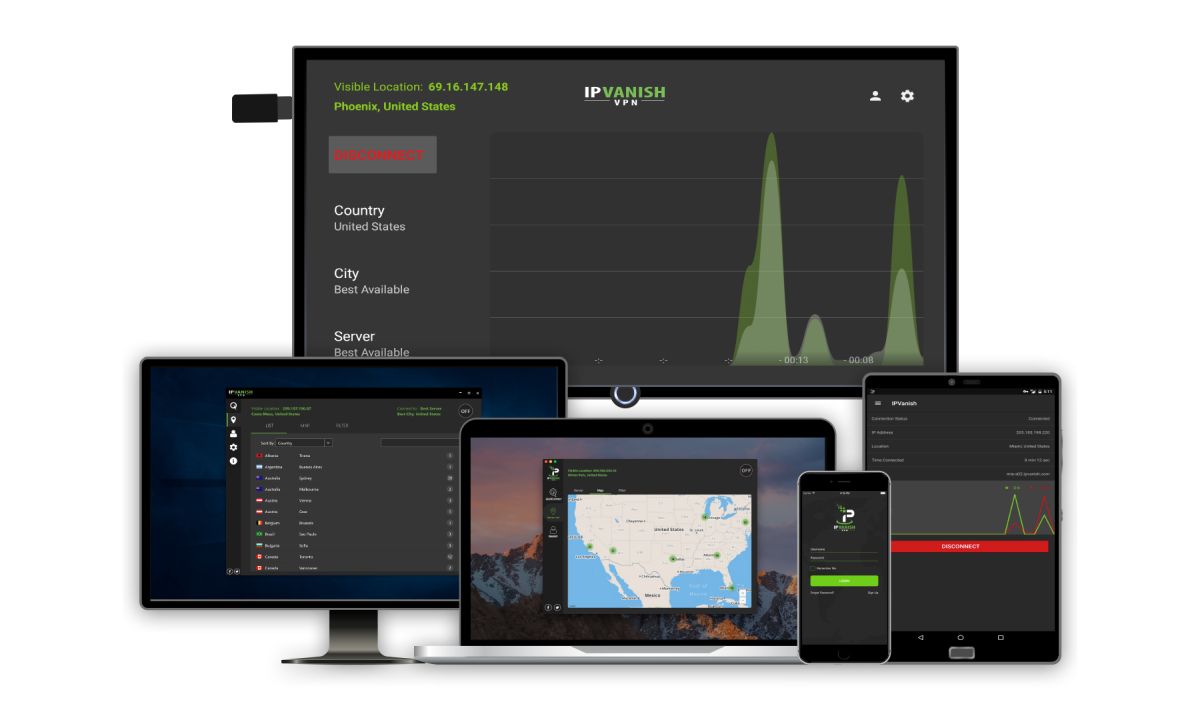 On the basis of these four criteria, IPVanish is the best VPN provider on the market right now for Kodi users. They have some of the fastest connection speeds around and importantly, these speeds are consistent no matter which server you connect to. They offer extremely secure encryption and privacy policies you can trust as well as a number of other useful security features such as DNS leak protection and an automatic kill switch. With more than 850 servers available in 60 countries around the world and no restrictions on either data or file type usage, IPVanish ticks all the boxes. Their service is available on almost every device, including the Amazon Firestick. Add all this together and it is clear that IPVanish is winner.
IPVanish offers a 7-day money back guarantee which means you have a week to test it risk-free. Please note that Addictive Tips readers can save a massive 60% here on the IPVanish annual plan, taking the monthly price down to only $4.87/mo.
How to Install the DailyMotion Kodi Addon
The DailyMotion Kodi addon is an official Kodi addon, which means it is approved by the XMBC Foundation (the developer behind the Kodi media player). As a result, the process of downloading and installing it is a simple one, as it can be found in the official Kodi repository. To get it downloaded, set up, and ready to use, all you need to do is follow this simple step-by-step guide:
Open Kodi and on the home page click on the Add-ons option on the main menu.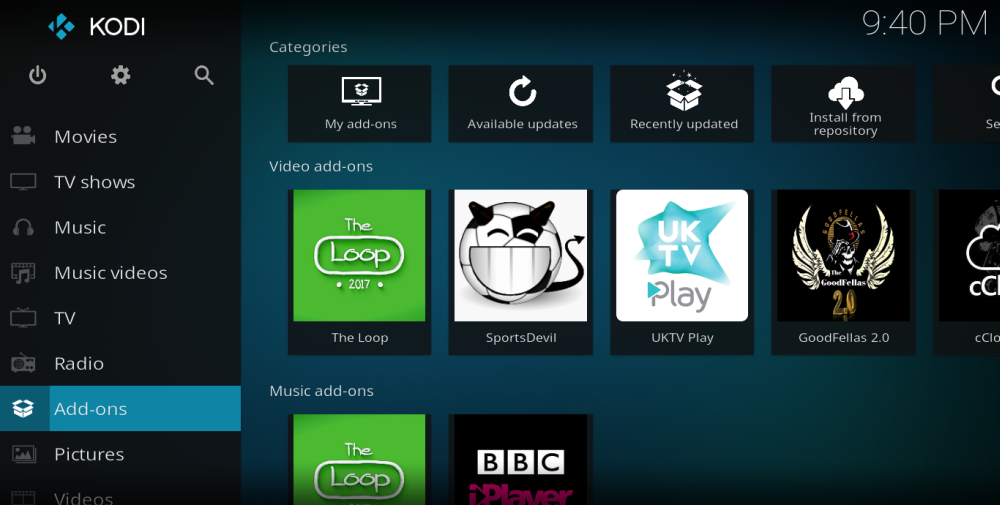 Select the Add-on Browser icon which looks like an open box and is located in the top left of the screen.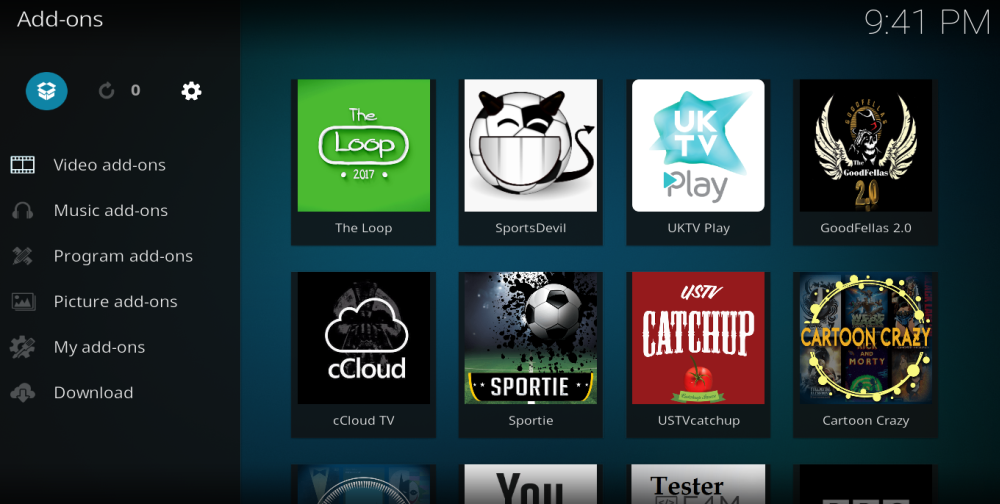 In the next menu, click on Install from repository.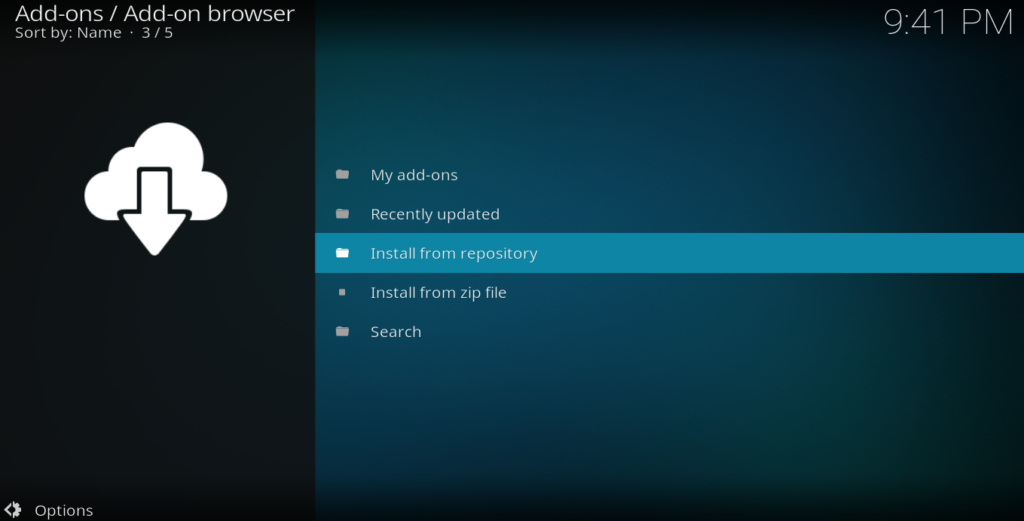 Scroll down and select the Kodi Add-on repository followed by Video Add-ons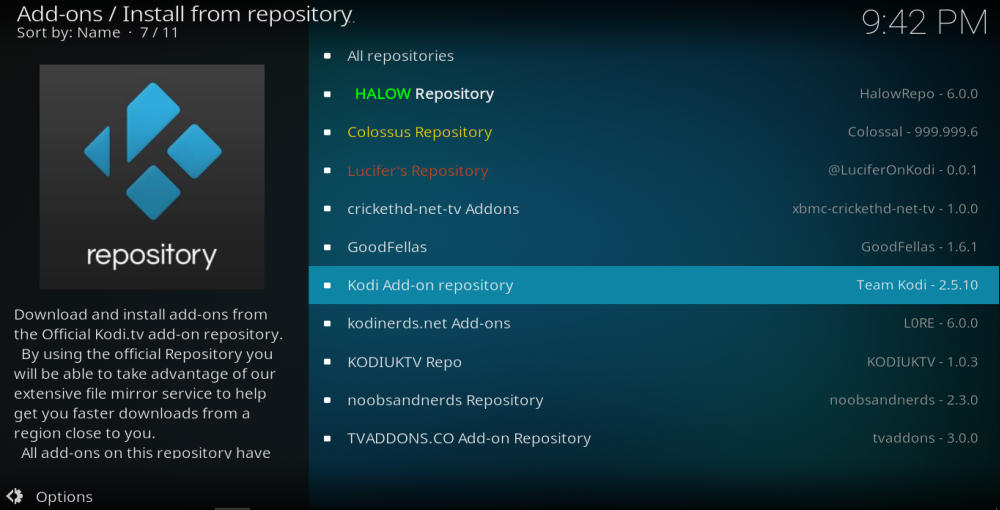 Scroll down the alphabetical list of official addons until you reach DailyMotion.com.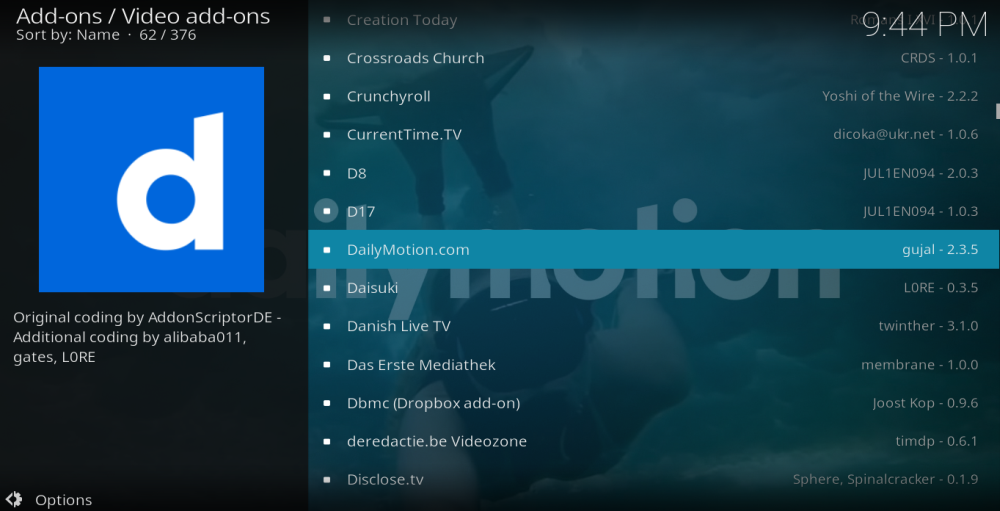 Click on this and then select Install on the next page.
This will install the DailyMotion addon onto your Kodi media player. A notification in the top right of the screen will tell you when the installation has been successfully completed.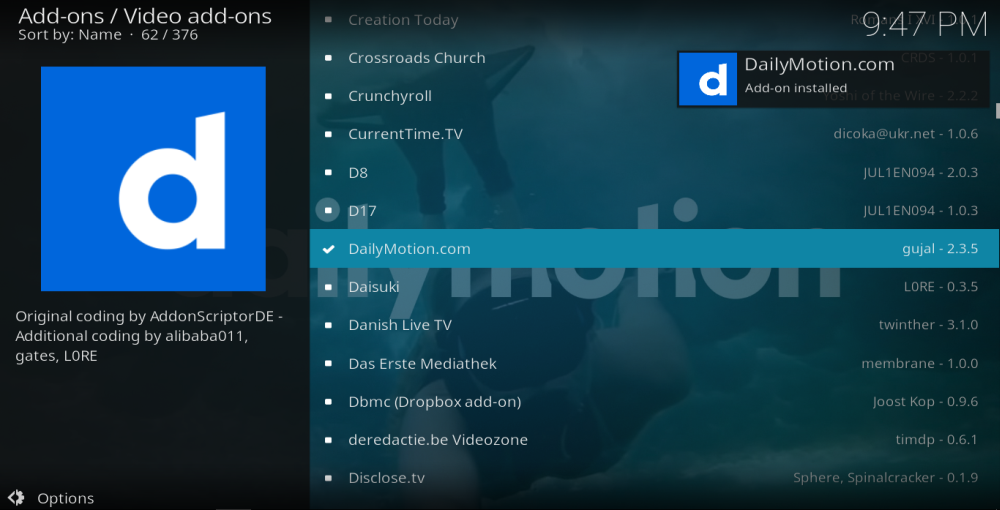 Return to the Kodi home page and select Addons again. The DailyMotion addon should now be listed and ready to use.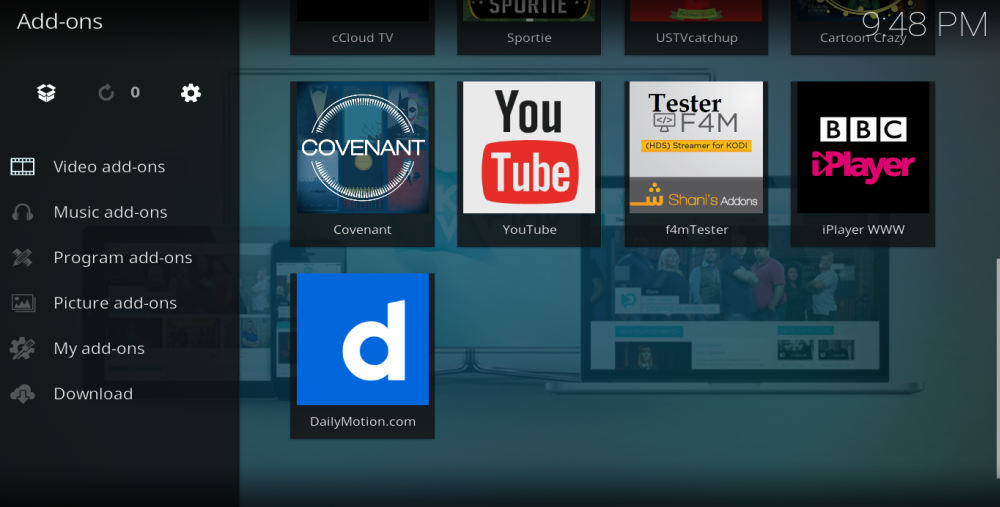 It really is as simple as that. In just a few minutes you will have the DailyMotion addon installed and ready to use. There is now a whole world of video available for you to enjoy at the touch of a button.
How to Use the DailyMotion Kodi Addon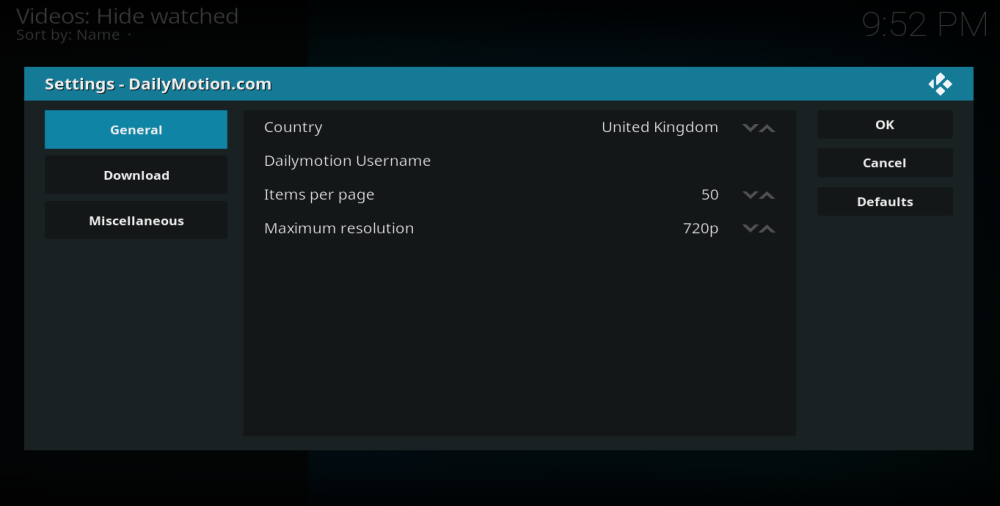 When you first open the DailyMotion Kodi addon, you will reach the Settings page. This is where you can configure the addon to suit your personal needs as well as connect it to your existing DailyMotion account, if you have one. It includes options to set the maximum resolution of videos you want to see, the number of items listed per page, and the download directory. It is also where you will find the family filter, which will stop your addon being able to access adult content if your children are likely to be using it.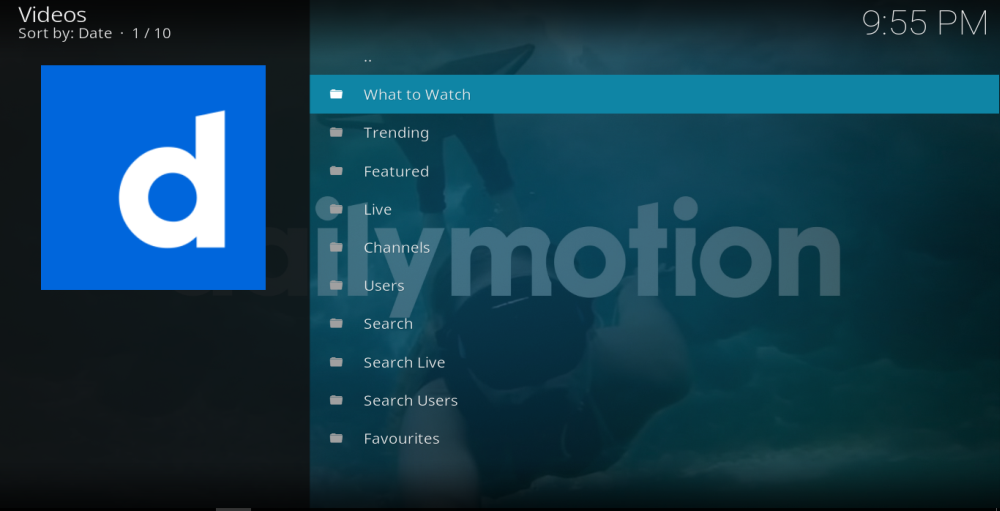 With these all set, you can click ok and you will arrive at the main menu, where you can navigate or search for content in a number of different ways. The menu options available to you currently are:
What to Watch – This links to an eclectic selection of videos which are popular on the DailyMotion right now.
Trending – This option links to videos from DailyMotion which are trending and being shared right now. When we first logged in, episodes of the Australian soap opera Home and Away seemed to dominate. But there was also plenty of sports and current affairs, as well as the latest viral videos too.
Featured – This option links to another range of eclectic content, which appeared to be paid-for videos. There was a lot of similarity with the What to Watch section.
Live – Click on this option to link to a long list of live TV channels that are available on the DailyMotion addon. These are mostly made up of international of British and American local TV stations, but there are a few music and sports channels to be found as well.
Channels – This options links to a long list of categories in which you can find a huge range of video content. The list includes Animals, Cars, Celeb, Comedy and Entertainment, Gaming, Kids, Lifestyle, Movies, Music, Sports, Tech, and Webcam. Under each option, you can search by either Trending, Most Recent, or Most Viewed.
Users – This section includes a long list of prominent DailyMotion users and clicking on their name allows you to view or search for videos they have uploaded.
Search – A simple search facility allowing you to search for content by keywords or subject.
Search Live – Allowing you to search for live content.
Search User – Allowing you to search for individual DailyMotion users by name.
Favourites – If you have 'favourited' any videos while using the DailyMotion addon, this is where you will find them.
It is quite a long menu, but each option serves a different purpose and all are clearly explained once you open them, even if a few of the names given to menu options do not make their actual function immediately apparent. Unless you are just browsing for content at random, the likelihood is that you will be using the search options more than any other. These are all easy to use, accurate, and return results fast.
DailyMotion Kodi Addon – Pros and Cons
As an established video-sharing platform with content numbering in the billions and users in the hundreds of millions, it should perhaps come as no surprise that this addon is generally pretty good to use. The menu is for the most part self-explanatory, and the addon appears to do everything it claims to. In testing, we encountered no problems with broken links or features not working. We especially liked the fact that when searching for content, this addon pulled up thumbnail images for each video rather than just giving its name in text. This made the process of finding content much quicker and easier.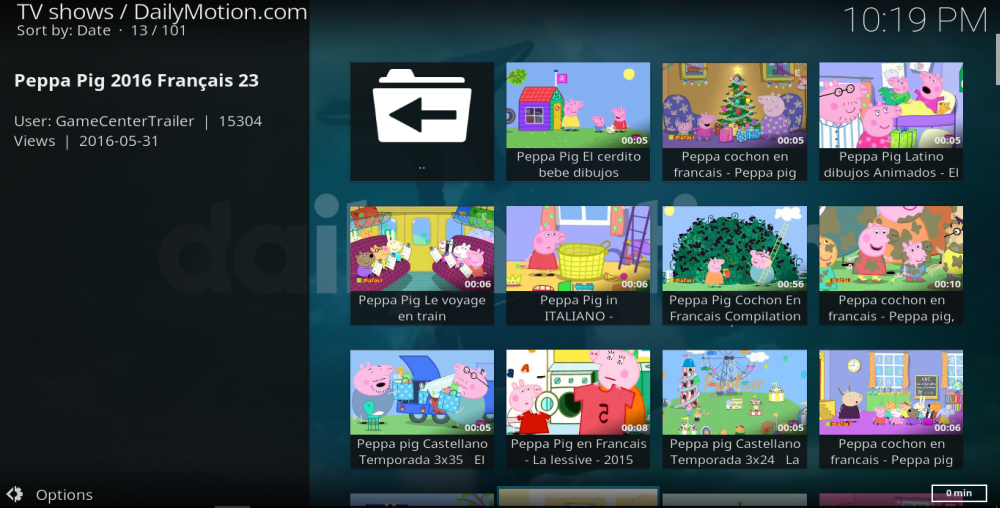 There aren't too many ways that this addon could be improved. The main menu could probably lose one or two options which not too many users will be clicking on, but apart from that this addon has everything you need. There is masses of content, it is easy-to-use, nicely designed, and as an official addon, 100% legal too. We would certainly suggest any Kodi user download this addon as it has been a very welcome addition to our library.
What do you make of the DailyMotion Kodi addon. Did you find this installation process and addon review accurate? What are the best videos you have viewed on it and how do you think it compares to the official YouTube addon. Leave your thoughts and comments below.