We are reader supported and may earn a commission when you buy through links on our site.
Learn more
DAZN Kodi Add-on: Stream Live Sports, NFL RedZone
If you're looking for a Kodi add-on that can bring you completely legal, live streams of a huge range of sports including NFL, soccer, rugby, tennis, MotoGP, and darts, then the DAZN Kodi add-on is definitely worth a look. DAZN (which is pronounced Da Zone) markets itself as being the 'Netflix of Sports' and while this is a little over the top, it does still have a lot to offer for armchair sports fans. And as a company which has brought up the broadcast rights to all of the content on its platform, it is the perfect add-on for those who are worried about recent headlines about the legal risks of watching live sports on other Kodi add-ons.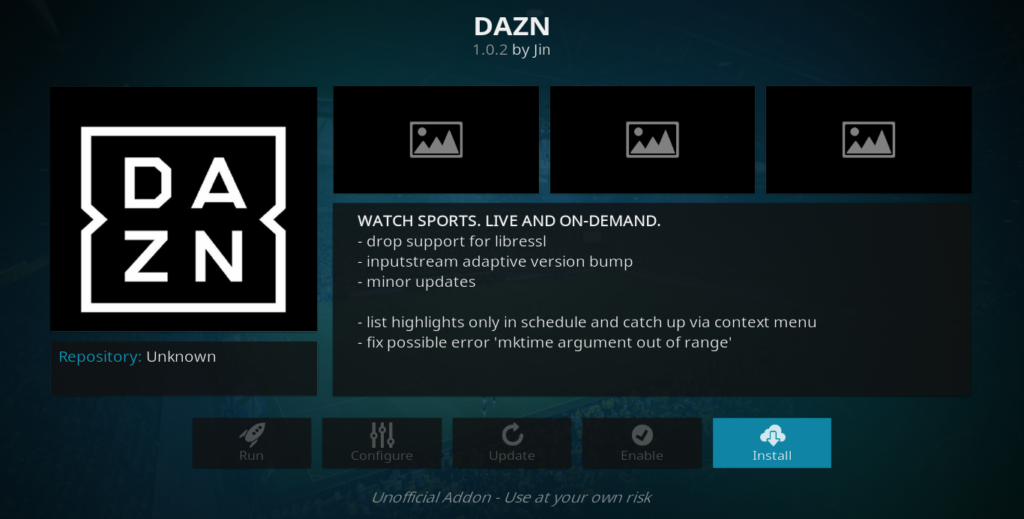 But there are a couple of catches. Firstly, DAZN is not a free; they offer a subscription service with prices currently set at $20 per month or $150 per year. They do however currently offer a free one-month trial. Then there is availability, as DAZN is currently only available in Germany, Austria, Switzerland, Canada and Japan. This means that if you are based anywhere else, you will need to use a VPN with servers in one of these locations to connect. This will put some people off, but as you will see in this review, DAZN does have a lot to offer its subscribers.
30-days money back guarantee
Before You Download the DAZN Kodi Add-on, Install a VPN
When using Kodi to view content on any unofficial add-on, it is always advisable to use a VPN for the valuable privacy and security features it offers. In the case of DAZN, if you are not located in one of the five countries they operate, you will also need a VPN to access the service at all. The only question is which one to choose. There are a lot of VPN providers around, but not all will be the right provider for DAZN users on Kodi.
The Best VPN for Kodi – IPVanish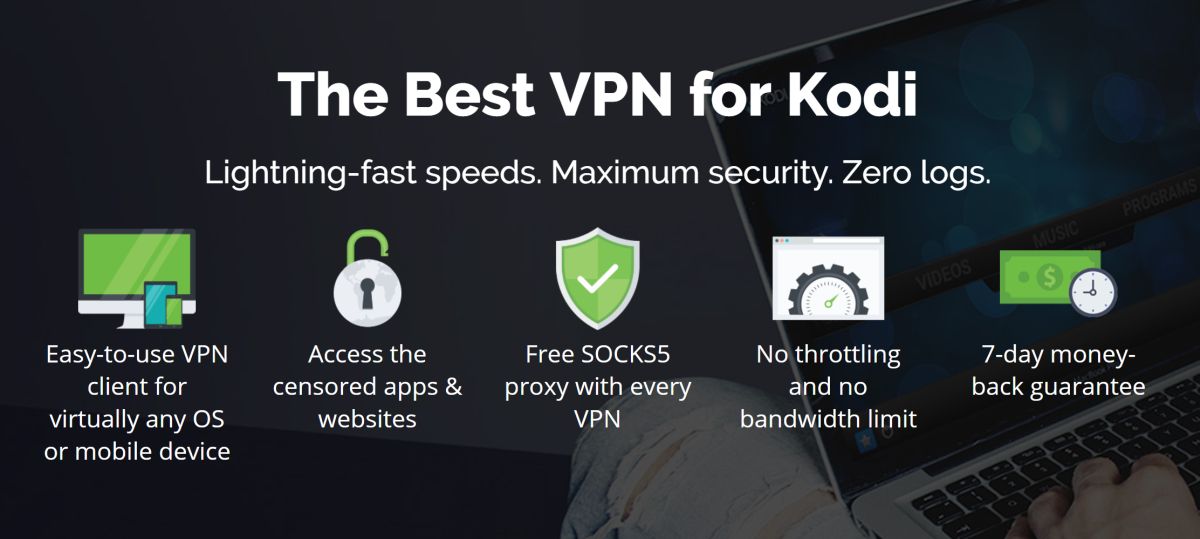 There is one VPN provider which is the standout provider for DAZN users on Kodi: IPVanish. They offer some of the fastest connection speeds around and just as importantly, their speeds are consistent no matter where you are and which server you connect to. They also have absolutely no data restrictions and their privacy and encryption settings are on par or ahead of the industry standard. IPVanish has more than 850 servers in 60 different countries available for customers to connect to including all five countries where DAZN can be viewed. In addition, IPVanish offer apps that can be downloaded on almost every device including a dedicated Amazon app for Firestick users. Put together, this makes them the standout VPN for Kodi users.
IPVanish offers a 7-day money back guarantee which means you have a week to test it risk-free. Please note that Addictive Tips readers can save a massive 60% here on the IPVanish annual plan, taking the monthly price down to only $4.87/mo.
How to Install the DAZN Kodi Add-on
Despite being completely legal, the DAZN add-on is still an unofficial one and so cannot be downloaded from the official Kodi repository. Don't worry though, because it is still very simple to download and install (although you will need at least Kodi Krypton v17.4 to run it). All you need to do is follow this step-by-step guide:
The latest version of the DAZN Kodi add-on can be manually downloaded as a zip file from the project's GitHub You will need to remember which folder you saved the zip file in.
You will now be able to access the DAZN add-on from the add-on menu on your Kodi homepage.
A Quick Fix to a Common Download Problem
Quite a number of Kodi users who try to download the DAZN add-on get an error at stage 6 of this process, which states The dependency on inputstream.adaptive version 2.0.10. As you can see from the image below, we ran into this issue too. Fortunately, this problem can be got around easily using the following simple technique.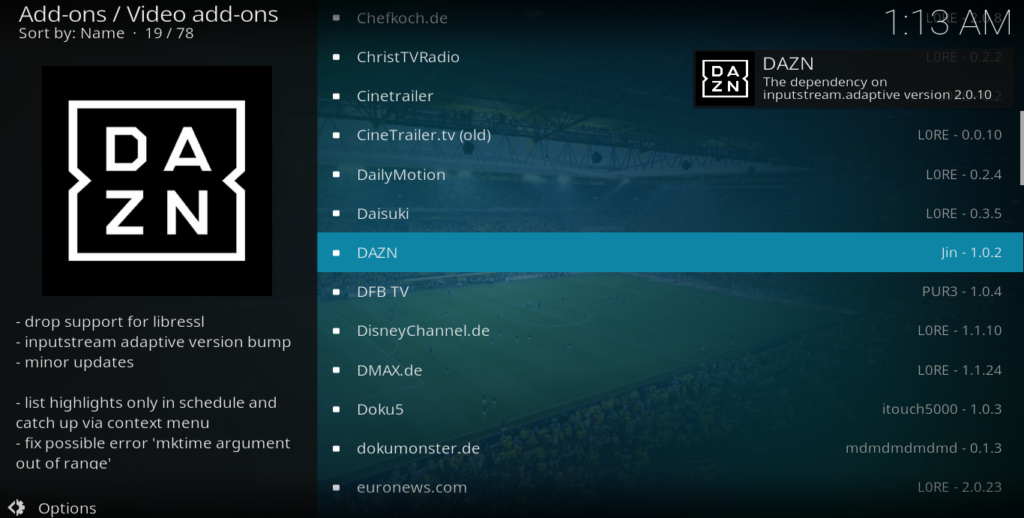 If you now repeat the above process from step 5, the add-on should download and install successfully.
How to Sign Up for DAZN
Once you have successfully downloaded the DAZN Kodi add-on, you will need to ensure that your VPN is connected to one of the five countries before being able to open the add-on successfully. When you do first open it, the add-on will request that you enter your DAZN Login Email. To be able to do this, you will need to have signed up for a DAZN subscription. You can do this on their website as follows (you will also need your VPN to be connected to the right country to access their website):
Select the Start your free month button on the front page of the website.
Enter your details and follow through with the registration process (You will need a payment method which is permitted in the country you are looking to register in.) Don't worry, you can cancel your subscription at any time in the first month without incurring a charge.
After registering, you will then be asked to confirm your account. After that, you can use your email address to log in to the DAZN Kodi add-on.
DAZN Kodi Add-on Review
Once you have signed up to DAZN and signed into the Kodi add-on, you will find a simple, clean, and user-friendly experience. There are a number of different menu options you can use to find the content you are looking for. All work well and, unlike other unofficial add-ons, there is no danger of coming across broken links and poor-quality content should be minimal (but see below for our comments on streaming quality). A few of the features of the DAZN add-on particularly worth highlighting are:
NFL Game Pass – Allows DAZN users to view live streams of NFL games as well as highlights of completed games, and various other NFL-related programmes on demand.
NFL Redzone – Offers simulcast coverage of all NFL taking place on a Sunday. NFL Redzone airs from 1:00 p.m. to 8:00 p.m. EST every Sunday during the NFL season.
NFL Network – NFL-owned cable sports channel which offers round the clock NFL content.
Schedule – If you are looking for a particular match or sports event, you are best served by heading to the schedule option. Here you will find all the content being shown on DAZN that week.
Coming Up – As the names suggest, this is a chronological link of all the upcoming live streams. Useful if you are looking for something you know starts soon, but we found the Schedule menu a more useful
Sports – You can search for content by sport with options including Basketball, Darts, Hockey, Soccer, Tennis, and NFL Game Pass. Ideal, if you just fancy watching a soccer game and want to see what's on right now.
DAZN Picks – This is a rundown of content which has recently been streamed on DAZN. You can choose to watch various condensed highlights packages. This section also lets you know whats coming up in the next 24-hours.
DAZN Kodi Add-on Content
The reason more and more people are willing to pay for DAZN's subscription service is the range of content they have available. There is plenty to choose from, but the real strength of DAZN is in its NFL and soccer content. It should also be noted that not all content is available across all of the five countries they operate. For example, their NFL coverage is exclusively for the Canadian market. But if you sign up with them in Canada, you will get very little live basketball or baseball as they only hold rights for the NBA and MLB in other countries. If you are going to sign up, it is, therefore, worth doing a little research to make sure you choose the right country to sign up from. But the overall available content is worth highlighting as it includes:
National Football League (NFL): Pretty much every game is covered, but only for Canadian users.
Soccer: For Canadians, DAZN is the place to go, with content including UEFA Champions League, UEFA Europa League, La Liga, Ligue 1, Serie A, Sky Bet English Football League, FIFA World Cup Qualifiers. There are a few glaring ommissions here, notably the Premier League, but it is still a pretty extensive selection.
Baseball: MLB (not in Canada)
Basketball: NBA (Not in Canada)
Tennis: WTA and ATP 250
Motorsports: MotoGP
Ice Hockey: Kontinental Hockey League (KHL) and also NHL – but not in Canada.
Rugby: Pro14
Darts: PDC
DAZN Streaming Quality
A quick glance at some of the feedback on various app stores might be enough to put you off DAZN altogether. Many users seem to have problems with buffering, dropped frames, and frozen streams. These complaints do not come from just one particular region either, but across all five countries they serve.
However, in our trials, we encountered very few problems. There were a couple of streams which buffered occasionally, but this was rarely to the detriment to our viewing and was never enough for us to give up watching. The visual quality of all the content streamed was also very high, even on our distinctly average internet connection.
So, overall, we were very satisfied with what DAZN provided. But I am conscious that some others are not–and they do say there is no smoke without fire. DAZN says that if you have problems with your stream it is most likely to be issues with your internet connection. They recommend a 5 Mbps minimum download speed to view their standard definition content and a 9 Mbps minimum download speed to view high-definition content. If your connection is slower than that, you might need to either upgrade or opt for another Kodi add-on.
Conclusion
The DAZN Kodi add-on has plenty going for it. It is guaranteed to be totally legal and offers a wide range of content including all NFL games and a lot of live soccer too. The add-on itself is well designed and easy to use, while the download and installation process is simple.
On the flipside, you do have to shell out a monthly subscription to access the DAZN service. That service is only available in five countries, so if you are located anywhere else you will need a VPN connected to a server in one of those countries. While content is good, you won't get everything everywhere, so you will need to prioritise what you want to be able to access. And lastly, while our experience with streaming content was good, not everyone says the same, so you could be unlucky. There is, however, a one-month free trial to see how DAZN works for you, which will hopefully reassure users enough to give the DAZN Kodi add-on a try.
Are you a DAZN user, satisfied or otherwise? Let us know about your experience with this Kodi add-on in the comments section below.