We are reader supported and may earn a commission when you buy through links on our site.
Learn more
Deliverance Add-on for Kodi (Sports Devil Alternative)
Some people see the Deliverance add-on for Kodi as the next Sports Devil. Considering the number of add-ons that depend on Sports Devil for their sports content, Deliverance might not be just about to replace it. But as far as sports content go, it possibly has just as much, if not even more. And the greatest thing about Deliverance is that it's not just about sports. It started as a ports add-on but since then, its developer added movies and music. There's also a kids section and even a live IPTV section.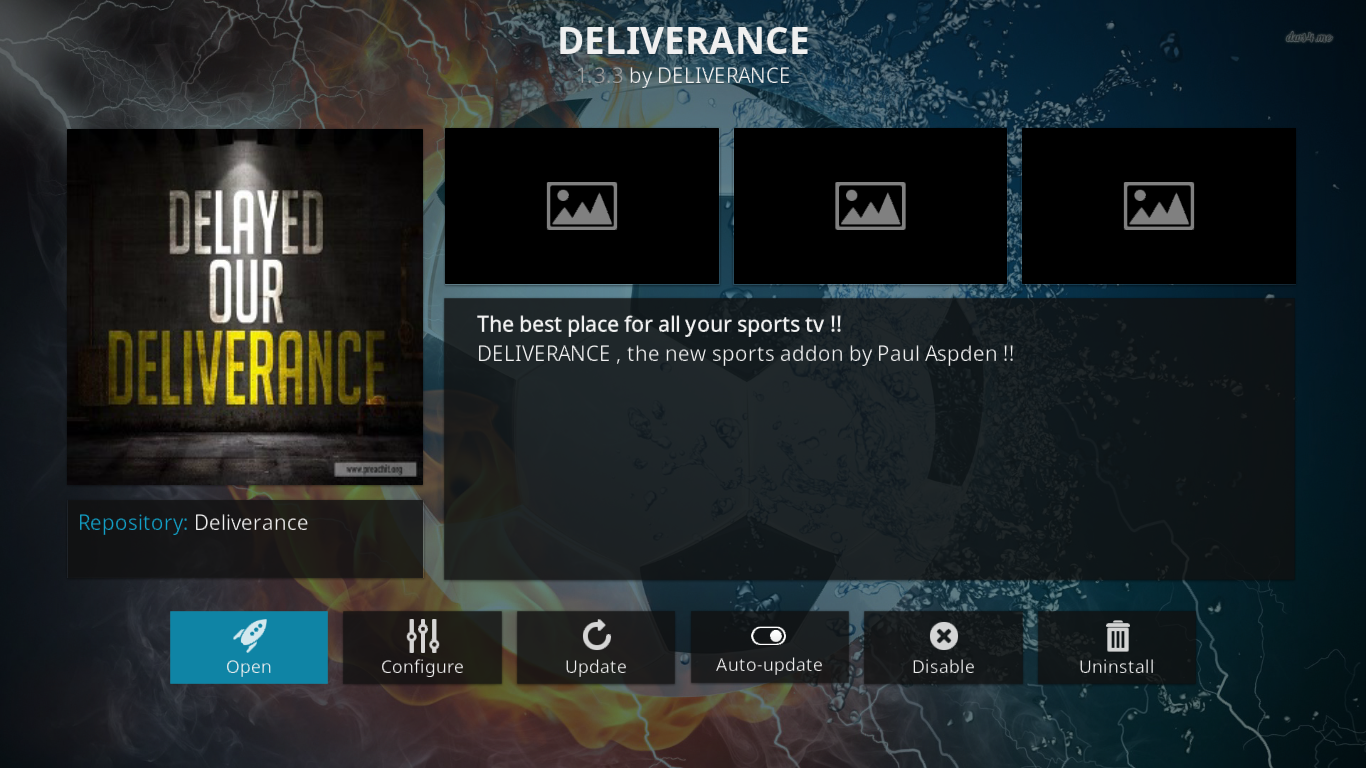 In this article, we'll take you step by step through the installation of the Deliverance add-on. Follow our directions and we'll get you up and running quickly and easily. Then, we'll give you a guided tour of the add-on and show you its best features.
30-days money back guarantee
Protect Yourself While Using Kodi–Use a VPN
If you want to keep what you're doing to yourself, we strongly recommend you use a VPN whenever you use Kodi. A VPN will shield you from the scrutiny of your ISP and prevent them from taking unnecessary action if they suspect you may be violating their terms and conditions. Generally speaking, a VPN will greatly enhance the security and privacy of your online activities. As a bonus, using a VPN allows you to access most geo-blocked content (like another country's Netflix) by spoofing your location, using an appropriately located VPN server.
There are many VPN suppliers on the market making it a daunting task to pick the best one. Among the most important factors to consider a fast connection speed will prevent buffering, a no-logging policy will further protect your privacy, no usage restrictions will let you access any content at full speed and available software for multiple platforms will ensure it works with your device.
The Best VPN for Kodi: IPVanish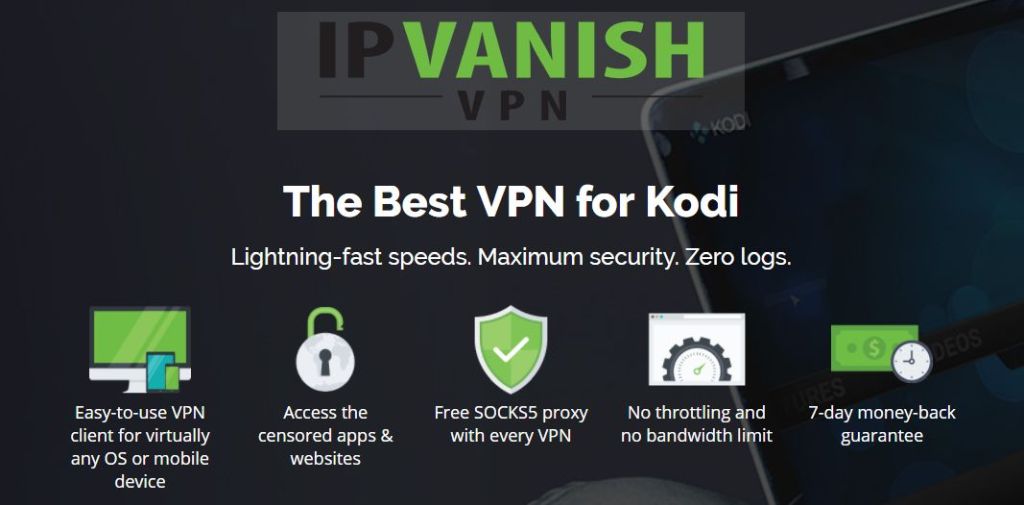 We've spent a lot of time testing the various VPNs on the market and our top recommendation for Kodi users is undoubtedly IPVanish. This provider offers a complete privacy solution, and in accordance with to our criteria, they truly deliver. With servers worldwide, no speed cap or throttling, unlimited bandwidth, unrestricted traffic, a strict no-logging policy and client software available for many platforms, IPVanish delivers impressive performance and value.
IPVanish offers a 7-day money back guarantee which means you have a week to test it risk-free. Please note that Addictive Tips readers can save a massive 60% here on the IPVanish annual plan, taking the monthly price down to only $4.87/mo.
How to Install the Deliverance Add-on for Kodi
If you're new to Kodi, Installing third-party add-ons may be intimidating. There are quite a few steps to it but overall, it is an easy process. You simply need to follow our directions and you shouldn't have any issue.
Preliminary Step: Making Sure Unknown Sources are Enabled
Before we can install third-party add-ons on Kodi, we need to make sure Unknown Sources are enabled. If you've installed other add-ons before, they probably are and you can safely ignore this step.
If not, starting from the Kodi Home screen, click the icon that looks like a little gear at the top left of the screen. It is the Settings icon.
Next, click System settings and then Add-ons on the left pane of the screen.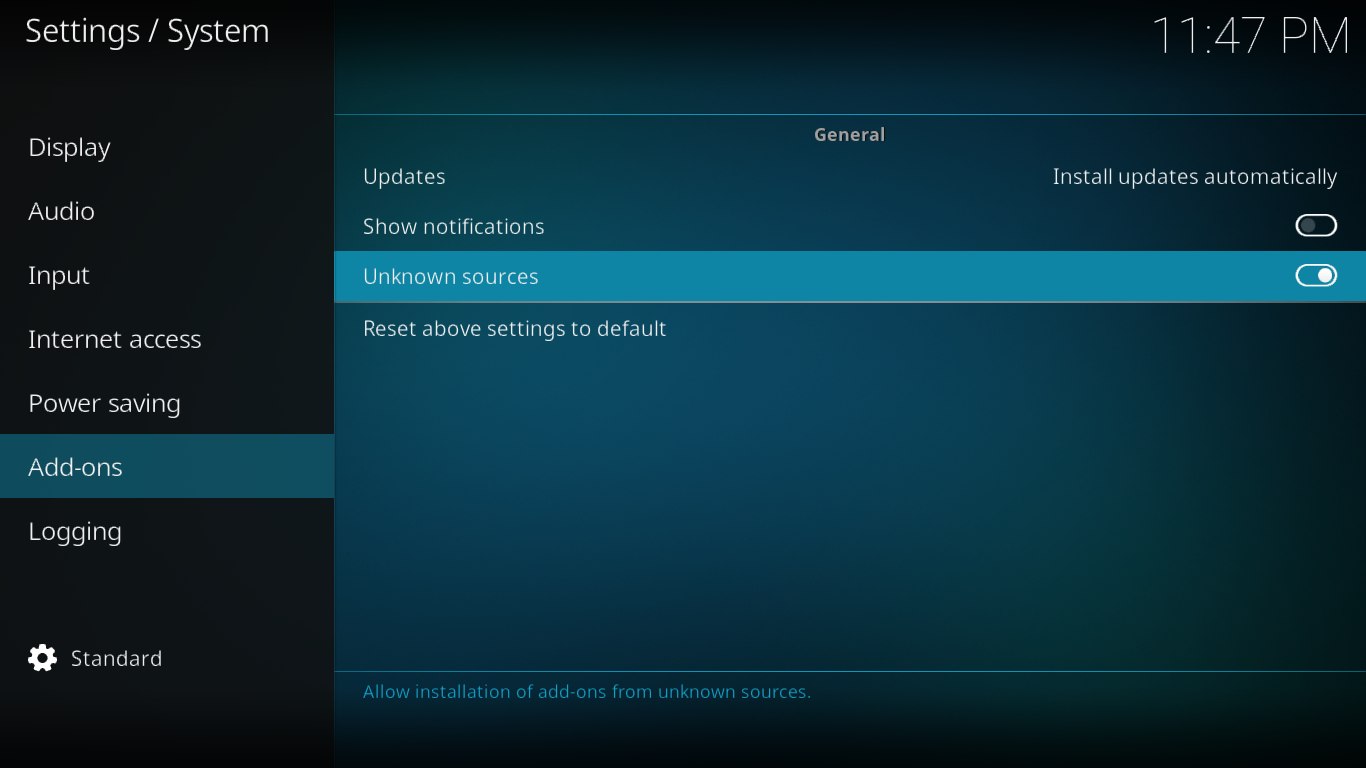 Make sure that Unknown Sources are enabled in the main section of the screen. If not, click the switch at the far right to enable them.
Adding the Installation Source
Back to the Kodi Home screen, click the Settings icon once more. This time, click File manager.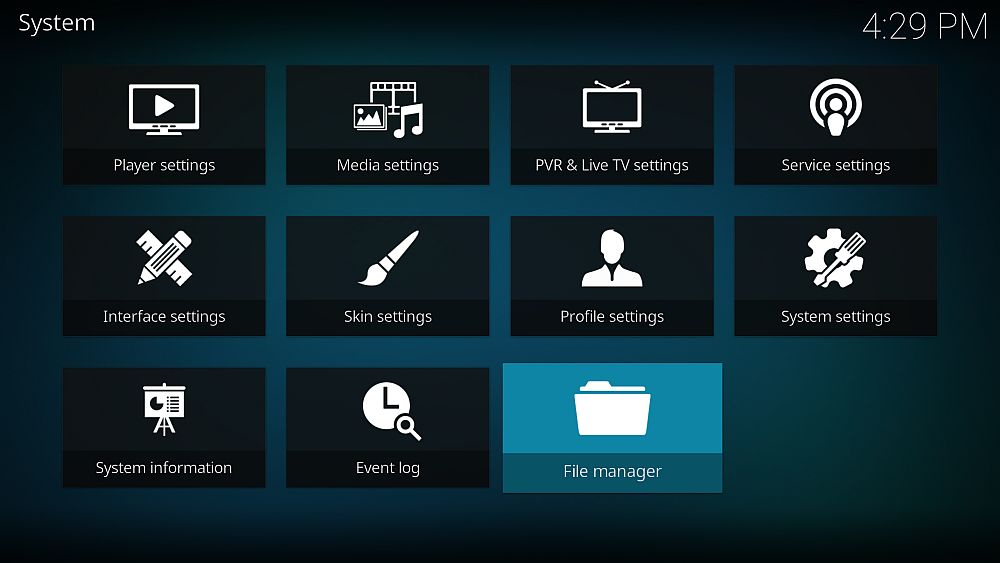 From the File manager screen, click Add source on the left pane. Next, in the Add file source box, click <None>.
Enter the following path exactly as shown: https://sport-xplosion.com/DELIVERANCE/ then click OK.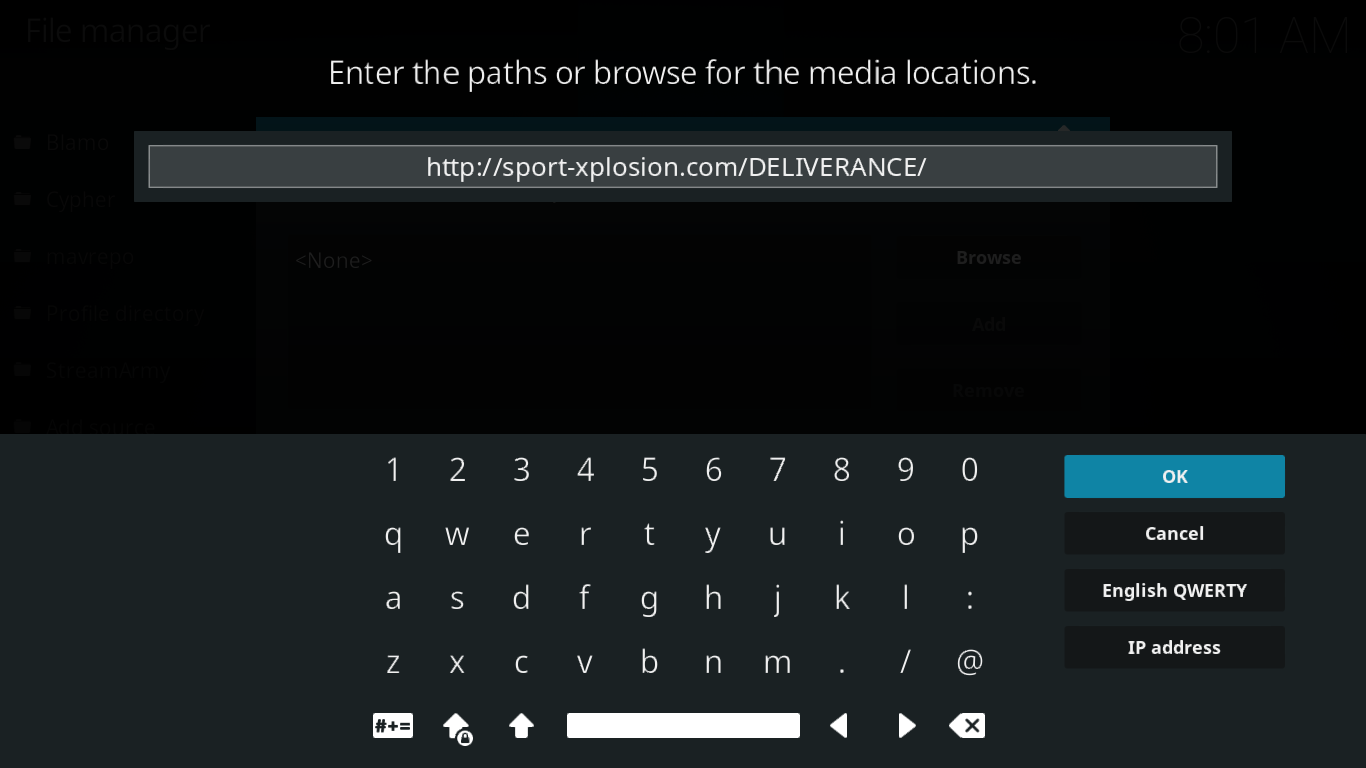 Back to the Add file source box, click OK to save the new source.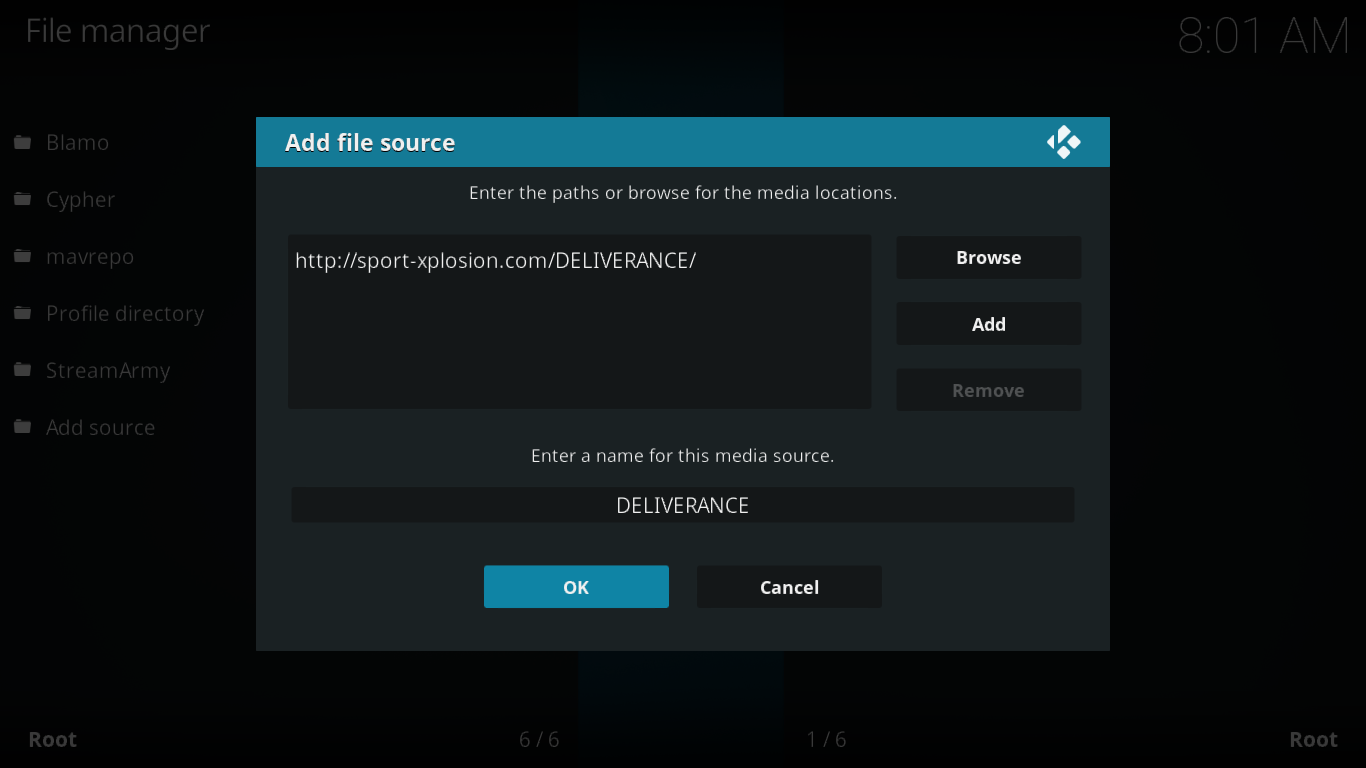 Installing the Deliverance Repository
Now that we've configured the source, we can install the Deliverance repository. Start from the Kodi Home screen and click Add-ons on the left side of the screen. Then, click the Add-on Browser icon at the top left. This one resembles an open box.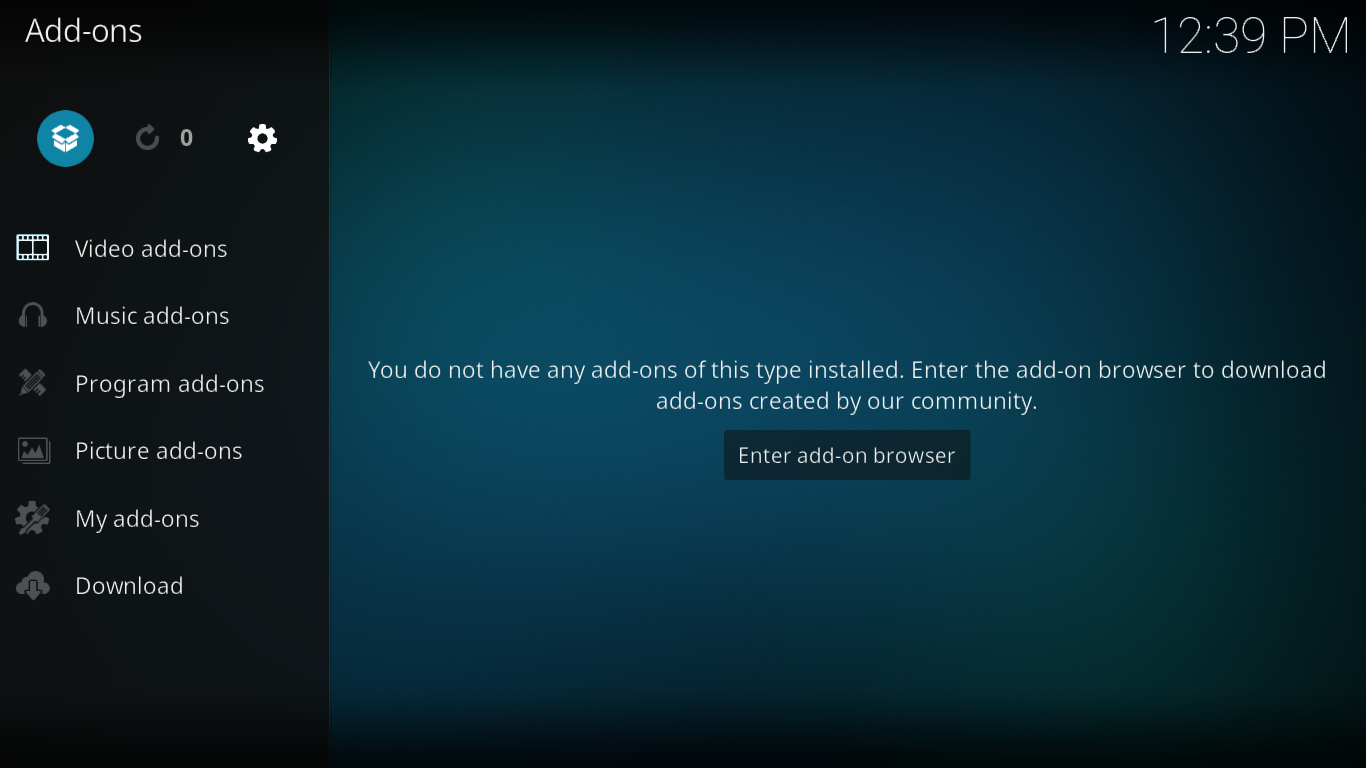 From the Add-on browser screen, click Install from zip file.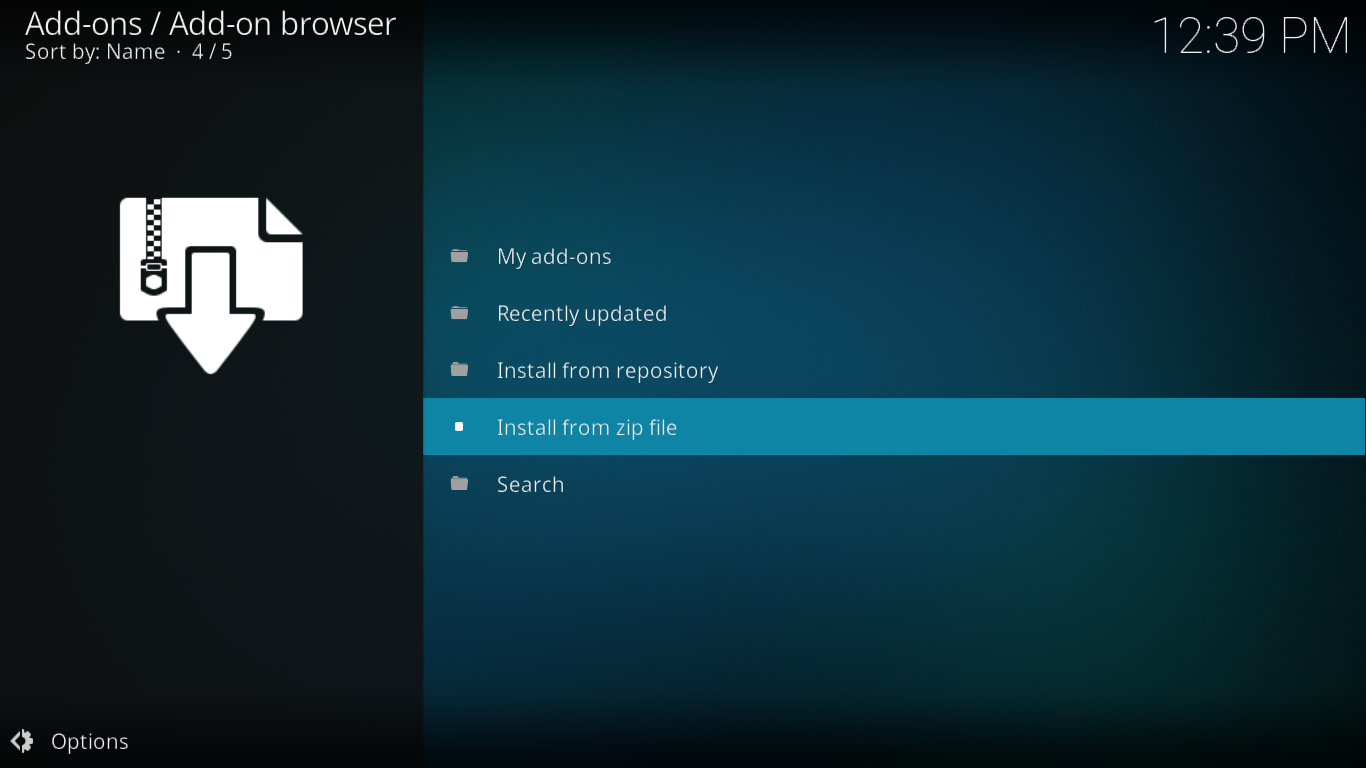 Click the DELIVERANCE source and then click repository.Deliverance-1.0.0.zip to launch the repository installation.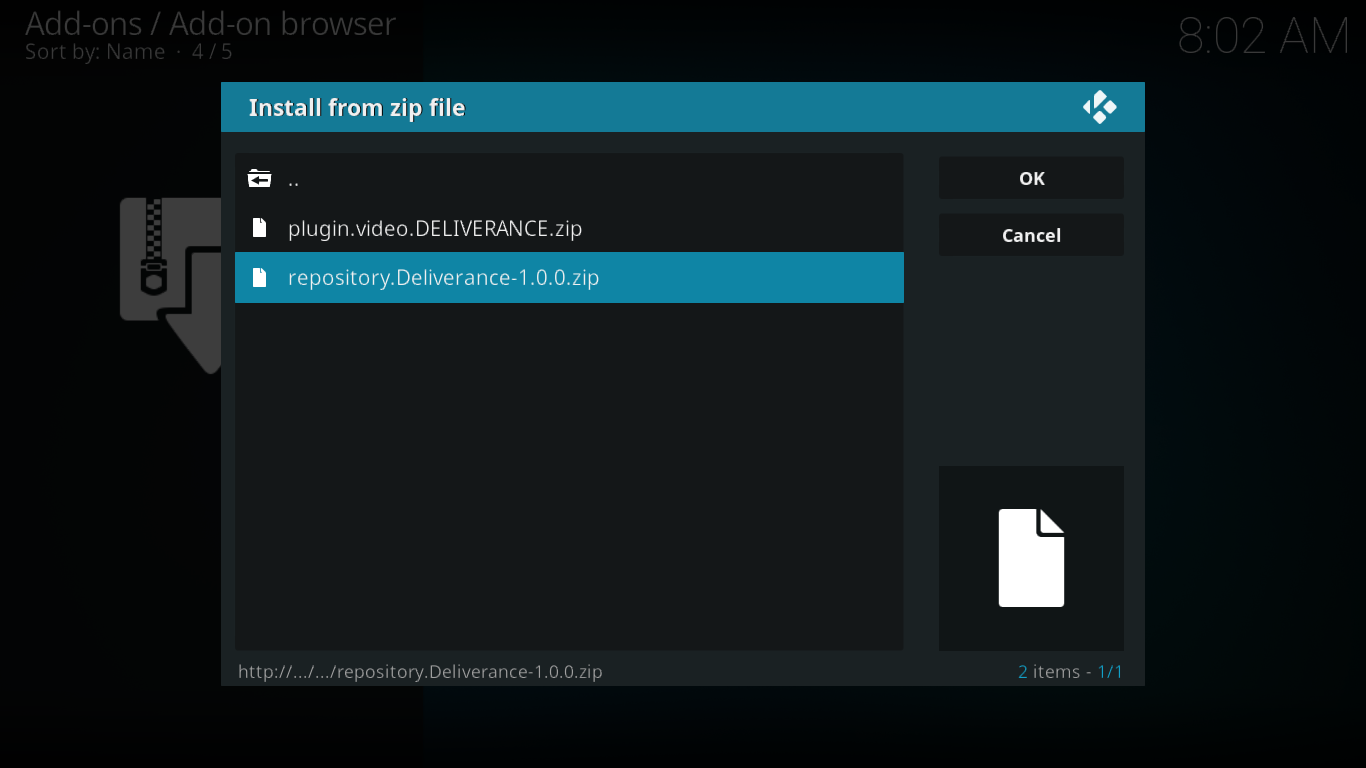 Wait for a few seconds until a message at the top right of the screen confirms the successful installation.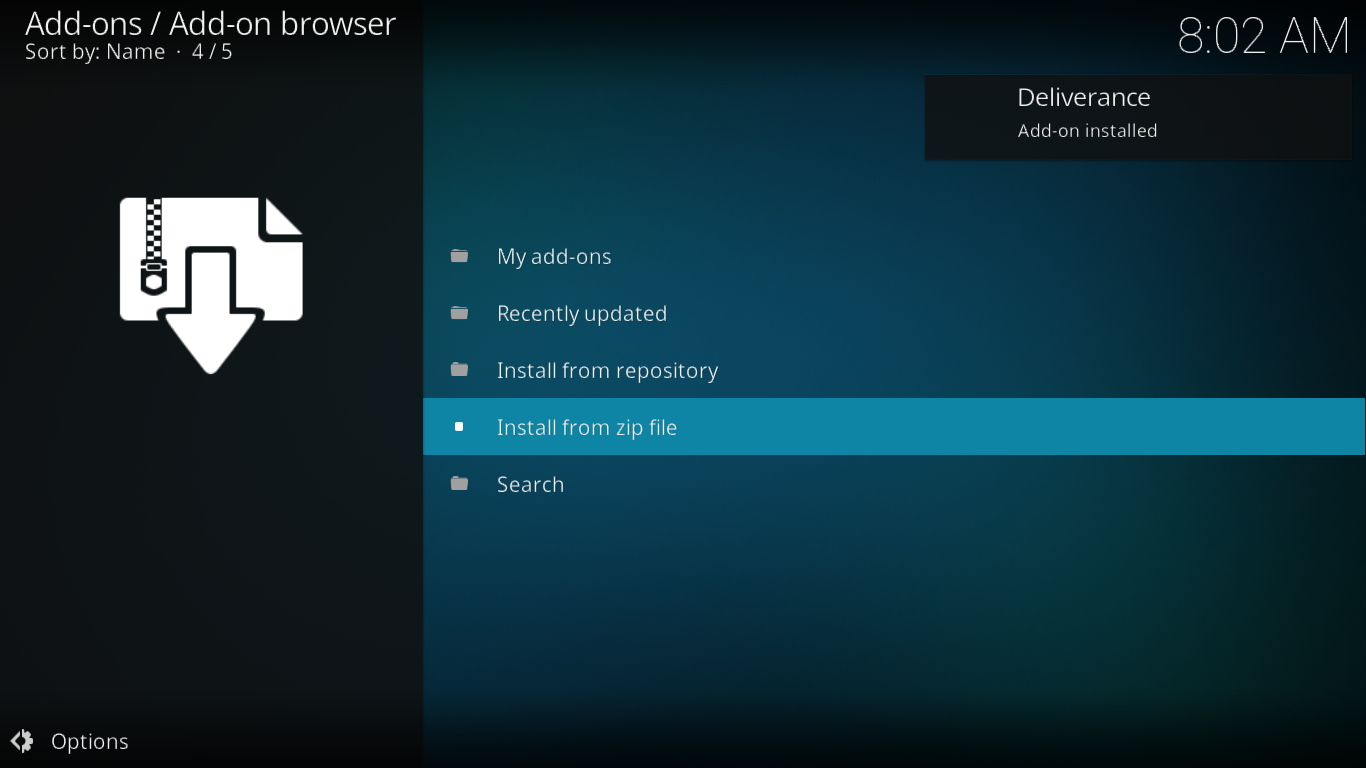 Installing the Deliverance Add-on
We're now ready for the last step, the actual add-on installation.
You should still be on the Add-on browser screen. Click Install from repository this time.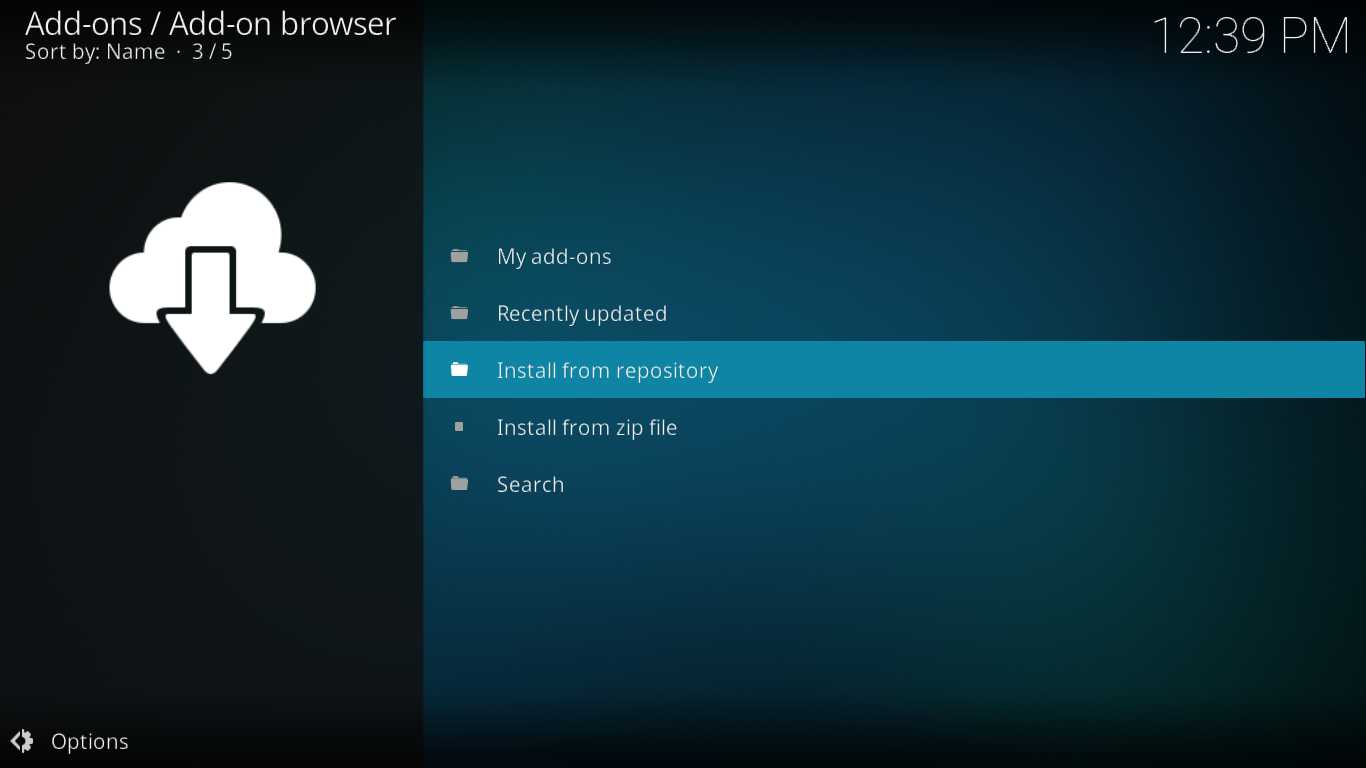 Click the DELIVERANCE repository from the list of available ones and then click Video add-ons. Finally, click the DELIVERANCE add-on. It should be the only selection.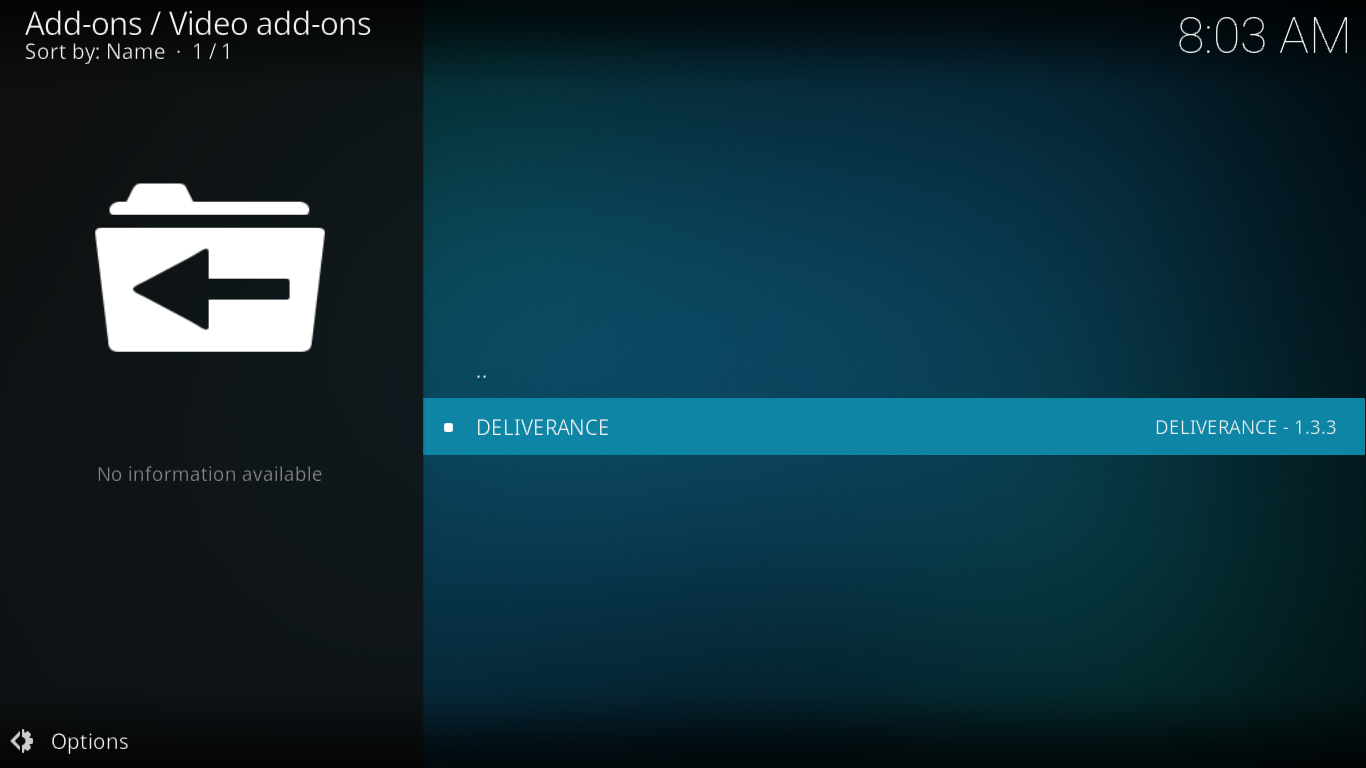 The Deliverance add-on information page will be displayed. Click the Install button at the bottom right to launch the installation of the add-on and its dependencies.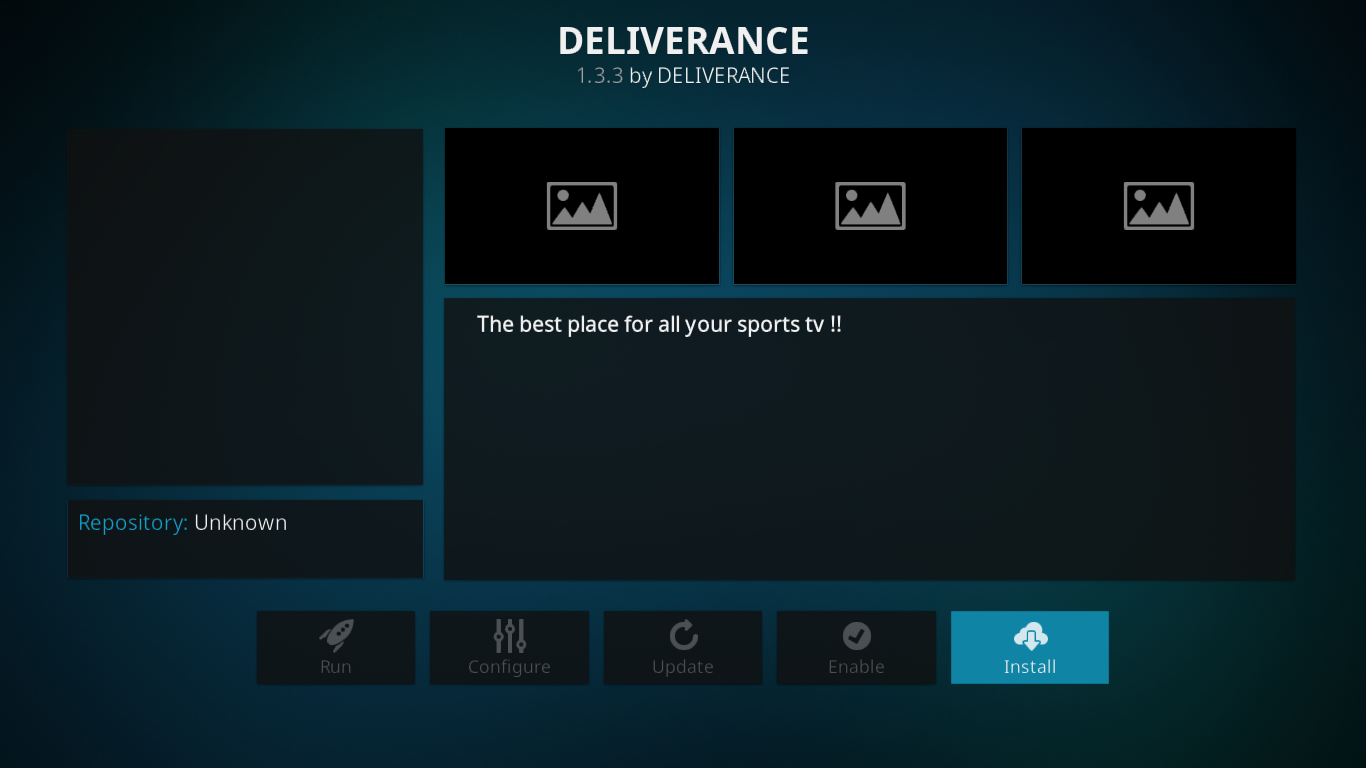 After a little while and after possibly flashing several messages at the top right of the screen, a final message will confirm the installation of the add-on.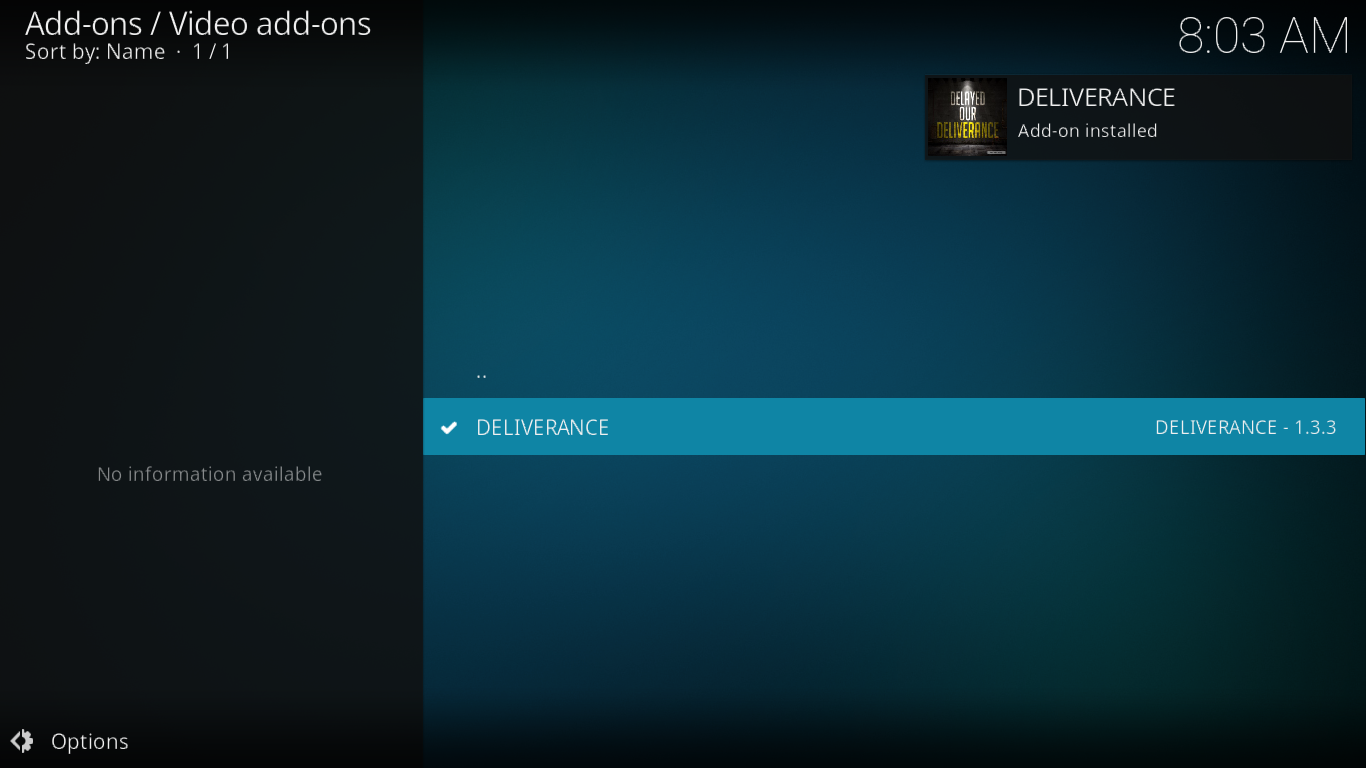 An In-Depth Look at the Deliverance Add-on
When you start the Deliverance add-on, you'll be greeted by an impressive main menu of no less than 16 items. Don't let that impress you. Most of them are self-explanatory and we'll go through them one by one and let you know what each is all about.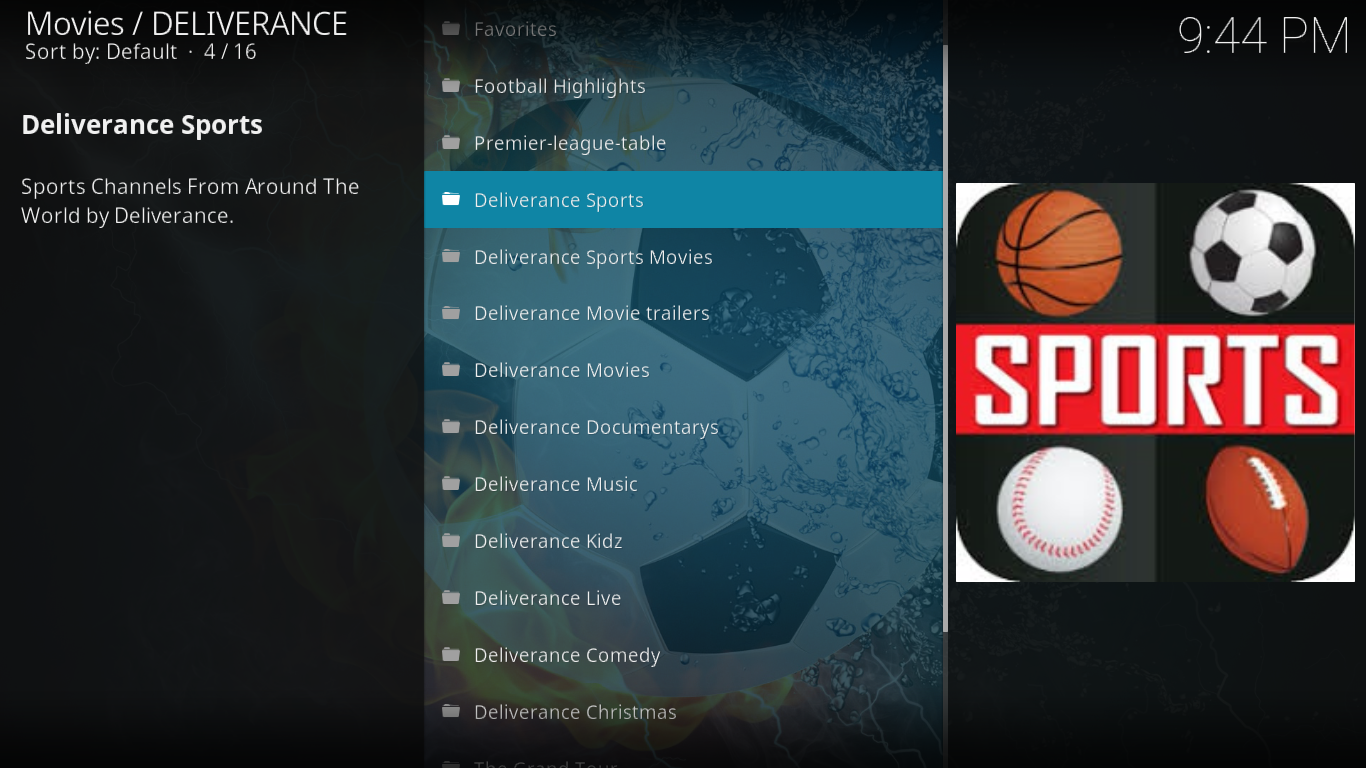 So, let's not waste any more time and see what the Deliverance add-on really has to offer.
Favorites
This section is where you'll find your own favorites from the Deliverance add-on. Throughout the add-on, you can mark any content as favorite and quickly find it back it this list. Certainly a useful feature. In fact, it exists in many add-ons but it's rarely the first item on the main menu. The developer likely wanted us to find our favorites easily.
Football Highlights
The fact that this is the first content item tells you a lot about the importance football has.  For quick highlights and scores of all the latest matches, this is the place to go.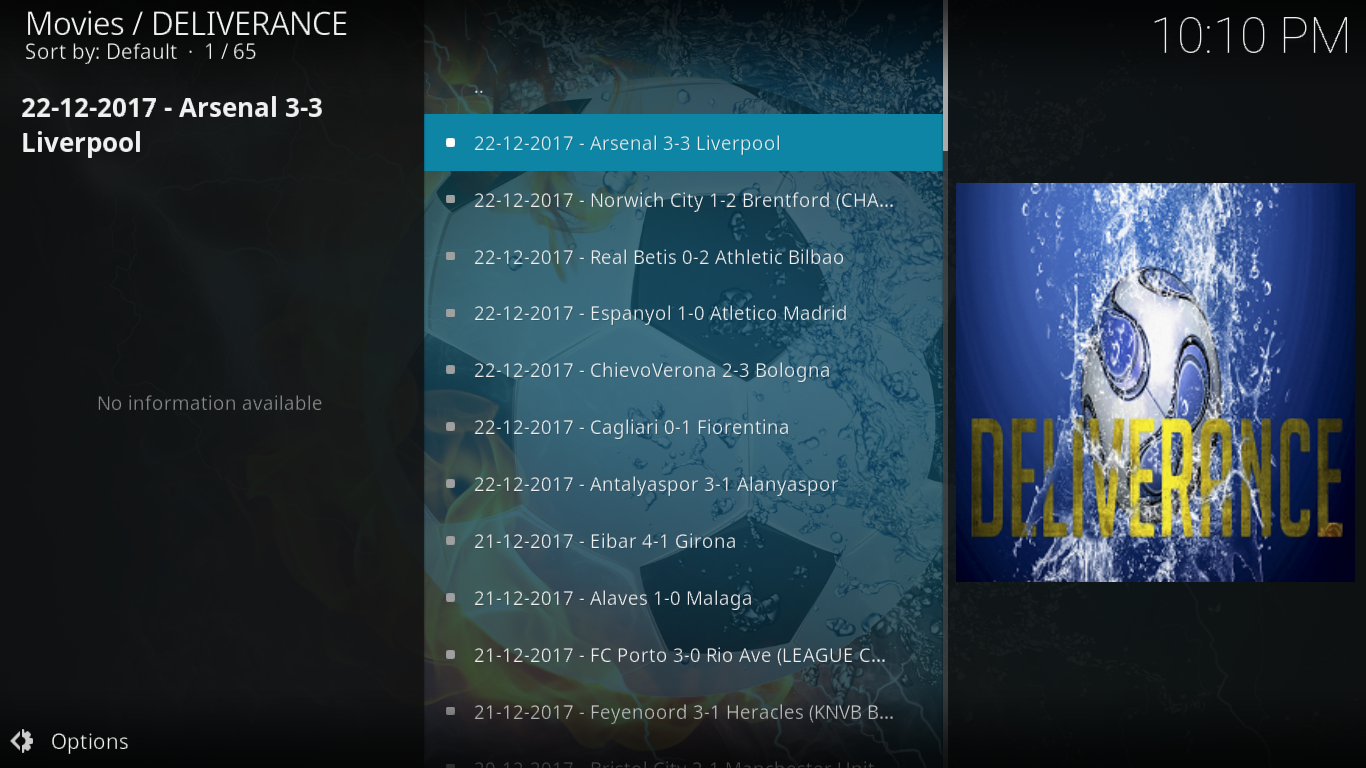 With over 50 entries in the list, you have highlights from the past week or so.
Premier-league-table
This section is just what its name implies, a statistics table from the Premier League. It has one line for each team with their stats next to their name.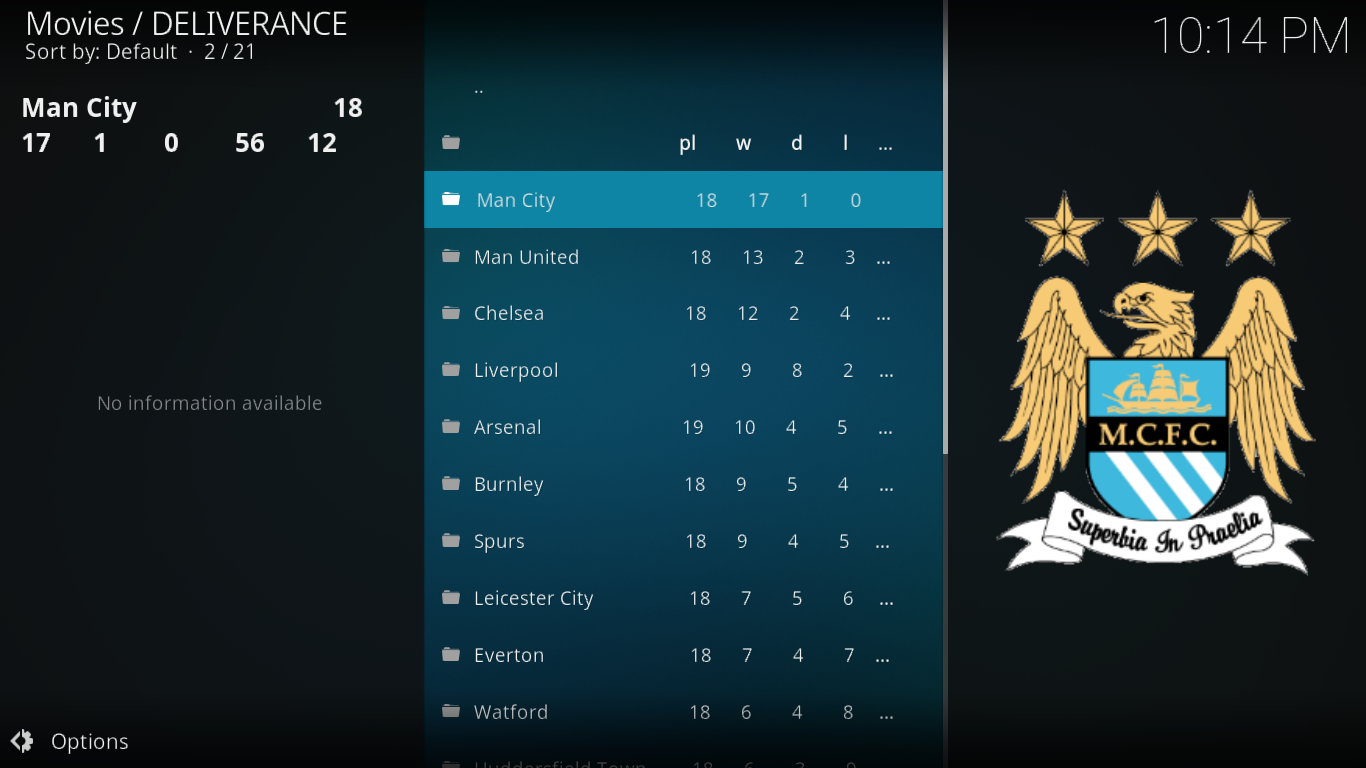 By default, the display format is "list" which prevents all the stats from being displayed at once and makes each individual line scroll as it is selected. The problem is that the column headings don't scroll as each line does. This can easily be fixed by changing the display format to Wide List.
To accomplish that, move your cursor to the left of the screen to reveal the view options and click Viewtype repeatedly until it switches to WideList.
Deliverance Sports
Now, this is where the "real" content begins. The sports section is so big, it's almost an add-on by itself. And it has an obvious British flavour and a strong football bias. Most of the content is about the round ball sport.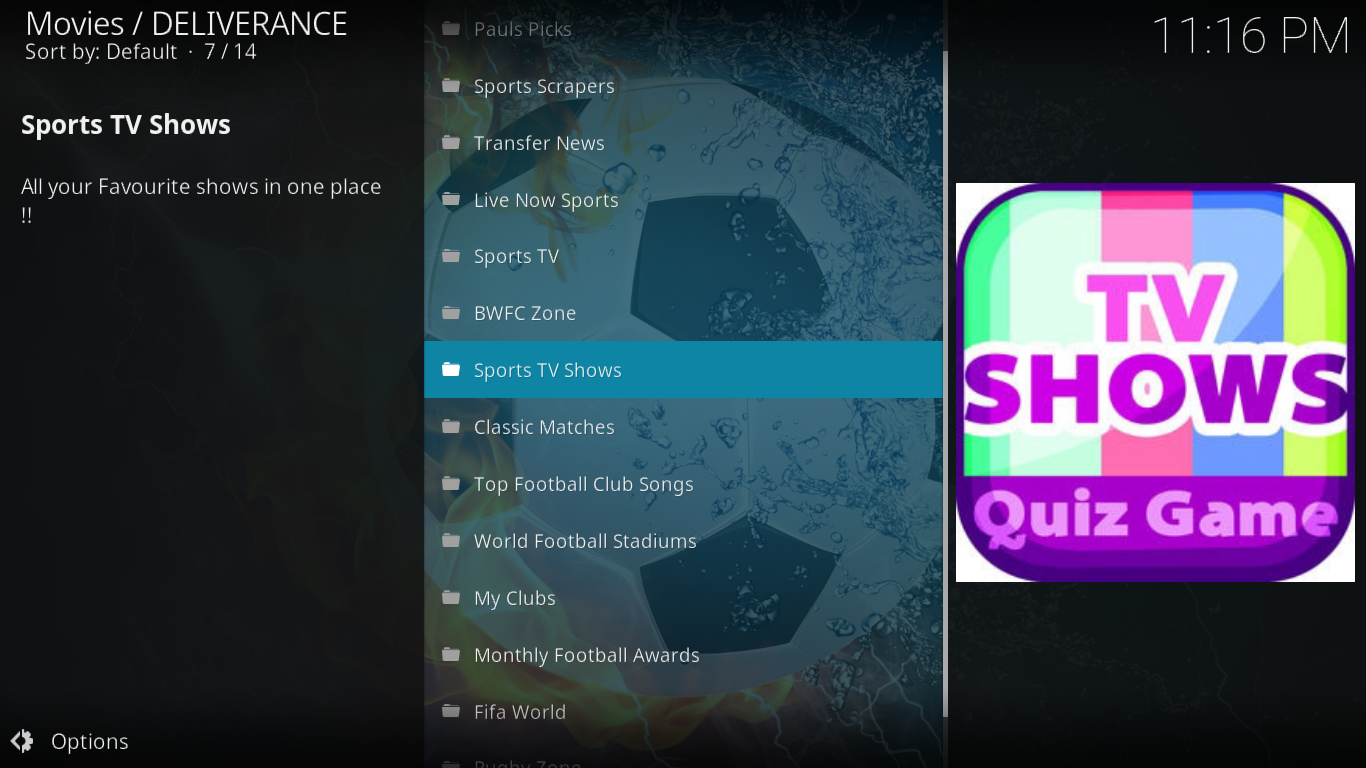 Of the 14 subsections, more than 10 are football-related. Overall, there is a good mix of on-demand and live content. Sports TV is one of those sections that are not about football. This one has several live IPTV sports channels from around the world.
Deliverance Sports Movies
This is the section where Deliverance bridges sports and movies. It is quite unique among add-ons.  It has almost 75 movies that are all sports-oriented. They are either fiction films or documentaries about sports of all kind.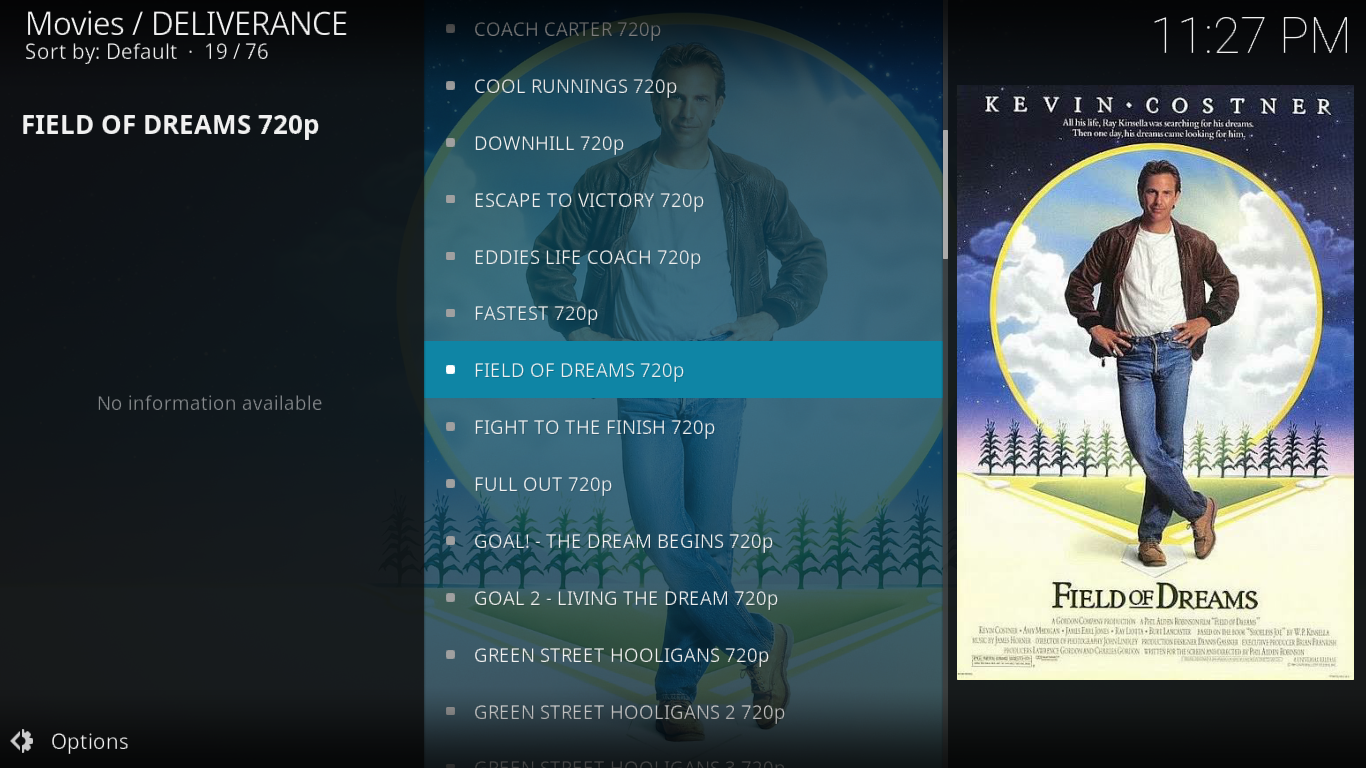 Most of the films are in 720P and are working fine. Among the titles you'll find in there are The Blindside or Slap Shot. Obviously sports movies. But some selections like Rainman or She's the man are somewhat harder to understand. Both are good movies but are they really about sports?
Deliverance Movie Trailers
Not too many Kodi add-ons have sections dedicated to movie trailers. Deliverance does. And it's a great section, The content is all neatly arranged by genre so finding a specific movie would not be too hard. It has some 17 genres each with many trailers. You could watch trailers for hours on end.
Deliverance Movies
This one is certainly one of the longest lists we've seen in any add-on. The section has a single list of 3468 films. They are somewhat arranged but in a weird way. It starts with movies in English. They are sorted in descending order of year and each year's titles are sorted alphabetically.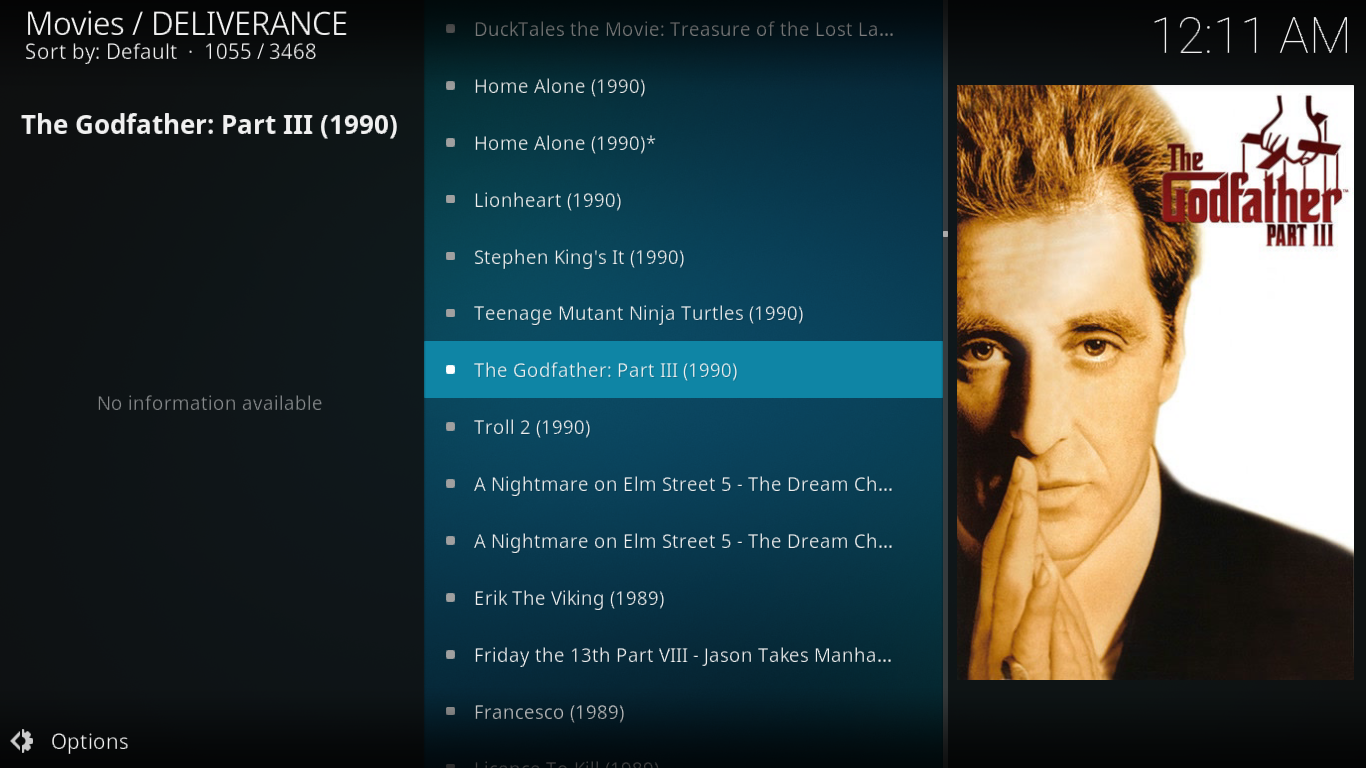 Then, it has movies in foreign languages. There's German, Italian, French, Spanish and a handful of other languages as well. Each language's films are sorted like the English ones.
Finally, at the end of the list are a few TV shows. There are modern shows like Games of Throne but also older content like Felix the cat or Gumby.
The list appears to be relatively complete but, due to its length and organization, finding a specific title could prove to be a difficult task, especially for a movie in a foreign language. Scrolling down a multi-thousand items list is an unpleasant experience. It would have been better if the list had been arranged with subsections in a hierarchical way.
Deliverance Documentarys
Despite the weird spelling, this section has some great documentaries. Oddly enough, opening it reveals only one selection: Documentaries. Then you get to a second level where the actual content is. We don't get it.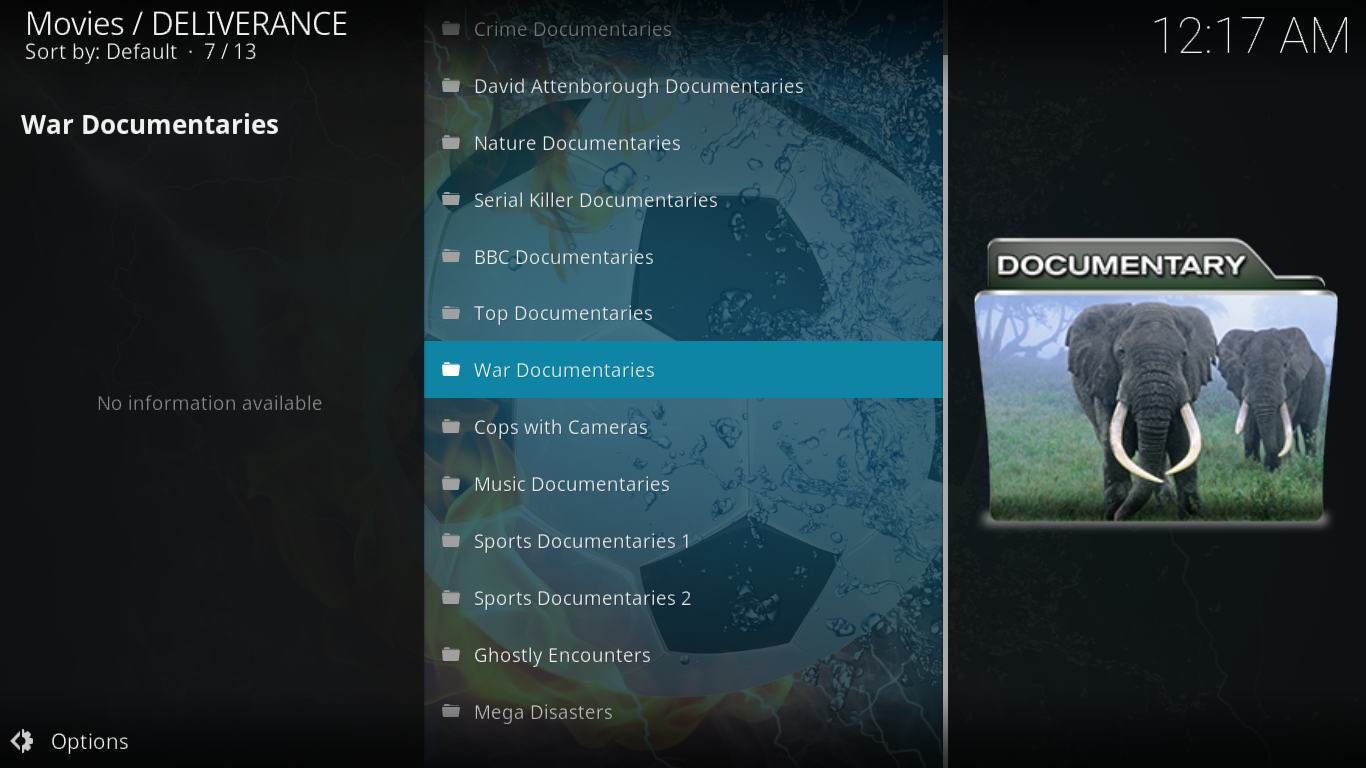 It has 13 sections, making finding something particular relatively easy. It also makes browsing the available films a more pleasant experience.
One of its sections, Cops with Cameras, appears to be broken and returns an error when trying to access it. Other than that, all content seems to be working fine.
Deliverance Music
Next is the Music section. Its first selection, Sports and UK radio hasn't got much to do with music and is rather a mix of radio stations–including some sports stations–from the UK. Music TV has a bunch of Live IPTV music video stations. For example, this is where you'll find MTV or Virgin TV.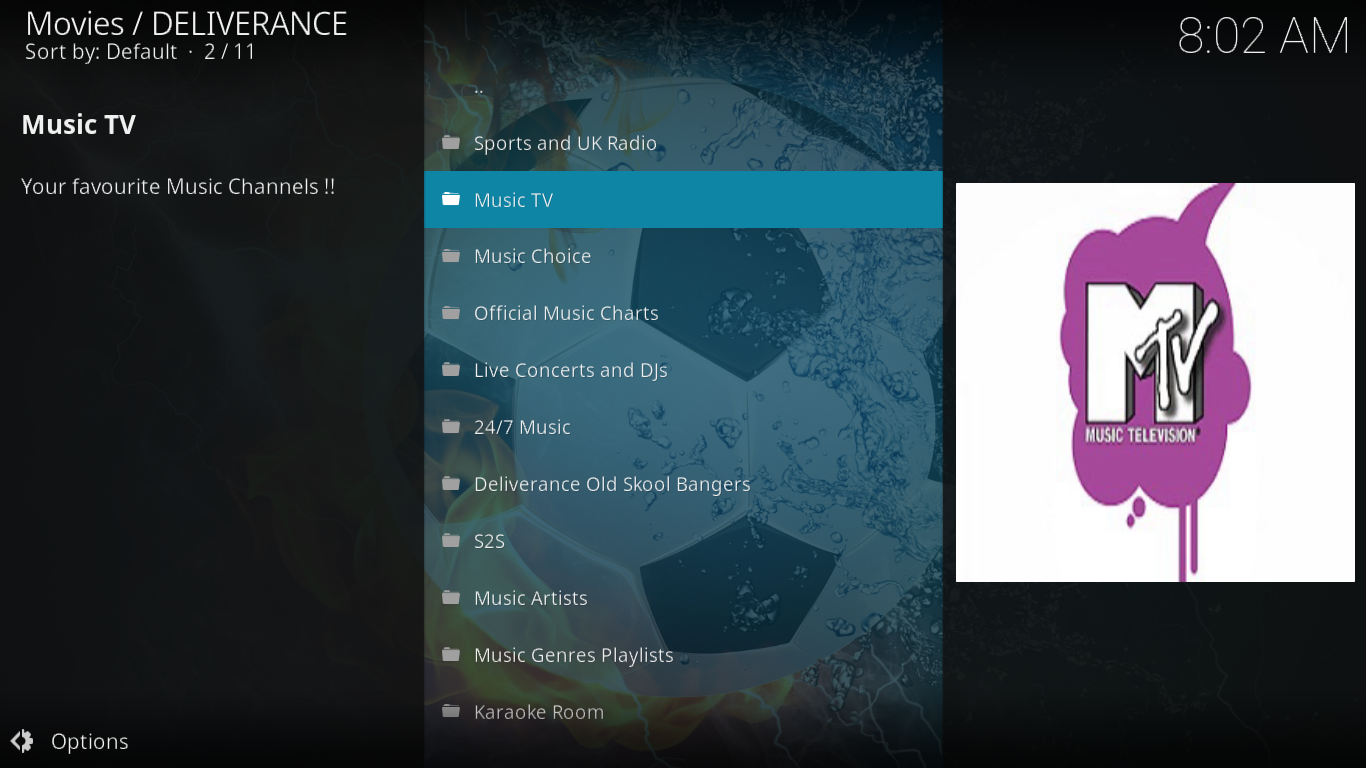 There is also a Live Concerts and DJs section where you'll find recordings of live performances from the 70's to today.
The Music Artists section allows you to view on-demand content sorted by artist while Music Genre Playlists lets you view it by genre.
And finally, there's the Karaoke room, if you're into this kind of entertainment.
Deliverance Kids
This section is not necessarily just for kids. It is for cartoon lovers of all ages, It has older classics such as Bugs Bunny, Daffy Duck or Woody Woodpecker but also more recent cartoons like Paw Patrol.
There's something in here to keep the young–and the not so young–busy four hours.
Deliverance Live
This section is one of our favourites. It is all about live IPTV from around the world. And to make it easy, all feeds are arranged by country. You have Albania, Austria, Australia, Belgium, Canada, Greece, Poland, UK, and the USA.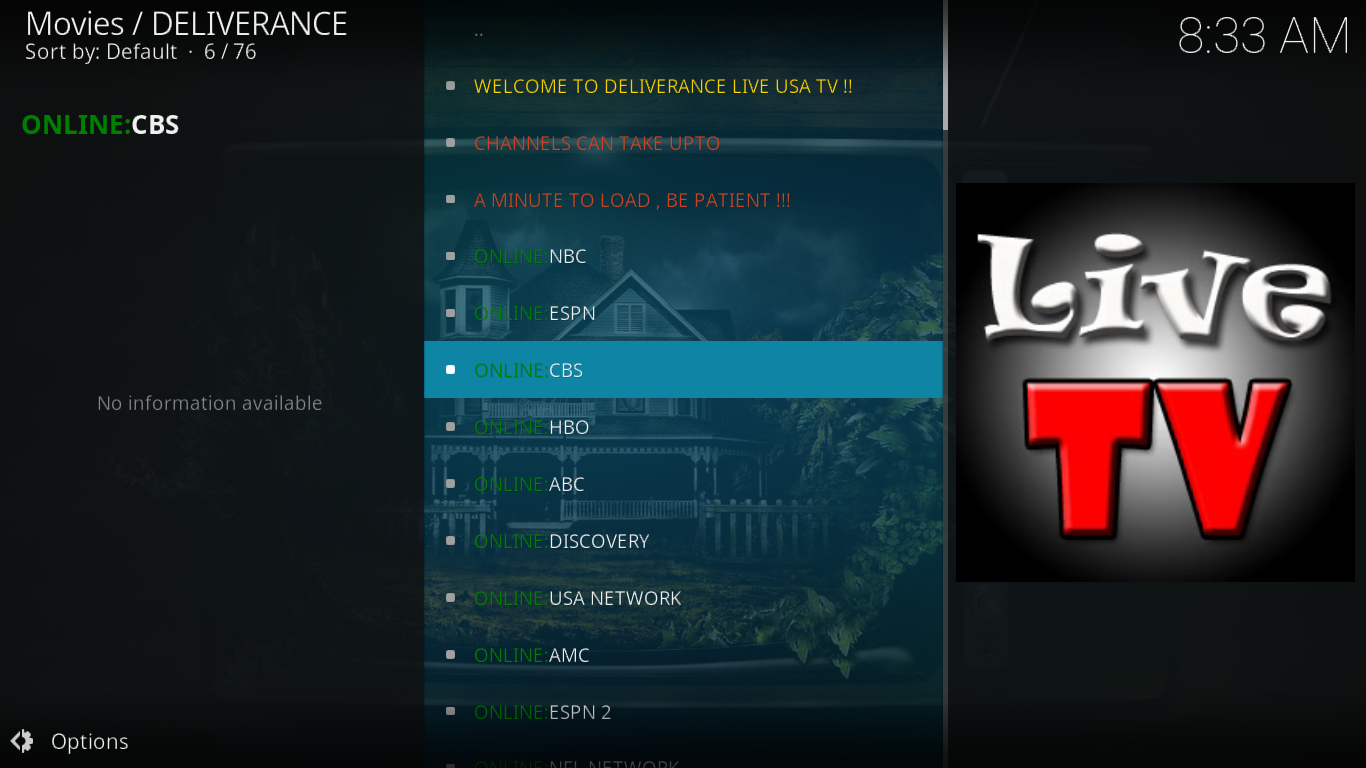 The number of stations varies by country from 7 for Albania to about 75 of the USA.  Generally speaking, the sources are good but like most live IPTV in Kodi, you can expect a relatively high number of dead feeds as they come and go at an amazing rate, making it very hard for add-on developers to keep up. Also, some feeds take a very long time to load (almost a minute) so be patient and give them time.
Deliverance Comedy
If you like stand-up comedy, especially British comedy, you'll love this section. It offers on-demand content from some of the best UK and US comedians. It is organized by comedian name with subsections for Lee Evans, Bill Conolly, Jeff Dunham, John Bishop, Peter Kay, Roy Chubby Brown, Dave Allen, Franky Boyle, Jimmy Carr, Jasper Carrot, and Tommy Cooper.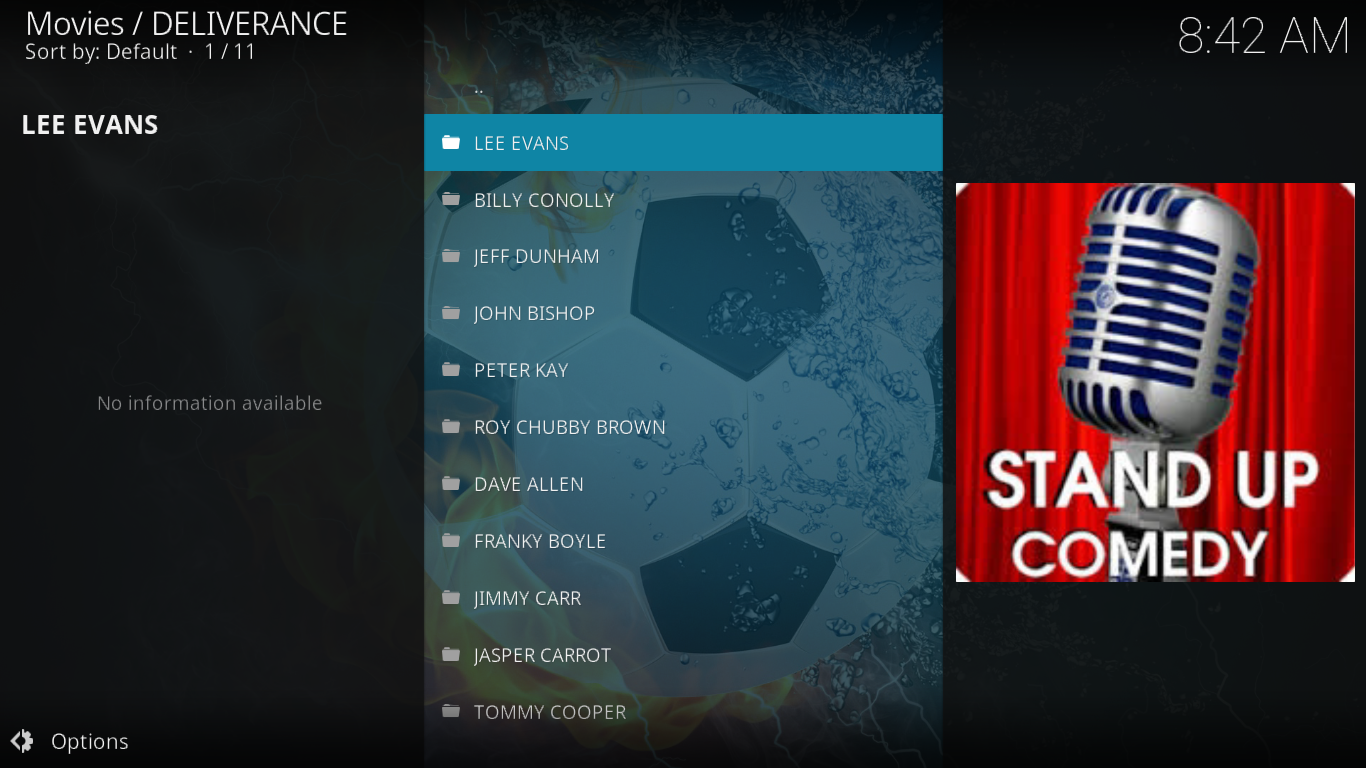 This is a fine selection of artist what should keep you laughing for a while. And don't let yourself be deceived by the length of each subsection. Most of the selections are playlists with several videos to choose from. Some are even several pages long.
Deliverance Christmas
It's the time of the season and the Deliverance developer is offering us a Christmas section. And it is quite impressive.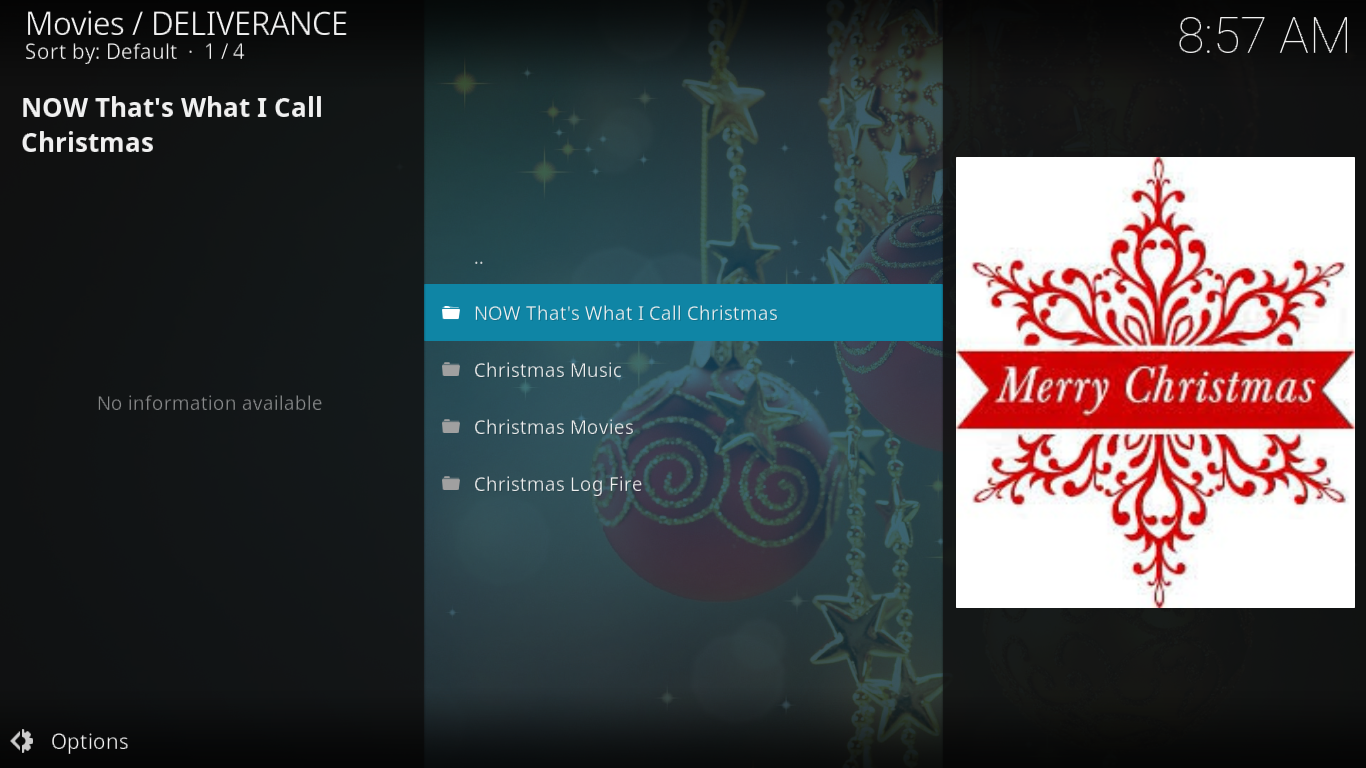 For example, Christmas Music has several lists of Christmas audio and video content. Some will play for hours and will be ideal as background music for your Christmas dinner.
Christmas Movies is another great section with nothing but Christmas-themed movies. It has all the classics such as National Lampoon's Christmas Vacation, Home Alone (all 3 of them) or even White Christmas from 1954.
And finally, to add some ambiance to your Christmas dinner, the Christmas Log Fire has only one 8-hour long video of logs burning in a fireplace, complete with sounds. All that's missing is the heat from the fire.
The Grand Tour
This one is a whole section dedicated to the Grand Tour TV show. For those who might not know about the Grand Tour, it is an immensely popular motoring TV show from Amazon Video. The show is presented by Jeremy Clarkson, Richard Hammond, and James May, and produced by Andy Wilman, all previously associated with Britsh motoring TV show Top Gear.
It is currently in its second season and all already-aired episodes are available in this section. The feeds are of high quality and we found no dead links.
World CCTV
This section is for the curious in all of us. It has a wide array of feeds from live CCTV cameras located throughout the world.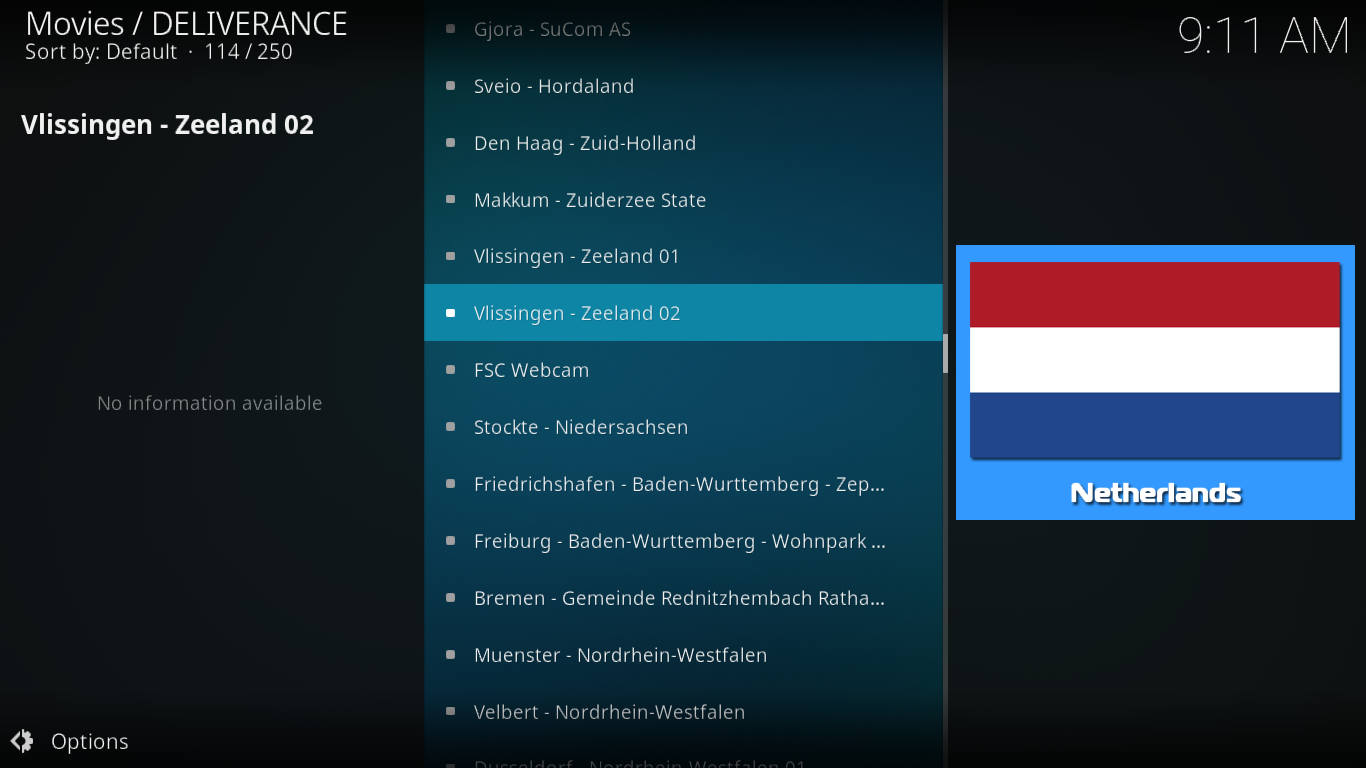 There are, for example, cameras at the White House in Washington, DC or at the Statue of Liberty in New York. This section is more of a curiosity than anything else but it's something that some enjoy. The Deliverance add-on's selection is particularly good and seems to have only a small ratio of dead feeds.
Test Area!!!
This is just what it says it is. There is no content in there and what you'd find there is not meant for general use. This is where the add-on developer tests new feeds and functionality. Generally speaking, it is best to avoid this section completely. It is nice to know it's there, though, as is indicates that there is some active testing going on which is a good thing.
Conclusion
Overall, the Deliverance add-on for Kodi is a great one. It has an obvious sports orientation and a definite British flavour but it also has lots of great international content. It offers a good balance of sports, on-demand video and live IPTV that should satisfy most Kodi users. Is it really the next SportsDevil? We don't think so but it's still a great add-on for sports. This one is certainly worth trying.
We'd love to hear about your experience with the Deliverance add-on. What do you like most about it? Have you had any issues installing or using it? Use the comments below to share your thoughts.