We are reader supported and may earn a commission when you buy through links on our site.
Learn more
Failed To Install a Dependency on Kodi? Here's How to Fix It.
When installing Kodi add-ons from around the web, you may occasionally encounter error messages. Of these error messages, perhaps the most prominent is "Failed To Install a Dependency", which can be difficult to deal with if you're new to Kodi or don't know exactly what to do about the problem.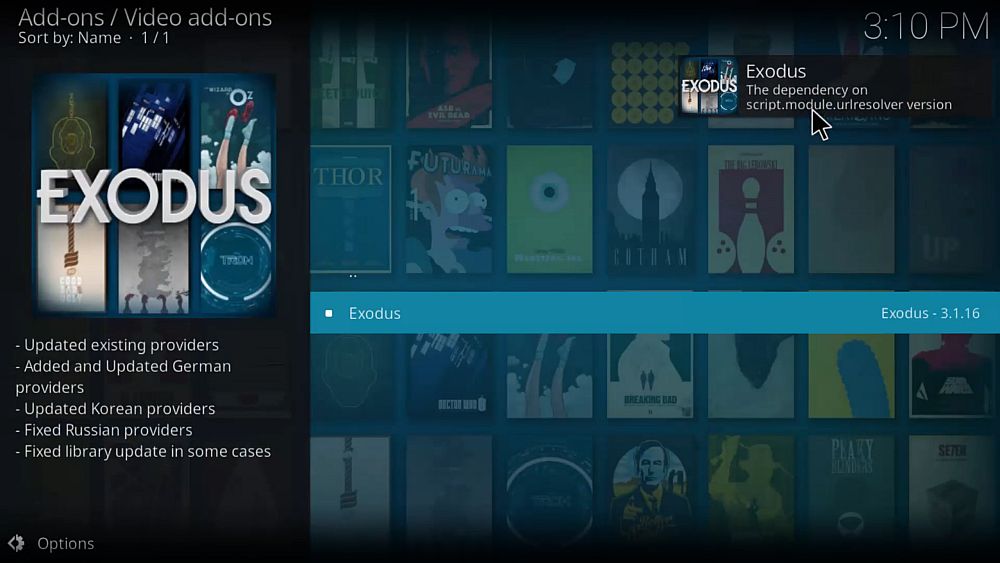 Because this error has multiple root causes, it will be fixed differently depending on which of those causes is weighing you down. Because of that, walking you through a specific fix for a specific application probably won't help you. Instead, you need to understand how to fix the problem on your own.
30-days money back guarantee
Streaming with Kodi? Use a VPN
If you've encountered a missing dependency error, chances are good that you're attempting to install a streaming IPTV add-on for Kodi. If this is the case, you'll want to ensure that you're doing everything you can to safeguard your privacy online before going any further with streaming. While copyright laws may vary by country (even for streaming content you already legally own), ISPs and other third parties will still snoop on your traffic and attempt to penalize you if they have a problem with what you're doing. There's an established history online of shady law firms tracking torrents and threatening legal action if victims don't comply. While this is less likely with Kodi streaming, a VPN will still protect you completely from problems like this.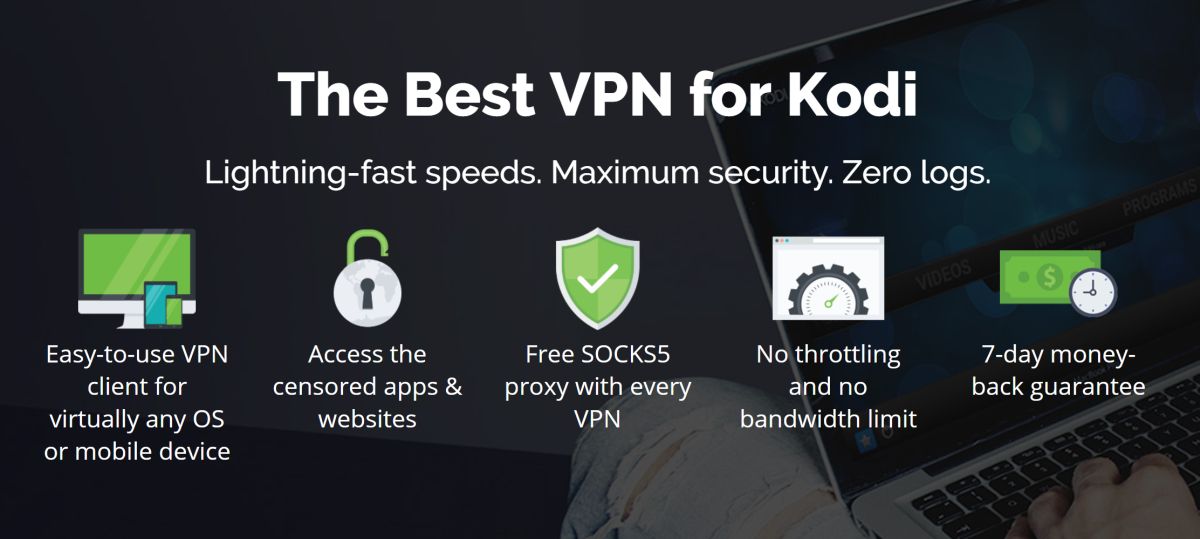 The VPN we recommend most for this scenario? IPVanish. IPVanish balances price and performance better than many other VPN options, providing affordability and top-tier speed for large file downloads and media streaming. For this reason, it's the most highly-recommended VPN for streaming with Kodi–even from third-party add-on developers! To protect your identity and your privacy online, use IPVanish.
IPVanish offers a 7-day money back guarantee which means you have a week to test it risk-free. Please note that Addictive Tips readers can save a massive 60% here on the IPVanish annual plan, taking the monthly price down to only $4.87/mo.
What does "Failed To Install a Dependency" mean?
Fortunately, the error message is actually pretty informative. If Kodi has failed to install a dependency, that means that the add-on you're trying to install requires on a script or add-on that isn't installed on your system. This is because many add-ons are based on work done by other developers.
Whenever you're, say, installing a game or program on a Windows PC, you may occasionally get a message about a missing C++ runtime. If you're familiar with that scenario, then you pretty much already know what's going on here: your add-on was built on top of the functionality of the missing dependency, and without that dependency installed your add-on cannot function.
You understand the concept of missing dependencies. How, then, do you fix this issue?
Ways to alleviate the problem within Kodi
First, take note of how long you've been using Kodi. This problem can be caused by having outdated repositories installed on your system that no longer work. If these repositories no longer work, your new applications may attempt to retrieve dependencies from them and fail.
There's no easy way to tell if a repository has stopped working, unfortunately. Here's a few recent major repositories that have been shut down and could be causing your problem:
FusionTV/TVAddons – A popular host for streaming add-ons like Stream All The Sources and Exodus. Disable this repository and install Smash Repository in its place.
XunityTalk – A host for various sports-oriented add-ons. The Duckpool and NoobsAndNerds repositories host the add-ons that were from this repository.
Exodus – Replaced by Smash Repository.
SportsDevil – Like with FusionTV, add-ons from here are present in Smash Repository.
Metalkettle – Obsolete and taken over by someone else. Highly recommended to uninstall.
Natko/Castaway – No known replacements. Uninstall immediately.
Echo – No known replacements. Uninstall immediately.
XBMCHub/Phoenix – No known replacements. Uninstall immediately.
PodGod Repo – No known replacements. Uninstall immediately.
K3l3vra – No known replacements. Uninstall immediately.
Make sure that all of these repositories are uninstalled or disabled, then install up-to-date repositories like the Smash Repository or SuperRepo.
Whenever attempting to install an add-on that's present in multiple repositories, you'll get a popup that shows you each of the versions of the add-on present within the repositories installed on your machine. Always choose the latest: un-installing and re-installing an add-on in this way may be the key to fixing your problem with the missing dependency.
To uninstall a repository, simply go to Add-ons, then My add-ons.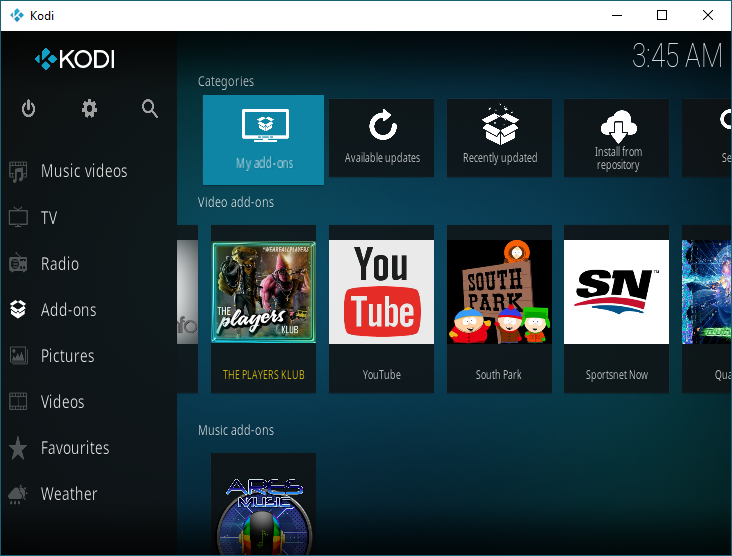 From there, select Add-on repository and then select the repositories you want to install. These steps are illustrated below.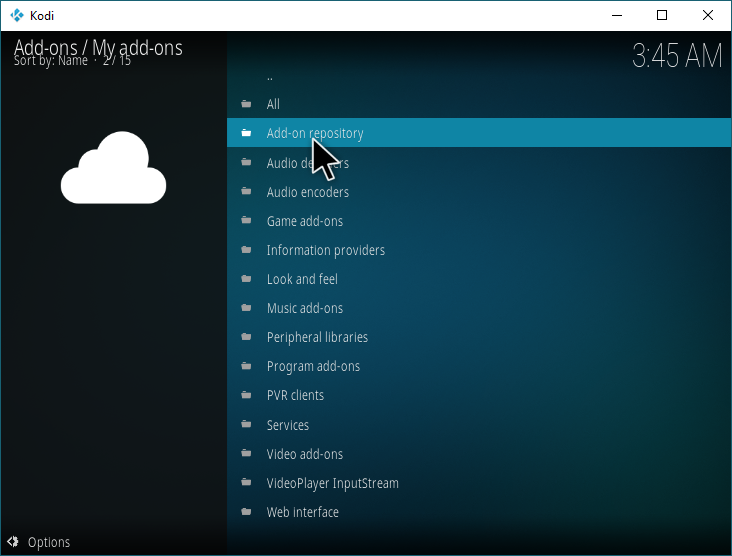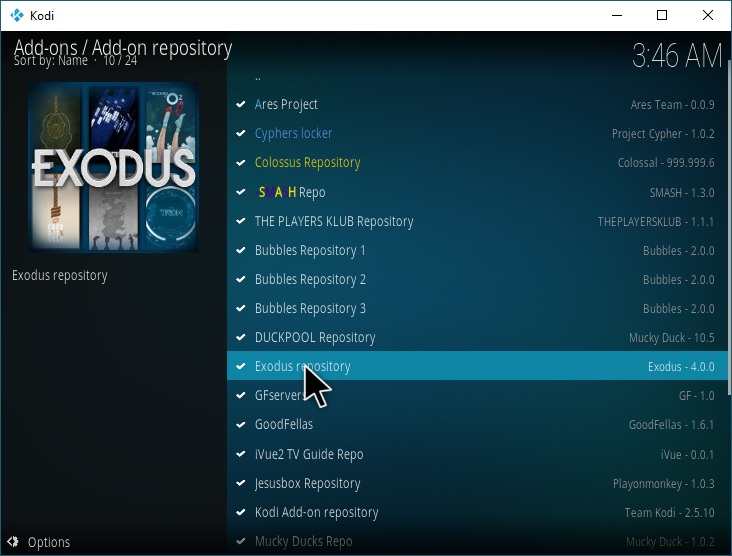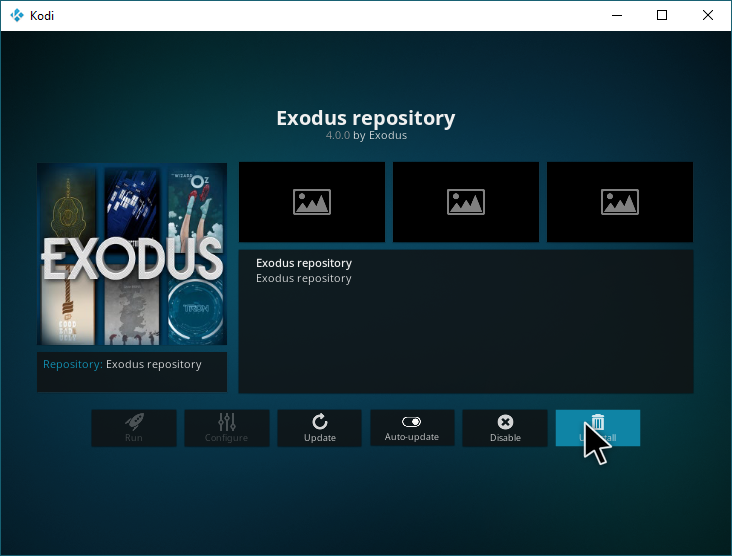 How to find the missing dependency
Whenever you're missing a dependency, Kodi will generally tell you what that missing dependency is. It will appear in the error message that pops up whenever a missing dependency error has arisen.
Here's a few common ones, which are usually for streaming content:
You have two options for recovering these. You can install Smash or SuperRepo and dig them out of those repositories, or you can do a good old-fashioned Google search and find a .zip file to download and install the missing content for yourself.
If you don't know the name of what you're missing, simply re-attempt the install to see the name for what's missing. Once you have that name, use it as a reference to find what you're looking for.
Conclusion
In our opinion, the best repositories to install applications from are the Smash Repository and the SuperRepo Repository, since they're hosting all of the most popular Kodi add-ons. In the latter's case, it's pretty much impossible not to find what you're looking for in its seemingly-endless archives.
Are you having trouble finding a missing dependency despite our advice? Have any other questions? Comment below and let us know- we'll help you as soon as possible.