We are reader supported and may earn a commission when you buy through links on our site.
Learn more
How to Install Multiple Builds on Kodi
If you've ever been confused when trying to install more than one new Kodi build, you're not alone. Today, we demystify the process of deep-customizing your Kodi install, showing you how to avoid conflicting settings and optimize your user experience for hours of stress-free streaming goodness.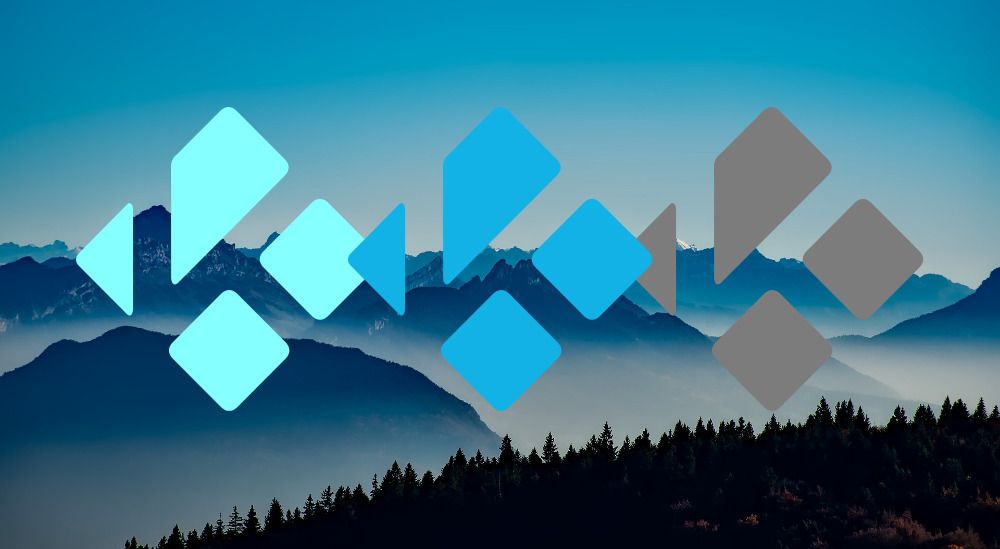 Can't get enough Kodi in your life? Kodi builds are here to save the day! Community builds are complete customizations of the Kodi interface, changing the software's look and feel while adding a ton of unique sources and streaming extensions. By installing a build you can gain instant access to a wealth of movies, sports, TV shows and more, all without having to manually do everything yourself. If you think one build is good, try installing multiple builds to multiply your entertainment options!
30-days money back guarantee
Before Using Kodi, Get a Good VPN
Kodi is open source and legal to use on a wide variety of devices, including Fire Stick and Fire TV. Some of the third party add-ons you can use aren't quite as reliable, however, as they've been found accessing potentially illegal content without informing the users. This has led to companies and ISPs taking extreme measures to track and throttle Kodi connections, even if you're using it for completely legitimate means.
The good news is that VPNs can keep you safe from these privacy threats. VPNs encrypt all of your online traffic so it's impossible to read. Hackers, government agencies, and even your service provider will be unable to determine what you're doing on the internet or which streams or add-ons you're accessing. Using a VPN is a good idea if you're just surfing the internet or checking social media accounts, as well. If you want to stay safe, you simply have to use a VPN with Kodi.
NordVPN – Essential Internet Security for All Kodi Builds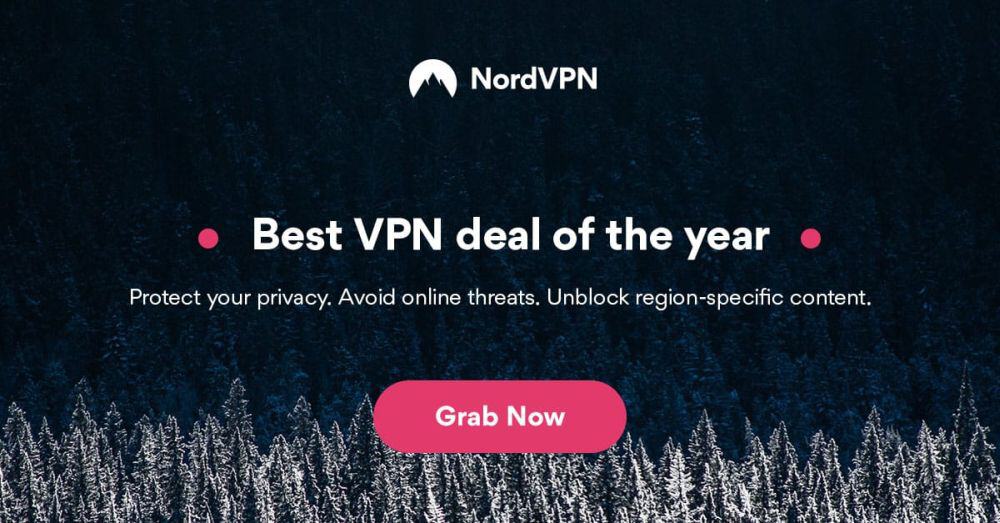 No matter what you do on Kodi, know that your ISP disapproves. What's more, they are definitely tracking your activity on their network, and will aggressively throttle your connection whenever you cross one of their red lines. Fortunately, NordVPN gives you the tools you need to free yourself from unfair, totally arbitrary restrictions on your enjoyment of streaming content via Kodi.
Foremost of these features is encryption. NordVPN offers the same level of cryptographic security as used by the NSA: 256-bit AES. No supercomputer on earth exists which can brute-force its way through this wall of anonymizing code, which is to say your ISP is utterly helpless to surveil and stop your Kodi traffic. It also shields you from copyright trolls, government snoops, hackers, and a litany of other cybersecurity threats.
Additionally, NordVPN features an incredible network spanning more than 5,800 servers in 59 countries, giving you access to tens of thousands of IP addresses which you can "spoof" to digitally relocate. This process fools website geoblocks, tricking them into serving you content as if you were a local. In layman's terms, that means a LOT more streamable content with Kodi than would otherwise be possible. And best of all, NordVPN itself holds a policy of never spying on their users, maintaining the industry's strongest no-logging policy.
Read our full NordVPN review.
Pros
Servers optimized for unblocking Netflix
Fast and stable connections
256-bit AES encryption with perfect forward secrecy
"Double" data protection
Live Chat Support.
Cons
They can take 30 days to process refunds.
Understanding Kodi Builds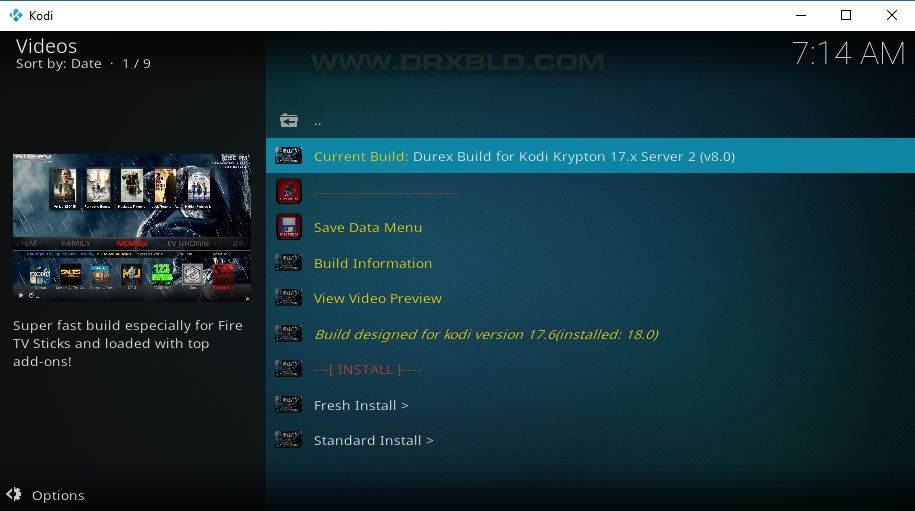 Community builds for Kodi essentially do two things: change the look and feel of the software, and add custom add-ons for content streaming. The former is like changing Kodi themes, just more complete and intensive. The latter is just like installing repositories and add-ons yourself, only with build inclusions you don't have to do it manually. Put them together and you have a Kodi build, the best way to get a custom Kodi experience right out of the box!
Below we take a closer look at the process of installing and managing Kodi builds. You'll need to know this information before you can install multiple builds, so read up and get familiar with everything.
Installing Kodi Builds
Sometimes it seems like there are as many methods of installing Kodi builds as there are builds to install. Some come as their own standalone package, some are simple theme swaps, some are total conversions. Most of the best builds are installed through the same process, however, one you can repeat on any Kodi device regardless of the platform.
Kodi builds are usually made by different community groups. These developers often have a dedicated repository for their content, along with a Kodi wizard. To get access to the build, you'll first need to install the repository, then the wizard add-on, then the build itself. This sounds like a time intensive process, but it doesn't really take more than a few moments to get the ball rolling.
One of the chief drawbacks of the build installation process is the downloads themselves. Add-ons usually weigh a few MBs each, but a build can be 100 MB, 200 MB, or 500 MB total. This is because they come with add-ons and artwork packaged together. The servers hosting these files usually aren't very fast, which means you could be sitting and staring at the progress meter for upwards of half an hour, unable to do anything with Kodi or risk canceling the transmission.
Starting Installation
Before you can actually install a build or its related wizard, you'll need to give Kodi permission to access external files. This is a quick settings toggle that will have no adverse affects on your media center. Simply follow the steps below and you'll be set.
Open Kodi and click on the gear icon to enter the System menu.
Go to System Settings > Add-ons
Toggle the slider next to the "Unknown sources" option.
Accept the warning message that pops up.
Types of Build Installs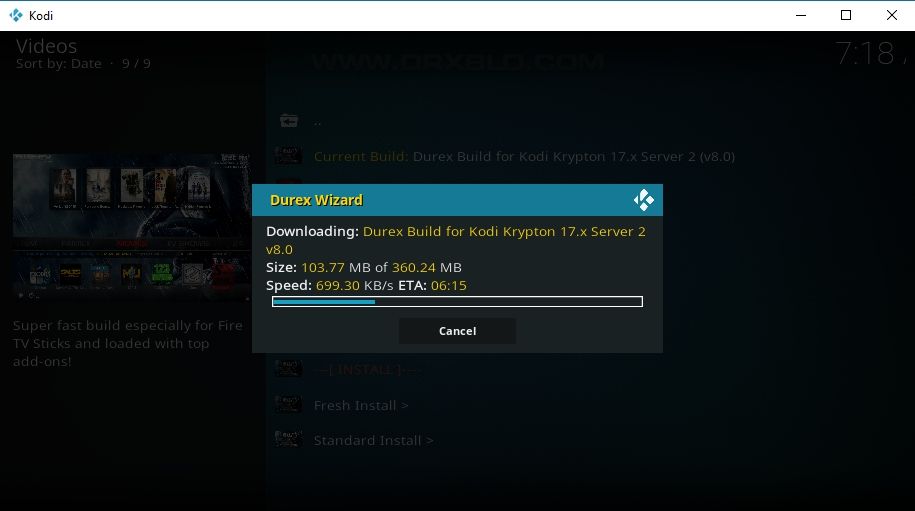 When you're getting ready to install most builds, you'll often run into several different menus filled with a lot of options to choose from. These amount to more noise than obstacles, however, as most people can fly through the screens in just a few seconds. Below is a quick rundown of the options you'll see as you install each build.
Jarvis, Krypton, Leia – Builds are generally customized for specific versions of Kodi. Installing the wrong one can lead to some frustrating errors.
Lite vs Regular – Some builds come with an optional "lite" version. This is generally intended for TV box and Fire Stick installs, but you can certainly use it on your standard device if you value a fast interface over shiny looks.
Servers – Many builds can be installed from multiple servers. Choose any one you like, and if the download is too slow, cancel and try a different server.
Standard vs Fresh Install – Finally, before you begin the download you'll be given the option of a standard install or a fresh install. The latter erases everything on Kodi so you can use the build as-is, while the former leaves your data intact. If you're installing multiple builds, always choose standard.
Once a Kodi build installs, you'll often need to restart Kodi or reload the profile. Closing and restarting the program is usually the best solution, as some builds make a lot of changes that won't take effect until Kodi loads fresh. If a build doesn't prompt to automatically do this, you can always manually shut it down and start Kodi again afterwards.
Switching Kodi Themes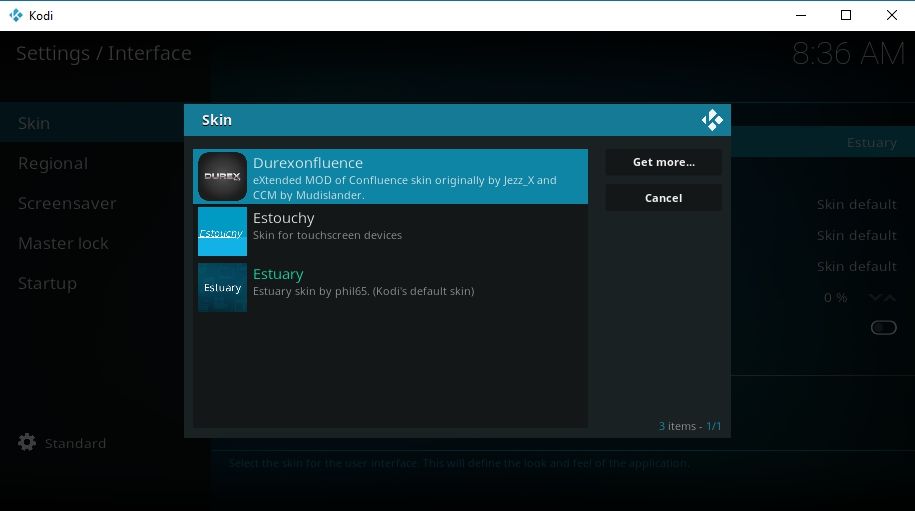 Once you have a build installed, Kodi will transform to adopt its look and feel. New add-ons will appear, as well, but they aren't tied to the build itself, they're actually available to all Kodi themes. This means you can install a build, get its collection of add-ons, then switch themes to change the look and feel, all without affecting the build.
Switching themes is easy on Kodi. Follow the steps below and you can toggle between designs in just a few seconds. And if you want to go back to Kodi's default look and feel, simply choose the Estuary skin.
Go to the Kodi main menu.
Select the gear icon, or find the settings page on your current theme.
Choose Interface settings, which is sometimes just called Interface.
Find Skin, which should be under the Look and feel category.
Under the Skin configuration page you'll see an option to switch the current theme.
Choose your new skin from this menu. The layout will swap immediately.
Return to using Kodi as normal.
Installing Multiple Builds on Kodi – The Easy Way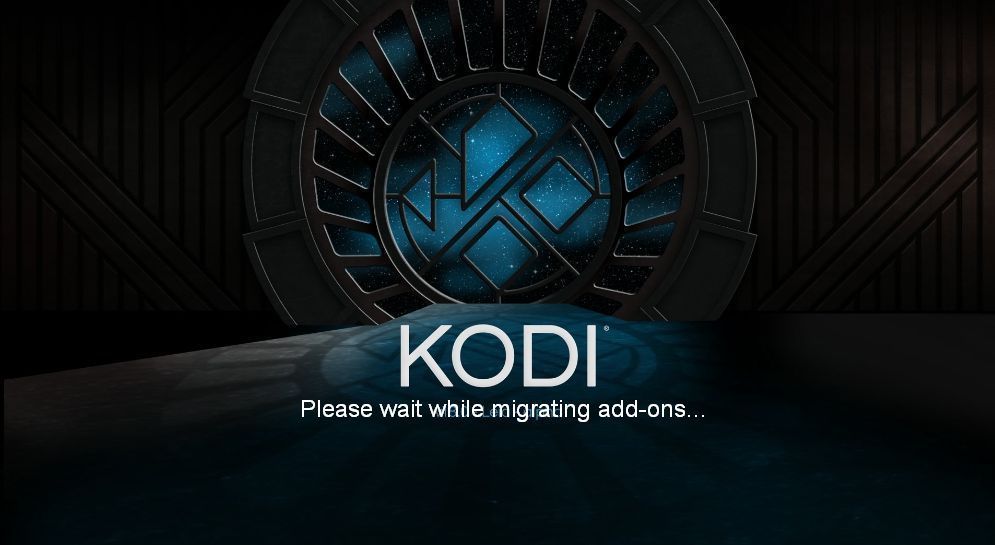 Managing multiple Kodi builds on a single system is tricky. Because each one is essentially a total conversion of the software, every build tries to take control of Kodi from the ground-up. They all add extensions, they all change your sources, and they all suggest you do this while removing other builds in the process. This isn't just competition amongst creators, it's a method of ensuring Kodi runs smoothly on your hardware under a unified, optimized configuration.
Are Multiple Builds Possible?
Unfortunately, on most devices and in most instances you will only be able to run one Kodi installation at a time, and thus one build at a time. This is due to the way the program shares resource folders across installations. You may notice a "migrating add-ons" screen when launching a new or beta version of Kodi. This is the program copying data from one installation to the other, synchronizing them to prevent incompatibilities.
It's still possible to install multiple Kodi builds on the same device, though there will be some limitations. Follow the guide below to get started.
Best Method – Install Builds and Switch Skins
Builds feature two main components: skin and interface changes and add-on selections. Add-ons stick around all the time, so you have to manually remove them if you want to delete them from your system. Skins, on the other hand, are not swappable, so you can toggle them around while keeping a build's add-ons in place, essentially allowing you to combine builds into a single experience.
To install multiple builds, start by selecting the builds you want and installing them as normal. Be sure to choose "standard" when the option shows up on the appropriate wizard, otherwise you'll erase your previous build content accidentally. Once you have at least two builds in place, use the instructions above to switch Kodi themes. This will keep the add-ons in place but allow you to alter the look and feel to fit your new build.
The chief limitation of this method is you won't get simply the current build's selection of content, you'll see add-ons from all of your installed builds. The look and feel will shift depending on your skin selection, however, which is what most people are after when they install a build.
Suggested Kodi Builds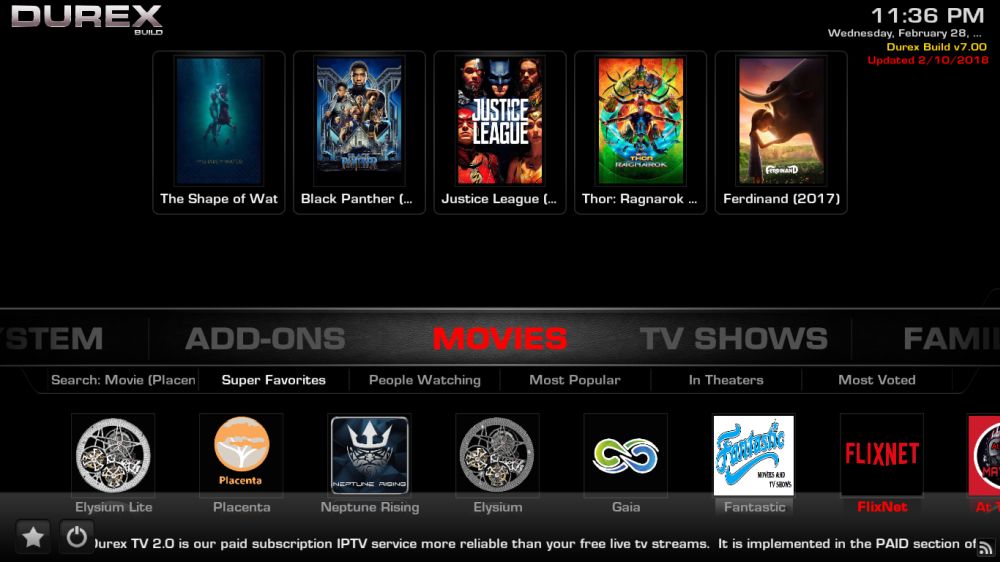 Not sure which builds to choose or how to install them? Don't worry, we've got you covered! Below is a selection of some of our favorite builds for Kodi that offer a fantastic variety of streams, everything from new movies to live sports or entire TV series, ready to go.
Kodi Doesn't Work? How to Manually Restore the Default Kodi Theme
Installing multiple builds for Kodi can lead you into some tricky situations. Not all builds are made with the highest quality standards in mind. Some can crash your system, some won't even launch, and other are just plain bad. Even if you can't access the normal build and theme switching mechanisms on Kodi, you can restore the default settings with ease.
To manually restore the default Kodi look and feel, all you have to do is find Kodi's "userdata" folder created during installation, navigate to the "addons" subdirectory, then delete the folder that contains the problem theme. For example, if you're on Windows, installed Kodi without changing the base directory, and are using a broken build called "Fluffy", this is the folder you would delete:
C:\Users\YourUserName\AppData\Roaming\Kodi\userdata\fluffy
If you're not sure where your Kodi userdata folder is located, below are the most common locations for most major operating systems. You can also scan your system for "userdata" if the below directories aren't available.
Android – Android/data/org.xbmc.kodi/files/.kodi/userdata/
iOS – /private/var/mobile/Library/Preferences/Kodi/userdata/
Linux – ~/.kodi/userdata/
Mac – /Users//Library/Application Support/Kodi/userdata/
Windows – Start > Run > type %APPDATA%, press <Enter>
Conclusion
Kodi builds can transform your video streaming experience. They change the software's look and feel, they add a ton of unique features and streaming sources, and they can make Kodi run faster and smoother on devices like Fire TV. No matter which (or how many) builds you install, as long as you've got Kodi at the heart of your media center, you're bound to have a good time.