We are reader supported and may earn a commission when you buy through links on our site.
Learn more
NFL Teams Kodi Addon: Stream the NFL from Anywhere
NFL fans rejoice! The new NFL season, 99th in the league's history, begins in just a few weeks' time on September 6th. In the meantime, there's still plenty of pre-season excitement happening right now. The 2018 draft has happened, player trades are ongoing, and warm-up matches getting underway. The opening game of the new season will see the reigning Super Bowl Champions, the Philadelphia Eagles hosting the Atlanta Falcons. This is ahead of a frantic, six-month long season, which will culminate in Super Bowl LIII on February 3rd 2019 in Atlanta, Georgia.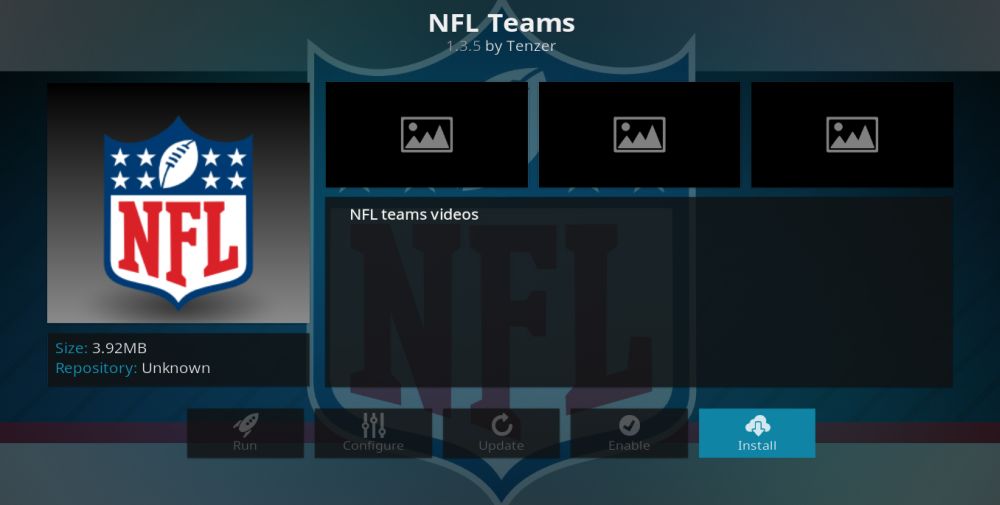 If you are looking for a resource to keep up with all the news, action, and exclusive content from your favorite NFL team, then you might not automatically think of Kodi as the place to look. But the NFL Teams Kodi Addon offers exactly that. It allows you to watch all the exclusive content from each NFL team's website including interviews with players and officials, game coverage, and even the cheerleaders! In this article, we will tell how to access the NFL Teams Kodi Addon from anywhere in the world as well as share everything you need to know about this terrific addon.
30-days money back guarantee
Reminder – Always Use a VPN with Kodi
Our regular readers know that we always recommend that you use a VPN alongside Kodi. That's because some unofficial addons grant access to copyrighted or otherwise restricted content. Obviously, this carries with it a certain risk for receiving warnings, fines, and even service interruptions from ISPs and other authorities, hence the need for privacy.
But what about NFL Teams? After all, it's a first-party addon found in the official Kodi Repository that only contains legal streams. Unfortunately, all Kodi traffic is painted with a broad brush to be a particular bogeyman to copyright holders and ISPs. As a result, even law-abiding users can get caught in the crossfire.
A virtual private network, or VPN, offers you an effective countermeasure: encryption. This process wraps every packet of data leaving your device in an obfuscating layer of cryptography, making it indecipherable to anyone but you. What's more, your connect gets routed through a proxy server, which can be located anywhere in the world. This nets you a new IP address local to the country where the server is hosted, which can be useful for bypassing geographical content restrictions.
The growing need for privacy online has lead to a glut of options in the market. We've tested and retested them all, and we always seem to settle on a clear winner:
IPVanish – Best VPN for Kodi Bar None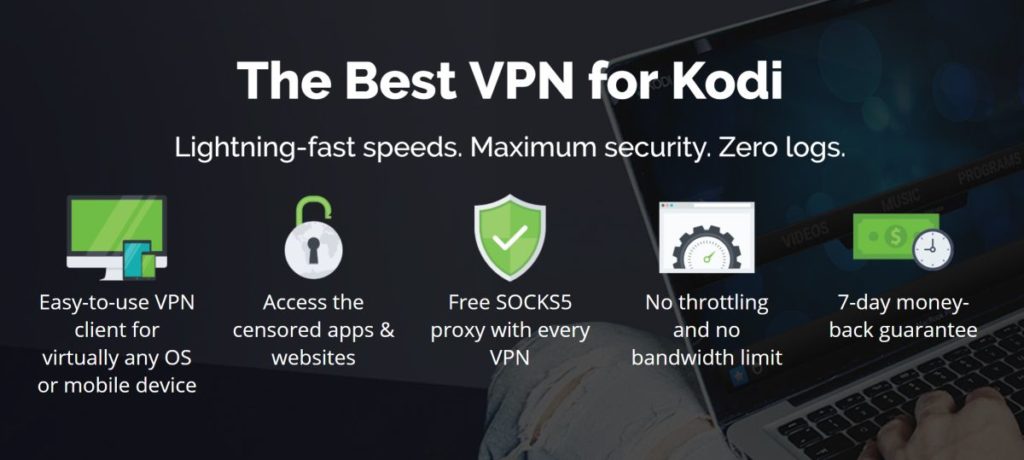 IPVanish has practically tailored its offering to the needs of Kodi users. Need security? Check, with 256-bit AES encryption scrambling every bit of your data. What about privacy? IPVanish maintains a strict no-logging policy, so your activity history can never be used against you.
Most importantly, IPVanish delivers speed. It's normal for a VPN's encryption process create some lag, but IPVanish has optimized their methods to deliver a stutter, buffer, and lag-free streaming experience–even in HD! Performance is uniformly strong across their equally impressive server network, numbering over 1000 nodes in 60+ countries. With dedicated apps available for just about every Kodi-compatible device (including the popular Amazon Fire TV Stick), IPVanish offers everything you need in one slick interface.
IPVanish offers a 7-day money back guarantee which means you have a week to test it risk-free. Please note that Addictive Tips readers can save a massive 60% here on the IPVanish annual plan, taking the monthly price down to only $4.87/mo.
How to Install the NFL Teams Kodi Addon
The NFL Teams Kodi Addon is an official Kodi addon. This means it has been approved by the XMBC Foundation, which runs Kodi. As such, users can be sure that this addon only contains legitimate content, which is not at risk of breaking copyright laws.
It also means that this addon is very easy to download and install directly from the official Kodi Repository. To get it up and running, all you have to do is follow these simple steps:
On the Kodi homepage, navigate to Add-ons > Add-on Browser – this is the open box icon in the top left of the screen.
The NFL Teams Kodi Addon should now be available to use in your addon library!
NFL Teams Kodi Addon Review
Getting right to it: if you're a diehard football fan, you'll love the NFL Teams Kodi addon! However, be aware that this isn't a general sports addon which enables you to watch live games (there are, however, numerous dedicated addons for NFL live streams). But it is a great resource for just about everything else to do with the NFL and your favorite team.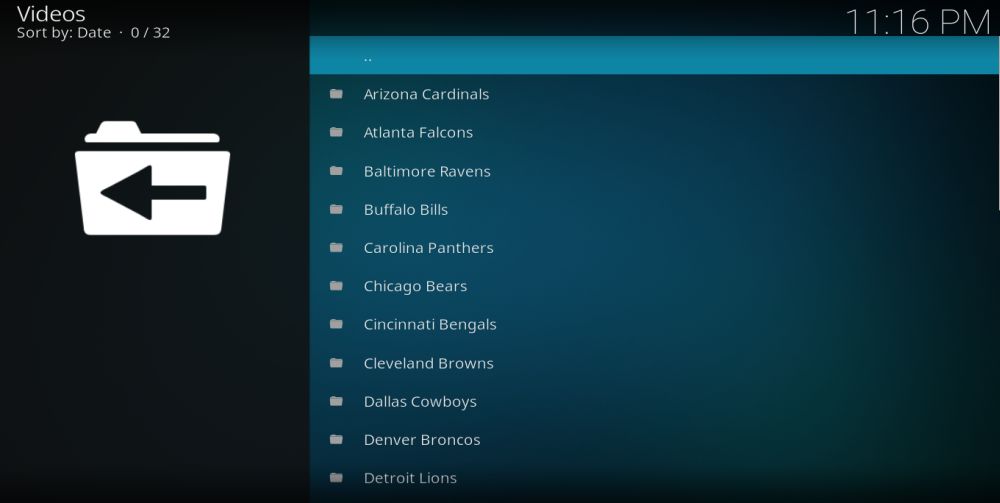 When you first open the NFL Teams addon, you will be presented with a simple alphabetical list of NFL teams. Each of the 32 NFL teams is featured:
Arizona Cardinals
Atlanta Falcons
Baltimore Ravens
Buffalo Bills
Carolina Panthers
Chicago Bears
Cincinnati Bengals
Cleveland Browns
Dallas Cowboys
Denver Broncos
Detroit Lions
Green Bay Packers
Houston Texans
Indianapolis Colts
Jacksonville Jaguars
Kansas City Chiefs
Los Angeles Chargers
Los Angeles Rams
Miami Dolphins
Minnesota Vikings
New England Patriots
New Orleans Saints
New York Giants
New York Jets
Oakland Raiders
Philadelphia Eagles
Pittsburgh Steelers
San Francisco 49ers
Seattle Seahawks
Tampa Bay Buccaneers
Tennessee Titans
Washington Redskins
NFL Teams's main menu interface is as easy to use as scrolling down and clicking/tapping on your favorite team. As an official addon,  the user experience brings a level of simplicity and polish, with each team selection featuring a high-quality banner image.
Once you've made your selection, Kodi will display a range of content. Each team's offering is slightly different (as content is sourced directly from each team's website), but you won't be left disappointed with your options, no matter who you root for. You'll generally find stuff like news reports, press conferences, interviews with players and staff, some Spanish-language content, and even cheerleader content! Pick and choose from this list, or simply mash All Videos at the top of each team page to view all videos from every category at once.
NFL Teams Kodi Addon Pros and Cons
Pros
This is a beautifully designed addon which is packed full of content, yet still extremely easy to navigate around. Everything is clearly titled and listed in alphabetical order for ease of search. Once you have chosen which team to look at, you are just a few clicks away from watching all the latest content they have posted on their website. In fact, for many users, it is often easier to find new and interesting content on this addon than on the team website itself. All of the videos we tested played with a single click and, as you would expect with an official addon such as this, we experienced no problems with broken links or buffering.
Cons
There are not too many things to criticize this addon for. Some users may be disappointed that it doesn't feature more actual game content. But this addon doesn't make any claim to show live games or highlights beyond what each team puts up on their website. Fans of some teams may get more out of this addon than others, for the same reason. Some team pages feature dozens of different videos and are regularly updated, while others are a bit more sparsely populated. But this is down to the individual team's website rather than the NFL Teams addon or its developers.
Conclusion
If you are a fan of any of the NFL's 32 teams, and hungry for the latest news and speculation ahead of the new season, then the NFL Teams Kodi addon is definitely one for you. It features every video posted on NFL teams website, meaning there is a diverse range of exclusive content on offer which is easy to access and stream.
While the NFL Teams addon is an official addon, it is nevertheless advisable for all users to be connected to a VPN before using it. In this article, we have explained why as well as recommended the best VPN provider for the job. And we have also given you the full lowdown on one of the very best NFL-based Kodi addons on the market at the moment.
Are you a fan of the NFL? What are your thoughts on the NFL Teams Kodi addon? Did you enjoy the diverse range of content it offers? How did you find the available videos for your team? Did you use IPVanish along with this addon? Did you find it enabled you to watch all of the available content without any problems? We always welcome the thoughts and opinions of all our readers, so why not share yours with us using the comment box below?