We are reader supported and may earn a commission when you buy through links on our site.
Learn more
How to Watch NFL on Firestick and Fire TV: In-depth Tutorial
Hold onto your seats, football fans! The 2018 NFL preseason has ended, and that means six months-worth of hard-hitting, high-stakes pro football is upon us. Last year, we saw the Philadelphia Eagles defy all preseason expectations to clinch Superbowl LII from the New England Patriots. But, will their strong showing this summer give them the momentum they need to overcome the league's rising stars (not to mention two injured quarterbacks)? Will the Minnesota Vikings mark their redemption? The only way to find out is by tuning into the NFL's 99th season!
How will you be watching the game? If you're one of America's millions of cord-cutters, you may find it difficult to catch all your favorite broadcasts without a premium cable sports package. Fortunately, with the advent of the internet have come numerous ways to stream NFL online. 
Among the most popular of these is Amazon's Fire TV Stick, which transforms any HDMI-equipped television into a smart TV platform. Today, we'll show you how to stream NFL on the Firestick, and how to stay safe while doing so. Read on!
30-days money back guarantee
Stream Safe on Firestick with a VPN
The Amazon Firestick offers unlimited access to your favorite streams, but unfortunately your ISP may not. Streaming services are resource hogs, with 1080p and 4K streams gobbling up bandwidth. If your ISP sees that you're using your Fire TV to binge watch TV series, they can decide to throttle your connection. If you've never been throttled, you at least know its symptoms: endless buffering, constant playback stuttering, pixelation, audio lag and more.
If you're not comfortable with the idea of AT&T, Verizon, or Comcast deciding how much HD football you can watch, then you need a VPN. Virtual private networks create a tunnel of encryption between your device and the rest of the internet, letting your data stream reach its destination without fear of third-party observation. Your ISP will only see a jumbled mess of code, baffling their throttling algorithms and allowing you to stream the 4th quarter in peace.
IPVanish – Best VPN for Amazon Fire TV Stick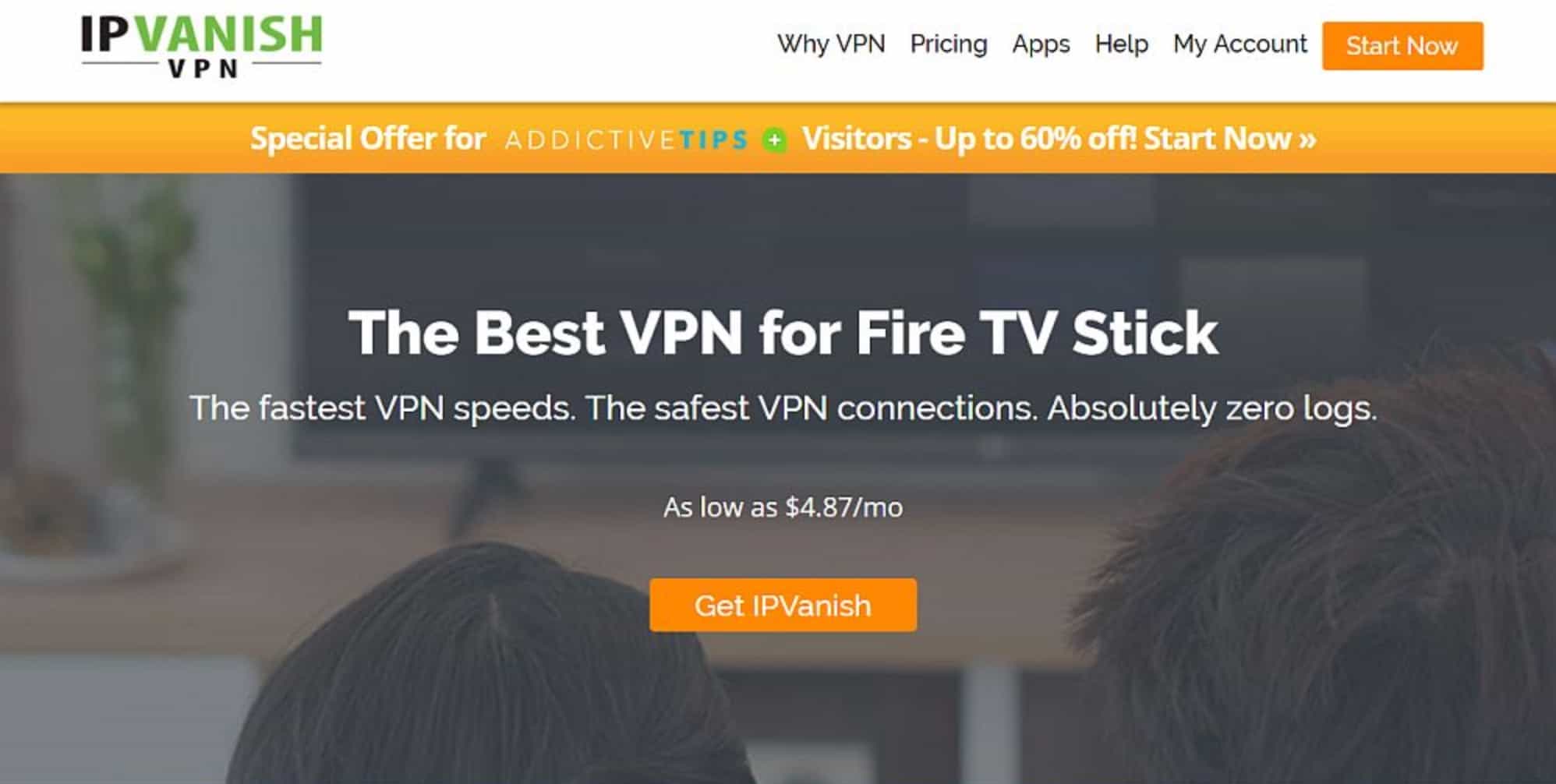 There are many strong contenders for the best VPN on the market, but for our money, IPVanish takes it all the way to the end zone when paired with Firestick. That's because it delivers smooth HD streams, unbreakable security, and total privacy in one sleek software package. 
With 256-bit AES encryption locking down your data stream, you never have to worry about overzealous ISPs, copyright trolls, or government agencies prying into your business. What's more, IPVanish never keeps records of your activity online–guaranteeing your privacy with a strict policy against logging.
Speeds are lightning-fast across their enormous network, which numbers more than a thousand servers in 60+ countries. Best of all, you can extend this performance and protection to virtually any device, with dedicated software available on Windows, Mac OS, Android, iOS and of course, Amazon Fire TV Stick.
Read our full IPVanish review.
IPVanish offers a 7-day money back guarantee which means you have a week to test it risk-free. Please note that Addictive Tips readers can save a massive 60% here on the IPVanish annual plan, taking the monthly price down to only $4.87/mo.
How to Use Your VPN with Firestick
If you're like most people, the term "cybersecurity" makes you a bit nervous with all its intricacies. Thankfully, streaming the NFL online with a VPN doesn't require an advanced degree in computer science. Just follow these three easy steps to set up an ultra-secure connection between your Fire TV Stick and the free and open internet:
Sign up for a VPN, then download the software to your device. As a reputable provider, IPVanish has published official software in most app stores, including Amazon's catalogue for Fire TV Stick.
Once installed, launch the software. You'll be prompted to enter your account details. Afterward, you'll be taken to the main VPN interface.
Select a proxy server. For streaming the NFL on Firestick, you'll want to choose nodes located in the United States.
Success! You now have an unbreakable layer of encryption protecting every packet of data that runs between your Fire TV Stick and the proxy server you chose. 
To help you visualize the process, think of the proxy server as an agent working for your VPN. It waits on the other side of your VPN software's encryption tunnel to receive your data, decrypts it, then sends it along to its original destination, like Wikipedia. As your data leaves the server, it is given a new IP address, which identifies your information as belonging to the server, rather than you yourself. This can be useful for bypassing censorship, unblocking geographically restricted content, or evading ISP throttling.
How to Watch NFL on Fire TV – Official Apps
Because the Firestick doesn't stream NFL games by default, you'll need to install apps which expand the range of content you can access. The Fire TV Stick is well catered for in Amazon's Appstore, with a plethora of official software available for download. Below, we'll introduce four apps which offer reliable access to NFL games in HD:
International Game Pass via the NFL App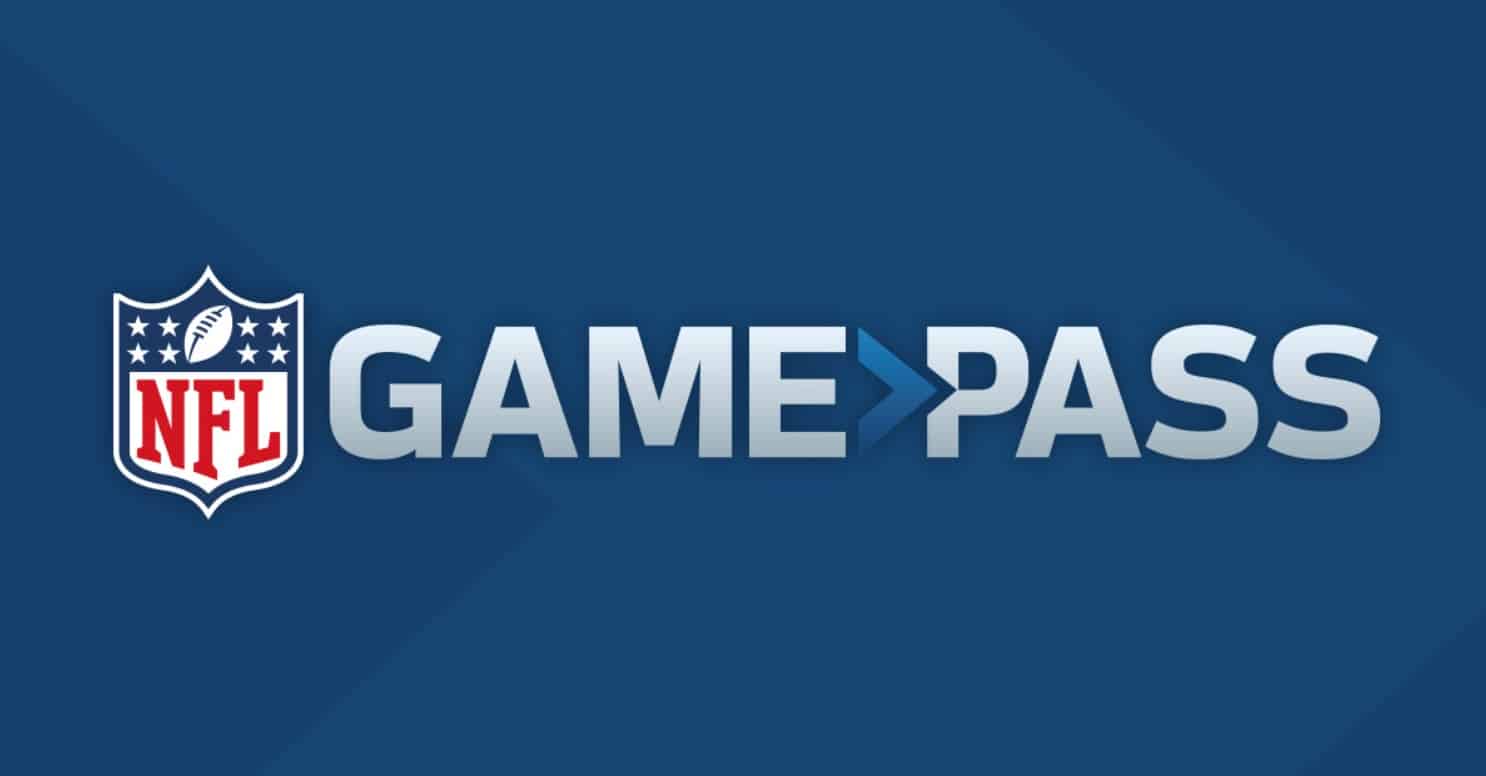 As the official app of the National Football League, NFL for Firestick grants your device full access to your existing NFL Game Pass subscription. There's no way around it, if you want to access official content, you have to pay to play. However, your subscription to a first-party service nets you guaranteed access to the highest quality streams. 
In our opinion, Game Pass is somewhat underwhelming, as it doesn't include live streams for regular season games, playoffs, or the Super Bowl. Ironically, it's the International Game Pass which offers all the good stuff! In order to sign up, you need to fool the Game Pass site into thinking you're in a different country. This is where a VPN comes in handy.
Just connect your VPN software, choose a country like the UK, then sign up for the Season Pro Game Pass package. It costs £139.99 per year, which works out to about $180. When you consider the price you pay for premium cable (let alone tickets to an actual game), this is a bargain for being able to watch every single game in full HD quality.
Frustratingly, the NFL app requires you to prove that you have a subscription to one of the major ISPs (like Comcast, Verizon, and the rest) in order to function. International Game Pass is an incredible service, but this limitation may cause cord-cutters to pass on the NFL app for a less restrictive option.
Hulu with Live TV via the Hulu Live App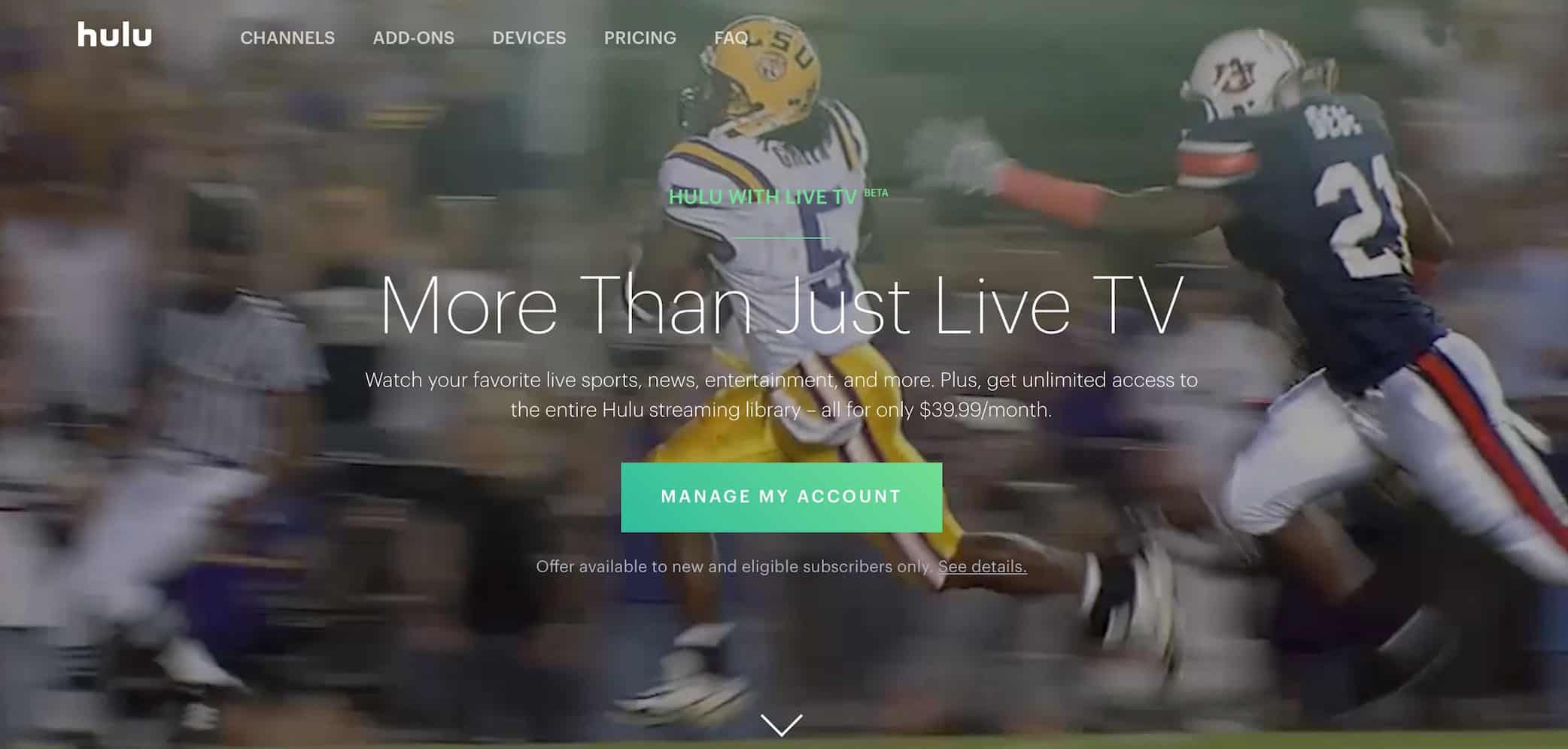 If the NFL seems a bit regressive in granting access to its content, the same could never be said of Hulu. Indeed, Hulu has online streaming down to an art form, boasting incredible ease of use, a massive catalogue, and reasonable pricing plans. 
Hulu offers an attractive up-sell in Hulu with Live TV, which allows subscribers to access live and on-demand content in addition to the already massive standard Hulu catalogue. While there's no central source for all NFL games, you can still catch broadcasts on Sunday afternoon via CBS and Fox, on Sunday night via NBC, on Monday night via ESPN, and on Thursday Night via Fox. This access comes at just $39.99 a month, which we feel is a fair price for heavy streamers.
The Hulu Live app for Firestick grants full access to whatever your subscription allows, without any restrictions placed on which ISP you use. Be aware, however, that the availability of live channels varies depending on where you're located. You can use a VPN to mitigate this issue, and connect to servers located in cities throughout the United States.
Playstation Vue

Like Hulu Live, the Playstation Vue Firestick app connects to an online subscription service of the same name. For $50 per month, you gain access to all the major networks like CBS, NBC, Fox, and ESPN, with the notable addition of the NFL Network. There's also the option for an additional $10 per month to upgrade your plan to include NFL RedZone.
Unfortunately, Playstation Vue still suffers the same location-based channel restrictions as Hulu with Live TV. Thankfully, this app still works perfectly when using a VPN to spoof your location to appear in another city with better access.
How to Watch NFL on Fire TV – Kodi
One of the most popular apps for Firestick isn't even in the Amazon Appstore. Don't let that deter you, as the Kodi media center vastly expands the capability of your Fire TV. Kodi's secret sauce is its numerous add-ons (modular pieces of software which grant access to various collections of online streams). Check out our full guide on how to install Kodi onto your Firestick.
Here are two of the best Kodi add-ons for watching NFL:
NFL Game Pass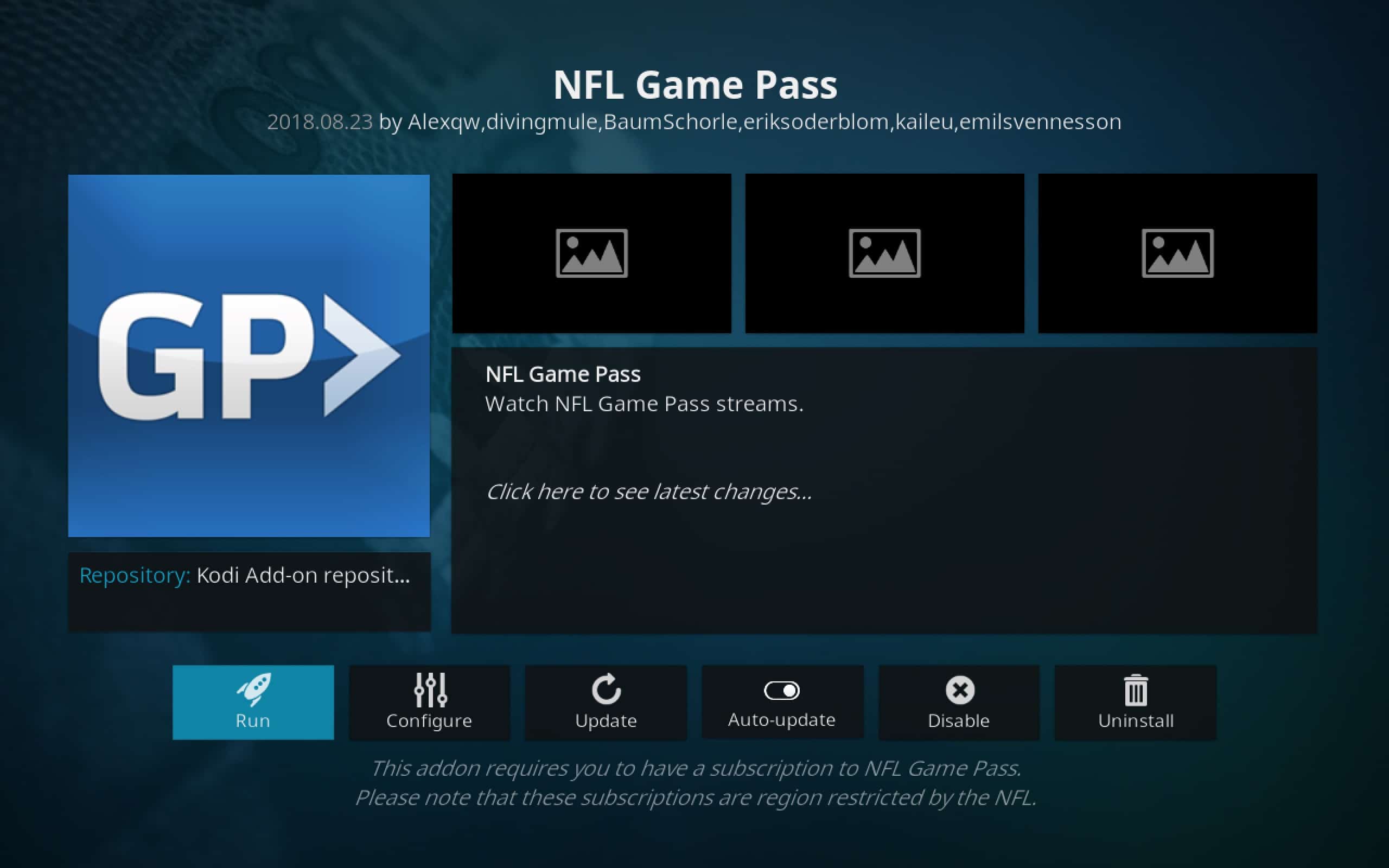 In terms of bang for your buck, it's hard to do better on all-access NFL streams than the International Game Pass. Unfortunately, the official NFL Firestick app's requirement to sign up with a major ISP is a drag, especially if you're living outside of the United States.
The NFL Game Pass Kodi add-on, on the other hand, grants you unconditional access to your International Game Pass subscription. Installation couldn't be easier, just:
Open up Kodi, click Add-ons, then click on the open box symbol
Click Install from Repository, then choose the Kodi Add-on repository
Scroll down until you find NFL Game Pass, click it, then select Install
Once installed, launch the add-on. You'll be greeted with an error message, prompting you to input your Game Pass login credentials. Do so to proceed.
Now, you'll have unlimited access to everything the International Game Pass has to offer!
SportsDevil – Unofficial Kodi Add-on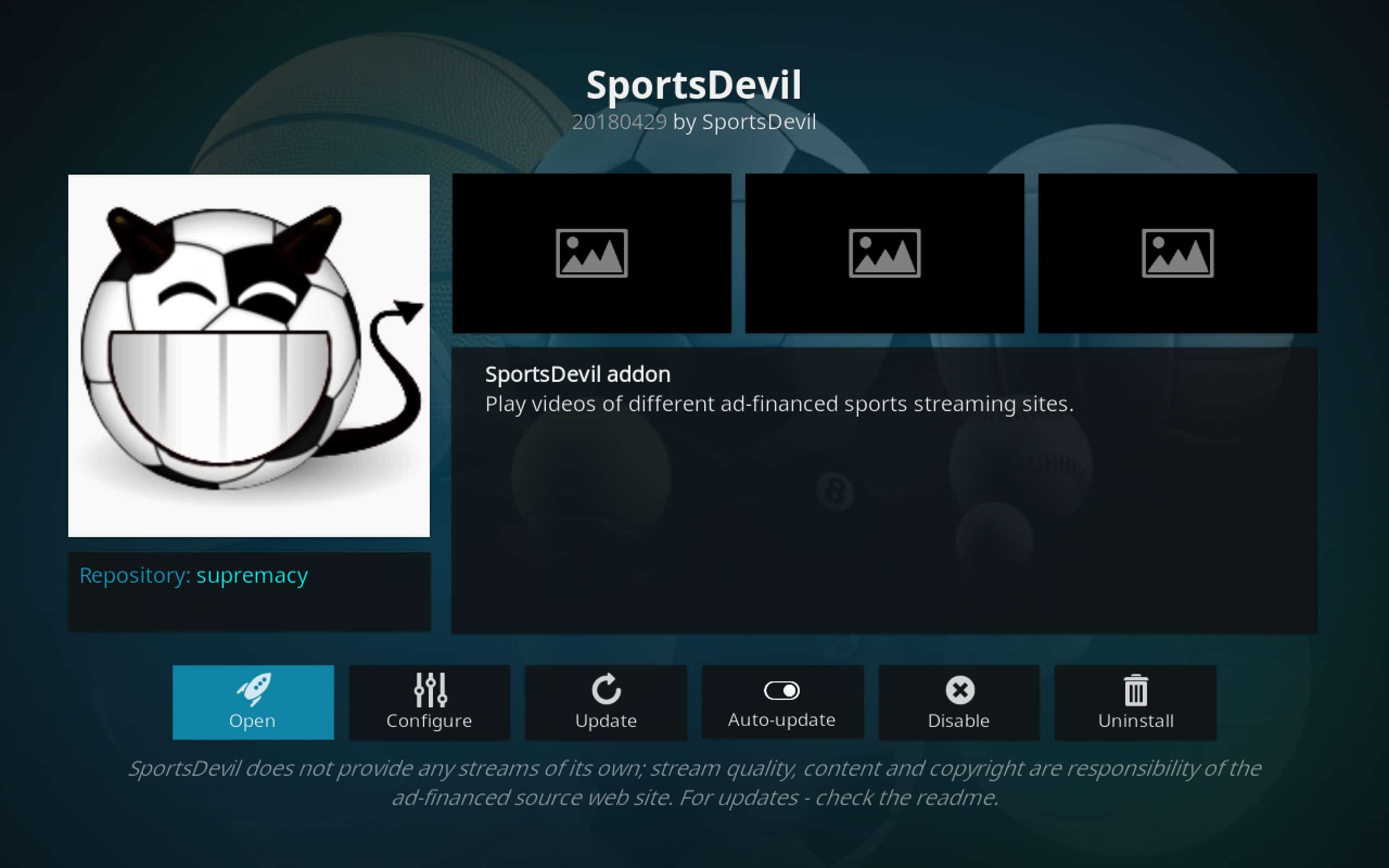 Longevity is something of a feat for any third-party add-on, so the fact that SportsDevil has survived so many repository take-downs is nothing short of impressive. We're glad for it too, as SportsDevil is hands-down the best all-in-one sports add-on available for Kodi. 
From the SportsDevil main menu, you can access highlights, live sports, network-specific live streams, and more. As an unofficial add-on, the quality or availability of streams is never guaranteed. However, the sheer number of streaming sources offered makes it highly likely that you'll always be able to tune into the game.
It is especially important to use a VPN to hide your connection when using third-party add-ons like SportsDevil. Some streams may access content which is perfectly legal in one country, but restricted by copyright in another. To learn more about installing and staying safe with this add-on, read our full article on SportsDevil.
What Is the Amazon Fire TV Stick?
If you stumbled upon this page looking for alternate ways to stream the NFL, you may be wondering about the buzz surrounding Amazon's Firestick. But we've got you covered with a quick crash course! This sleek little device plugs into the back of your TV via its HDMI port, then boots up into a lightweight, tailored-for-TV media center.
From the main menu, you can add channels like YouTube, Netflix, and Hulu to stream HD video, download and play games, or even use your photo library as a slideshow or as big-screen background imagery. There are numerous other apps that can be installed on your Fire TV Stick to expand its capabilities as well, like Kodi or Plex. Alexa voice control via the Firestick's slender remote rounds out the package, making it easy to search through and control your media library.
The Firestick appeals to anyone in need of a portable, affordable entertainment solution that doesn't compromise on functionality. Whether you're an expat traveling abroad, staying in a hotel, or just want to bring your old flatscreen to life with smart TV-like features, you can simply plug your Firestick into your device's HDMI port to unlock a massive selection of streaming content!
Conclusion
Football is perhaps America's favorite national pastime, despite how difficult the NFL makes it to view their content outside of cable. In this article, we've covered a wide range of options to stream NFL games on your Amazon Fire TV Stick that should help you catch every pass, tackle, field goal and touchdown. We've also showed you how beat ISP throttling, bypass location-based channel restrictions, and stay safe when streaming on Firestick with a VPN.
What do you think about the NFL's streaming policies? Were you impressed by your team's preseason showing? Who are you rooting for, and why is it the Carolina Panthers? Tell us about it in the comments below!