We are reader supported and may earn a commission when you buy through links on our site.
Learn more
PlayersKlub Kodi Add-on, Watch 700+ IPTV channels: Installation Guide
PlayersKlub is an IPTV service that allows its users access to 700+ IPTV channels. If you're fine with using a pre-provided login (that changes occasionally) and watching ads, you can access the service completely free. If you'd like to have no ads and your own login, however, you'll need to head here to buy the monthly plan, which is just $5 a month. (If you have any issues getting a PlayersKlub account or with the service, contact them on Twitter)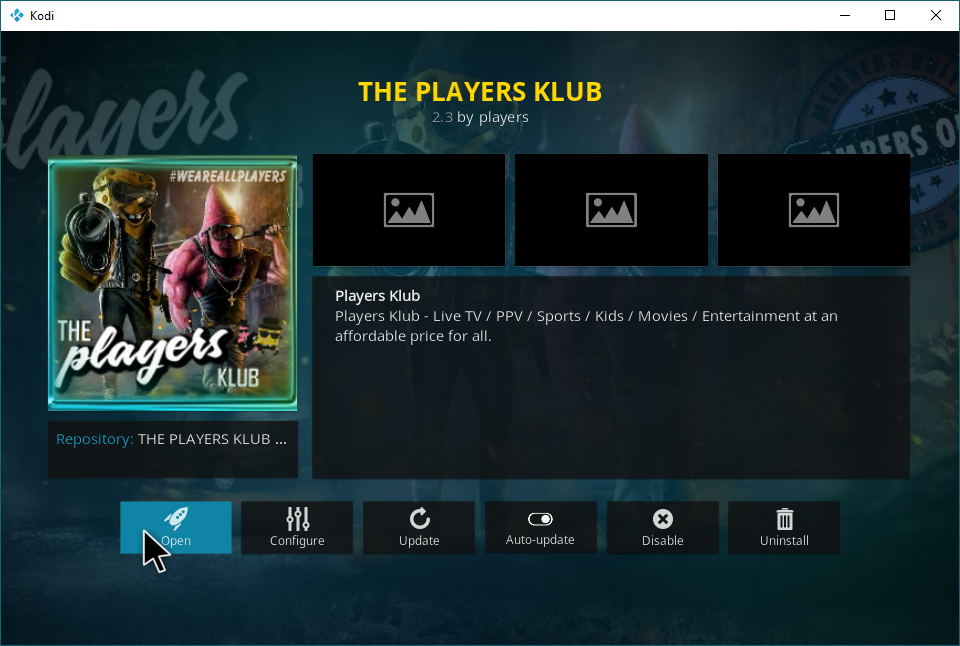 PlayersKlub aims to be an affordable, go-to IPTV solution for everyone. One way that it does this is by using a Kodi add-on for its services, meaning that if your device can run Kodi, your device can run PlayersKlub with the add-on we'll be teaching you how to install in this article.
If PlayersKlub sounds like an add-on you're interested in, keep reading to learn how to install it! If you're installing other IPTV solutions as well, we also recommend our article on Best IPTV Add-ons For Kodi.
Before we proceed
Streaming through Kodi is not an illegal activity. However, its open-source architecture allows third-party developers to create add-ons that do enable users to access restricted content. As a result, ISPs and copyright holders have decided that all Kodi usage is suspect, and may send users warnings and notices as a result. Even if you keep your activity within the letter of the law, you may be exposed to liability if you don't use a VPN to cover your tracks.
Finding the right VPN service may be a daunting task, but we've come up with some criteria for Kodi users that has helped us narrow down the field:
Fast connection speeds
Zero-logging policy
Strong encryption
Ample proxy servers located worldwide
No restrictions on bandwidth
Unmonitored traffic
Wide software support for all major operating systems and devices
The Best VPN for Kodi: IPVanish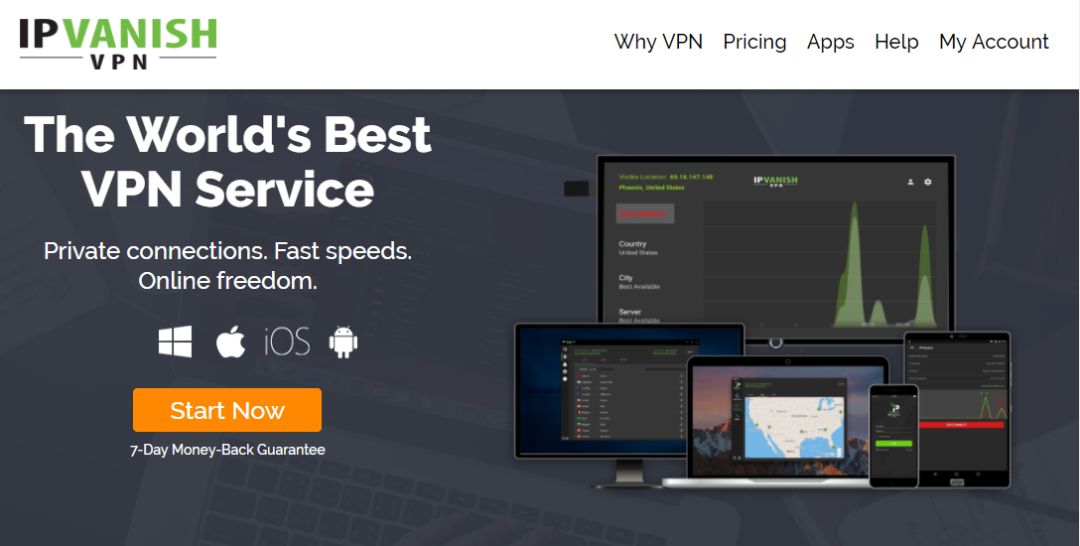 For our money (and yours), there's no better VPN to pair with Kodi than IPVanish. Streaming in HD and 4K is generally a smooth and seamless experience, with minimal buffering thanks to this VPN's excellent performance. A network of 850 servers in 60 countries makes it easy to bypass geo-restricted content, as well as to ensure that you always have a strong connection available. With 256-bit AES encryption, more than 40,000 shared IP addresses available, a strict no-logging policy as well as DNS leak protection and an automatic kill switch, you'll never need to worry for your anonymity.
IPVanish offers a 7-day money back guarantee which means you have a week to test it risk-free. Please note that Addictive Tips readers can save a massive 60% here on the IPVanish annual plan, taking the monthly price down to only $4.87/mo.
Installing PlayersKlub
Before you begin, you must ensure that Kodi allows for installation of software from third-party sources. Let's enable "unknown sources" in your settings now.
In Settings, select "System Settings."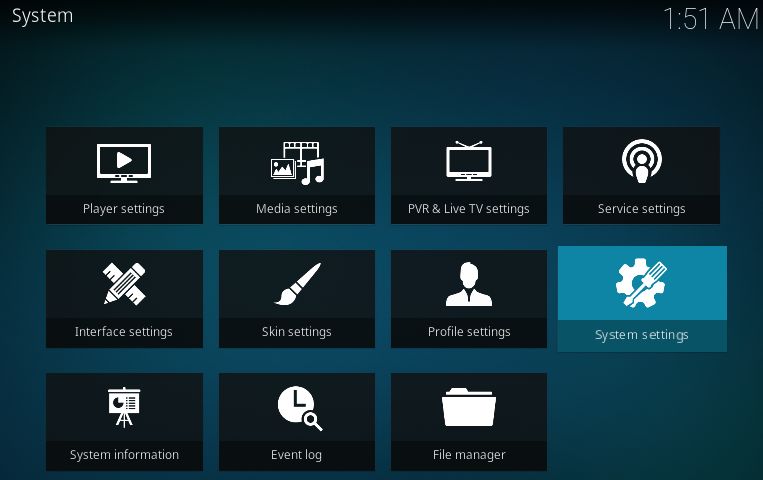 Now, select "Add-ons," and make sure that "Unknown sources" is enabled, like below.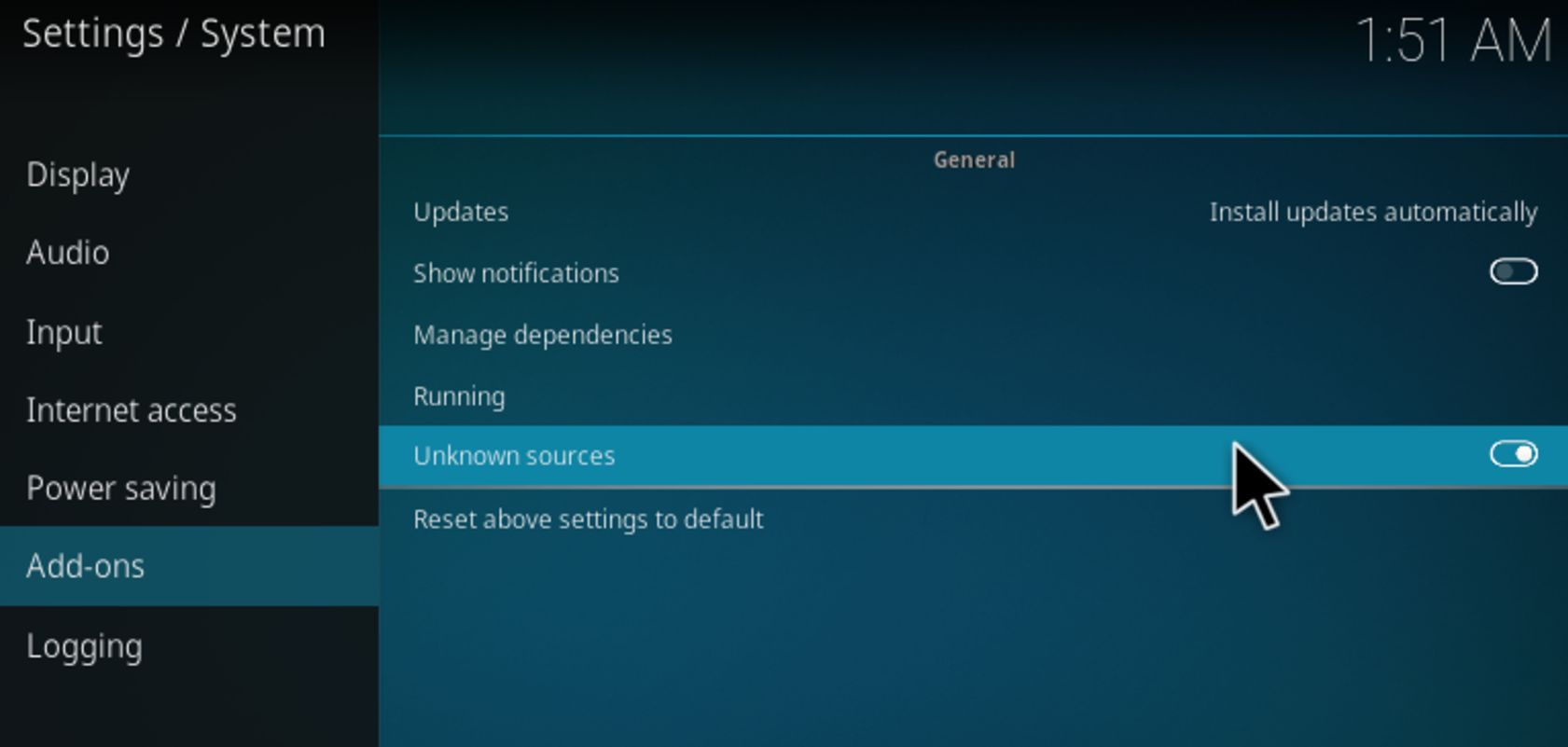 Now that we've got that out of the way, let's go onto the add-on itself! To install PlayersKlub, we'll need to add a file source. To do this, start by Kodi and clicking the Gear icon in the top-left corner of the screen.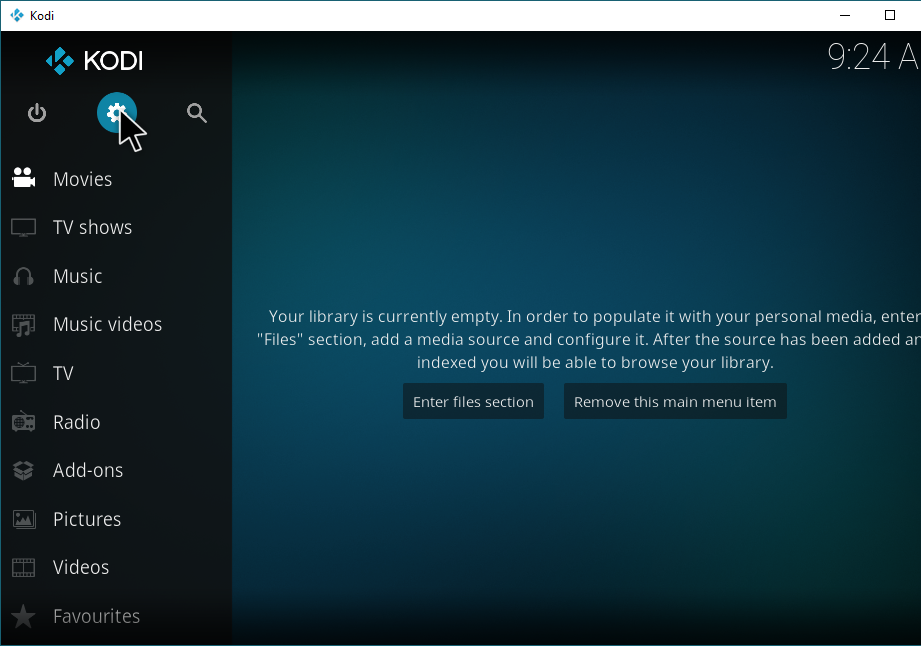 This will take you into System. From within System, locate and select "File manager".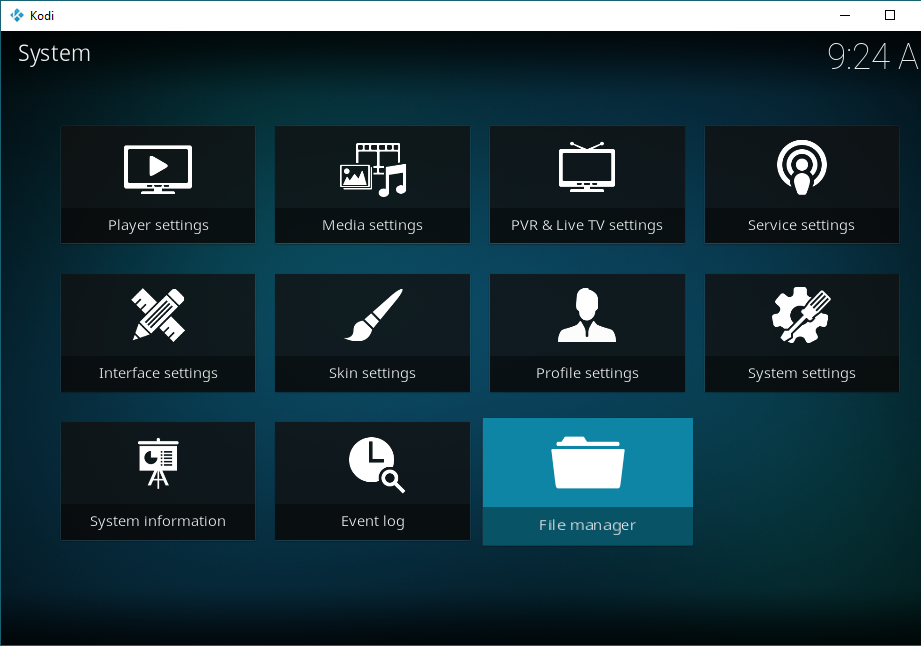 Within File manager, click "Add source". We need the file source to retrieve the repository, from which we can then get the add-on we're here for.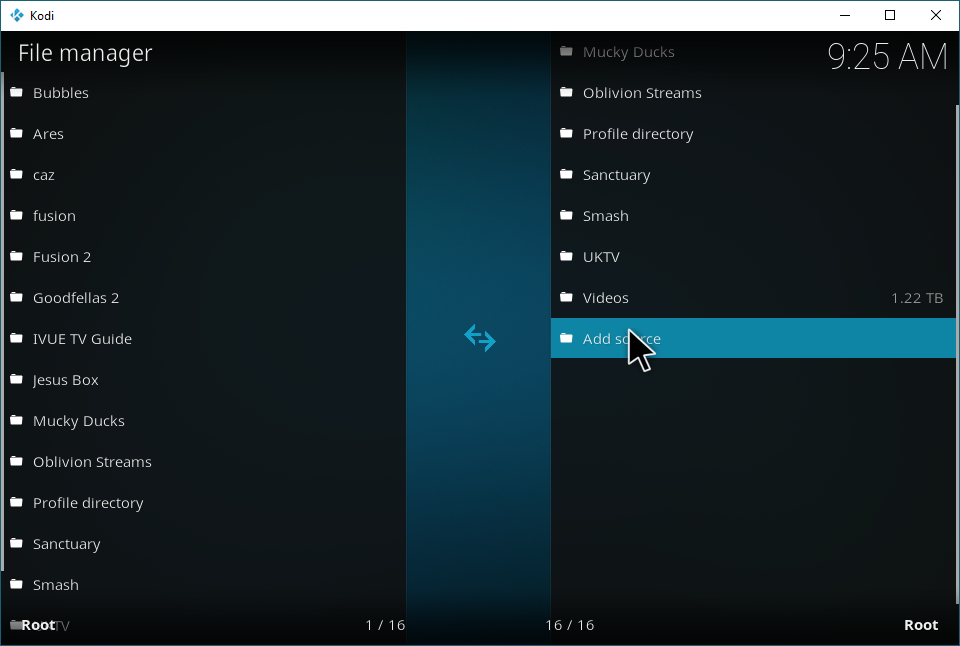 Double-click <None>.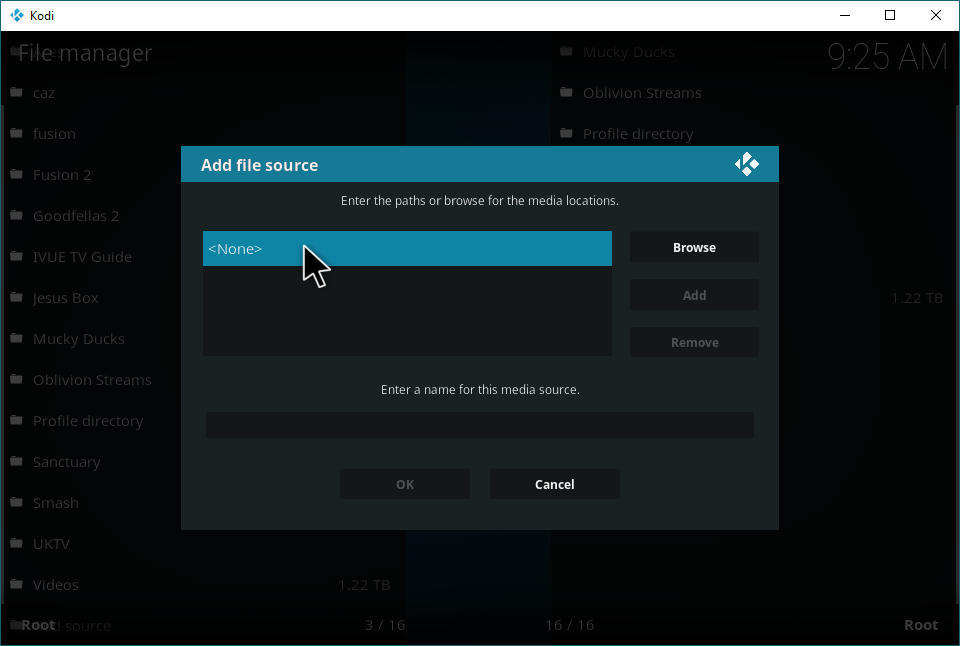 Now, paste in the following URL exactly: https://theplayersklub.us/playersklub/ and click "OK" after you do.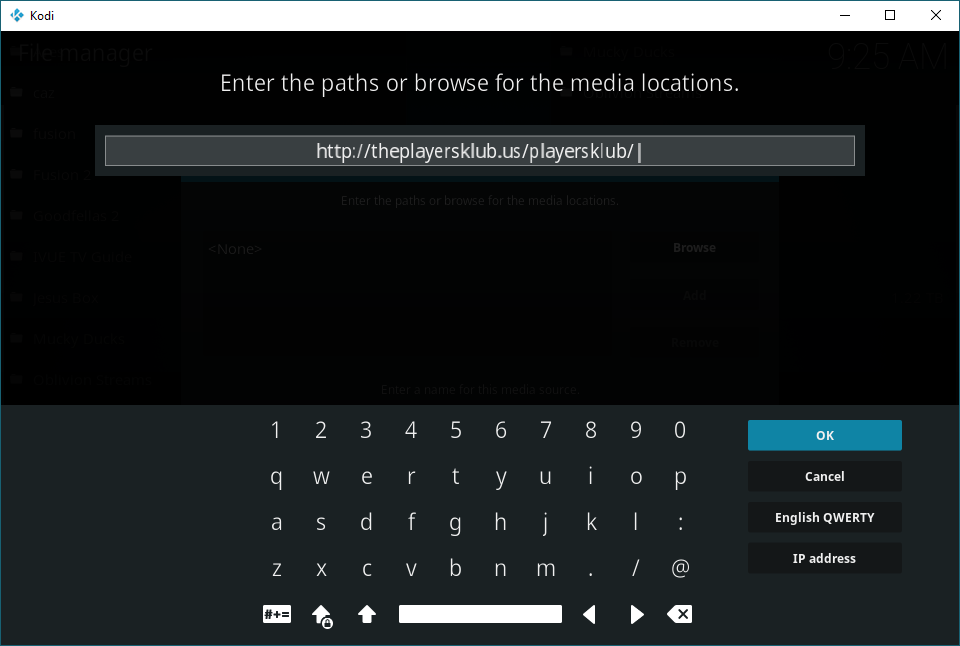 The default name at the bottom should be "playersklub". You can change this if you feel like, but this name is pretty easy to identify so we'll be keeping it for the purpose of this guide. If you do change the name, be sure you know how to identify it later in the tutorial!
Now, head back to your main screen. Hover over "Add-ons" in your sidebar, then highlight and click "My add-ons", like below.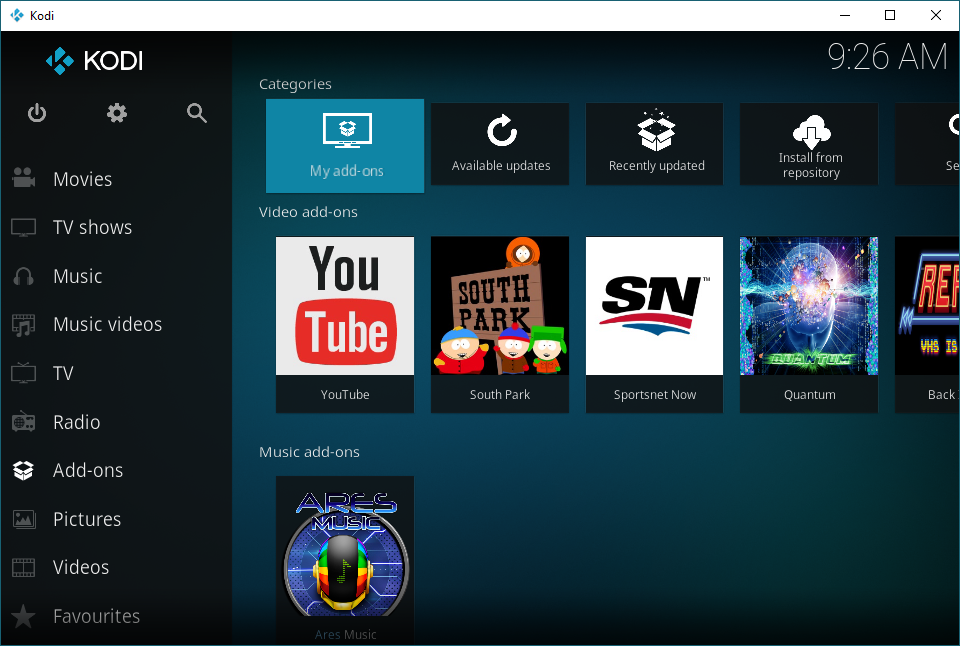 Click the ".." at the very top of the screen to be taken to the Add-on browser.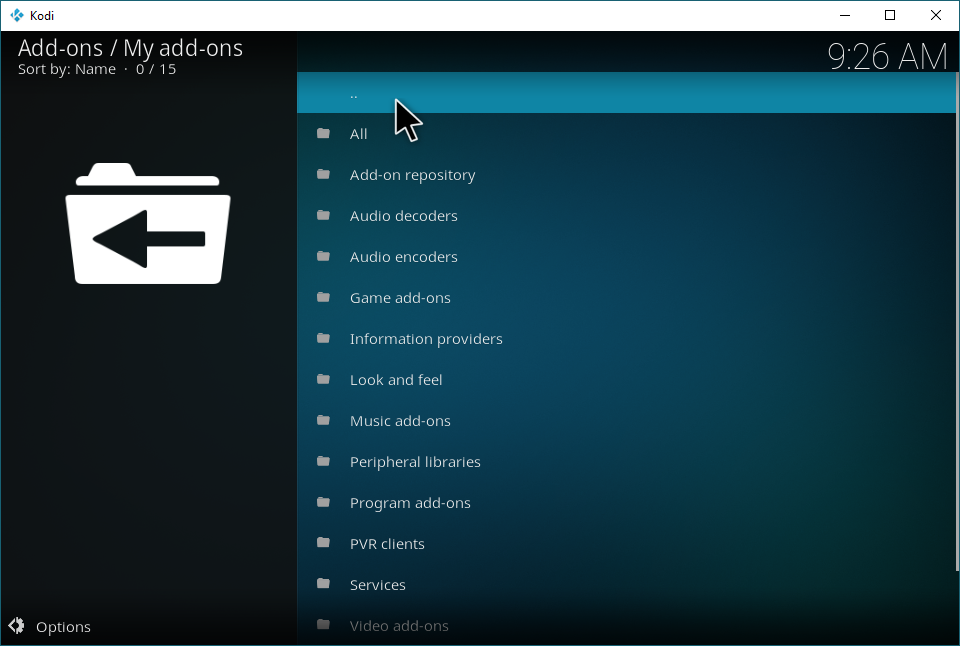 Within the Add-on browser, you'll want to click Install from zip file.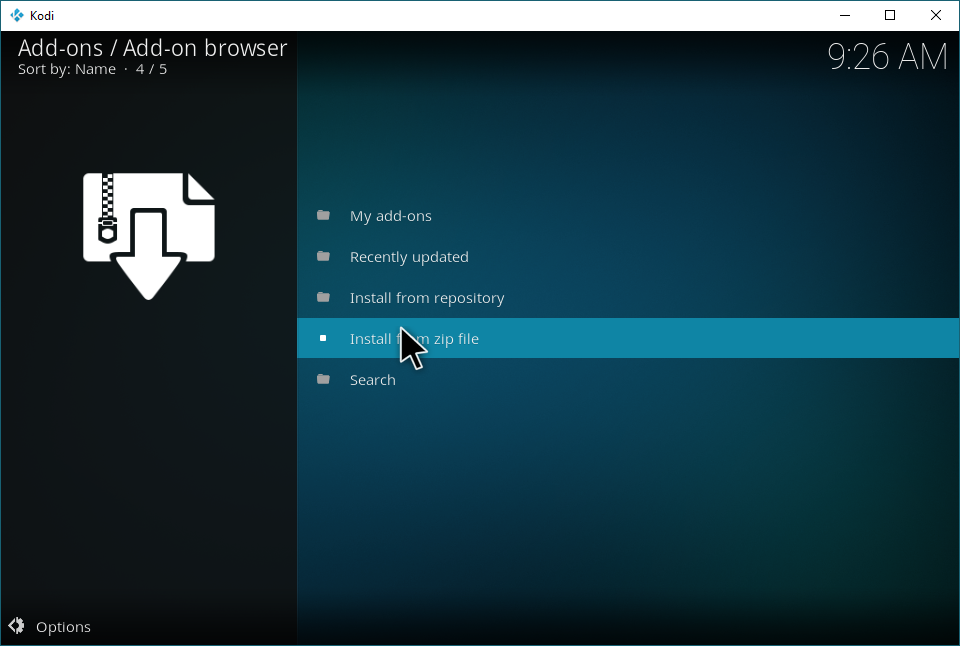 Remember that file source we created earlier? Navigate to it and click it, as shown below.
Click the PlayersKlub repository zip file. This will install the PlayersKlub repository to your system.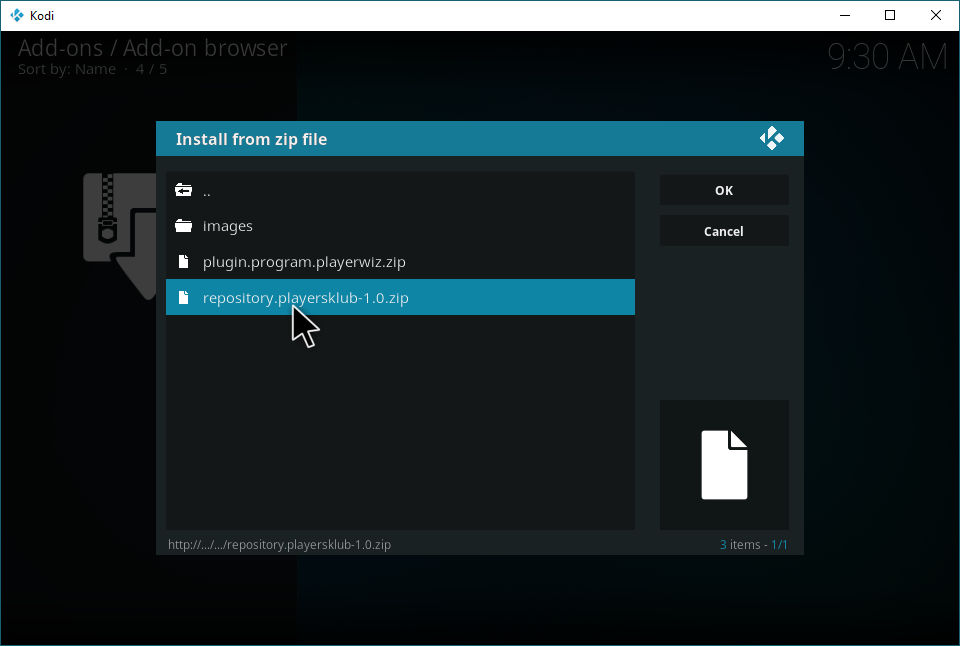 Now that you have the PlayersKlub repository installed, you're one step closer to getting the add-on. Click "Install from repository".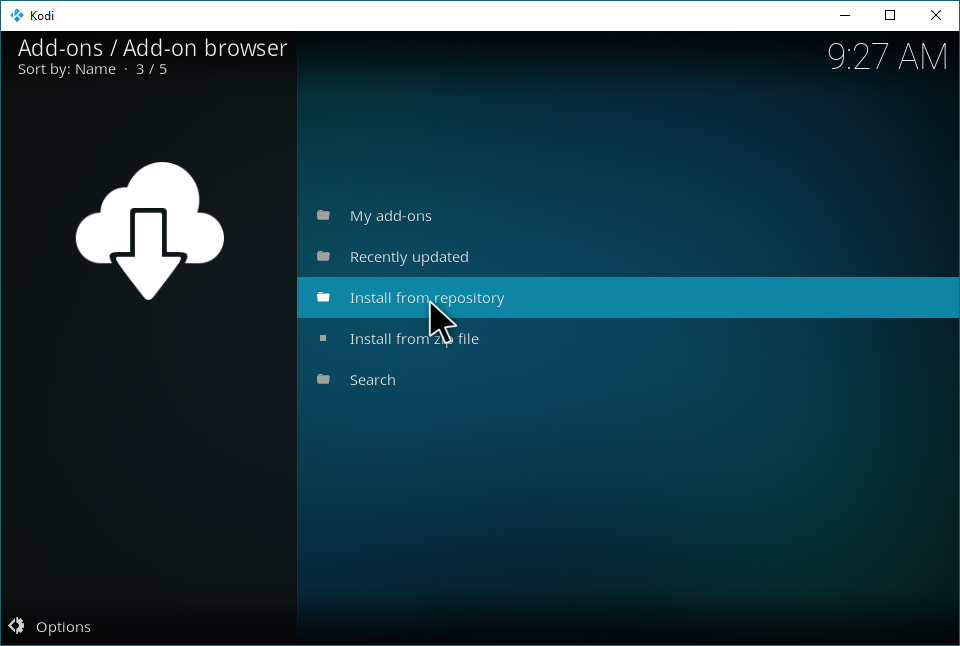 Locate the PLAYERS KLUB Repository in this list. Click it.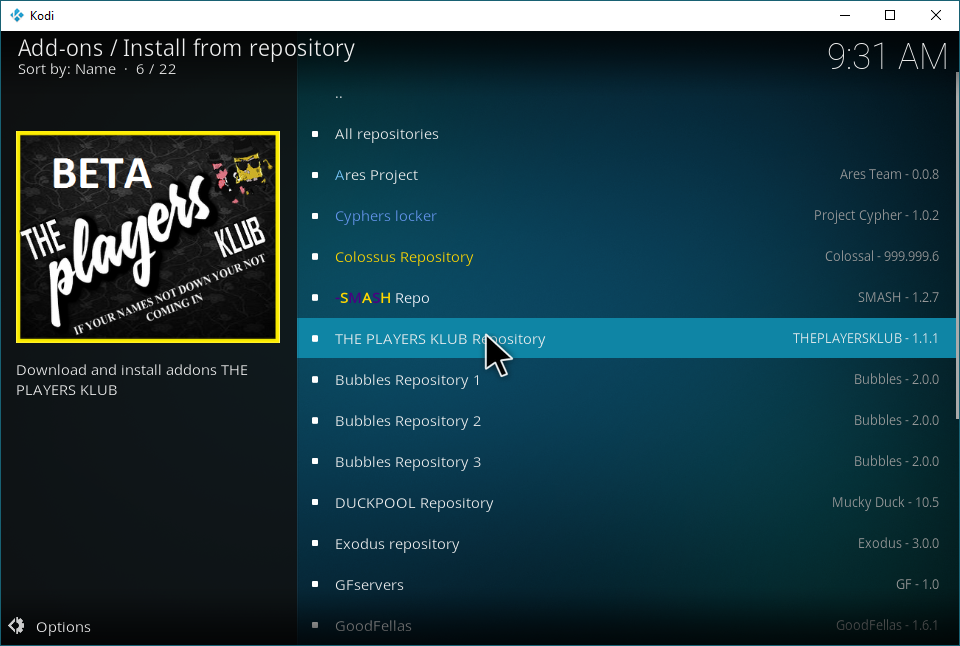 Within the repository, select "Video add-ons". PlayersKlub is an IPTV add-on, and that falls under the category of Video.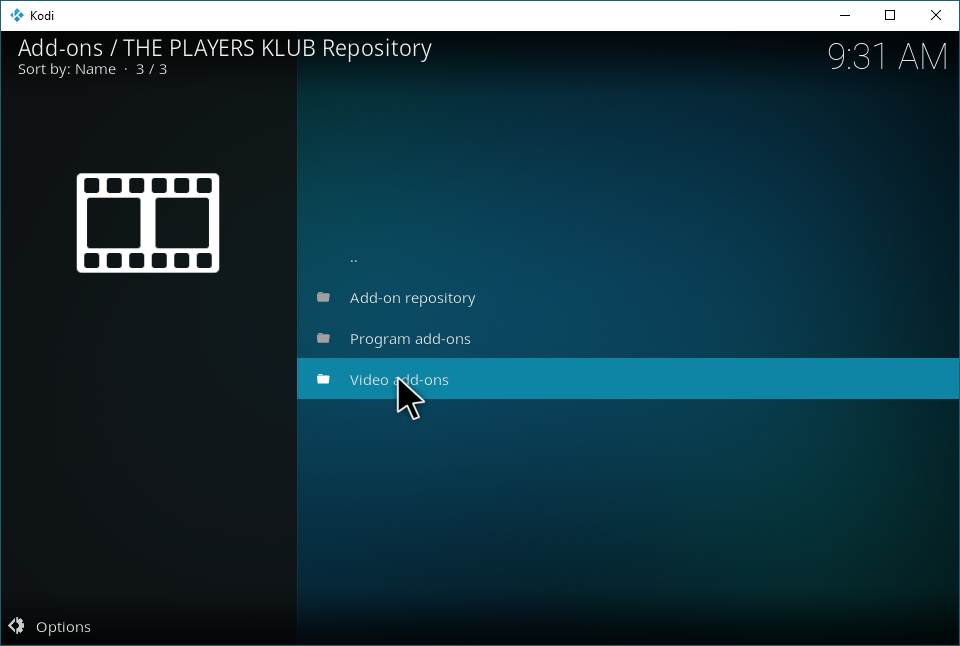 Click "THE PLAYERS KLUB".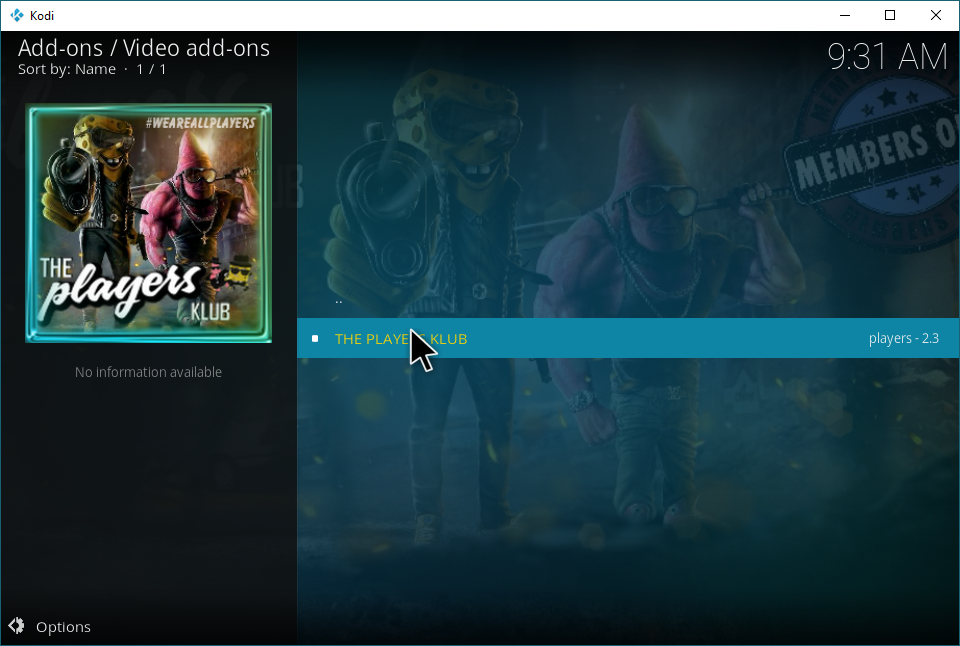 Yes… the icon is exactly what it looks like: grotesque, humanoid versions of Spongebob and Patrick, decked out in gangster clothes and packing heat. It's probably best to just go ahead and click Install.
Congrats! You've installed the Add-on and should be able to open it now. If you see it in your Add-ons main menu, skip down to login instructions. Otherwise, check out the following guide to find it in your Kodi installation.
Select My add-ons.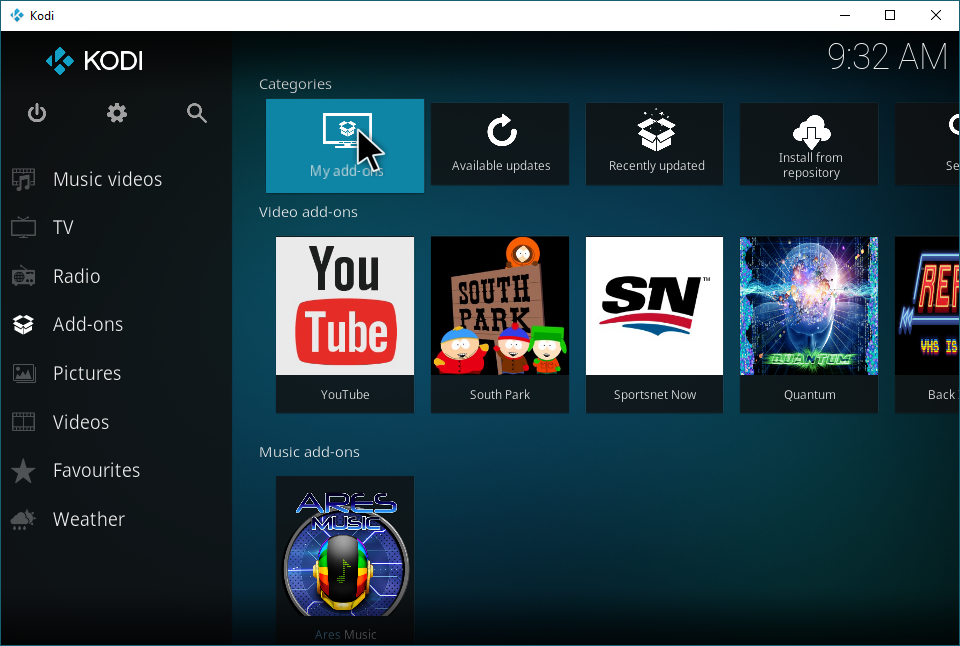 Find THE PLAYERS KLUB and click it.
Click "Open".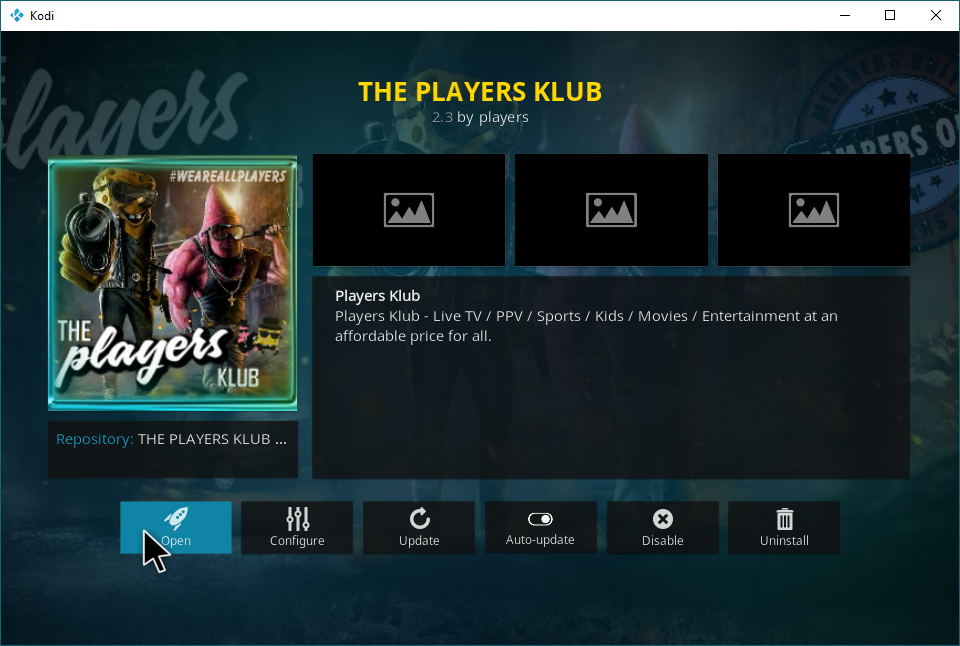 To start using the application, you're going to need your account information handy. Click to enter your login.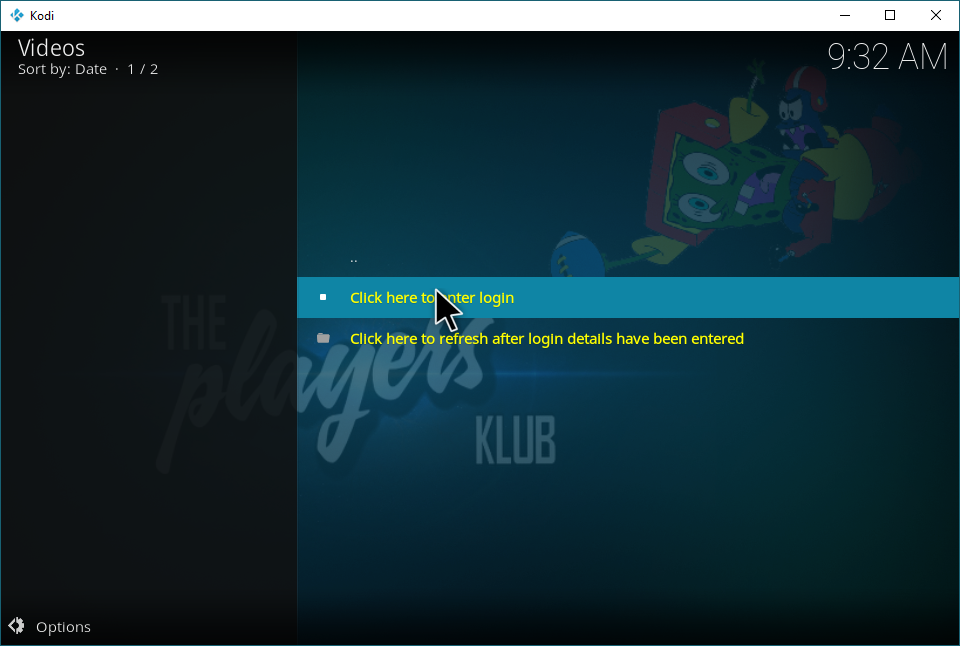 You'll get a screen like this. Enter in your PlayersKlub account information here.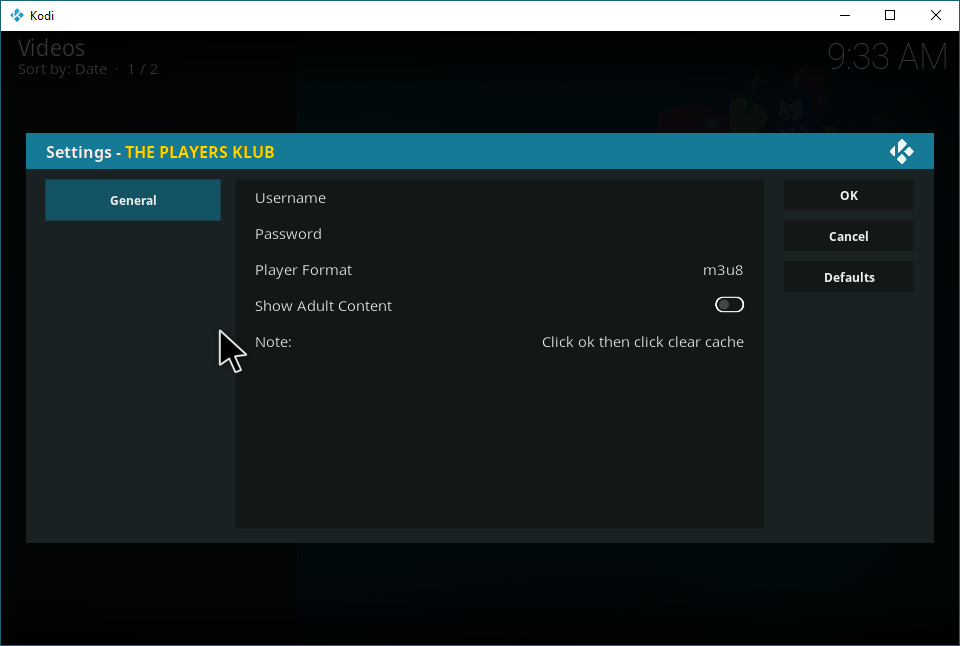 If you don't have a premium PlayersKlub account, you may be able to use a free one with the following information:
Username: leetv
Password: leetv1
Otherwise, you'll need to look into buying a PlayersKlub subscription if you want to make usage of this add-on.
Conclusion
We hope this guide helped you figure out how to install PlayersKlub, and if you need any help, we welcome you to comment below and let us know. We're always happy to help.
What will you be watching on PlayersKlub?