We are reader supported and may earn a commission when you buy through links on our site.
Learn more
Trakt.tv Kodi Add-on – How to Use Trakt on Kodi
Did you ever want to see a list of all the TV shows and movies that you've watched? Or did you ever wish for an easy-to-update list of shows that you're planning to watch? Do you need a calendar to remind you when a favourite show is coming back on air, or to see when a big movie is being released in the cinema or on DVD? Or maybe you want recommendations for what to watch next, based on your personal ratings of things you've watched previously.
In any of these cases, you should check out the Trakt service and the Trakt.tv add-on for Kodi. We'll explain what this service does in detail below, then we'll explain how to install the Kodi add-on and how to use it.
30-days money back guarantee
What is Trakt?
Trakt is a free service for keeping track of what movies and TV shows you've watched. You can rate each show or movie you watch, and see lists of your watching history. Most usefully, from your watching history and your ratings you can get recommendations for similar movies or TV shows that you might enjoy. You can also share your watched list over social media so that your friends can see what you've been watching and you can swap recommendations with them.
One of the best features of Trakt is that it automatically scrobbles your content, meaning that when you watch something on Kodi, Netflix, Amazon, Hulu, or iTunes, the details are added to your watched list without you having to type out the title of each show or movie. You can also use the calendar feature to keep track of when shows you want to watch are coming back, or when movies will be released in the cinema or on DVD and Blu Ray.
The highlight of Trakt may well be its discover feature. This section has a wealth of recommendations which are pulled from a community of TV and movie fans, so you can find recommendations from like-minded people. It's also easy to find best of lists from well-known sites like Reddit, Rotten Tomatoes, and IMDB. You can also add the items you want to watch to your to-watch list, so you can easily refer to it later.
All in all, Trakt is a terrific service for people who are big fans of TV shows and movies, and those who want quality recommendations for what to watch next. That means it's the perfect partner for Kodi.
Before Installing Kodi Add-ons, Get a VPN
When you're using Kodi, it's important to keep yourself safe and secure. This is because although Kodi itself is open source and legal to use, some add-ons that you can install to your Kodi system are not. Some of these add-ons are created by third party developers and allow you to access copyrighted content through streams. This puts these add-ons in a legal grey area which means that you could face a fine or even prosecution for using them over an unsecured internet connection.
For Kodi, We Recommend IPVanish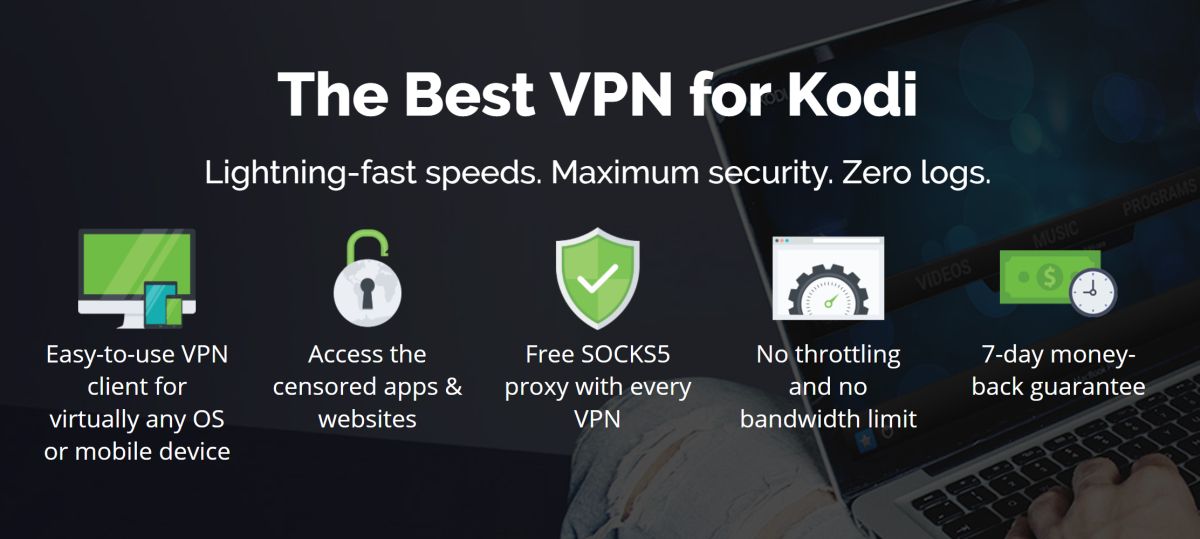 The best way to avoid legal problems when using Kodi and to keep yourself safe is to install a VPN. If you're wondering which VPN provider you should choose, then we recommend IPVanish for use with Kodi. This service has several key advantages:
Lightning-fast connection speeds, which are important for streaming high-definition video on Kodi.
Plenty of servers. IPVanish has more than 850 servers available in over 60 countries, so you can always be sure of finding a server that works. This also means that you can access region-locked content from almost anywhere in the world.
No logging. Most importantly, IPVanish does not keep any logs of your internet use, so even if they are asked to hand over their records to law enforcement, there will be no incriminating records about its users.
Support for multiple platforms. IPVanish offers dedicated software for virtually every modern device, including your router.
IPVanish uses strong 256-bit encryption and has extra features such as a kill switch to prevent you from accidentally downloading over an unsecure connection, and an auto re-connect feature which will reconnect you automatically if your current connection is interrupted.
IPVanish offers a 7-day money back guarantee which means you have a week to test it risk-free. Please note that Addictive Tips readers can save a massive 60% here on the IPVanish annual plan, taking the monthly price down to only $4.87/mo.
With that sorted, we can move on to installing the Trakt add-on.
How to Install the Trakt.tv Kodi Add-on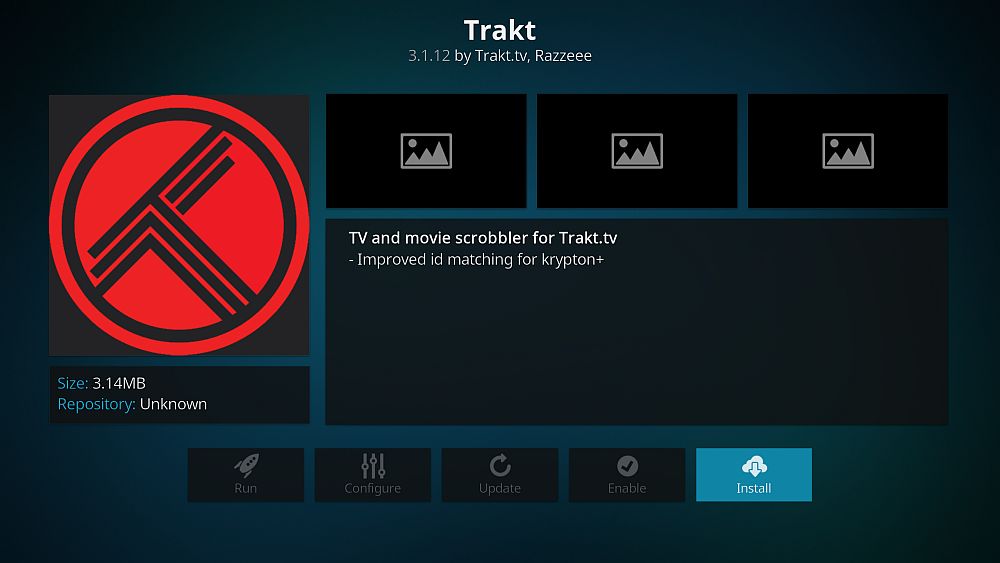 If you install the Trakt.tv Kodi add-on, all of your Kodi watching will be automatically scrobbled to your watched list. As the Trakt.tv add-on is an official add-on from Kodi, it's included in the default repository and is very easy to install. Just follow these steps:
Start on your Kodi home screen
Click on Add-ons
Click on the icon that looks like an open box
Click on Install from repository
Go to Kodi Add-on repository
Go to Program add-ons
Scroll down to Trakt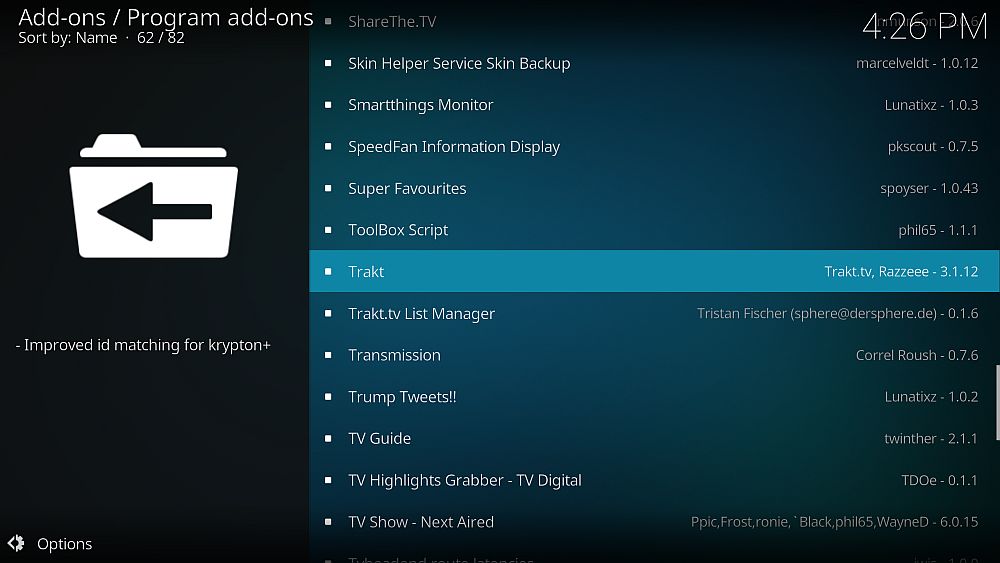 Click on it and a box describing the add-on appears. Click install on the bottom menu
Wait a minute and you'll see a notification once the add-on in installed
A box will appear to authorise your account. Follow the instructions on screen. There will be a code shown which will be a string of letters and numbers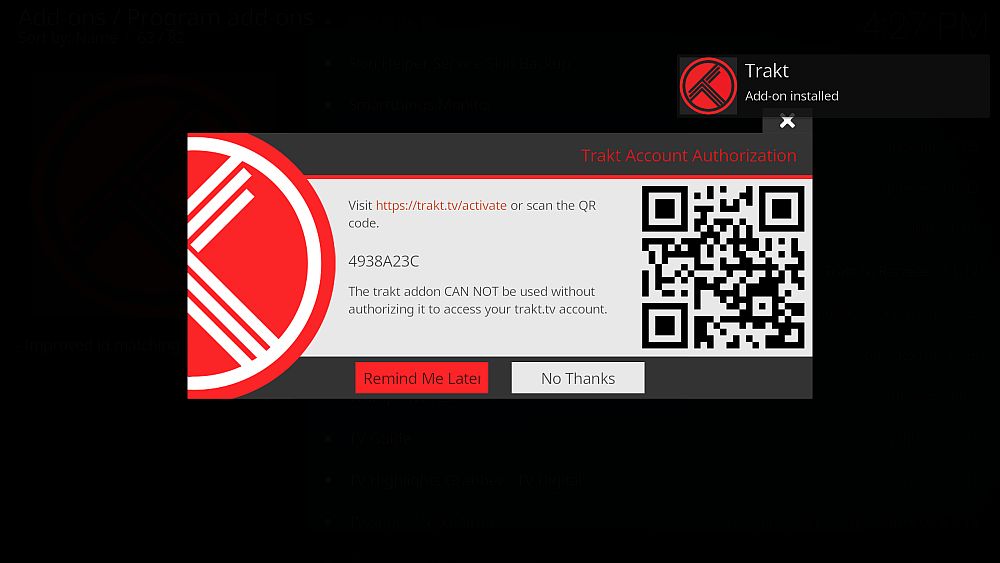 Open up your web browser and go to https://trakt.tv/activate. Enter in your log in details, or, if you don't have a Trakt account yet, set one up here
Now enter the string of letters and numbers from your Kodi screen into the box on your web browser
Click on the button to authorise Trakt on Kodi
Once you have authorised your Trakt account to use with Kodi, the instruction box will close
Now you're ready to use Trakt!
How to Use the Trakt.tv Kodi Add-on
Once you've installed the add-on and authorised your account, it will start tracking your watching immediately. In fact, if you click on the icon for the Trakt add-on then nothing will happen, as the add-on is already up and running in the background. However, you can adjust the settings of the Kodi add-on to your liking. To do this:
Start on your Kodi home screen
Go to Add-ons
Right click on the Trakt icon and choose Settings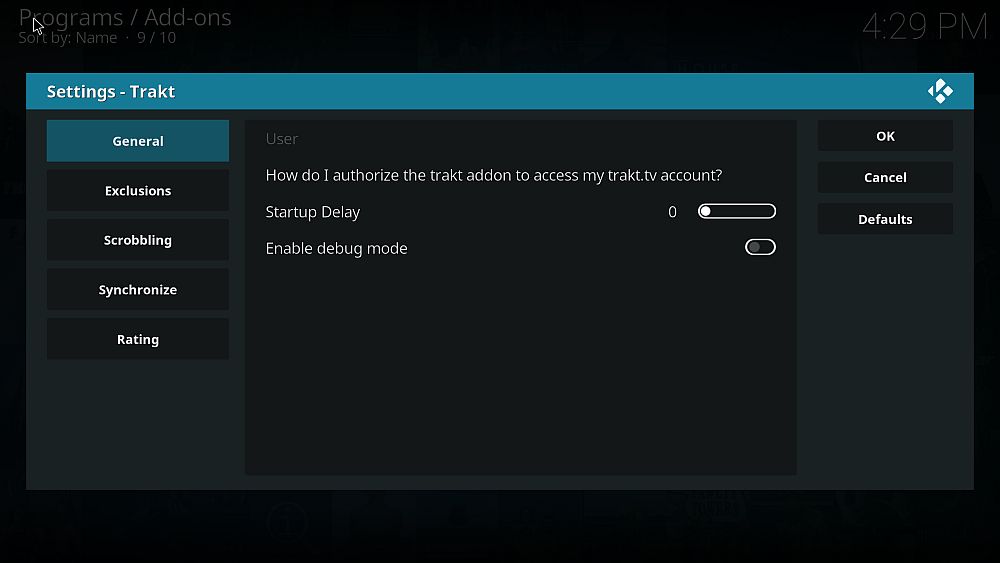 From here you have several options:

You can see the instructions for authorising your account if you haven't done so yet
You can add a Startup delay so that Trakt doesn't begin tracking until all of your other add-ons are updated and ready. This helps speed up Kodi when you open it
In the Exclusions tab you can set some content to be excluded from tracking. This is helpful if you wanted to exclude things like Like TV, or content from streaming sources rather than content on your hard drive.
The Scrobble tab allows you to change settings such as whether data from your TV shows, movies, or both is collected by Trakt. You can also change other options like how titles are searched for.
The Synchronize tab is useful if you also use Trakt on your desktop, laptop, or other non-Kodi machine. You can customise the way in which your watched list is synchronised across your devices and change what is saved to your history.
Finally, the Rating tab allows you to change rating options. By default, once you have watched a movie or TV episode you'll be asked to rate the content out of 10. Doing this each time can help to make your recommendations from Trakt even more accurate to your tastes. However, if it's too much hassle to rate every single thing you watch, then you can turn this option off and only rate something when you want to.
Conclusion
The Trakt add-on for Kodi is dead easy to use, as you can set it up and then forget about it. It will collect information on all of your watching habits, plus your rating of what you've watched if you want. This gives you a huge list of everything that you've watched as well as recommendations for what to watch in the future. Given how simple it is to install and use, we recommend the Trakt add-on for anyone who wants to keep track of their watching habits.
If you have any problems installing or using the Trakt add-on for Kodi, then just leave us a comment below and our community will be able to help.