We are reader supported and may earn a commission when you buy through links on our site.
Learn more
How to Set Parental Controls on Netflix
Netflix has a library of thousands of movies and TV shows, everything from cartoons to classics, foreign films to modern mini-series. All of this content is available from a single interface. Anyone with a web browser or remote can search and browse content at their leisure, including your kids.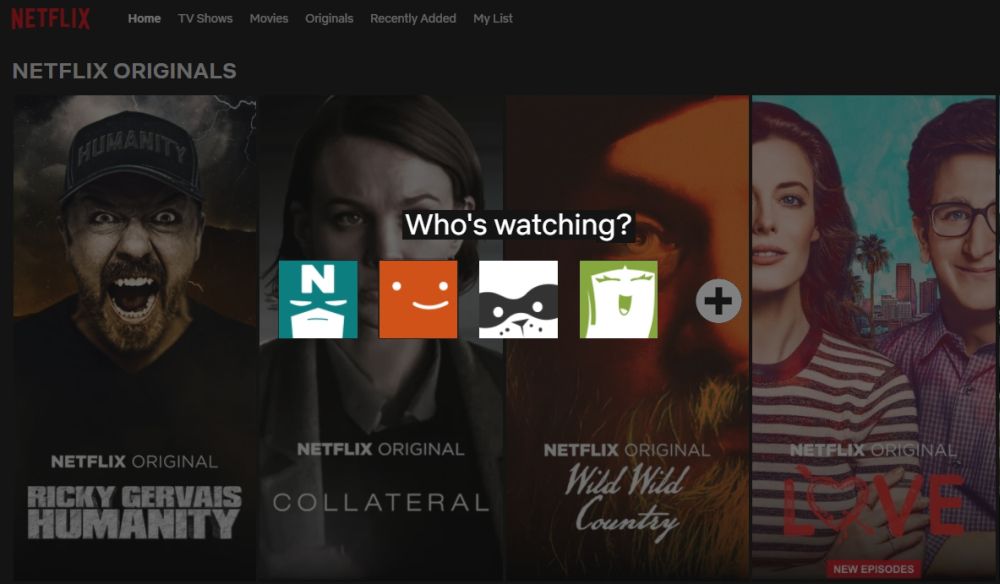 Keeping children safe from mature content is harder and harder in the modern digital age. Netflix makes it easy to set parental controls on your account, however, which lets you restrict movies and shows based on content ratings. By creating a PIN or profile for your kids, you can turn them loose on Netflix without worrying they'll stumble across something designed for adults.
30-days money back guarantee
Safe Netflix Streaming with a VPN
Netflix has a rocky relationship with VPNs. On the one hand, virtual private networks allow users to access the service as if they were in another region, opening up new content in seconds. On the other hand, Netflix can't keep its streaming licenses if it allows region-free access. To combat this, Netflix has started blocking VPN users from accessing the service. This is the most strict on apps, which are almost impossible to bypass, but on the web, you'll have far greater luck using Netflix with a VPN.
Overall, VPNs are great tools for privacy and security on the internet. They encrypt your data to keep your activity hidden, and they help keep you anonymous by attaching a non-local IP address to each packet of information. We've selected a few of the best VPNs below for strong online security, fast connection speeds, and reliable Netflix access.
1. ExpressVPN – The Fastest VPN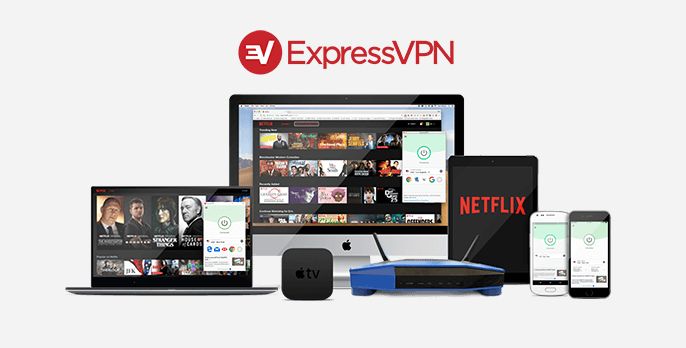 ExpressVPN is easily one of the fastest VPNs on the market. The company runs a small but strong network of a few hundred of servers in 94 different countries, including dozens of locations in major cities across the U.S., Canada, Europe, and Asia. You'll always have a fast connection with ExpressVPN, which is great for streaming HD movies via Netflix. ExpressVPN also keeps your information safe using 256-bit AES encryption on all data, DNS leak protection and automatic kill switch, and a zero-logging policy on traffic, DNS requests, and IP addresses.
ExpressVPN is one of the best VPNs to use with Netflix, hands down. You can stream from a wide variety of countries without encountering region blocked content, and you can use both the browser and Netflix apps with surprisingly high success rates.
Pros
Unblocks US Netflix
Super fast servers (minimal speed loss)
Very simple and easy to use
Strict no-logs policy for personal information
24/7 Chat Support.
Cons
Power-users configuration options.
2. NordVPN – Incredibly Strong Protection
NordVPN makes it easy to use a private, safe, and secure internet, all without lifting a finger. The service runs a huge network of over 3,300 servers in 59 different countries, bringing lightning fast speeds to users around the world. You also get to take advantage of strong privacy features like double encryption and DDoS protection, all with just a few clicks. On top of that, NordVPN secures every account with a strict zero-logging policy that covers bandwidth, traffic, time stamps, and DNS access, automatic kill switch and DNS leak protection features, and 256-bit AES encryption on all data.
NordVPN's huge server network makes it one of the best VPNs to unblock and stream Netflix. Use it on a browser or use it with the apps, either way you're good to go!
Pros
SPECIAL OFFER: 2-yr plan (68% off - link below)
Mind-boggling number of servers
Torrenting is explicitly permitted
"Double" data protection
30-day money back guarantee.
Cons
Some servers can have average d/l speeds
Can't specify City or Province in App.
Netflix and Parental Controls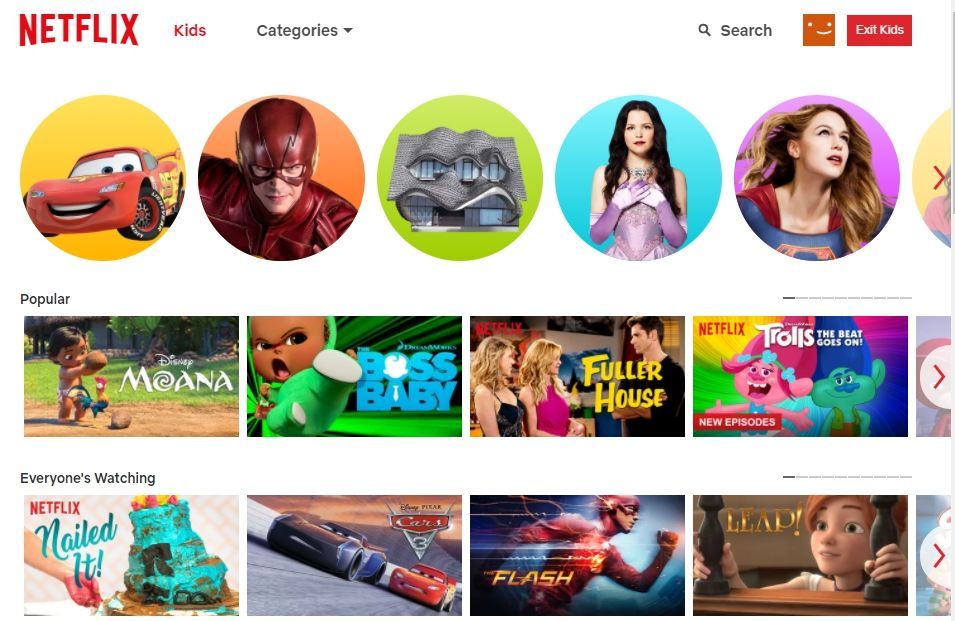 Netflix has made it extremely easy to block certain content from appearing in your account. There are a few things you should know before setting up profiles or creating a PIN code, however.
How Netflix Divides Content
Netflix uses the well-established content rating guidelines used in the movie industry for decades to put a quick label on the content maturity in its videos. G for general audiences (kids), PG for parental guidance suggested, PG-13 for slightly more mature content, R for restricted, and NC-17 for no children under 17. These guidelines are then split into content category labels used by parental controls to restrict who can watch what on your account. Below is a quick overview of the four main options:
For Little Kids only – Watch TV shows and movies suitable for all ages, or only rated G content.
For Older Kids and below – Watch videos suitable for older kids rated PG or G.
For Teens and below – Watch TV shows and movies suitable for teens, from G to PG to PG-13.
All Maturity levels – Watch all videos, including mature content. Includes rated R, NC-17, and both not rated (NR) and unrated (UR) films and shows.
It's important to note that you can't change the primary account profile to any content below Teens. If you need to set things up for a younger audience, create a new profile and use that instead.
PINs vs Profiles – Which is Better?
Netflix offers two main ways to restrict content on your account: profiles and PIN codes. Each one has its strengths and weaknesses, but both can be used in tandem to provide ironclad content policing for your entire family.
Profiles are separate viewing areas sectioned off from the main Netflix account. Each time you log into the Netflix website or app, you'll be asked to pick a profile. This allows different people to keep their own watch history, ratings, queue lists, and suggestions. That way, if your child watches a hundred episodes of Curious George on your account, you won't have to sift through recommendations based on kids' cartoons.
Profiles come with content restrictions based on the ratings mentioned above. You can prevent profiles from accessing titles based on their general maturity level, stopping them from even appearing on the main page or in search results when that profile is active. Unfortunately, there's nothing preventing users from changing profiles to access adult content. This method is best reserved for young children who can't change settings on their own, and to keep viewing histories separate from each other.
PIN codes are a stricter form of content restriction. Setting a four digit number and corresponding maturity restriction allows you to prevent access for all profiles, including the main one. If a child tries to watch rated R movies, he or she must enter your PIN first. This can get a little frustrating if you use Netflix 90% of the time, but it's by far the best way to add parental controls to Netflix.
Parental Controls on Netflix Apps
Netflix is available via web browser on just about any device that can access the internet. There are also dozens of Netflix apps you can install on Android, iOS, gaming consoles, and more. These apps usually have a restricted set of features when compared to the web browser, but you can still use both the PIN and profile features on them without too much trouble.
Profile creation, editing, and even deletion are easy to do on any app. Just tap the profile icon, then choose manage profiles, just like on the web browser. Changing account information like PIN codes is another story, however. If the option to edit account details is listed, the Netflix app usually redirects you to a web browser to make the changes. For this reason, we recommend setting PINs from your PC or laptop instead of doing it from the app.
Once you have parental control profiles and PIN codes set up, Netflix will enforce them across all devices, no matter if you use the app or a web browser.
Set Parental Controls on Netflix
Ready to lock down your account to make it safe for the entire family? Choose one of the methods below and customize the settings as you see fit. You can also add both profiles and a PIN code for better peace of mind.
How to Create Parental Control Profiles on Netflix
Creating separate profiles on your Netflix account is a great way to filter what kind of content shows for different members of your family. If you've got young kids, for example, you can choose to only have family friendly movies and TV shows displayed when their profile is active. When it's time for adults to have their movie night, simply change profiles and watch all the videos you want!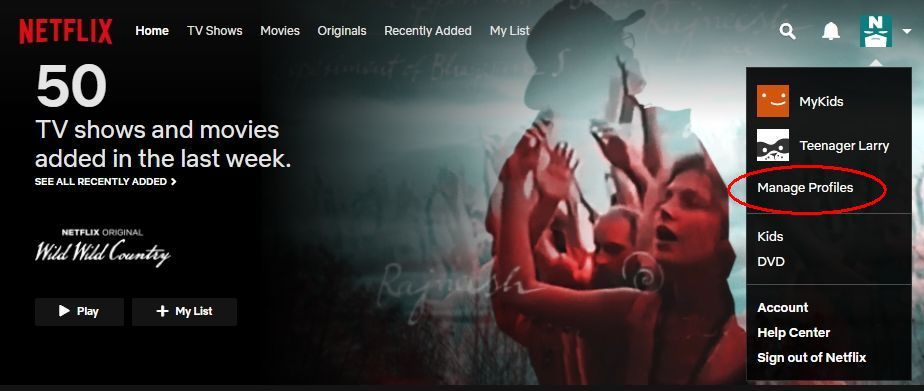 Log into Netflix on your PC or laptop web browser. You can create and manage profiles on most Netflix apps, too, but it's a little easier to do it with a full mouse and keyboard interface.
From the home nav screen, move your mouse to the upper right and hover over your Netflix profile icon. A dropdown menu should appear. Click the Manage Profiles button below it to see a grid with your current profile icons displayed in the center of the screen.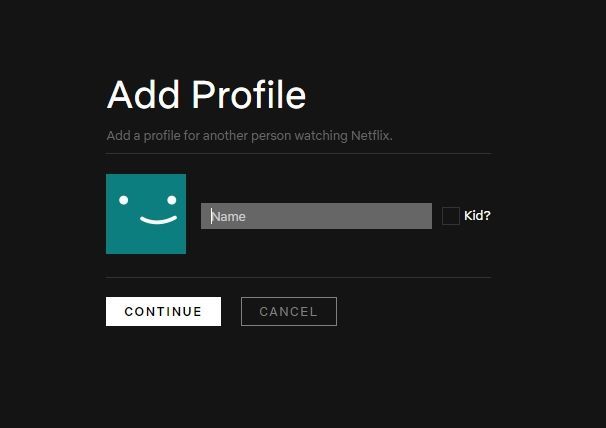 To create a new profile, click the plus icon to the right. Give the profile a descriptive name. If you know you'll be using this profile for kids or young children, go ahead and tick the box that says "Kid?". This option restricts content to shows and movies aimed at 12 year olds and younger.
Save the profile and you'll return to the profiles grid. Click the profile you just created and you'll be taken to an editing screen. Here you can change the profile icon, default language, profile name, and content settings. Under "Allowed TV shows and movies" you'll see a dropdown menu. Click this and choose the highest content rating you want to allow for this profile. For example, if you set it to "For Teens and below", the profile won't be able to access videos rated R or above.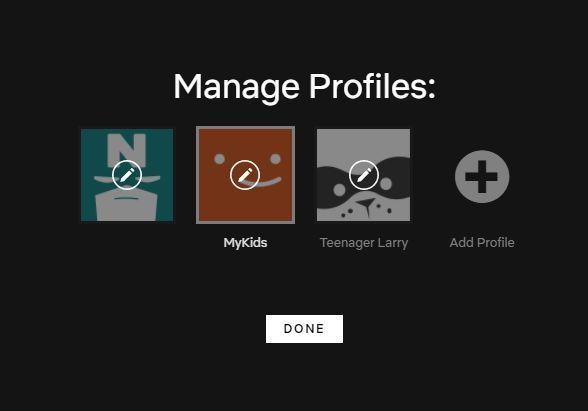 Once you've changed the settings to your liking, save everything and return to the profile grid. Now when you log into Netflix on any device, simply choose the profile for the person or people who will be watching and Netflix will automatically filter content based on the parental guidelines you integrated into the profile.
How to Add a Parental PIN to Netflix
Netflix allows you to control content availability by setting a PIN code for your entire account. This is more fool-proof than creating different profiles, as it affects all avatars created under your account without exception. Only the people who know the PIN can access adult content, so you can sleep safely at night. Follow the instructions below to set a parental control PIN on your Netflix account.
Open a web browser on your PC and log into your Netflix account. You can also access the settings from the Netflix app on many devices, but it will simply redirect you to a browser page, so it's easier to just start with that.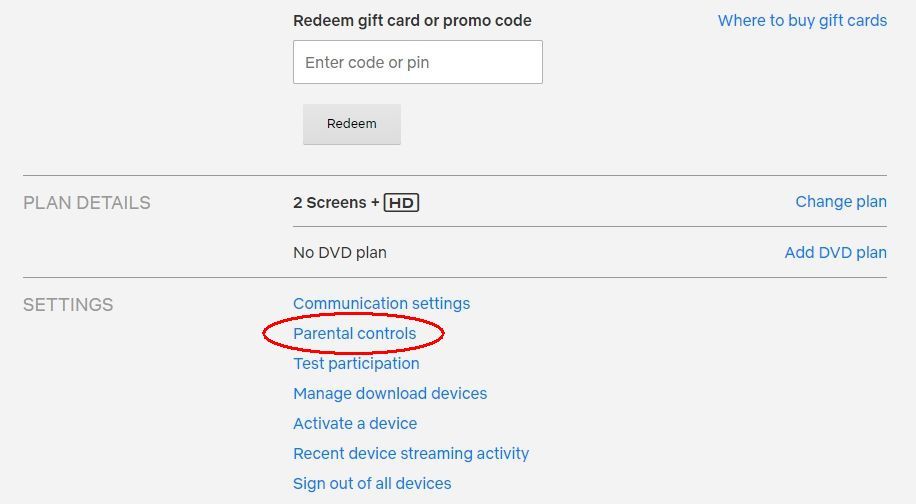 From the main screen, click your profile icon and choose Account. Look about halfway down the page in the Settings section and click Parental Controls. You will be prompted to enter your password to continue.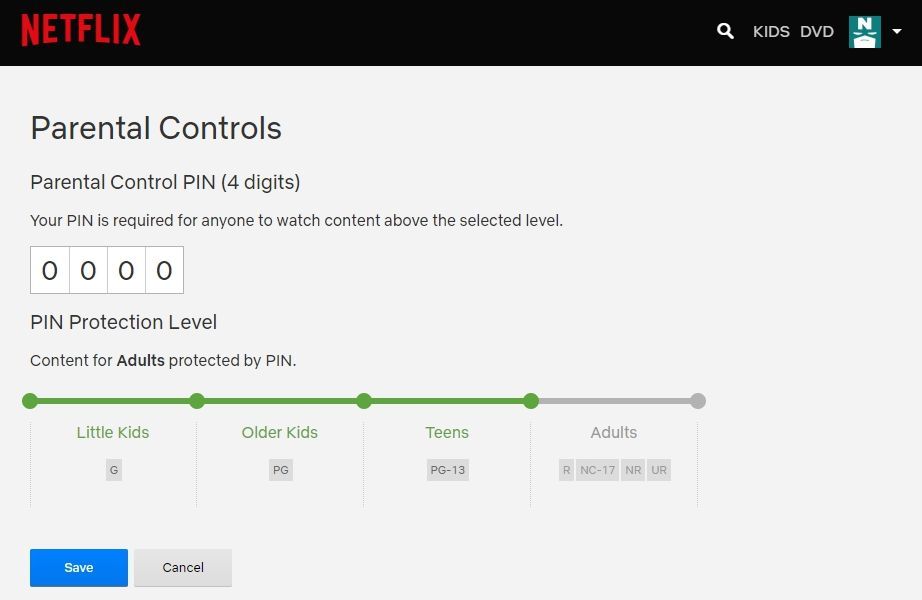 The parental controls screen is nice and straightforward. Use the empty boxes to create a four digit PIN code. Next, click the nodes on the green/gray line to select what content you want to block access to using the PIN. Sliding it all the way to the right won't block anything, while setting it to "Teens" will block anything above a PG-13 rating. Once you've set the content limitations, click Save at the bottom.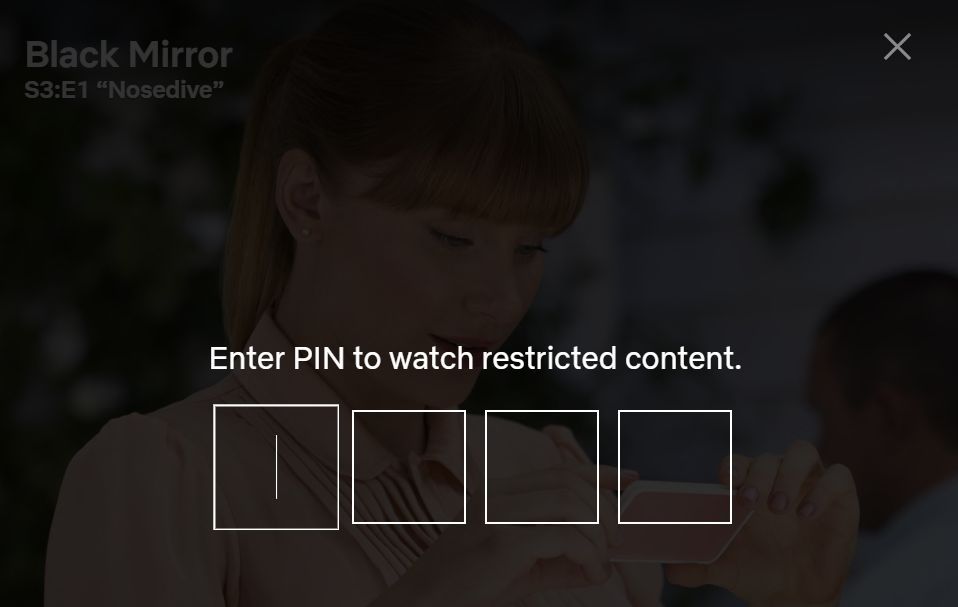 Now it's time to test to see if your PIN works. Go to the main Netflix page and choose a movie or TV show with a content rating higher than the one you set. If you chose Older Kids, for example, look for PG-13 or R content. Try playing the video. Netflix should prompt you to enter your PIN before it streams the video. Enter the code correctly and you'll have access, no need to switch profiles or anything like that.
Managing and Editing Parental Controls
Going from a single, unprotected account to one with profiles and PIN codes can be a bit of an adjustment. If you make a mistake in the process, or if you just want to get rid of the changes you've done, Netflix gives you full control over the process without any hassle.
How to Delete Netflix Profiles
Netflix lets you create up to five separate profiles for your account. If you need to remove one to make room for another, all you have to do is visit the profiles page and start deleting. Follow the quick steps below to do just that.
Log into Netflix on your PC web browser.
Move the cursor to your profile icon in the top right of the screen.
Choose Manage Profiles from the dropdown menu.
On the profile grid, click the circled pencil icon on the profile you want to delete.
On the profile editing screen, look for the Delete Profile button at the bottom and click it.
Netflix will ask you to confirm the decision.
Once complete, you will return to the profile management grid. Click Done to return to browsing Netflix.
How to Delete a PIN from Netflix
Did you forget your parental control PIN? Tired of entering it whenever you want to watch a rated R movie? Netflix makes it easy to remove PINs from your account. Follow the steps below to restore normal movie viewing for your entire account.
Open a web browser, preferably on your PC, and log into Netflix.
Click your profile icon and select Account.
Choose the Parental Controls link towards the bottom of the screen.
Enter your Netflix password to continue.
Under the PIN boxes, move the green slider all the way to the right. This will enable all content for your account, you will never be prompted for your PIN.
Optionally, change your PIN to something easy, like 0000.
Save the changes and exit. PIN codes are now disabled on your account.
How to Change Parental Controls on a Profile
Setting parental controls on a per-profile basis gives you a ton of control over what your kids can and can't see. You can alter these settings after creating a profile for when your kids get older, all you have to do is follow the steps below.
Log into Netflix on your PC web browser.
Hover the cursor over your profile icon and choose Manage Profiles from the dropdown menu.
On the profile grid, click the pencil icon on the profile you want to edit.
Click the dropdown menu under "Allowed TV shows and movies" to see the content options. If you want to enable content PG-13 and above, uncheck the "Kid?" box before doing this.
Pick the highest content rating you want the profile to have access to, then save your changes.
The profile will now be limited based on the new settings.
Conclusion
Netflix is an incredible resource for movie fans and TV show binge watchers alike. The staggering amount of content on the service sometimes means your kids can stumble into potentially objectionable material, however. By setting up profiles and PIN codes, you can keep your kids safe while still enjoying all the content Netflix has to offer.