We are reader supported and may earn a commission when you buy through links on our site.
Learn more
How to Watch Vampire Diaries on Netflix from Anywhere?
This is one of those shows that has captured the attention of numerous people across the world, creating a borderline cult following. Thankfully, those who want to watch The Vampire Diaries can do so on Netflix.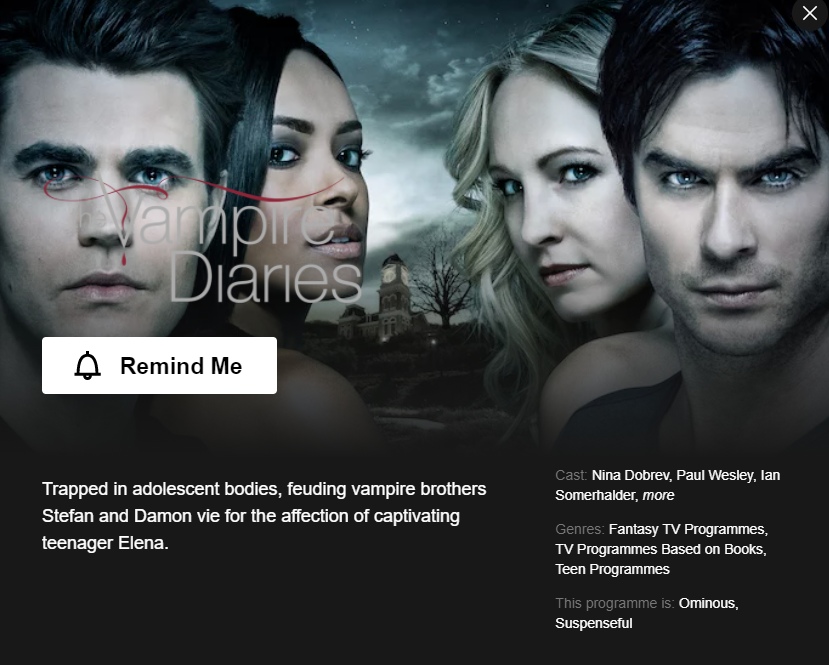 The Vampire Diaries premiered back in 2009 and ended in 2017 after 171 episodes and eight seasons in total. The show is the root of several spin-offs, and it's quite an impressive tale.
It features Nina Dobrev, Paul Wesley, and Ian Somerhalder in the leading roles. We also get to see Joseph Morgan from The Originals in some of the episodes. The story follows the relationship between Elena Gilbert, a teenage girl who lost both her parents and Stefan Salvatore – a vampire. Things get complicated as his older brother, Damon Salvatore, returns to town.
30-days money back guarantee
Is The Vampire Diaries on Netflix?
The Vampire Diaries is present on Netflix, but it does depend on where you live. We've managed to find the series available in countries like the United States or the United Kingdom, but it's totally missing from Canada, for instance.
Is Vampire Diaries leaving Netflix?
So far, it seems that The Vampire Diaries is here to stay on Netflix. Even if it does go missing in one country or another, if you have the right tools, you'll be able to enjoy it anywhere in the world.
How can I watch The Vampire Diaries on Netflix from anywhere?
If you live in Canada, for instance, and you don't want to get another streaming subscription, but you do have an account on Netflix, you can absolutely keep up with The Vampire Diaries. All you're going to have to do is to pretend you are in the United States – or the United Kingdom, for instance – and you can easily do that if you have a VPN.
If you are a big fan of The Vampire Diaries and don't live in the US, you can still watch the show on Netflix – you're just going to have to get a little extra creative. What we mean is that you're going to need to have a VPN that will help change your IP address in order for you to appear to be in a new location. By doing so, you'll be able to bypass the blockade and make Netflix give you access to all the content that you were previously denied.
VPNs are really cool tools that allow you to route your internet connection through a foreign server of your choice. You will appear to be in that new country when you are accessing Netflix, so you'll watch all the movies and series in this new location.
We recommend using NordVPN as this particular tool has thousands of servers all over the world and some great privacy features, which means it will be able to help protect your identity even online.
Here's what you need to do to watch Vampire Diaries on Netflix:
You have to start by subscribing to NordVPN. They offer 3 months for free and our readers can also get 68% OFF the 2-year plan, so you should make sure you grab this deal.
Then, you'll have to sort out the apps for your device and find a server in the United States or the UK and connect to it.
When the connection is established, you can load Netflix in your browser or relaunch the app on your device.
That's it! Netflix will now believe you are in the United States or the UK and will allow you to watch The Vampire Diaries on the platform.
Will Netflix know I'm using a VPN?
Some years back, Netflix introduced new powers to its platform for detecting people who were using VPNs and then blocking out those servers from accessing the platform. This was done as a way to help them respect the licensing deals they have with the content providers.
Nonetheless, we haven't had any issues in accessing Netflix when using NordVPN. However, that does not mean that it cannot happen, and if it does, you should know that you can start by changing your server. You should also clear out your cookies, and if that doesn't work, go ahead and contact the customer support team of NordVPN. They will be more than happy to help you figure out which server works best with the platform you are trying to access.
Since the customer support team is available 24/7, you shouldn't have any issues contacting someone, no matter where you live.
Why can't I use a free VPN instead?
The internet has made us want to use free tools all the time, including VPNs. But this is one of the times when we certainly do not advise you to switch to a free tool at all. There are multiple reasons for this, and we're going to start with the fact that free VPNs are the first to get blacklisted by Netflix. Obviously, this can be a problem, as you won't get to access any type of content whatsoever.
Editor's note: NordVPN is our #1 choice for unblocking Netflix. Sign up for the 2-year plan with NordVPN at $3.49 per month, as well as 3 months for FREE. A 30-day money-back guarantee is included on all plans, so you can cancel any time and get your money back.
Furthermore, even if you could bypass the restrictions Netflix has, you need to take into account the fact that free VPNs have only a few servers at their disposal. This means that the servers are overcrowded, which will easily translate into considerably slowed down connections. Basically, even if it worked, you wouldn't be able to watch Vampire Diaries, as Netflix streaming requires quite a lot of bandwidth.
Another issue we need to discuss is safety. Cybersecurity researchers have discovered quite a few apps that were carrying malware. This can be dangerous, as this type of malware can end up collecting a lot of information on you from your device, which can lead to your bank account being wiped clean and your identity stolen. Even your employer can fall victim if you use the device for work as well – and it could easily translate into a data breach.
We also have to warn you against VPNs that use peer-to-peer routing. Basically, these tools will grant you access to servers in exchange for you, allowing them access to your device. Your computer's resources will be used as a sort of server by other people using the app. Not only will your computer's performance be affected even after you stop using the app (as the tool will work in the background), but you should also know that they collect information on your internet activity and do not encrypt anything.
Final thoughts
One thing we know is that while free apps sound like a dream come true, this time around, it's not the right way to go when watching The Vampire Diaries. Nonetheless, we are happy to have been able to give you an alternative to watch Vampire Diaries on Netflix from anywhere.