We are reader supported and may earn a commission when you buy through links on our site.
Learn more
How to Watch Dave from Outside UK?
Dave may be a service geared for British and Irish viewers, but you can access it from anywhere in the world if you know how.
British TV certainly has its own charm and humor, and Dave is just the same. We're going to help you figure out how exactly you can watch Dave from all corners of the world.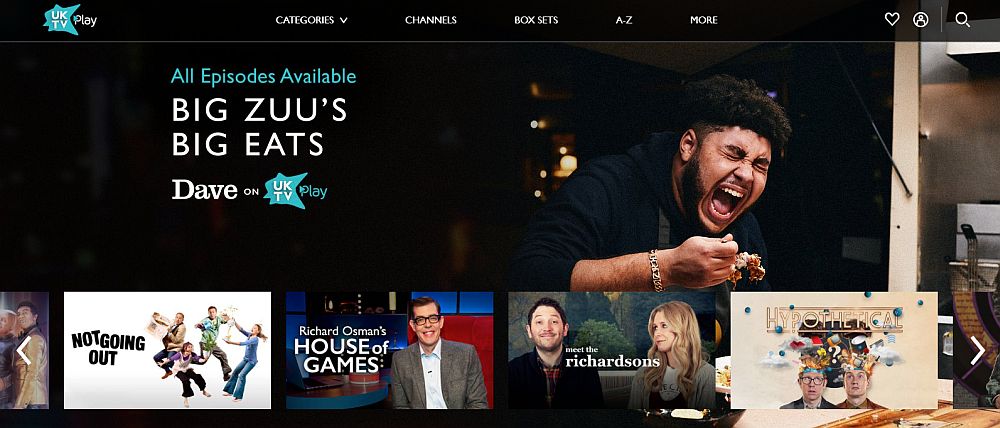 Dave is a free-to-air TV channel that's owned by UKTV. The channel's been around since 1998, going through several name changes before they landed on its current one. Why "Dave"? Because in genuine British humor, "everyone knows a bloke called Dave." Fair enough!
That being said, Dave is home to a lot of cool shows you can enjoy, like Alan Davies: As Yet Untitled, Storage Hunters UK, Undercover, or Porters. They also borrow tons of content from the BBC, as well as American networks like NBC or History.
If you don't live in the United Kingdom or Ireland, however, you won't have access to the network. The solution to this problem is easy, so keep on reading.
30-days money back guarantee
How to watch Dave from anywhere?
Since signing up for Dave only requires an email address and a few personal details, it really doesn't matter where you live. We do suggest that if you live abroad, you use a British Zip code when setting up your account. That being said, whether you're a Brit and traveling the world, or you already live elsewhere, you can still watch anything that airs on Dave, or that's available for streaming.
Since the site is geoblocked, however, you'll need to make sure your IP address shows you are in the United Kingdom rather than anywhere else, so you'll need the help of a VPN. Spoofing your IP address isn't too difficult if you have the right tool, and it will help you bypass any geo checks you may encounter.
NordVPN is one of the best VPNs we've tested out and reviewed. They have servers in close to 100 countries, and they deploy encryption protocols to protect your connection and hide you from your ISP and any other tracker. This is what adds another layer of security to your connection and helps you go undetected even by Dave.
Here's what you need to do to watch Dave with a VPN
Start by subscribing to NordVPN. Take advantage of the current deal by enjoying 3 months for free and 68% OFF the 2-year plan!
Once all the apps are up and running, you need to find a server that's located in the United Kingdom or Ireland and connect to it.
The connection is established in a few seconds. You'll notice this through the green checkmark that overlays the NordVPN icon, as well as through the notification the app displays.
You can now go and load Dave in your browser so you can start watching all the content you want.
What if this doesn't work?
Dave, like many other streaming services, sometimes detects VPNs. If that happens, you will continue to get blocked from accessing the content you're interested in. The easy solution to this problem is to contact the NordVPN 24/7 support and have them tell you which server you should be using to fly under the radar with Dave. You should be able to overcome your problem in a few minutes.
Editor's note: NordVPN is our #1 choice for unblocking Netflix. Sign up for the 2-year plan with NordVPN at $3.49 per month, as well as 3 months for FREE. A 30-day money-back guarantee is included on all plans, so you can cancel any time and get your money back.
Parting words
The quality of content running on Dave is certainly worth the effort of using a VPN to access it all. Since there's no subscription involved, Dave is even more desirable, so using NordVPN to access it should be something everyone does.