We are reader supported and may earn a commission when you buy through links on our site.
Learn more
How to Watch Crave from Outside of Canada, Anywhere Else
Subscription services are what keep us sane some days, allowing us to watch a ton of content. Crave is an excellent subscription video-on-demand service in Canada, and it's something we want to be able to watch world-wide, but is that possible?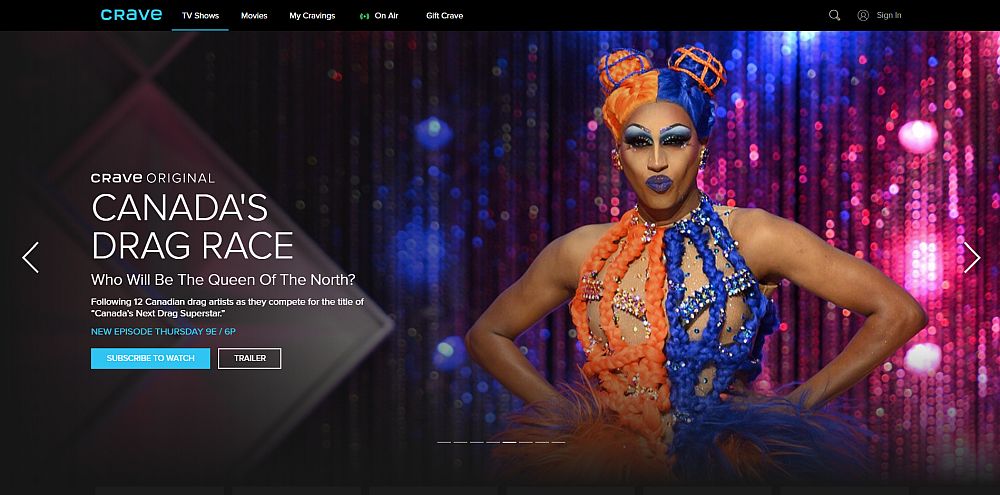 Crave was originally named CraveTV, and it's been around since 2014. Bell Media owns the platform, so it's the company's main outlet for whatever programing Bell has the rights to broadcast in Canada, including from the likes of HBO, Showtime, Comedy Central, and Starz. It also comes with a ton of movies and theatrical premieres.
Much like any other streaming service in the world, Crave is geoblocked. This means that if you want to access it from abroad, you won't be able to do that because the service detects your IP address comes from a different country. If this is the case for you, it's pretty easy to overcome the problem because you'll simply need a VPN.
30-days money back guarantee
How to Watch Crave abroad with a VPN?
As you've noticed already, Crave is a platform that can't be accessed when you're abroad. In fact, when you try to do so, you'll get a notification that the service is inaccessible in your country. If you're wondering why this happens, know that their licensing contracts only state they can stream content within Canada. This is because all content can be licensed for other areas, and the producers can get more money out of it.
Nonetheless, you can circumvent the blockade by changing your IP address with a VPN. VPNs are tools that come with simplistic user interfaces, which makes them easy to use, but they're actually very complex tools. They use encryption to secure your connection and spoof your IP address by routing your connection through a foreign server.
Our recommendation is to use NordVPN because it's the best tool we've reviewed. The service has thousands of servers in close to 100 countries around the world, including Canada. It also uses top-notch encryption protocols to secure your connection and protect your real location from any trackers, even your own Internet Service Provider.
Here's what you have to do
Your first step is to subscribe to NordVPN. You need to visit their website and take advantage of the great deal they have – 3 months for free and 68% OFF the 2-year plan!
Once you've set up your account and installed the apps, you need to look for one of the Canadian servers and connect to it.
Once the connection is established, you can go ahead and load Crave in a different tap so you can start watching all the content you want.
Is this method foolproof?
One of the things theses type of platforms brag about is their ability to detect everyone who uses a VPN. Of course, that's not really true, because tools like NordVPN largely go uncovered. If they do happen to figure out that you're using a VPN and blacklist your IP address, you only have to contact the Support Team from NordVPN. Once you explain the situation, they'll be more than happy to direct you towards a server that works with Crave so you can bypass their blockade, as well as any other extra steps you may need to take.
Editor's note: NordVPN is our #1 choice for unblocking Netflix. Sign up for the 2-year plan with NordVPN at $3.49 per month, as well as 3 months for FREE. A 30-day money-back guarantee is included on all plans, so you can cancel any time and get your money back.
Can I use a free VPN?
While we understand that paying for a VPN can be an extra burden on your budget, using free VPNs is not desirable. Oftentimes, these free tools have only a handful of servers at their disposal, while the number of users is high. This instantly results in very low browsing speeds, so you won't be able to watch a high-quality video with that. Plus, free VPNs are the most likely to get detected by the platforms you're trying to reach, including Crave.
There's also the security element that's tied to this problem. Many of the apps that were marketed as VPNs on app stores were actually trojan infested, putting all your data at risk.
How to subscribe to Crave from anywhere in the world?
Now that we've discussed the VPN part of the problem, we need to move on to the second half of the issue – subscribing to Crave. There are two ways you can subscribe to the service – through a Canadian TV provider or directly to Crave TV.
The subscription runs at $9.99 per month or $99.99 per year, so you'll be saving a little bit of money if you go for the full year. Any extra add-ons will cost you more, of course. Movies + HBO costs $9.99, Starz costs $5.99, and Super Écran costs $9.99.
The base subscription already includes access to shows from Showtime, HBO, other hit series from Hulu or Amazon in the US, while content is available in both English and French.
The issue arises when you're trying to set up an account because it requires a Canadian address and a Canadian bank card for payment purposes. It's also possible to use a Gift Card (values run at $25, $50, and $100). Since you can't get a Canadian bank card if you live abroad, you'll need to go the Gift Card route. Unfortunately, you'll need a Canadian bank account there too.
This means that it's super helpful if you have a Canadian friend you can PayPal some money to, and they can buy you the gift card for you. They can send the code to you via email, as it's possible to input this detail while buying the card.
So here's how you can subscribe to Crave:
Visit the Crave website and tap the "Sign In" button. You can click on the "Subscribe" now button you'll find below.
Next, you need to fill in your email address.
You get to choose the monthly or yearly subscription model on the next step.
Following up, you get to add any of the extras – HBO, Starz, and all the rest.
Finally, you have to choose how you're going to pay. Since you can't pay by card, you'll be able to choose the Gift Card. Fill in the code you got from your Canadian friend, making sure it covers the subscription price. You'll also need to use a Canadian address, so google one.
You're done!
What content to watch on Crave?
Crave has a ton of content you can watch, and there are many, many titles that should make your list. Here are some of the things you can watch now on the service:
30 Rock
Joker
Letterkenny – Crave original
Real Time with Bill Maher
Betty
The Voice
Last Week Tonight with John Oliver
Letters to Juliet
Pokemon Detective Pikachu
Seinfeld
Ballers
Avenue 5
Penny Dreadful: City of Angels
Homeland
Bohemian Rhapsody
The First Purge
Spider-Man Far From Home
Magic Mike
Shazam
X-Men Dark Phoenix
Creed II
Once Upon a Time in Hollywood
Downton Abbey
Star Trek Picard
Abominable
Parting words
Watching Crave from abroad is not necessarily the easiest thing to do, especially since you need to have a second person to help you out with subscribing to the service in the first place, but it's certainly worth it. Of course, if you're a traveling Canadian, things are super easy since you only need the VPN and to log into your account. With all the content you get on Crave, however, taking all these extra steps seems like a good idea, so we hope we've made it easy for you.