We are reader supported and may earn a commission when you buy through links on our site.
Learn more
How to Watch Disney+ Hotstar India from Abroad
Hotstar is one of the biggest streaming services in the world, based off in India. Even though its base is in India, the platform has expanded to other countries, including the United States, Canada, and the United Kingdom. Available content varies from country to country, much like it happens with Netflix, so we thought that it would be best to know how to get your hands on everything they have to offer.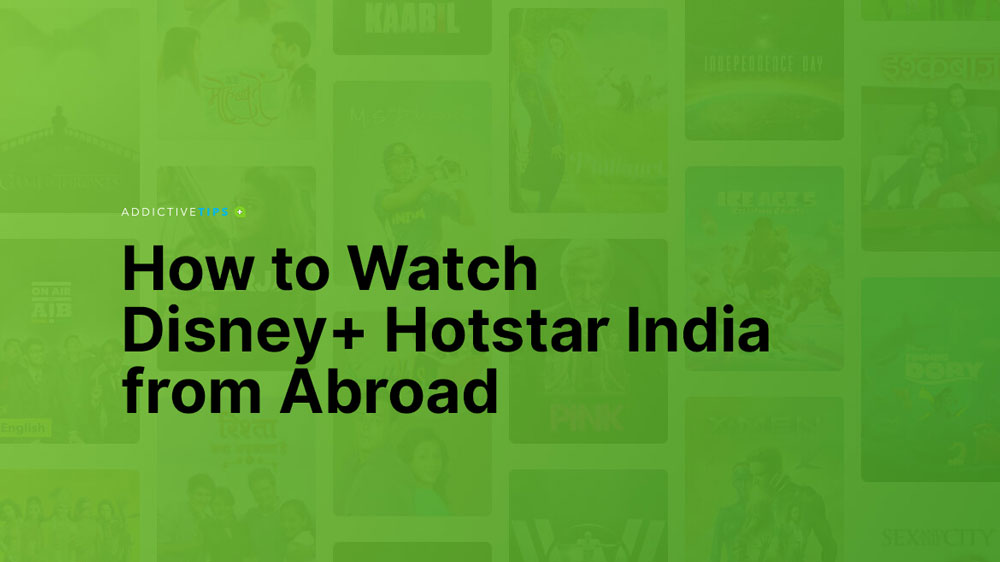 Hotstar launched in 2015, and it has rapidly built a massive following, with about 8 million paid subscribers and 300 million active subscribers. The service was originally launched as an ad-supported service, and it remained so for over a year. Then, they launched a subscription tier where you could find mostly international content and premium sports.
In 2017, Hotstar expanded to the United States and Canada, and in 2018 in the United Kingdom. Following the purchase of Hotstar by Disney in 2019, the service is now officially known as Disney+ Hotstar.
As we already mentioned, not every region gets access to the same content, mostly due to licensing deals. So, if you want to get the full Hotstar experience, it's best to head over for India, of course.
Watching Hotstar India content from the US or Canada, for instance, requires a little bit of extra help as you need to use a VPN that features a server in that region and to connect to it. Our recommendation is NordVPN, which is the best tool we tried out, so we advise you to look into it as well. It has servers in all corners of the world, including India, the United States, Canada, and the United Kingdom.
30-days money back guarantee
How to access Hotstar India from abroad with a VPN
VPNs are complex tools, but they are fairly easy to use thanks to the simplified user interface most of these sport. Of course, if you want to dive into the more complicated settings, you can always do that, but for the most part, they're pretty streamlined. NordVPN has servers in dozens of countries, so you have plenty of room to "travel" anywhere you need to be. The tool doesn't limit your Internet speeds too much and protects your privacy with encryption.
Here's how you can watch Hotstar India in the USA or UK:
Start by subscribing to NordVPN, which you can do by visiting their website and setting up an account. You can enjoy 3 months for free on NordVPN and 68% OFF the 2-year plan, so grab that deal!
Download and install the apps you need for your devices. Make sure you log into your account so you don't scramble to do that at the last minute.
Now it's time to pick one of the server locations they offer like Mumbai or Chennai.
Once your choice is made, the VPN will take a few seconds to route your connection through the selected server. A notification will be displayed when the process is complete.
Now you simply have to load Hostar India on your browser and access the content available there.
Is this method foolproof?
Unfortunately, there's no such thing as "foolproof" when it comes to using VPNs to access geoblocked content. Many of these services have VPN-detection software deployed on their platforms, so you may very well get caught. The good thing about this is that even if this happens to you, you can still work around this. All you need to do to fix the problem is to contact the NordVPN support team. Once you explain the situation, they'll help direct you to a server that works with your desired service.
Editor's note: NordVPN is our #1 choice for unblocking Netflix. Sign up for the 2-year plan with NordVPN at $3.49 per month, as well as 3 months for FREE. A 30-day money-back guarantee is included on all plans, so you can cancel any time and get your money back.
Why not use a free VPN to access Hotstar India?
If Hotstar India has a chance to detect your pro VPN, they will certainly detect a free one. Furthermore, there are several reasons we never advise people use free VPNs.
The first reason is that they are a threat to your security. Countless times cyber researchers have detected Trojans disguised as free VPNs. The pull towards a free tool is certainly what makes cybercriminals choose this type of apps as a cover.
A second reason is that free VPNs have few servers. This often means that thousands of people are getting routed through the same servers at the same time, which in turn will lower your Internet speeds so much that watching any kind of quality video on a streaming platform is a pipe dream. There are also peer-to-peer VPNs that use your own computer as a server of sorts, instead of using their own servers from across the world. This will severely impact the performance of your computer.
What is Disney+ Hotstar India?
Hotstar India comes with a wide range of movies, shows, sports, and live TV that you can enjoy, including the likes of HBO and Showtime. The free tier continues to be present, but the Premium Membership brings in lots of perks. For instance, you can watch live sports like cricket, soccer (Bundesliga, Premier League, and more), Formula 1, Tennis grand slams, as well as the latest Indian movies. Furthermore, thanks to Disney purchasing Hotstar, you can also enjoy a ton of Disney movies and kids shows, including some Disney+ originals. The Disney+ content is available dubbed in Hindi, Tamil, or Telugu with the Disney+ Hotstar VIP subscription, but you will get the English originals with the Premium subscription.
How much does Disney+ Hotstar cost?
The Disney+ Hotstar Premium subscription costs Rs. 1499 per year or Rs. 299 per month. The Disney+ Hotstar VIP costs Rs. 399 per year. If you want to start with the VIP subscription and move up to Premium, you can pay the difference.
In the United Kingdom, Hotstar subscribers can pay £5.99 per month. US subscribers will have to pay $9.99 per month, while in Canada, the price is of $12.99 CAD per month.
What can I watch on Disney+ Hotstar India?
Besides the sports you can watch on Hotstar – cricket, football, eSports, hockey, wrestling, badminton, tennis, martial arts, table tennis, water sports, and so on – there are also loads of movies and shows.
On top of the latest Indian movies, there are also loads of English movies, including a lot of them from Disney – the Avengers movies, Frozen 2, Lion King, Cars, Dumbo, Pirates of the Caribbean, Artemis Fowl, Moana, Zootopia, Coco, and so on.