We are reader supported and may earn a commission when you buy through links on our site.
Learn more
How to Watch Fast & Furious Movies on Netflix from Anywhere?
The Fast & Furious movies have been going strong for the past couple of decades, making for an impressive franchise. Thankfully, we can go and revisit older and newer films on Netflix.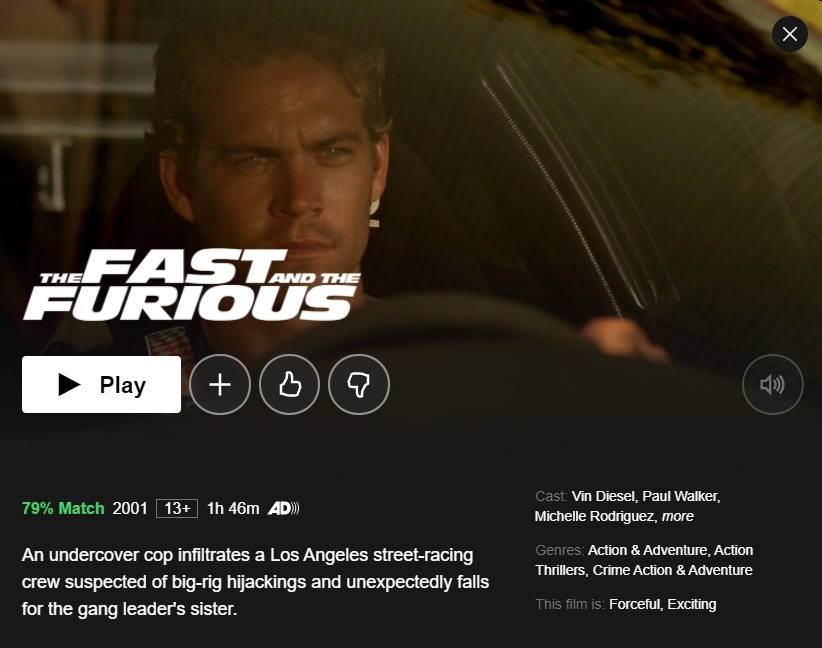 The first film, The Fast and the Furious, was released in 2001, while the latest one came in 2017. There are plans for another film to be released in 2021 and another two later on. They've also produced a spin-off that was released in 2019, namely Fast & Furious Presents: Hobbs & Shaw.
While critics' response to the movies has been mixed, fans surely love the movies and continue to go watch them in cinemas. In fact, over the years, they've all grossed a combined $5.8 billion. Each film has its own storyline, but they all have that core of car racing, adrenaline-inducing chase scenes, plenty of fights and action scenes, and an underlying story of love and friendship.
What movies are part of the Fast & Furious franchise?
The Fast Saga began in 2001 and turned out eight more movies and a spin-off.
The Fast and the Furious (2001)
2 Fast 2 Furious (2003)
The Fast and the Furious: Tokyo Drift (2006)
Fast & Furious (2009)
Fast Five (2011)
Fast & Furious 6 (2013)
Furious 7 (2015)
The Fate of the Furious (2017)
Fast & Furious Presents: Hobbs & Shaw (2019)
Can I Watch the Fast & Furious movies on Netflix?
For the most part, The Fast & Furious movies are available to watch on Netflix, but it does depend on what country you're in. For instance, in the United States, you won't find the Fast and the Furious, 2 Fast 2 Furious, The Fast and the Furious: Tokyo Drift, Fast & Furious, Fast Five, Fast & Furious 6, and Furious 7. The Fate of the Furious is not available in any library we checked, and neither is Hobbs and Shaw. We did manage to find the first seven movies over on Netflix in the United Kingdom, Australia, Canada, and many other nations.
How can I watch Fast & Furious movies on Netflix?
If you live in the United States, for instance, and want to watch the Fast & Furious movies over on Netflix, you will have to take a few extra steps, but it is possible to do. What you will need to know is that Netflix is available in about 190 countries, and since it has a geo-blockade on each of these libraries, you will need to have a VPN.
VPNs can route your internet connection through a server of your choice and assign a new IP address to your device to match the location of your chosen server. Basically, if you are in the United States and connect to a server in the United Kingdom, Netflix will believe you are in this new location and give you access to the entire local library.
Our recommendation is to use NordVPN, which is a really cool tool that managed to get really high marks in our reviews, and which we use constantly. It has lots of servers all over the world, and it uses top-notch encryption protocols.
You simply need to subscribe to NordVPN and grab their most recent deal! Our readers get 70% OFF for the 2-year plan at $3,49/month!
Then, you need to get the apps for your device and find the server that you want to connect to in the United Kingdom, Canada, or Australia, for instance.
As soon as a connection is established, you can load Netflix in your browser or relaunch the app on your device.
Look for the Fast & Furious film you want to watch and go have fun.
There you have it! It's really pretty straightforward, and you can definitely enjoy a lot of content in this way.
Won't Netflix know I'm using a VPN?
One of the things you do need to know about Netflix and VPNs is that technically, you shouldn't be using these. The platform has installed technologies that will allow it to block VPN users. However, this technology usually works to detect free VPNs, not that much premium tools like NordVPN.
Suppose you somehow happen to have a problem with NordVPN when using Netflix. In that case, you can definitely reach out to them and ask for their assistance in helping you locate a server that will work with the specific Netflix library you are trying to access. The customer support team is available 24/7, so we are sure you'll manage just fine to talk to someone and sort the problem out.
Why not use a free VPN?
For many years now, we have all become rather accustomed to using free online tools because they cost us nothing, and they give us a lot in return. However, when it comes to free VPNs, we really do not advise you to go this route because there are so many problems with this type of tool.
First of all, free tools are unlikely to be able to bypass the geo-blockade set down by Netflix. They also have just a few servers and lots and lots of uses, which will naturally mean that people will encounter really low internet speeds since the servers are all overcrowded.
Then, the bigger problem is the fact that cybercriminals often use free VPNs as a shell for malware. In order to attract people to install their tools, they claim that they are free VPNs. Once it infects the devices, it starts collecting information on the people who are using them, including credentials for your email accounts and social media profiles, and even data from your banking account – which could lead to them cleaning out savings. If you use the same device for your work, you could even inadvertently cause a data breach for your employer once the cybercriminals have enough information to lead other campaigns against your company.
There are also other VPNs that we advise against because they work by peer-to-peer routing. Basically, you allow other people to use your computer or device as a sort of server, so they do not use any of the company's. This can have a heavy impact on your device, as its resources will be consumed by the VPN. Even worse, these tools are known to keep logs on what people are doing online while using the apps, and they aren't even using encryption to secure the connections. Since privacy is something that we inadvertently associate with VPNs, these particular apps are best to avoid.
As you can see, choosing a free VPN is completely understandable, but it's way too risky for us to even recommend it. Shell out a few bucks each month, and you'll be safer online.
Final thoughts
We do hope you plan a really cool Fast & Furious marathon in the coming weeks, and we think that you should definitely start at the beginning and see the characters grow.