We are reader supported and may earn a commission when you buy through links on our site.
Learn more
How to Watch the NFL on IPTV – 2021 Guide
Trying to watch NFL games online can be a challenge. In this article, we'll guide you through several easy, legal ways to stream the NFL via IPTV – even if you're not in the US or Canada.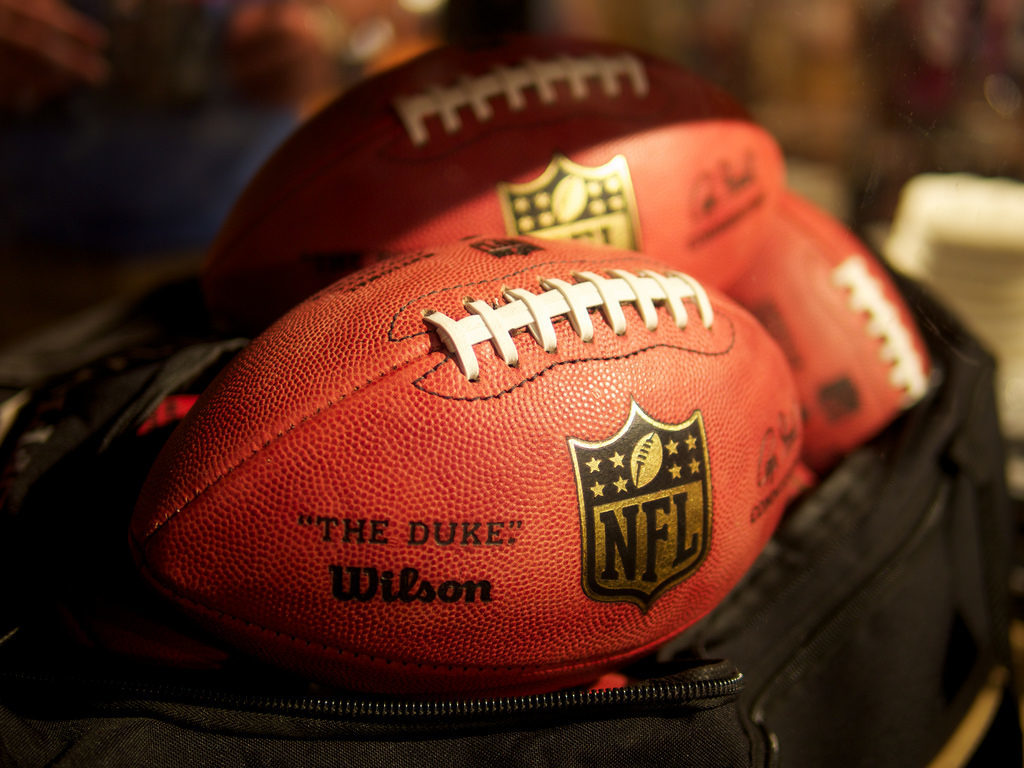 Specifically, we'll cover your best streaming options and explain how a VPN can unlock NFL games from anywhere in the world. We'll also talk about Kodi – a free service that brings NFL games and videos to a variety devices without breaking the law. Your struggle to find a reliable IPTV NFL stream stops here!
30-days money back guarantee
Before you download, get a good VPN
On one hand, live streaming NFL games and watching replays is often free for residents of the US, Canada, the UK, etc. On the other hand, many Internet Service Providers (ISPs) and government agencies may assume you're streaming illegally with little evidence. While we strongly urge you to stay on the right side of the law, we also understand you can get in trouble whether you did anything wrong or not – and so we're giving you fair warning. If you want to stay out of trouble while streaming NFL online, it's best to use a VPN; especially if you're traveling.
The first thing a VPN can do for you is enable region switching via IP spoofing. In simple terms, this means you can make it look like you're logging in from anywhere in the world. If you're outside the US – for example, at a military base or traveling for business – this will help you watch NFL games on IPTV providers as if you were in America. The same applies to permanent foreign residents. With a VPN, you can watch any content you please – including NFL games – from your country of residence. In addition to this, a VPN will encrypt your data, preventing your ISP and state from finding out you're using the app at all. Either way you look at it, the best and surest way to use Kodi safely and without getting in trouble is through a VPN.
NordVPN – Best VPN for IPTV, Kodi, and Everything Else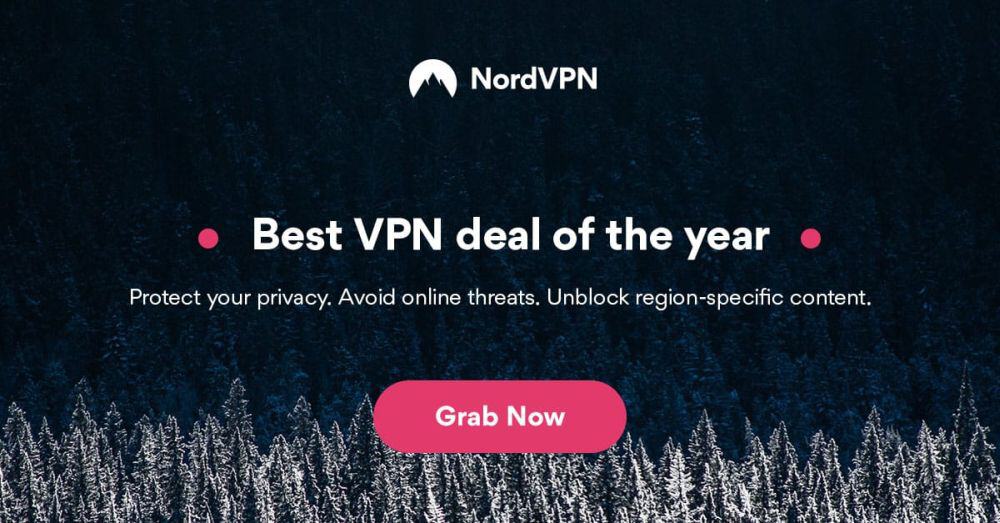 NordVPN has continually pushed the envelope of what a VPN can be. Rather than resting on its laurels as the industry's top dog, NordVPN is constantly rolling out new servers, updating their protocols, and exploring ever-more aggressive pricing. Thus, they're one of the most consumer-friendly VPNs out there, and a shoo-in for Kodi and IPTV users.
Access buffer-free NFL streams with NordVPN's vast network, which currently encompasses over 5,800 servers in 59 countries. A huge chunk of those are located in the US, making it simple to bypass NFL blackouts and catch the game, even if you're living or traveling abroad.
Of course, NordVPN is more than just a giant proxy service, it also offers unbreakable NordLynx encryption. This brand-new protocol is optimized for security without sacrificing speed, so you can enjoy live sports streams with zero latency or lag. NordVPN also features smart DNS functionality, static IPs, obfuscation, and other tools which make it a sure-bet to bypass even the harshest VPN blocks (like Netflix's, for example). And with a strict no-logging policy, what you stream is only ever your business and no one else's–not even your VPN.
Read our full NordVPN review.
Pros
Unblocks US Netflix, iPlayer, Amazon Prime and other streaming services
No bandwidth caps
Tor over VPN, double VPN
"Double" data protection
24/7 Live Chat.
Cons
Some servers can be slow and unreliable
Refund processing can take up to 30 days.
Best IPTV channels for watching NFL games
DirecTV – NFL Network package deal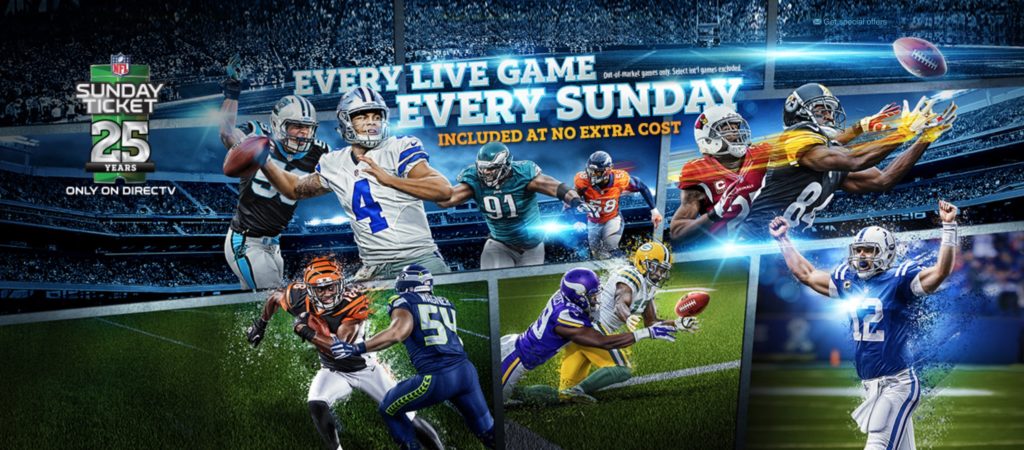 The #1 official option is DirecTV's NFL Network package, which lets you watch all NFL games live. Also included in the package is the RedZone channel, which features exclusive game-day content. DirecTV's service is compatible with iOS and Android devices, macOS, Windows, Linux, AppleTV, Roku and a selection of video game consoles. There are just three downsides to the service. First, it's only available in select cities. Second, it's only available if you happen to live in a multi dwelling unit like a condo, an apartment, a student dorm, etc. Third, subscribing to the service costs $199-$359 per season, or $55 per month, which makes it prohibitively expensive for many viewers.
DAZN – NFL Game Pass, Red Zone, NFL Sunday Ticket, and more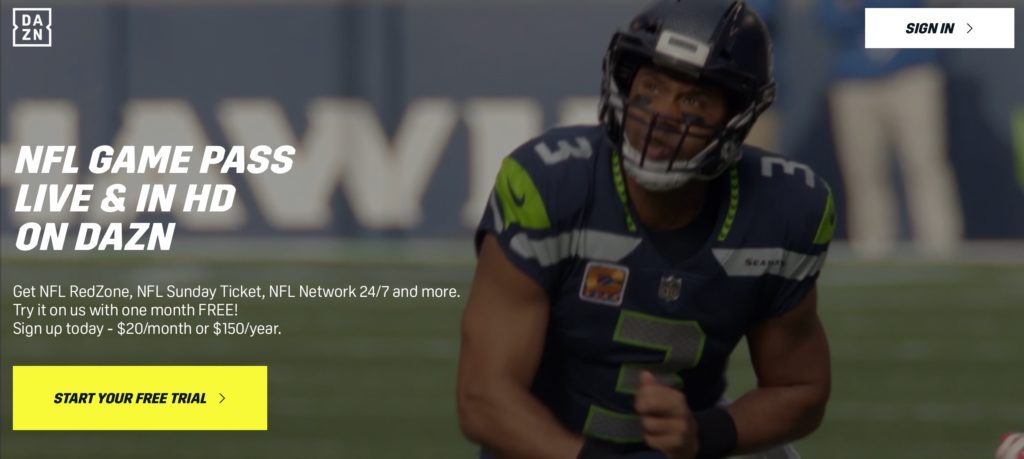 DAZN started out as Europe-only IPTV service focused primarily on soccer and other sports. However, as of 2017, DAZN secured over-the-top (aka direct-to-consumer) rights to stream NFL games to Canadian subscribers. Also included is unlimited access to NFL Game Pass, RedZone, NFL Network 24/7, and NFL Sunday Ticket. Unfortunately, if you're in any country other than Canada, you'll be blocked from this offering by default. But, with a VPN, you just need to connect to a Canadian server with low latency, and you'll be able to stream to your heart's content! DAZN is available for $20/month, or $150/year, with a free trial available. For all-you-can-watch NFL, we call that a steal.
Lower-cost IPTV services
There are other ways to watch NFL games while paying less. PlayStation Vue subscribers can access streaming games depending on their location. Hulu Live features broadcasts from NBC, CBS and ESPN, including NFL games – and only costs $40 per month. YouTube TV also costs $40 per month and lets you stream CBS, FOX, ESPN and Fox Sports. The first caveat is that if you want to stream NFL Network-exclusive content, you'll be unable to do so using any of these services. The second is that most content is location-exclusive, meaning that you're not guaranteed to get the programming you want.
OTA tuners
Looking for a cheap way to get HD-quality NFL streams live on your device? An over the air tuner might be just the solution for you. Truth be told, OTA is not actually an IPTV solution at all. If you're not familiar with the concept, it might sound like a blast from the past. Essentially, an OTA antenna is a device that you hook up to your computer or media streaming device that picks up local broadcast signals–in other words, it's bunny ears for the modern age! It works perfectly if you're like so many cord-cutters who lack the ability to tune into local stations. Please note, this won't help you if you're living abroad, unless your local broadcasters happen to be covering NFL games. If you need help dialing into the right channel, hop on over to antennaweb.org to make the process simple. A basic OTA device can be had for as little as $10, though we recommend you look around the $50-$150 price point for clearer signals and an expanded list of extra features, including Plex connectivity.
Unofficial alternative – Kodi Media Center
Looking for an alternative to the above services? We recommend you try a free, legal, and open-source media center called Kodi. Kodi features a wide selection of official and unofficial NFL add-ons. With these add-ons, you can watch NFL games, get exclusive content, access the RedZone channel, and more. Even better, Kodi is compatible with any device you can think of: macOS/Windows/Linux desktops, iOS/Android mobile devices, routers, game consoles, Smart TVs, and the Firestick. The only problem with Kodi is that not all of its add-ons are available everywhere. To enjoy the service to its full potential, you'll want to get a VPN that lets you get an IP address from a major US city, unlocking as much content as possible. As an added bonus, a VPN will make sure you don't get in trouble with the law in countries that prohibit or restrict live streaming by preventing government and ISP tracking. Below, we'll cover the best VPNs for NFL streaming with Kodi – and go over the specific add-ons you'll want to get for the service.
How to install Kodi and its add-ons
Downloading and installing Kodi couldn't be easier. Here's how you do it. First, go to kodi.tv/download and scroll down, then download the version(s) of the app you need. Once you're done with that, open the file and follow the simple instructions to install Kodi on your device.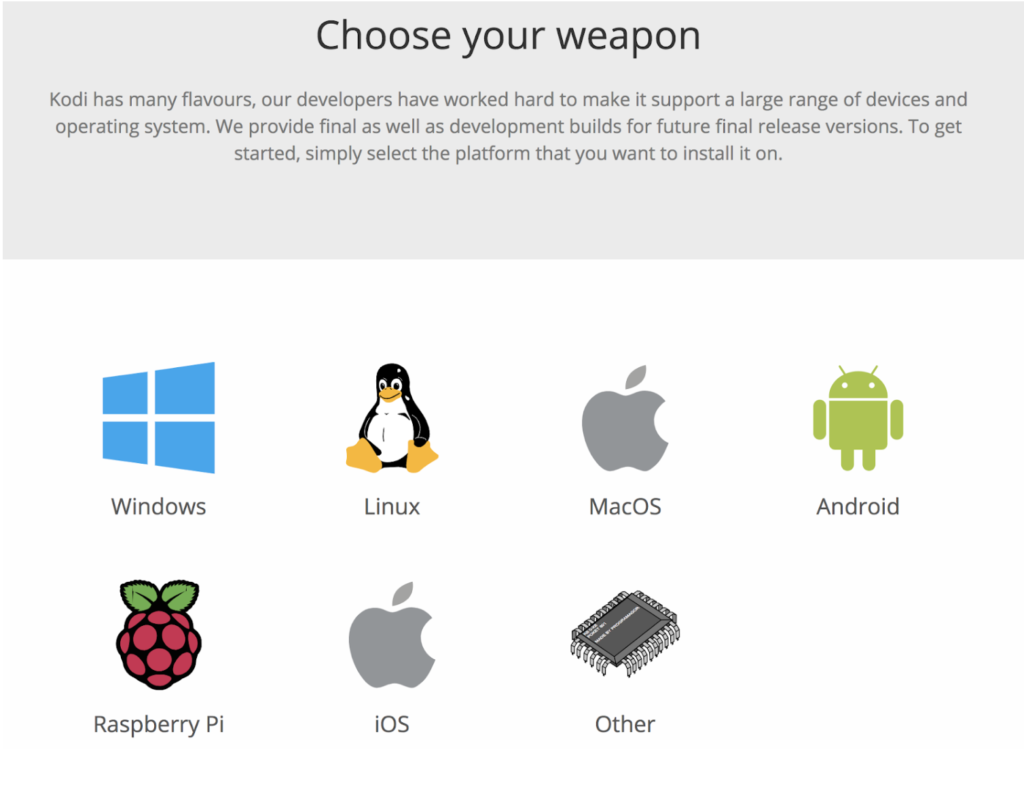 Choosing and installing add-ons can be a little more complicated. For starters, once you install Kodi, you'll notice that there's a virtually endless stream of add-ons for you to choose from. This can make it difficult to pick the ones you want. In addition to this, there's a number of Kodi repositories you can download from. We'll start with the basic and necessary step of unlocking access to these repositories:
Open Kodi.
Click the gear icon to enter System Settings
Hover over the add-ons menu, then toggle the switch on Unknown Sources
Accept the warning message
Click the "back" button to return to the previous screen
Now you've enabled Kodi to access and install external files. It's time to move on to installing the specific add-ons that will help you watch NFL highlights, games, replays and more. We'll go over each specific add-on below, but first, here are the general instructions for downloading them:
From the System Settings menu, click through to File Manager.
Once inside, go to "Add Source". If necessary, click the double dot at the top to go to the top of the directory.
Enter the URL of the add-on repository you're downloading an add-on from.
Choose a custom name for the repository you've entered and click "okay".
Go back to Kodi's main menu. This time, choose the "Add-ons" section.
Click the open box at the top of the menu bar and choose to install from a Zip file.
Choose the appropriate custom repository name you just added.
The repository will install and let you know once the process is complete. You can then proceed to the next step.
Go back to the add-ons menu and click the open box again. This time, choose "install from repository".
Choose the add-ons you want and install them.
Wait for a notification to inform you that the installation is complete.
Go to the main menu and access your add on to enjoy your new NFL (or other) content!
Which NFL add-ons are the best for Kodi?
When installing Kodi, you'll find that it tends to come with a wide array of pre-installed add-ons. This means that most of the time, you can get right into watching NFL content without having to take any further steps. Having said that, you may have a version of Kodi that came with no pre-installed apps – or you may want to install some extra ones to enhance your viewing experience. Either way, here are the top apps recommended for watching the NFL on Kodi.
NFL.com

This app comes pre-installed on most Kodi versions. It lets you watch highlights and replays from NFL.com on a variety of devices. Its features and content selection are the same as NFL.com's, meaning they're both legal and professionally edited.
NFL Teams
Like the previous add-on on our list, NFL Teams comes pre-installed on most devices. You can use this app to watch content from specific NFL teams, including interviews, replays, analyses, color commentaries and highlights. Especially convenient if you follow several teams, or want to keep tabs on what your #1 team is doing.
NFL Game Pass
This add-on lets you view NFL Game Pass content using Kodi. It's a convenient way to stream to your router, mobile device, desktop, etc. Bear in mind that you'll need an active NFL Game Pass account in order to use this add-on.
NBC Sports Live
With this app, you can stream NBC Sports Network and NBC Sports content directly from Kodi. A lot of this content is also available using the above apps, but some of it is unique, making this app worth a download – especially if you watch major sports leagues other than the NFL.
NBC Sports Live
With this app, you can stream NBC Sports Network and NBC Sports content directly from Kodi. A lot of this content is also available using the above apps, but some of it is unique, making this app worth a download – especially if you watch major sports leagues other than the NFL.
Sparkle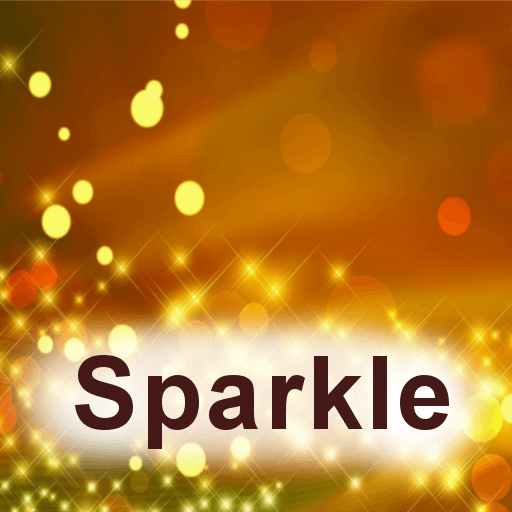 Sparkle does things a little differently; it scrubs Acestream links directly from Reddit, where users are continuously posting their favorite sports streams. While the availability and variety of streams is vast, you have to watch out for legality, as there's no way for Sparkle to control which countries links are posted from. Using a VPN is a good way to anonymize your connection and mitigate some of this risk, but it's up to you to make sure you are only picking out lawful streams. NFL is well-represented on Spark, as are many other sports including MMA, Boxing, NBA, and so many more. Find the add-on on iwannabelikemike's GitHub, then simply click "Clone or download".
Is NFL streaming with Kodi legal?
Here's the simplest way to check if you're breaking the law while using Kodi. If the content you're watching is available to you already, you can likely watch it legally. This applies in most (but not all) cases, even when you're using a VPN to watch content you're paying for – but which wouldn't usually be available where you are. This is because Kodi doesn't actually host content. It simply lets you watch content from a variety of sources via its add-ons. This means that if you watch content you're legally entitled to, you're almost always in the clear.
Depending on where you are, this means one of two things. In countries with lax copyright laws, you can almost always watch everything you find on Kodi discretely, knowing you're safe. In countries with extreme copyright laws, you should be careful and avoid criminal activities – but a VPN can help you stay out of trouble while using streaming services like Kodi.
Depending on where you are, this means one of two things. In countries with lax copyright laws, you can almost always watch everything you find on Kodi discretely, knowing you're safe. In countries with extreme copyright laws, you should be careful and avoid criminal activities – but a VPN can help you stay out of trouble while using streaming services like Kodi.
Staying safe with Kodi
Kodi works regardless of where you happen to be. Having said that, many of the add-ons on Kodi, and a lot of the content, is only available to individuals living in specific countries. This is where a VPN comes in handy, letting you get a US IP from outside the US, a UK IP from outside the UK, etc. This is one way in which a VPN helps view the NFL content you want; you can get access to it, for free, as if you were in the US.
You should also be mindful and careful when using non-official add-ons inside the EU, the US, the UK, Canada, Australia and New Zealand. Using add-ons like SportsHUB can get you in trouble with the law, even if you legally own the content you're watching. This is another reason having a VPN is so useful. With a VPN, you can enjoy privacy and anonymity regardless of where you are, and watch the NFL content you want to enjoy without fearing for your safety. Put simply, you should have a VPN when you're watching Kodi. It will unlock local content for you no matter where you are, and also keep you safe.
Conclusion
Cord-cutters rejoice! The days of needing expensive cable packages to enjoy your favorite sports streams are over, and IPTV is here to offer up a solution you can use from any Internet-connected device. Of course, there are limitations based on your geographical location–but that's what a VPN is for. We've shown you some of the best IPTV channels for streaming NFL, plus a look into the Kodi media center as an alternative solution.
Using this guide, you can now watch NFL videos, replays, highlights, documentaries and more while being safe and secure on the internet. If you have any tips, comments or questions, let us know in the comments below!