We are reader supported and may earn a commission when you buy through links on our site.
Learn more
How to Watch Snowden on Netflix from Anywhere?
In 2013, everyone knew Edward Snowden's name after he blew the whistle on the numerous global surveillance programs run by the NSA and the 5-Eyes Intelligence Alliance. In 2016, a biographical thriller film was released bearing his name, and we are eager to watch the whole thing over on Netflix.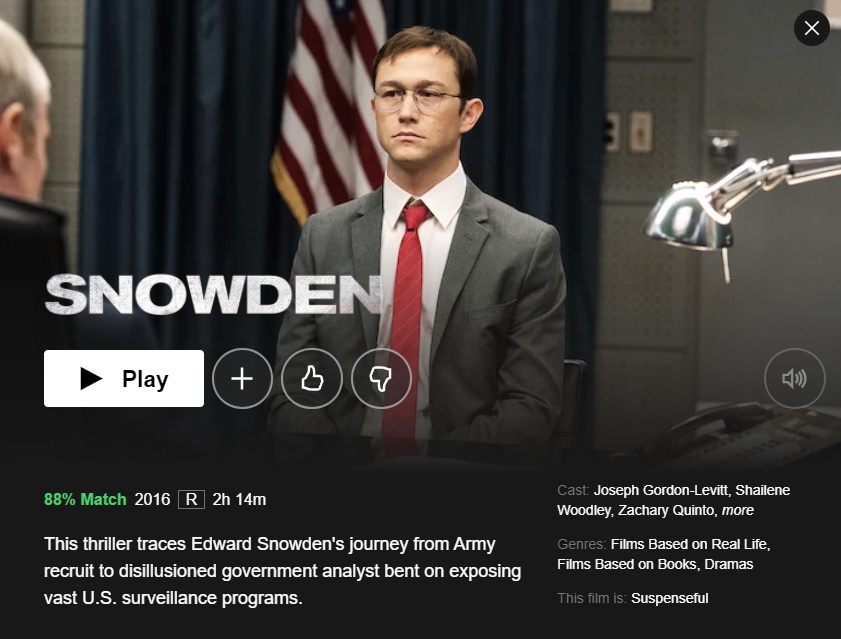 Oliver Stone is the one who eventually got to direct the biographical thriller film that is based on two books, namely The Snowden Files by Luke Harding, and Time of the Octopus by Anatoly Kucherena, Snowden's lawyer from Russia.
Joseph Gordon-Levitt took on the role of Edward Snowden, the whistleblower who led to tons of changes in the NSA programs over the years. The cast includes Shailene Woodley, Melissa Leo, Zachary Quinto, Scott Eastwood, and many others – including Nicolas Cage.
Can I watch Snowden on Netflix?
The 2016 movie is available to watch on Netflix, but it does depend on where you live. We managed to find the movie in the United States and Canada, but we also found it was missing in countries like the United Kingdom or Australia. Since Netflix is available in 190 countries, it also comes with individual libraries in each of these locations, meaning that you cannot access content from other countries. If you have the right tools, however, you can watch whatever you want.
How can I watch Snowden on Netflix?
Even if Snowden is not available to stream on your local Netflix library, you can still enjoy the film as long as you have a subscription with the platform and a VPN. VPNs are tools that can route your internet connection through a server of your choice and assign a new IP address to your device. The new IP address can help you trick Netflix into thinking you are in this new location and grant you access to all the content that they have available there.
Our recommendation is to use NordVPN, which is a really great tool with thousands of servers all over the world, and some really great privacy features. It is also the one that impressed us most during the testing phase, and we continue to be fond of it and use it each day in and day out when we need it.
Here's what you need to do to make things work:
First, you're going to have to subscribe to NordVPN, which is something that will take a few minutes of your time. They offer our readers 70% OFF for the 2-year plan at $3,49/month, so make sure you take advantage of this deal!
Then, you need to download the app for your device and find a server in the United States that you can connect to.
Once the connection is established, you can load Netflix in your browser or relaunch the app on your device.
Look for Snowden in the search bar and stream the movie.
There you go! It's really not that difficult, and you'll be able to watch a lot of content in this manner.
Won't Netflix know I'm using a VPN?
Well, the thing about Netflix is that it does have the technology to figure out when people are using VPNs but that technology does not always work. In fact, it mostly works against free VPNs, and not so much against premium tools like NordVPN.
However, if you do face issues with NordVPN on Netflix, you can start by trying to change the server you are connected to and to clear out your cookies. If that does not work, you can always contact the NordVPN support team, as they will be more than happy to help you solve the problem.
Why not use a free VPN instead?
One of the things we have all become accustomed to when using the internet is all the free tools we get, and we think that we should get the same advantage when using VPNs, but this free tool is quite risky and really not advisable to use.
First of all, free VPNs are the first to get blacklisted by Netflix, so we won't even get past the blockade the company has set on its platform. Even if this works for you, you would still be unable to watch anything in proper quality because free VPNs have few servers at their disposal but lots and lots of users, so the internet speeds are extremely low.
The most important aspect of avoiding free VPNs, however, is the fact that these tools are often used as cover by cyber criminals who are looking to infect as many devices as possible. They do this by creating tools that they claim to be VPNs and offer them for free in app stores to anyone who wants them. Sadly, this can lead to a lot of people installing these apps and their devices getting infected. Once there, the malware can start collecting information on the people using these devices and collect data that would lead to a lot of unpleasant situations – like your email accounts getting hacked, your banking account getting wiped clean, and even your employer could suffer breaches if you use the same devices. Identity theft is also not a far-fetched idea.
There are also VPNs that use peer-to-peer routing, which again, is not something we'd advise you to do because these tools will seriously affect the performance of your computer. This technology works by allowing other people to connect to your computer as a sort of server instead of using servers owned by the VPN company. This has a heavy impact on your computer's performance, and the sad part is that the apps do not stop working when you stop the app, but they continue exploiting your device. Even worse, the tools are known for collecting information on what people are doing online in order to sell that off for ad purposes, and they also do not use encryption – which makes all your information easily exposed to anyone who wants to track it.
Overall, it's simply not worth taking the risk of installing a free VPN on your device, as you could end up losing a lot more than whatever the subscription fee is for your preferred VPN.
Final thoughts
We are particularly excited to go watch Snowden on Netflix, and we think that you should do the same to get an interesting perspective into what the NSA has been doing and whether or not Snowden was right to blow the whistle.