We are reader supported and may earn a commission when you buy through links on our site.
Learn more
How to Watch Star Trek: The Original Series on Netflix from Anywhere?
Back in the '60s, the Star Trek universe was born, and we first got a glimpse through the Star Trek: The Original Series. We can now keep up with the show over on Netflix, whether we want to revisit old episodes or perhaps get acquainted with the franchise for the first time.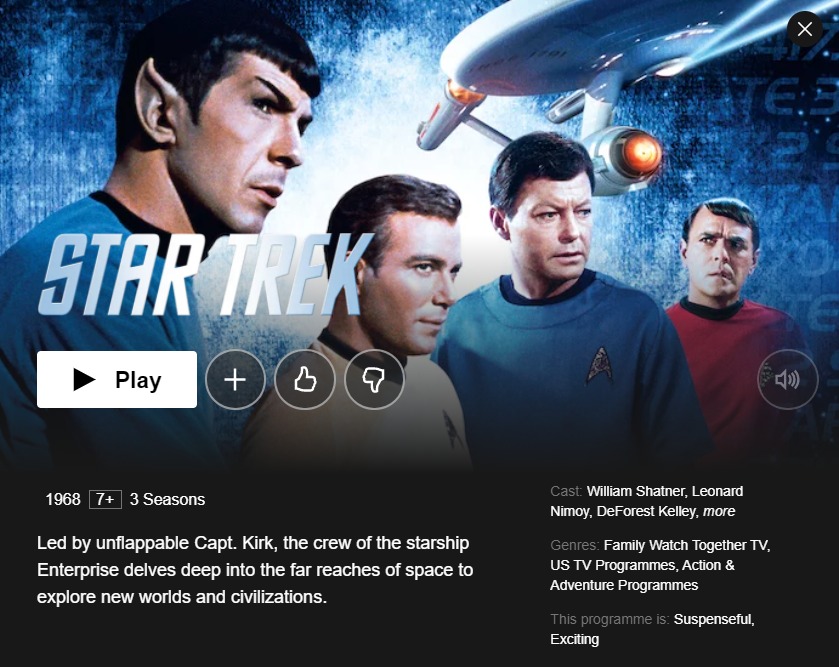 Between 1966 and 1969, the brand new show got to television sets in the United States following the adventures of the USS and Enterprise. We got to meet Captain Kirk and officers Spock and McCoy.
William Shatner, Leonard Nimoy, and DeForest Kelley were the ones who took us on these new awesome adventures. The show quickly became a cool classic and developed immense influence on pop culture. Nowadays, the Star Trek franchise consists of eight TV series, dozens of feature films, books, games, art, toys, collectible props, etc.
Is Star Trek: The Original Series on Netflix?
We managed to find Star Trek: The Original Series available on Netflix in the United States, Australia, United Kingdom, as well as Canada, but we found it was missing in numerous European countries, including the Netherlands, Switzerland, or Norway, to name a few.
How can I watch Star Trek: The Original Series on Netflix?
Netflix is available in 190 countries, and it has individual libraries in each of these countries. Basically, you are unable to access any of the content from another country without a little bit of extra help. That extra help comes in the form of a VPN that routes your internet connection through a foreign server of your choice and assigns a new IP address to your device in the process.
In this way, the platform you are accessing will believe you are in this new location, and Netflix will deliver the content for that specific area. Our recommendation is to go for NordVPN, which is a really cool tool that has a ton of servers to put at your disposal, including in the United States, Australia, Canada, and the United Kingdom. It also uses some really great and Krypton protocols, so your data is safe while using this tool.
Here's what you need to do to watch Star Trek: The Original Series on Netflix:
Subscribe to NordVPN, which is super-easy to do. Our readers get 70% OFF for the 2-year plan at $3,49/month.
Once the app is installed and you are logged into your account, you can go ahead and look for a server in one of the above-mentioned countries, namely the United States, United Kingdom, Canada, or Australia, to name a very few where we found the show.
Once the connection is established, you can load Netflix in your browser or relaunch the app on your device, depending on which method you went for. Look for Star Trek and go enjoy the free seasons of the original Star Trek show.
The whole process is pretty straightforward, and we hope we've made it even easier for you to follow.
Won't Netflix know I'm using a VPN?
While it is perfectly true that Netflix tends to spot when people are using VPNs, that usually works against free tools. We say this because these tools have lots and lots of users, and they are far easier to spot than premium ones like NordVPN. They also have fewer protections in place, so they are not ideal to use with Netflix. However, if you find yourself unable to access your Netflix with NordVPN running, you should contact the NordVPN customer support team. They are more than happy to help you figure out what server to use with the specific Netflix library you want to connect to.
Why not use a free VPN instead?
The attraction we all have to free online tools is easily explainable by the numerous apps we've all taken advantage of over the years. However, when it comes to VPNs, things get risky really fast, and we do not advise you to get such a tool from the internet.
First of all, we're going to say that free VPNs are unlikely to bypass the blockade that Netflix has set in place. They also have lots and lots of users and just a handful of servers, so they are extremely overcrowded, translating into really low internet speeds for you. Even if you managed to bypass the Netflix blockade with a free tool, it would be unlikely to stream the Star Trek series in any decent quality.
However, the bigger problem is that free VPNs are often used as bait by cybercriminals. They will hide malware in so-called VPN tools and place them on app stores, waiting for people to install them. Sadly, installing one of these tools could easily funnel all your personal information to these cybercriminals, including credentials to your email and social media accounts or even to your bank account. For obvious reasons, this is not something you want to happen, as identity theft is entirely far too common. Also, if you use the same device for work – and who doesn't? – you would also be a player in the game against your company that these cybercriminals lead, allowing them to gather enough information that could lead to a potential data breach.
There are also VPNs that use peer-to-peer routing, which means that you would be using some other person's computer to connect to it as you would to a server from another VPN, and in exchange, you would trade access to your own device. The sad part about this is that your computer's performance could suffer heavily.
Furthermore, when using these apps, you should know that the company keeps a log on what people are doing online, and they also do not use encryption, which means that all your information is exposed.
Saving money is something that we can all understand, but when it comes to VPNs, there is more than money at risk here because your privacy and safety online are far more important than a few dollars at the end of the month. NordVPN can help you watch Star Trek: The Original Series online, and we do hope that you're going to make a good decision here.
Final thoughts
Star Trek: The Original Series is what started a multi-billion franchise, and we are happy to see just how much it has grown and how much it will continue to do so. Make sure you start this journey with the right tools.