We are reader supported and may earn a commission when you buy through links on our site.
Learn more
How to watch Sunday Night Football from abroad (outside the US)
The new NFL season is upon us, and that means Sunday Night Football is back on NBC! In so many households across the USA, it is a time-honored tradition that Sunday nights are spent on the couch, with a beer and some snacks, watching the big NFL game of the week on NBC.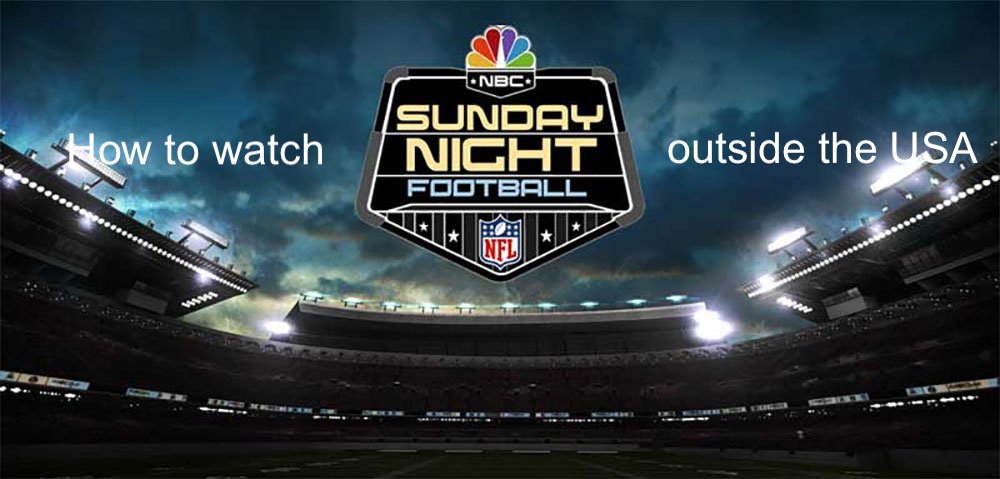 Unfortunately, outside the US it is much harder to tune in. You might be an expat living abroad, or else a foreign fan with excellent taste in sports. In either case, it doesn't help that NBC only broadcasts NFL games in the US.
With a virtual private network, however, it is possible to stream NBC's Sunday Night Football on their website, no matter where in the world you are. In this article, we will give you all the information you need on how to watch Sunday Night Football outside the USA, and we will also provide a rundown of the best VPNs to use to do it.
30-days money back guarantee
Why You Need a VPN to Watch Sunday Night Football Overseas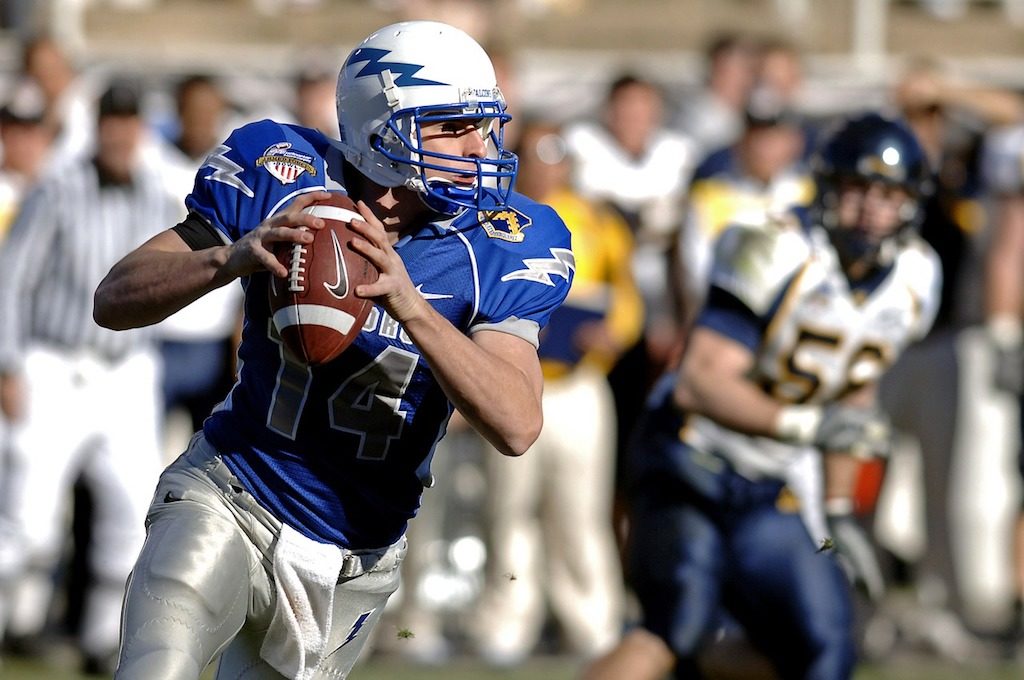 NBC is one of the USA's few remaining free-to-air channels, and they also offer an online streaming service which broadcast all shows live and on-demand. However, if you try to stream something on this service from outside the USA, you will find the service is blocked. That is because NBC uses geo-restriction methods to stop viewers from outside the USA from watching their content. Usually, this is because NBC does not own the rights necessary to broadcast in specific countries.
More technically, geo-blocking works by looking at the IP address of each visitor to their site. This small bit of code tells NBC where you are connecting to the internet from. If your connection is outside the USA, they simply don't allow you to watch their shows. This is where a VPN comes in. When you connect to a VPN, all of your internet traffic is rerouted through an external server. When your data hits that server, your IP address is replaced with the IP address of that server. If that server is in the USA, this means that your data will now have a US-based IP Address. This, in turn, means when NBC look at it, they will assume you are in the USA and so allow you to stream all their shows, including Sunday Night Football.
Best VPN to Watch Sunday Night Football Outside the USA
There are an awful lot of VPNs on the market, and that can make choosing the right one to watch Sunday Night Football overseas a difficult decision. When looking for the best VPN for the job, there are a number of criteria you need to look for:
Fast connection speeds – Streaming live or on-demand media content will only work if you have fast connection speeds. All VPNs slow your connection down somewhat, but the best will have a negligible effect on speeds.
A good selection of US servers – To watch NBC shows overseas you will need to connect to a US-based server. The more of these are available, the better your connection speeds will be. So, always look for a VPN with plenty of US servers to choose from.
No data limitations – Some VPNs, especially free ones, can have limits on the amount of data you can use on their service. But streaming is very data intensive, so if you want to watch Sunday Night Football regularly, you will need to choose a VPN with no such data limits.
Excellent encryption – NBC doesn't like you watching their shows overseas, so it is important that you stay secure when doing so. We recommend you look for a VPN with the best possible encryption to keep your online data safe.
Strong privacy protections – For the same reason, keeping your online activity private is also important. You should, therefore, look for a VPN which keeps absolutely no user logs to ensure there is no record of your online activity anywhere.
Apps for all devices – People like to watch the Football on all sorts of different devices and NBC has obliged with apps for just about every mobile device, Smart TV, Firestick, and games console. To use these apps overseas, you will still need a VPN, so you need a provider which offers a wide range of apps available too.
Using these criteria, we have tested all the major VPNs to see which is best for streaming Sunday Night Football. The results are in, and we have narrowed the market down for you to just four providers. Each of these VPNs ticks all of the boxes above and offers a great all-round service for Football fans: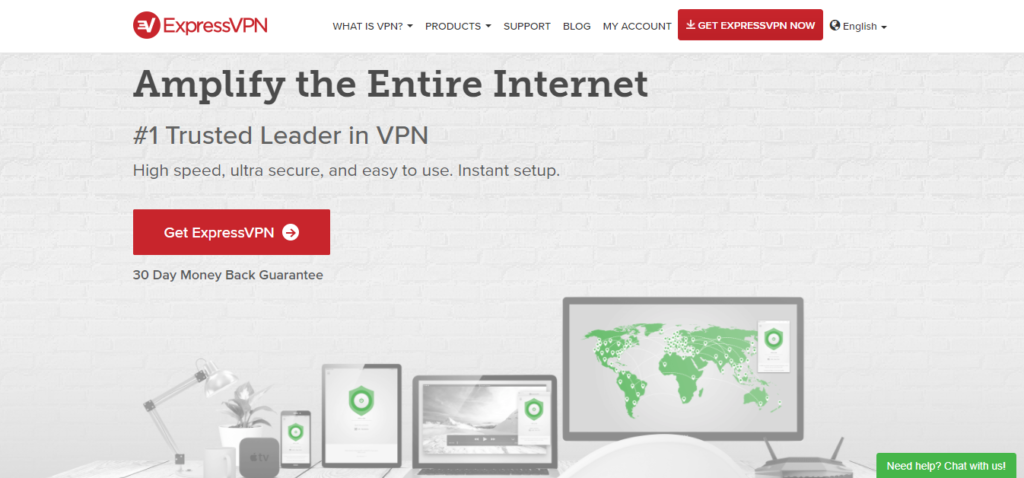 ExpressVPN is our top recommendation for a VPN to watch Sunday Night Football overseas. It offers lightning-fast connection speeds, which are perfect for online streaming–even in HD. And importantly, those speeds are also consistent across their entire server network. High performance doesn't come at the expense of security, either, as ExpressVPN offers unbreakable 256-bit AES encryption to every subscriber. And being based in Panama means their no users logs promise is a privacy guarantee you can trust.
ExpressVPN's server network is a big one, with servers in 145 cities across 90 countries. The USA is particularly well catered for, with numerous servers dotted across the country, making this a VPN ideal for streaming NBC abroad. ExpressVPN has absolutely no restrictions on data use for any subscriber either. They also offer well-designed, user-friendly apps, which are available on pretty much every device you can think of. They are as close to the perfect VPN as you can get, and are ideal for getting your Sunday Night Football to fix overseas.
Read our full ExpressVPN review here.
Pros
Unblocks Netflix and other streaming sites
Reliable and fast connections
AES-256 encryption
Strict no-logs policy
Live Chat Support.
Cons
Month-to-month plan has high cost.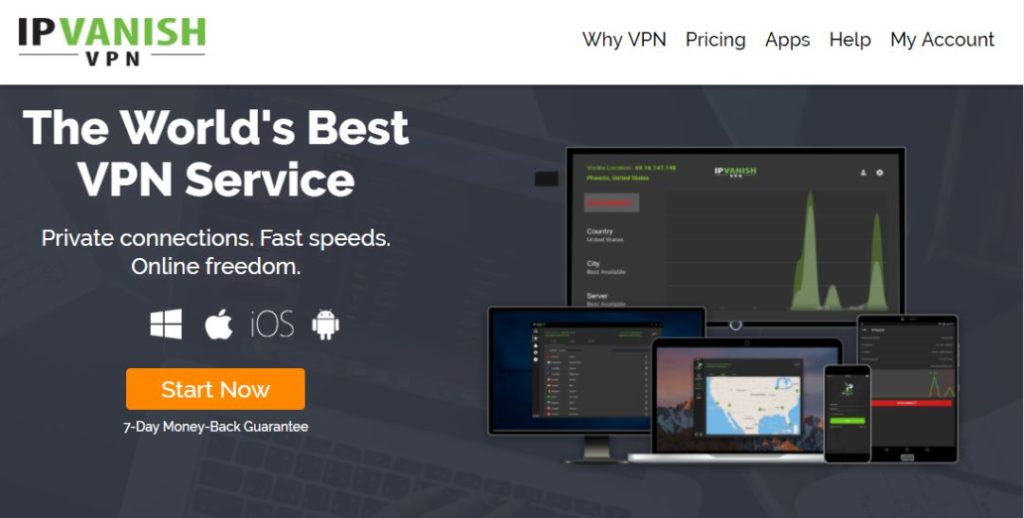 IPVanish offers lag-free streaming, exceptional security, and plenty of US servers to unblock Sunday Night Football. In fact, this provider is so well provisioned for watching video content, it's our top recommendation for use with the Kodi media center.
An IPVanish subscription nets you 256-bit AES encryption for a total lockdown of your data stream, a strict no logging policy to sweep away the trail of breadcrumbs that could be used to indict you for copyright violations, unlimited bandwidth, and no traffic-type restrictions. There a number of other nifty features, too, including a periodic IP address change to beat VPN-blocking efforts, as well as an automatic kill switch and DNS leak protection.
IPVanish's server network numbers 1,000+ in 60 different countries, each optimized for stability and speed. Finally, this provider maintains a terrific range of user-friendly apps, covering almost every device you could download the NBC app onto. Put all this together, and IPVanish is a great option for Sunday Night Football fans.
Read more about IPVanish in our full review here.
3. NordVPN – Proxy Servers Galore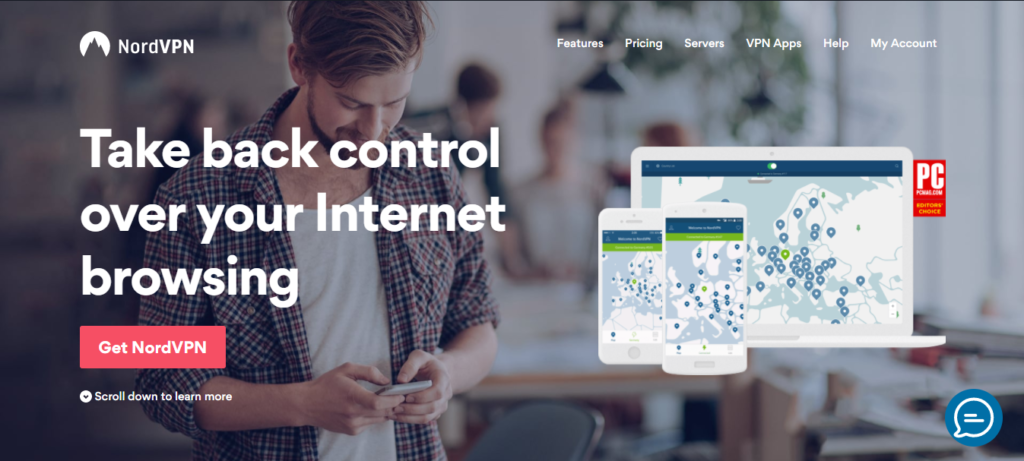 NordVPN is known above all else for the size of their server network. At the time of writing, this provider maintains over 4800 servers in 62 countries, giving you more than twice as many connection options as the nearest competition. There is a great variety of servers too, with nodes optimized for applications like onion over VPN, double VPN, dedicated IP, P2P, anti-DDoS, and more. With purpose-built servers, NordVPN is capable of providing specialized security at the best speeds possible–perfect for Streaming Sunday Night football from anywhere in the world!
At the heart of the service is 256-bit AES encryption, strong enough to withstand all penetration efforts from ISPs, hackers, governmental agencies, and whatever else. No matter what you do online, there will be no record of it thanks to NordVPN's strict no-logging policy. With no data limitations on any of their dedicated apps (available for iOS, Android, MacOS, Windows, and many more), NordVPN is a strong contender for the best VPN to unblock NBC–and for the best VPN overall.
Read our full NordVPN review here.
Pros
SPECIAL OFFER: 2-yr plan (68% off - link below)
Over 5,400 servers in 61 countries
Torrenting/P2P explicitly allowed
Extra-secure Double VPN for data encryption
Great support (24/7 chat).
Cons
Refund processing can take up to 30 days.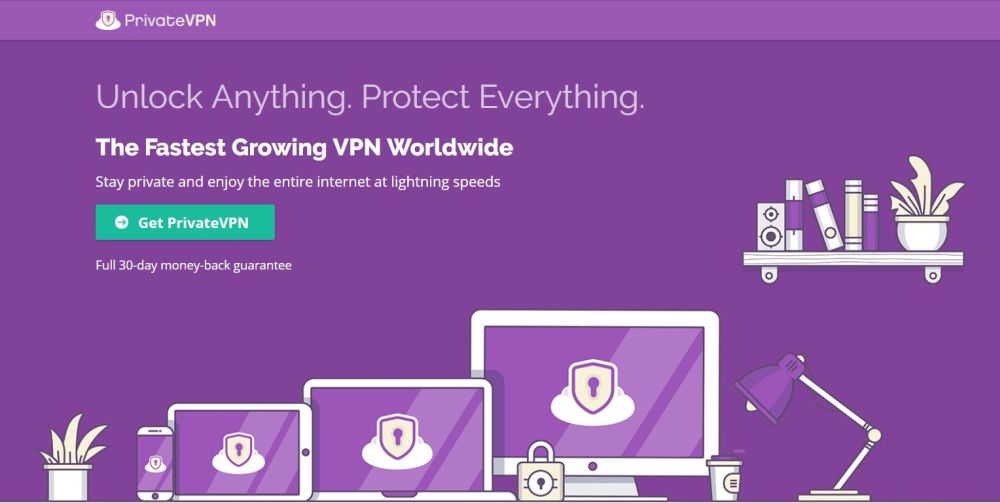 PrivateVPN is a VPN provider which prioritizes privacy and security. They offer 256-bit AES encryption as standard, and a watertight no user logs guarantee. Among their great range of security features is a dynamic dedicated IP address system, allotting each user their own unique IP address, which changes each time they log on. This is particularly useful when trying to bypass VPN-blocking efforts, which ban the shared IP addresses used by most VPNs. The chances of anyone finding out you are streaming Sunday Night Football from overseas are almost zero with PrivateVPN.
What PrivateVPN lacks in server network size–just 100 nodes across 56 countries – it makes up for in quality of the connection. Each server is very well positioned and maintained, allowing a great deal of speed and stability to be conveyed on your VPN connection. What's more, a good portion of those servers are located in the USA, so you still have plenty of options for unblocking NBC abroad.
Read more about PrivateVPN's features in our complete PrivateVPN review.
How to Set up a VPN to Watch Sunday Night Football Abroad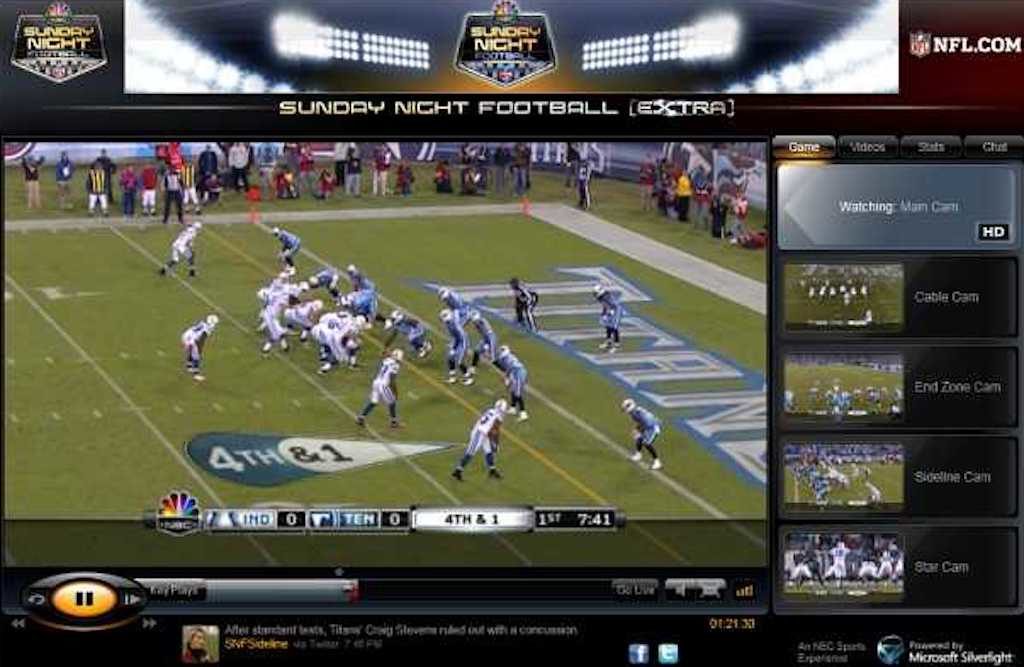 If using a VPN as we described above sounds a bit technical for you, don't worry! The process of setting up a VPN to watch Sunday Night Football abroad is actually a really simple one. It shouldn't take you more than five minutes to get set up, and you don't need any specialist computing knowledge to do it. All you need to do is follow these few simple steps:
Choose one of the VPN providers we have recommended above. Click on the link on this page and sign up for their service by following the simple on-screen instructions.
Head to the Apps or Products section of their website. Then download and install the right app for the device you want to use to watch Sunday Night Football.
Open the app and log in using the account details you were given in step one.
Click on the USA on their map/server list. Some providers will give you a list of servers to manually connect to, while others may automatically connect you to the fastest US-based server available.
Once the connection has been established, visit the NBC website and you should be able to watch Sunday Night Football live or on-demand.
Other Ways to Watch Sunday Night Football
If you are unable to stream Sunday Night football live on the NBC website, then there are a few other options available for you. However, all of these will still require you to sign up for a VPN if you want to watch outside the USA. The VPNs we have recommended above will all work well for these options too.
Just follow steps 1-4 of the guide in the previous section to get your VPN set up, and then use any one of the following options to catch the game:
The NBC App
As well as a web-based streaming service, NBC also offers a dedicated app which allows you to watch all of your favorite shows on a mobile device. These apps work in much the same way as their regular online streaming service, but do also require users to be in the USA to view. However, each of our recommended VPNs above can be downloaded onto all major mobile devices and will unblock the NBC app in the same way.
NBC Sports Live Extra Official Kodi Addon
If you are a Kodi user, another option for you is the NBC Sports Live Extra official Kodi addon. This addon is completely free, legal and approved by NBC. It can be downloaded from the official Kodi repository and offers access to all the NBC Sports and NBC Sports Network shows.
Like the other official NBC products we have recommended, this addon is geo-restricted for US-based users. But again, by connecting to a VPN using the steps outlined above, you will be able to circumvent these restrictions and watch Sunday Night Football from anywhere on the official NBC Sports Kodi addon.
Other Unofficial Kodi Addons
Another possible option is to seek out a stream of Sunday Night Football being broadcast on an unofficial Kodi addon. There are no shortage of Kodi addons which offer live streams of NBC, and therefore should include full coverage of Sunday Night Football. There are also a multitude of unofficial Kodi addons specifically dedicated to the NFL, which should also offer links to streams of the show. Our guide on How to watch the NFL on Kodi is a good place to start looking. Another useful resource is our guide on the Best IPTV Addons for Kodi.
What Is Sunday Night Football?
Sunday evening NFL games have been the premium slot in the schedules for a long time. As far back as 1987, Americans have been settling down at the end of their weekend to take in the biggest game of the week before contemplating a return to work the following morning. It has become a national institution; an opportunity for families to enjoy the national sport together, to bond, eat snacks, drink beer, and most importantly of all, watch a great game of football.
Sunday Night Football began broadcasting on ESPN, which held the rights to that time slot for 18 years until they passed to NBC in 2005. Under their guidance, it has become the biggest and most successful sports show in the USA. During the 2011–12 season, Sunday Night Football became the first live sports competition to hold the position as Nielsen's most-watched program on U.S. network television during the year. It is a title the show has held for several subsequent years as well.
The announcement of which games will be shown on Sunday Night Football is almost as eagerly anticipated as the program itself, with fans eager to see when their team is on. But regardless of which game it is, Sunday Night Football still draws huge audiences right across the USA.
What Games Are on Sunday Night Football in 2018?
The Sunday Night Football schedule for the new season has been announced from the start of the season right up until Christmas. There are some really juicy matches to look forward to as well, starting with the Super Bowl LII Champions Philadelphia Eagles, against the Atlanta Falcons on September 6th.
For the 9th successive year, there will be an NFL game put up against the MLB World Series, with New Orleans Saints v Minnesota Vikings chosen this year. And the much-loved Thanksgiving game (which is played on a Thursday but is still part of Sunday Night Football) will see the Atlanta Falcons and New Orleans Saints clash. The full list of announced fixtures so far is:
Kickoff
09/06 – Atlanta Falcons Vs Philadelphia Eagles
09/09 – Chicago Bears Vs Green Bay Packers
09/16 – New York Giants Vs Dallas Cowboys
09/23 – New England Patriots Vs Detroit Lions
09/30 – Baltimore Ravens Vs Pittsburgh Steelers
Flex Scheduling Begins
10/07 – Dallas Cowboys Vs Houston Texans
10/14 – Kansas City Chiefs Vs New England Patriots
10/21 – Los Angeles Rams Vs San Francisco 49ers
10/28 – New Orleans Saints Vs Minnesota Vikings
11/04 – Green Bay Packers Vs New England Patriots
11/11 – Dallas Cowboys Vs Philadelphia Eagles
11/18 – Atlanta Falcons Vs New Orleans Saints
Thanksgiving
11/22 – Pittsburgh Steelers Vs Jacksonville Jaguars
11/25 – Green Bay Packers Vs Minnesota Vikings
12/02 – San Francisco 49ers Vs Seattle Seahawks
12/09 – Pittsburgh Steelers Vs Oakland Raiders
12/16 – Philadelphia Eagles Vs Los Angeles Rams
12/23 – Kansas City Chiefs Vs Seattle Seahawks
Conclusion
Sunday Night Football has become an integral part of the weekend ritual for so many families across the USA. The program features some of the biggest games on the NFL schedules, and offers a chance to see hotly contested games between the very best football teams on earth.
Because NBC doesn't broadcast Sunday Night Football outside the USA, watching it from overseas has always been difficult. But, as we have explained in this article, by using a VPN you can enjoy every Sunday Night Football game no matter where you are. We have offered step-by-step guidance on how to do this and made a number of suggestions of platforms you can use to watch. Our pick is the NBC online streaming service, but the official NBC app and Kodi addon should serve just as well. If you aren't happy with any of those there are countless unofficial Kodi addons that should be able to provide an NBC stream too.
Is Sunday Night Football a big part of your week? Have you ever had to watch it overseas? Are there any useful tips or suggestions that we have left out which you think our other readers might benefit from? We always welcome thoughts and comments from all our readers, so why not share them with us using the comment box below?