We are reader supported and may earn a commission when you buy through links on our site.
Learn more
How to Watch The Hunger Games Series On Netflix from Anywhere?
The Hunger Games is both a book series and a film series that deserves to be read and watched. Thankfully, we managed to find The Hunger Games over on Netflix, so it's the right time to start enjoying this really great story.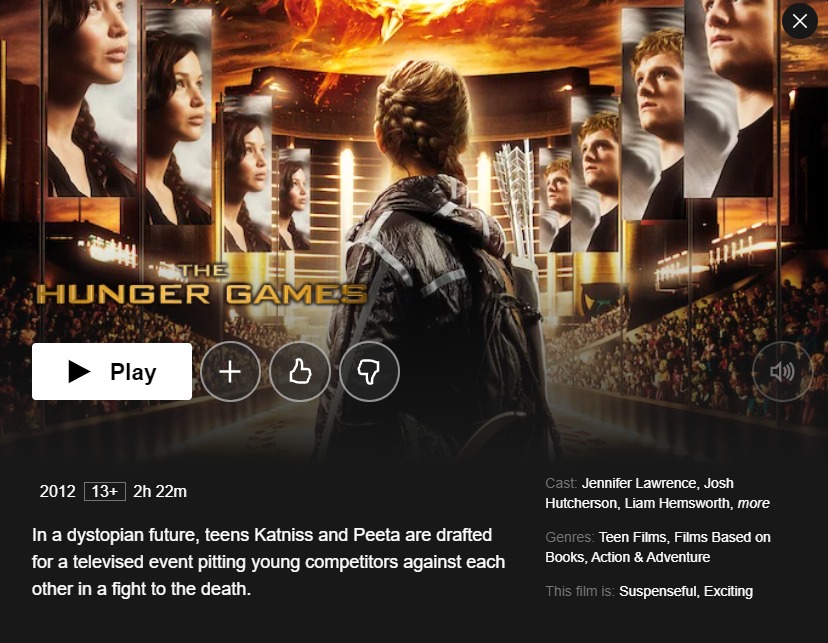 The Hunger Games film series is based on a trilogy of novels by Suzanne Collins. The films were actually four in number, with the last book being split into two parts to better cover the whole story.
The first film was released in 2012, while the second one, Catching Fire, was released in 2014. The Hunger Games: Mockingjay was released in 2014 and 2015, in two parts. The film features an impressive cast that includes Jennifer Lawrence as Katniss Everdeen, Josh Hutcherson, Liam Hemsworth, Woody Harrelson, Elizabeth Banks, Stanley Tucci, and Donald Sutherland.
The films were a massive success at the box office, managing to bring in close to $3 billion with a budget of a total of $500 million. It is the 21st highest-grossing film franchise of all time.
30-days money back guarantee
What are The Hunger Games movies?
The Hunger Games books were published between 2008 and 2010, while the movies came out a few years later.
The Hunger Games (2012)
The Hunger Games: Catching Fire (2013)
The Hunger Games: Mockingjay – Part 1 (2014)
The Hunger Games: Mockingjay – Part 2 (2015)
Editor's note: NordVPN is our #1 choice for unblocking Netflix. Sign up for the 2-year plan with NordVPN at $3.49 per month, as well as 3 months for FREE. A 30-day money-back guarantee is included on all plans, so you can cancel any time and get your money back.
Can you watch The Hunger Games on Netflix?
The Hunger Games are available to watch on Netflix, and we found the movies over in the United States, the United Kingdom, or Canada. However, we also noticed that they were all missing in Australia and many other nations.
Netflix is available in about 190 countries, and they also geo-block each of these libraries, so you aren't definitely supposed to watch any of the content that is meant for another nation. However, since they will pay pretty much the same subscription prices, it is not a surprise that people are trying to find better ways to watch Netflix so they can enjoy a lot more content.
How can I watch The Hunger Games on Netflix from anywhere?
One of the things we always take into account when looking for films and shows to watch on Netflix is where they are available. We found they were a part of the Netflix libraries in quite a few countries, including the United States or the United Kingdom. Still, they're also missing from plenty of nations, including Australia.
Therefore, in order to watch The Hunger Games from Australia, for instance, you're simply going to need to appear to be in the United States or the United Kingdom. A VPN can route your internet connection and assign a new IP address to your device, which will make it seem like you are in this new location.
We recommend you use NordVPN, which is a really great tool that has thousands of servers all over the world and some great privacy features, thanks to those really cool encryption protocols they have.
Here's what you need to do to watch The Hunger Games on Netflix from anywhere:
You're going to have to subscribe to NordVPN. They're offering 3 months for free and 68% OFF the 2-year plan, down to $3.49 per month.
Then, you need the apps for your device and to find a server in the United States or the United Kingdom, so you can start streaming The Hunger Games.
Once the connection is established, you simply have to load Netflix in your browser or relaunch the app on your device.
Look for The Hunger Games and go have yourself a marathon.
There you have it! It's pretty easy to watch The Hunger Games on Netflix if you know where to look.
Won't Netflix know I'm using a VPN?
There is always a chance that Netflix will know you are using a VPN, but in our experience, they don't always get it right, especially when you use a premium tool like NordVPN. However, it is not something that could never happen. If it does, you simply have to contact the NordVPN customer support team since they are available 24/7. They will be more than happy to help you find a server that actually works with a Netflix library you want to access.
Why aren't you a free VPN?
Using a free VPN is something that we would all love to do because who doesn't like saving money? However, it is probably even riskier when it comes to VPNs than using other types of online tools for free because they are known for being exploited by cybercriminals.
More specifically, security researchers have discovered numerous times over the years that cybercriminals would plant so-called VPNs in app stores that were carrying malware. The VPNs would start sending all the information over to them, including credentials for social media accounts and email accounts, as well as for banking profiles. Identity theft and banking fraud, as well as data breaches against your employer, are among some of the things that could happen if you got your device infected with malware.
Another thing you need to take into consideration is the fact that free VPNs are also unlikely to work with Netflix in the first place. As you can see, free VPNs are the first to get blacklisted by Netflix because they are the easiest to track. It seems that the tools offered for free have only a few servers at their disposal and lots and lots of users, which makes them easy to trace and block by Netflix – and pretty much any other streaming service that is geo-blocked. Furthermore, even if you were to manage to bypass the blockade in the first place, you would likely be unable to properly stream The Hunger Game movies because the internet speeds are minimal. This happens because there are many users and very few servers, so those they do have are overcrowded. When lots of people are using the same servers, you're going to have limited bandwidth, so a limited internet speed as well.
Free VPNs that are more likely to bypass the blockade, but we also advise you against using, are VPNs that use peer-to-peer routing. This means that you'll be permitting other users to access your computer as they would a server from another VPN. This will heavily impact your own device's performance and can also have an impact on your privacy and security online. That's because these tools do not use encryption, and they also do not stop working when you disable the VPN and continue running in the background. Obviously, this is not something you want from a tool of this kind, so you should simply avoid them in the first place.
We understand that having yet another subscription to pay for every month is not necessarily ideal. Still, it's the best thing you can do for your privacy and security online while also getting to enjoy watching Netflix from any country you want.
Final thoughts
Jennifer Lawrence is a great actress, and she's been in quite a few films even before The Hunger Games. This series is the one that really put her on the list in Hollywood. We love watching and rewatching The Hunger Games, and we really hope that we never get to live in such a society. So now that you know all of the above, head over to Netflix and stream The Hunger Games.