A User Guide On Outlook 2010 Address Book Contacts
Unarguably Outlook 2010 stands out among the list of Personal Information Manager (PIM) apps available out there. Apart from sending and receiving emails, it provides list of tools and features which lets user manage and organize task, emails, calendars and contacts under one hood. Today we will be excavating deep into Outlook 2010 Contacts, through which you can easily add, edit, manage and organize contact list.
To begin with, launch Outlook 2010 to take a closer look of Contacts options available. On left sidebar, click Contacts.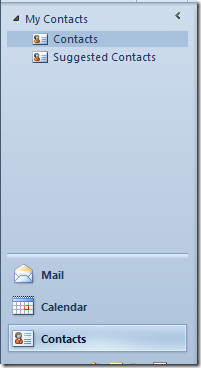 The Contacts main window will appear showing the existing contacts.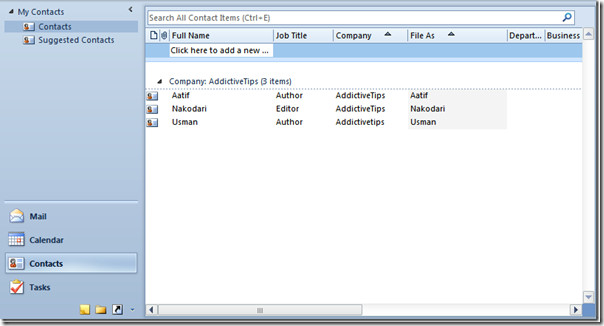 Navigate to Home tab, you will see list of Contacts groups; New, Delete, Communicate, Current View, Actions, Share, Tags, and Find. From these groups you can customize existing contacts in a lot better way.

We will be digging deep into groups, From  New group you can create a new contact instantly, click it to start entering required information.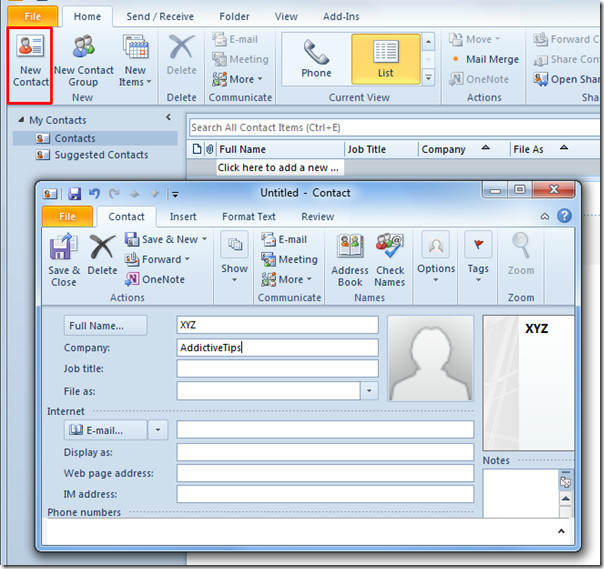 From New Contact Group, start creating new group right from the scratch, containing different members and their related information.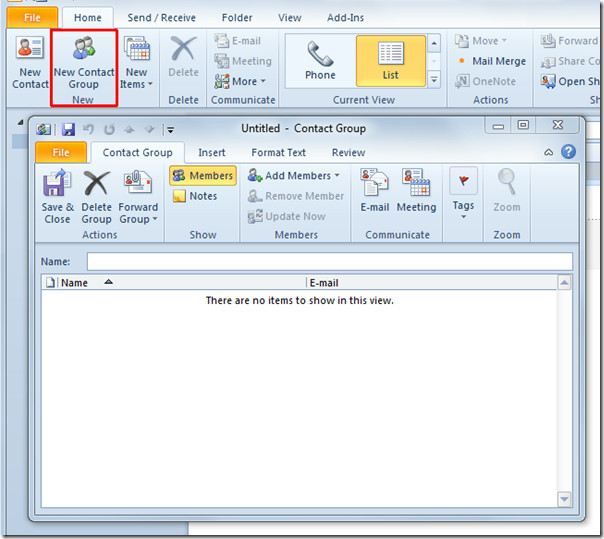 In New group, you can also create different new items such as; E-mail, Appointment, Meeting, Contact, task etc.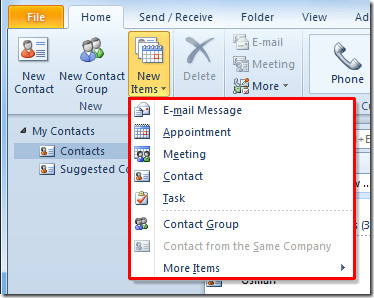 For deleting any existing contact, select the desired content and click Delete button.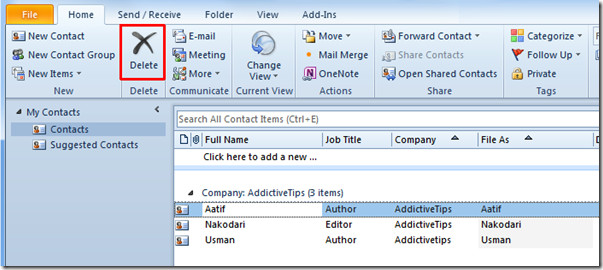 In Communicate group, you are provided with different options to communicate with existing contacts. Select the contact and click E-mail. You can also send the selected recipient a meeting invitation.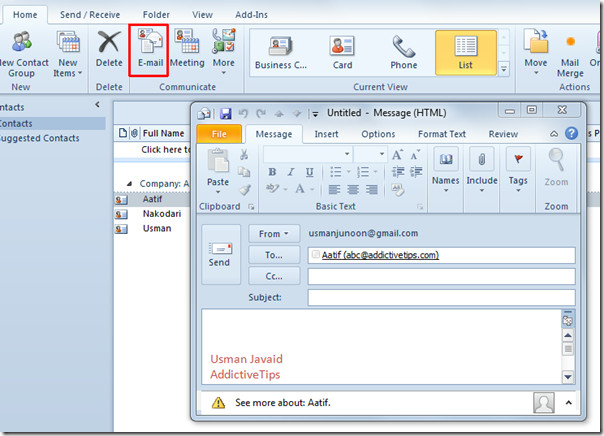 Explore more communication options from More options; you can make a call, reply with instant message, create journal entry and assign a task to selected contact.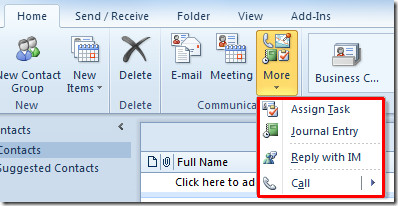 Switch to different views from Current View and it will instantly show you the contacts in selected views.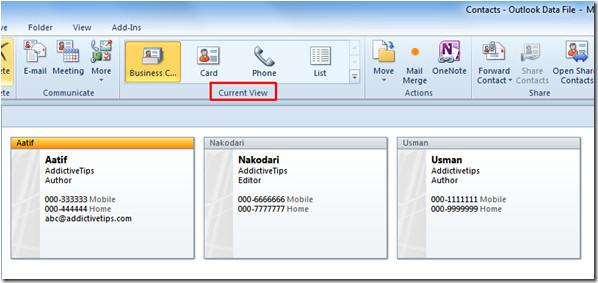 From Actions groups, you can perform certain actions over contacts. From Move options, select the destination where you want to move the selected contact. From here you can move selected contact to different folders.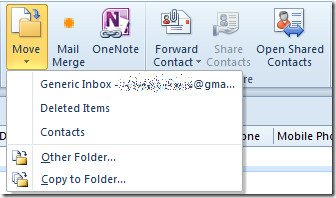 If you want to send a contact for Mail Merge purpose, click Mail Merge, it's dialog will appear from where you need to fill out the required fields and specify the document location, before clicking OK.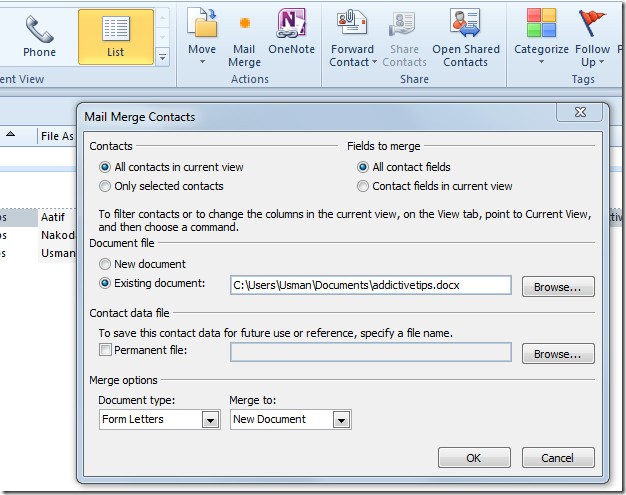 As Outlook 2010 provides superb cohesion with other Office Suite apps, you can send the contact directly to OneNote with a single click.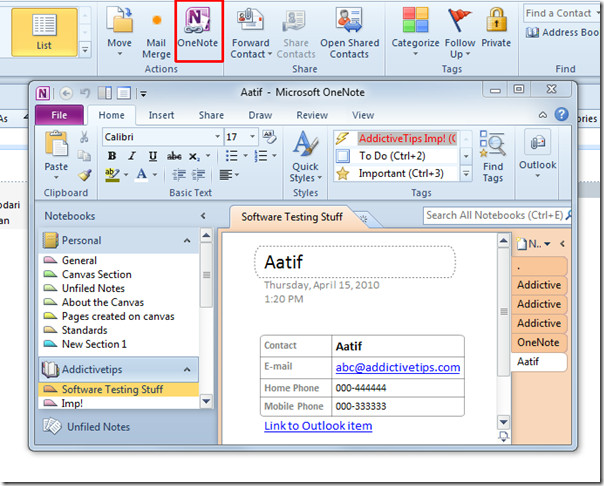 For sharing Contact, select the desired option from Share group. You can forward it as Business Card, Outlook Contact and as Text message.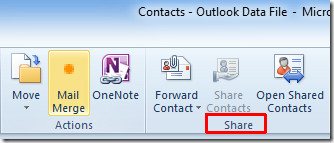 From Tags group, you can stick different tags with the contacts, assign colored categories and make selected contact as Private.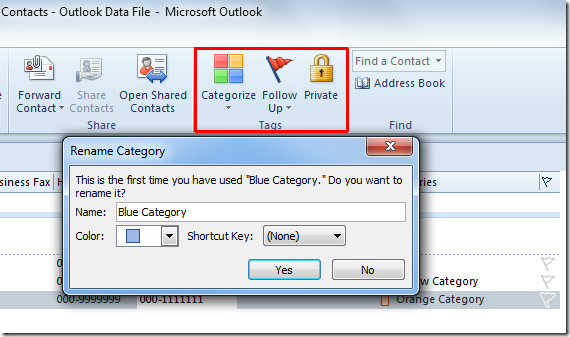 For find out specific contact from a long contact list, just enter the search keyword in Find a Contact search box.
One of the most important function is to export Contacts, which users can easily do in different formats using this guide (note that it requires an add-in to be installed).
You might also be interested in our compete guide of Outlook 2010 Send/Receive function.