Advance Folders Watch Monitors Outlook Folders To Filter Useful Emails
Compiling a list of most important emails from multiple configured mail accounts in Outlook becomes next to impossible when you have to deal with great deal of emails everyday. From all the email related tasks, filtering out important messages takes hours of manual search unless you use an application that can help you find important emails from defined mailbox folders. Advance Folders Watch is a comprehensive mail search and filter add-in for Outlook, developed for technical support team members, analysts, managers, and the like, who need to implement an auto-mail sifting mechanism in order to quickly list down important emails of any given day. Advance Folders Watch supports both Exchange and IMAP/POP3 mail accounts, enabling users to keep tab on work and private messages, emails, and conversations.
What makes it utterly useful is the way it creates and manages list of important emails. The workability revolves around user-defined set of rules and conditions to check each selected mailbox folder for important emails. You can define the priority level with each condition/rule to further mark significance of messages. Similar to Outlook native email notification system, it deploys its own notification system to remind you about most recent emails and messages which got filtered through defined rules. You can associate sound with alert pop-ups and create notification post in specified Outlook folder.
After installing the add-in, you will find it from Add-Ins tab. Before heading over to Add-ins tab, you need to select mailbox folders to watch and to create rules for filtering out important emails. On File menu click Options, choose Add-ins from left sidebar and then select Advance Folders Watch from the list. Now click Add-in Options to create rules for filtering out important emails.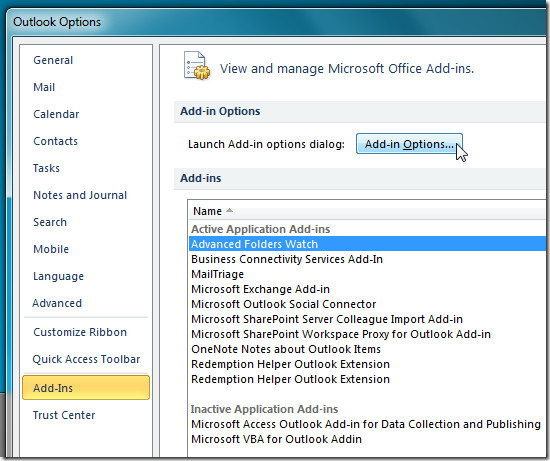 In Advance Folders Watch window, click Add to start rule creation wizard. The wizard will guide you through the extensive process of defining rules and conditions to create important email list. The first step is to give rule an appropriate name. In second step, you have to select all those folders which are to constantly watched for new and important emails.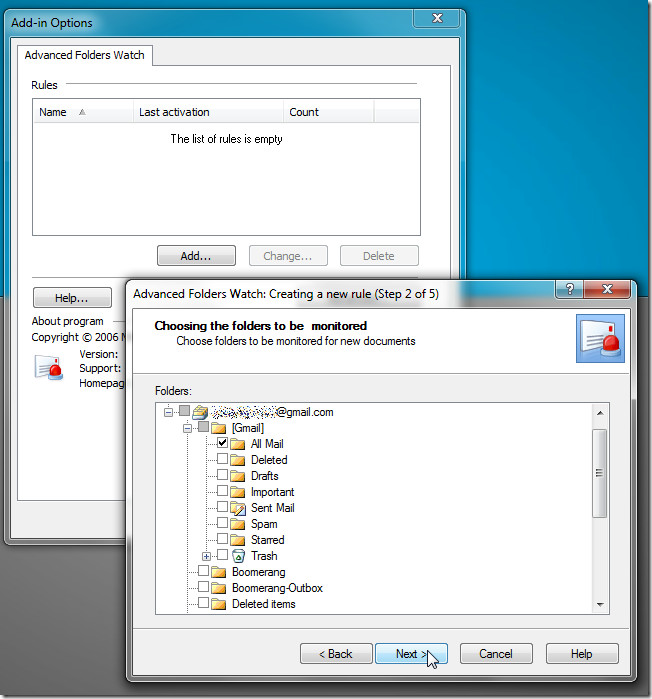 Once folders are selected, click Next to proceed further. In this step, you need to enter words, phrases, symbols, which you want to filter from only specified Outlook mail fields or all fields.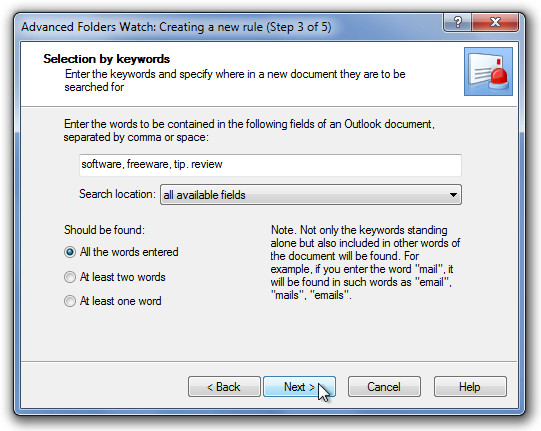 Similarly, the next step lets you enter words which are not be contained in Outlook specified fields or all fields. The last step is to set notification settings for the rule. Here, you can associate a WAV file with pop-up message and allow creating post and copy in defined Outlook folder.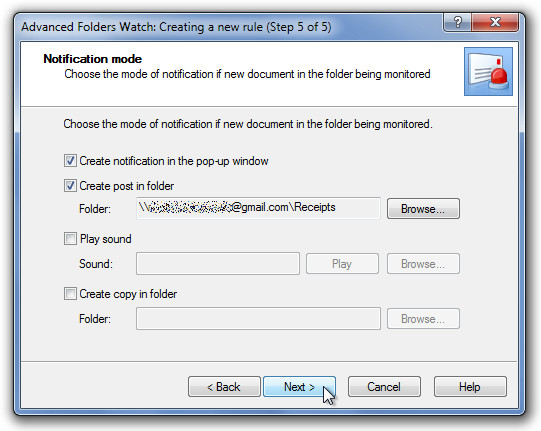 Once rule is created, it will open your rule setting dialog to review and change the filters, notification settings, watched folders, etc. From Test tab, you can launch a test run to check how many mails will get filtered through this rule.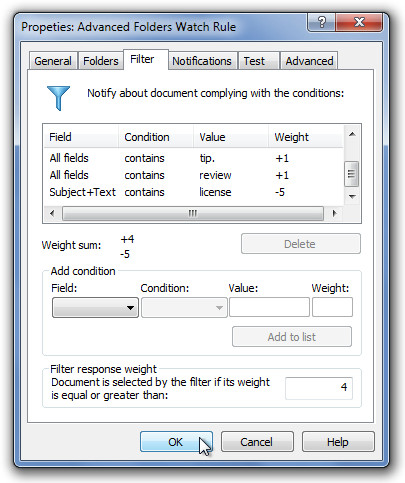 When it finds any new and important message or email filtered through defined conditions, a notification will pop up on the screen, letting you open emails directly without having to find them from mailbox folders. You can also see notification list from Advance Folders Watch section present under Add-ins tab.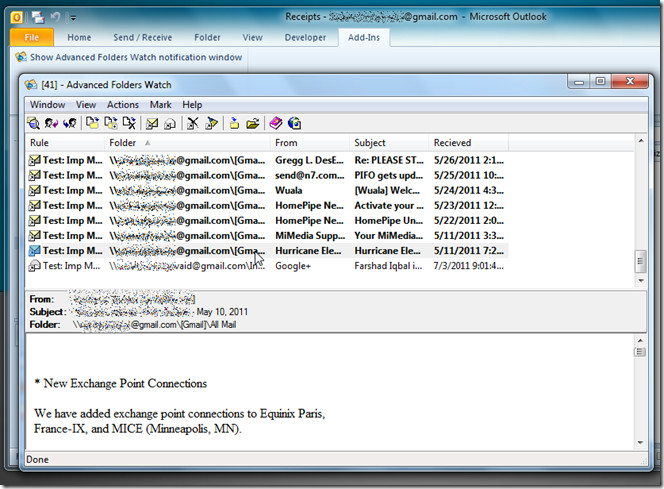 After going through all the notifications, make sure to click clear notifications from toolbar to avoid getting same notifications for multiple times. The toolbar lets you open selected document, compose a quick reply, forward selected message and email, move selected item to folder, switch to folder of document, and remove selected notification. Advance Folders Watch provides the most convenient yet powerful way to sort daily emails according to defined conditions. It works on Outlook 2003, Outlook 2007, and Outlook 2010.
Download Advance Folders Watch