Perform Sector-by-Sector Disk Cloning With HDD Raw Copy Tool
Disk cloning tools are designed to transfer huge volume of data from one disk to another. You can however manually copy drive's data to other drive but disk cloning tools ensure that data will not be lost during the transfer process. HDD Raw Copy Tool, unlike other tools which use Windows Volume Shadow Copy technology to clone disks, implements low-level sector-by-sector disk duplication of disk to assure that all the data on the disk will be transferred to defined location. In addition to applying robust copy mechanism, it supports a wide range of local and removable storage mediums, including, SATA, SCSI, SAS, USB, FIREWIRE, LBA-48, Flash Cards, SD/MMC, pen drives, SmartMedia, etc., while having the ability clone SSD drives manufactured by Intel, IBM, Quantum, Western Digital, Maxtor, Hitachi, and Kingston.
Apart from creating Raw copy of disk, it can write compressed image of the entire media, including the service data (MBR along with other Boot Records) as well. HDD Raw Copy Tool could be used where you are trying to recover lost data from the disk; creating an exact copy through it and then recover data from copied version may help you recover more data while original disk will remain untouched. On main screen, choose the source disk which you want to clone followed by target disk drive.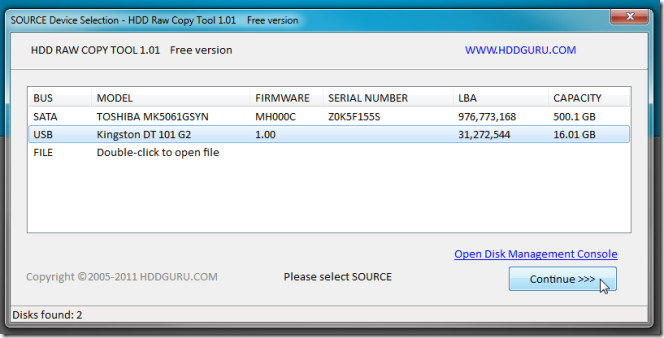 Disk Management Console link on main interface is given for the distribution of data and logical drives on disks. Click Start button to begin sector-by-sector disk copying process.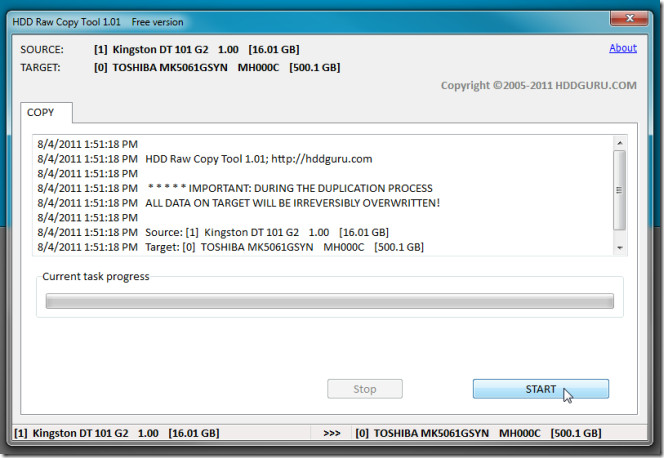 HDD Raw Copy Tool works on client and server editions of Windows OS. Both 32-bit and 64-bit Windows OS editions are supported.