How To Give Ubuntu The Mac Look [Guide]
A while back, we showed you how to make Ubuntu look like Windows 7. Lately, we decided to provide our readers with a similar procedure to bring Mac like UI to Ubuntu. While transformation of Ubuntu user interface into Windows 7   requires a tiring procedure to follow, Mac look can be achieved in merely a few easy steps.
To get started, download the Mac OS X Aqua Theme (download link is given at the end of the post). To apply this theme, right-click on your Ubuntu desktop and select Change Desktop Background, go to the Themes tab and drag the Mac OS X Aqua theme archive over to Appearance Preferences. This will prompt you that Gnome Theme has been correctly installed. Since this is a native Gnome theme, you can revert back the changes anytime by selecting a different theme from Change Desktop Backgrounds –> Theme.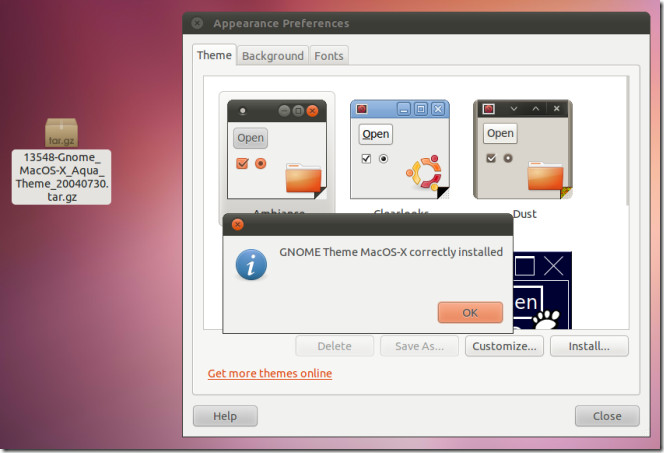 Now, get the Aurora wallpaper from here and replace it with your current desktop background (from Backgrounds tab). Once done, install Cairo Dock. The procedure to install it can be found in this post. This will give your Ubuntu desktop the Mac look.
Summary
1. Installation of Mac OS X Aqua Theme, which changes the look of the Ubuntu Windows, cursor, buttons, etc.
2. Change of the Desktop Wallpaper.
3. Install Cairo Dock to bring dock to Ubuntu. Obviously, you can also use some other dock application such as DockbarX or Avant Window Navigator.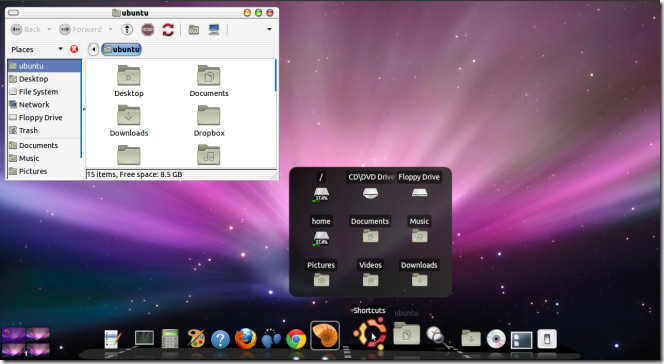 You can experiment with this theme and add or remove items to suite your needs. For example, you can use the Unity launcher with Cairo Dock or align Cairo Dock on the left to replace it with the Unity Launcher.