StandAlone Gadgets Pack Brings Stylish Gadgets To Windows 7 Desktop
Windows gadgets provides an interesting way of keeping an eye on important updates and system tasks such as news, weather, time, RSS feeds, battery power, CPU utilization, etc and/or launching applications. Other than the Windows 7 default gadgets, people like using third-party gadgets as well. But what about a complete gadgets pack? StandAlone Gadgets Pack is a Windows 7 gadget pack with a large number of stylish and useful widgets for your desktop. The available gadgets provide weather updates, network bandwidth usage stats, Gmail mail count, battery power, folder shortcuts, Google News updates, date/time display and system resource usage details.
While this gadgets pack is quite attractive and worth installing, however, there is one factor which users may find distasteful. The gadget pack setup is ad-supported. When you launch the setup file, you will be prompted to click Ad to activate the product. Once the product is activated, a folder will appear on your desktop containing the installation file. Just launch this file and follow the simple wizard to install the gadgets pack.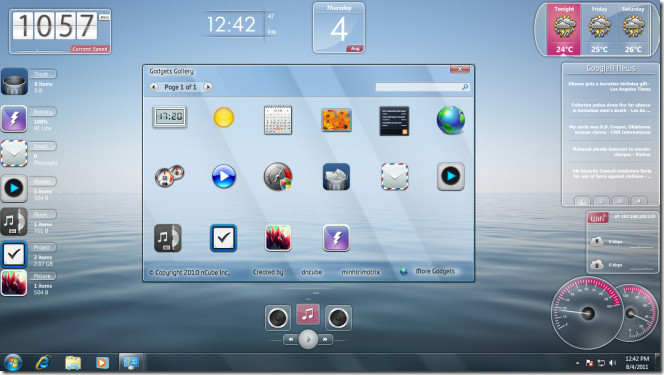 You can close an individual gadget or exit the entire gadget pack via right-click context menu. To bring back the gadget or gadget pack again, you can launch the StandAlone Gadgets Pack from desktop shortcut.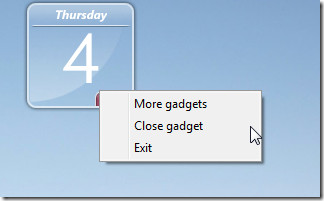 By default, some gadgets are displayed on the side of the screen while a window remains open on the screen with extra gadgets. You can close this gadget window to give your desktop a more cleaner look. Gadgets at  left side provide shortcuts to Windows library (Pictures, Music, Videos and Documents),  while others provide Gmail mail count, information about system battery,  bandwidth, time/date, weather, Google News and system resources. The bottom gadget allows playing audio files; simply click musical-note imaged icon and select a file to play.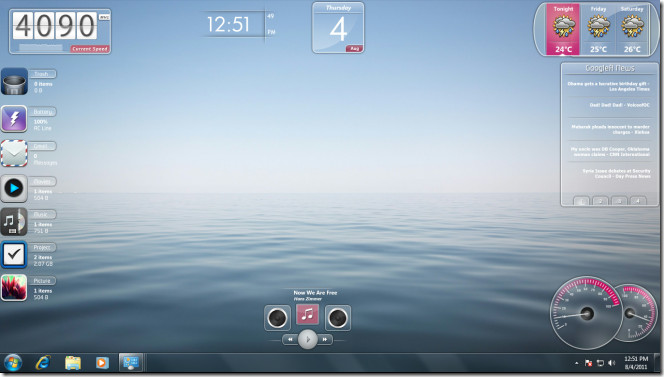 StandAlone Gadgets Pack works on Windows XP, Windows Vista and Windows 7.
Download StandAlone Gadgets Pack