Automatically Remove Duplicate Contacts From Outlook 2010 Folders [Add-in]
Although Outlook 2010 allows users to import contacts from numerous email services, it doesn't provide an option to automatically detect and remove duplicate entries. For this reason, if you've imported contacts from multiple accounts, then you must've been dealing with a lot of duplicate contact entries. Since it's practically quite tedious to select each duplicate entry, and then delete it from Outlook Address Book, we recommend using Remove Duplicate Contacts for this very purpose. It's small add-in for MS Outlook that automates the process of deleting duplicate contacts from specified Outlook native and configured email accounts' folders. Additionally, it provides a one-click duplicate contact cleaning option to quickly remove the duplicates in one go.
Before you install the plugin, make sure that Outlook is not running in the background. Once installed, you will find a new tab on the ribbon called OutlookFreeware.com. Navigate to this tab, and hit Remove Duplicate Contacts.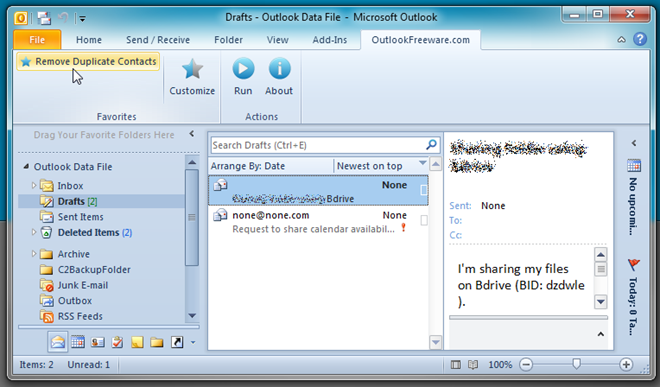 It will ask you to configure the plugin, i.e choose the folders from where you wish to remove duplicate contacts. Just click Configure and select the folders. Once done, click OK.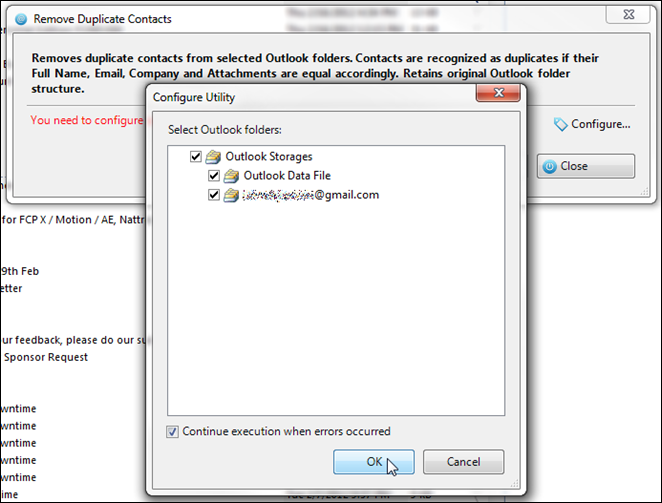 In Remove Duplicate Contacts dialog, enable Search duplicates across folders option. If you want to permanently remove the contacts without sending deleted contacts to Deleted Items, then enable Delete duplicates permanently option. Once done, click Run. You can also save the settings and selected folder list to perform the duplicate removal operation without having to select the contact folders.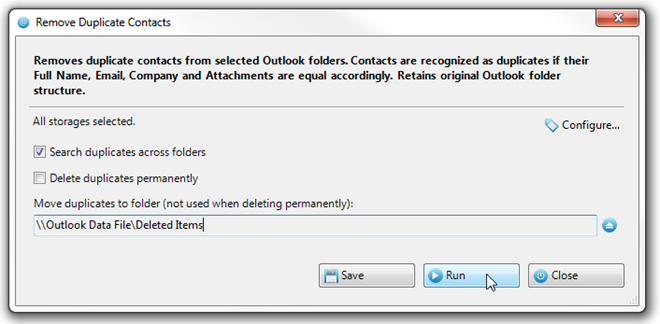 Clicking Run starts removing duplicates contacts, and then shows the total number of duplicates removed or sent to Deleted Items folders.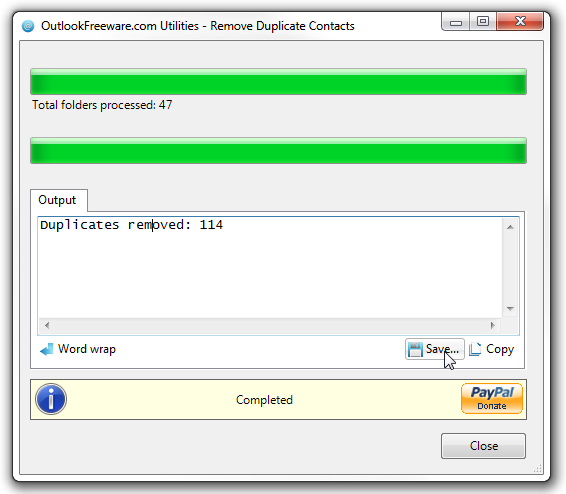 If you didn't check Delete Duplicates Permanently option, open Deleted Items folder to check the duplicate contact entries it removed during the process.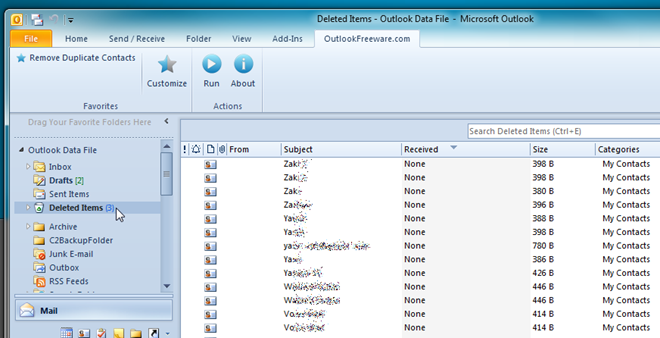 Remove Duplicate Contacts is a great little extension for Outlook to automatically remove duplicate contacts. However, if it fails to detect all duplicate contacts, you can use previously covered AODR to remove contacts and other items from Outlook folders.
The addin works on Outlook 2007 and Outlook 2010. It requires OutlookFreeware Runtime to work.
Download Remove Duplicate Contacts