ContactSync: Sync Specific Outlook Contacts Groups With Network Users
Want to share specific Outlook Contacts group across the network users, but don't want the fuss of having to manually pick and send contact cards from Address Book and send them to connected users? Meet ContactSync, an ingeniously simple, yet powerful Outlook 2010 add-on that lets you effortlessly share a specific contact group with anyone connected to your network. It is basically developed to let users easily share their business contacts with their co-workers and keep their shared contact groups synced all the time. It allows you to change the shared contact group, add, remove and edit contacts and replace the currently synced shared contact category with any contact group of your choice. In addition, ContactSync implements duplicate conflict resolution technique for de-duplication of shared contacts. When you share a contact, it immediately looks for contact with similar name and email address to prevent saving duplicate entries in shared contact group. It also uses FileAs and Email fields identify the same contact. Read past the jump for details.
If you're using MS Exchange account, and have already created a Public Folder, then open Outlook and create a new Contact folder in shared folder hierarchy in order to share it with your colleagues on the network. This add-on requires you to specify the shared contact folder to automatically sync the contacts from defined contact category. For instance, you can choose to sync Work Contacts category with shared contact folder, so that your co-workers can instantly access the updated version of Work Contacts list.
Once the add on is installed, you can launch it as a standalone application from desktop. The main interface provides some basic options to connect to Outlook and select contacts to share. To begin, specify the Outlook Profile, followed by Sync Slot and Contact category that you wish to share. Once done, you need to specify the contacts folders, which are to be synced. Here, first select the main contact folder and then select the public contact folder in order to sync the specified contact category.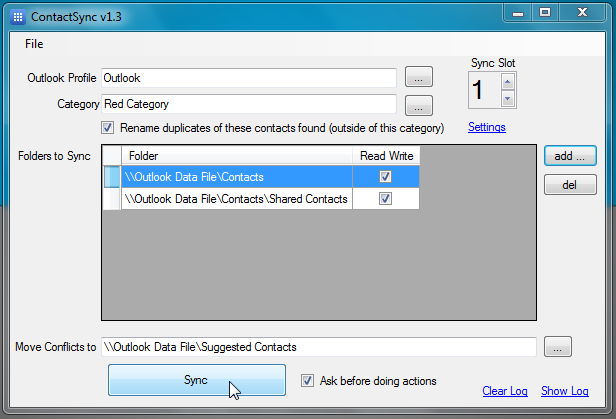 Contact Sync allows you to schedule contact sync process. By default, it syncs contacts after every 30 minutes, but you can change the sync time interval from settings. Additionally, you can choose to enter an email address to directly send sync log. This feature may come useful in situations where you need to check the contact sync processes from remote locations.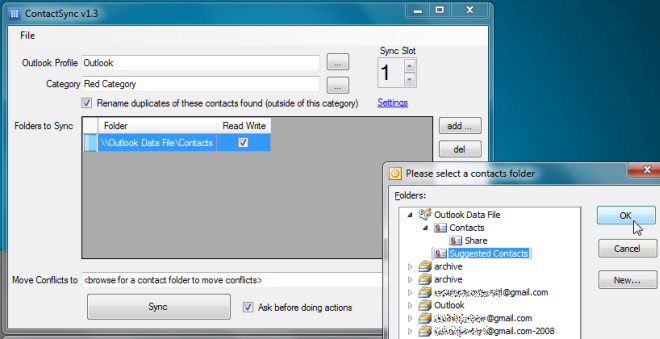 After specifying the contacts folders, specify the location where the duplicate contacts or contacts with conflicts are to be moved. Once all settings are in place, click Sync to synchronize specified contacts category with public folder. It generates a detailed log file every time it syncs contacts with defined folder(s), and if send email option is enabled in Settings, it automatically sends the log file to specified recipient.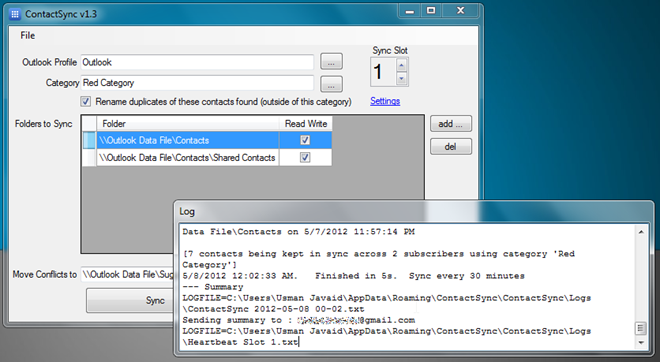 It's worth mentioning here that It also works with standard Outlook version (without Exchange server configuration), and can sync defined contacts category with any contact folder. The free version supports syncing only 30 contacts with 3 network users, however, you can purchase Workgroup version (costs $249) or Corporate version (costs $999) to increase the number of users as well as, number of synced contacts. It supports Outlook 2003, Outlook 2007 and Outlook 2010.