Create Emails & Manage Replies In Access 2010
Access 2010 enables user to create data entry form for distributing it over the web. In this way you can populate the database by sending data to diverse groups of people, eventually encompass different thoughts. Through Create Email, you can collect data from other people by sending them a form in an email message, for storing data you can use Manage Replies which enables users to append the data in the selected table of the DB. This post elaborates how to create an email with Access 2010, and how to manage replies.
Launch Access 2010, and open table which you want to send with an email in shape of web form.
For instance, we have included table AddictiveTips containing columns such as; ID, Student Name, Address, Phone No.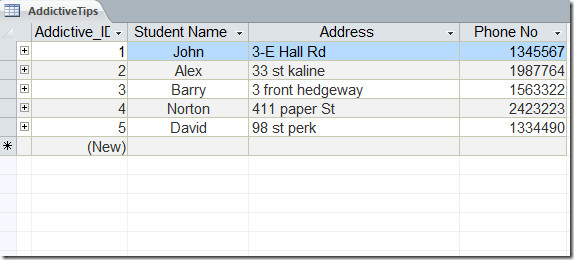 Now navigate to External Data tab, and click Create E-mail.

You will reach Collect data through e-mail messages dialog, As sending email through Access 2010 is quite different from other traditional ways of sending email, because it sends data entry form, and populates the database by collecting data from other persons. So go through the instructions very carefully and click Next.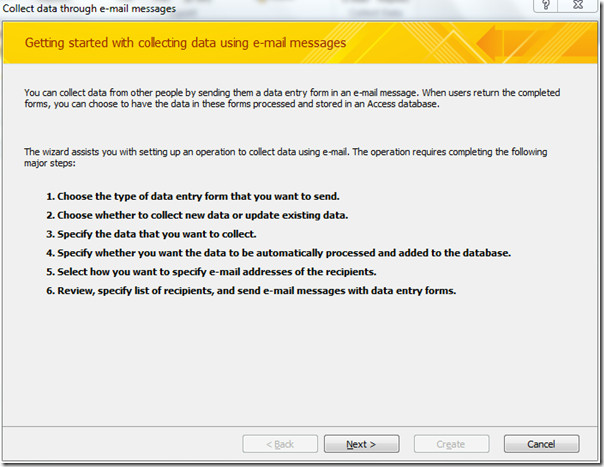 In this step, we will select HTML form because almost all the e-mail applications support HTML format, you can also choose Microsoft InfoPath form but for this you need to have MS InfoPath installed on your computer. Click Next.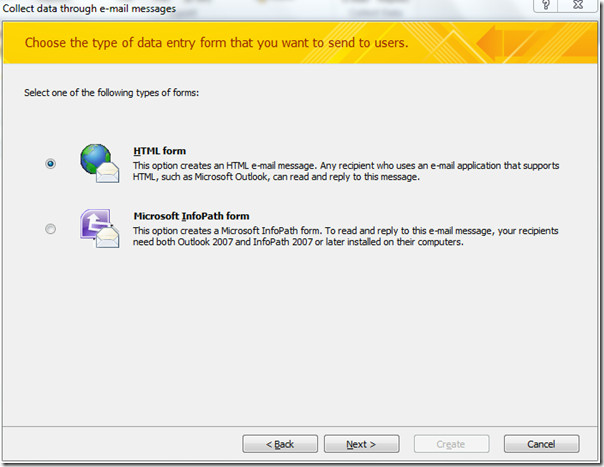 Here you can choose to create email message, either to collect new info only or to append existing table. We will select Collect new information only option, which lets recipients to fill out blank form, in this case data will be appended to the selected DB table (AddictiveTips). You can also choose Update existing information option, this will update the existing info, but we reckon not to choose this option if email of recipients are not in DB.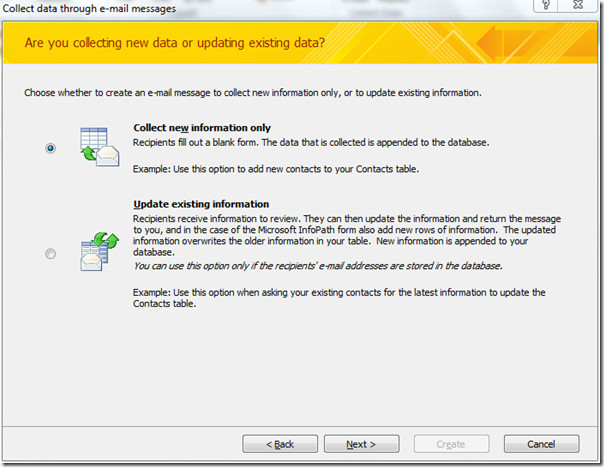 Now choose the fields of the table you want to include in the data entry form. Under Fields in table select desired fields and click add > button to include them. Click Next to proceed further.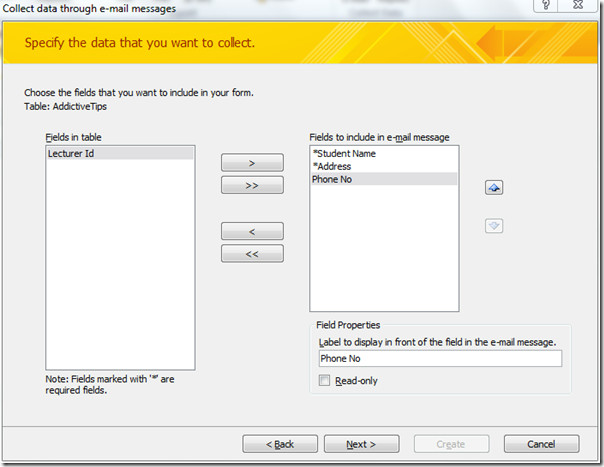 In this step, we have moved on to handling the replies. Enable Automatically process the replies and add data to selected table (AddictiveTips) option. In Outlook, the replies are save in Access Data Collection Replies by default.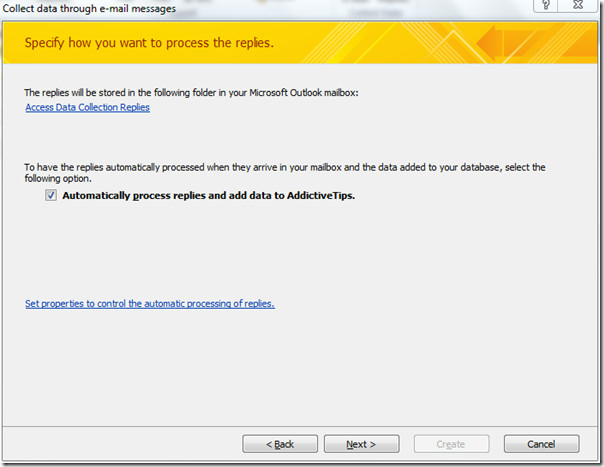 In this step, we will select Enter the e-mail addresses in Microsoft Outlook. you can also select the other option if the table include the recipient's e-mail addresses. Click Next to continue.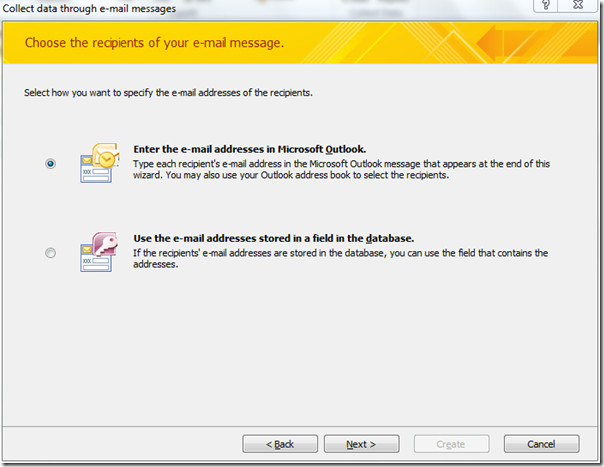 Here you can edit the Subject of the email that will be sent to the recipients and you can also add Introduction, to describe the data entry form.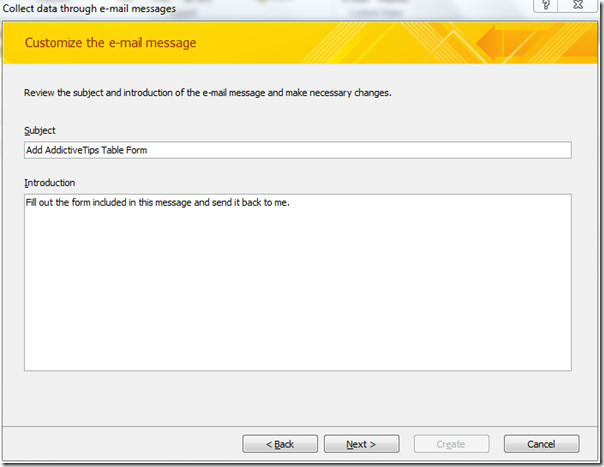 In the last step of the wizard, go through the instruction to manage replies. Click Create to create data entry form as specified.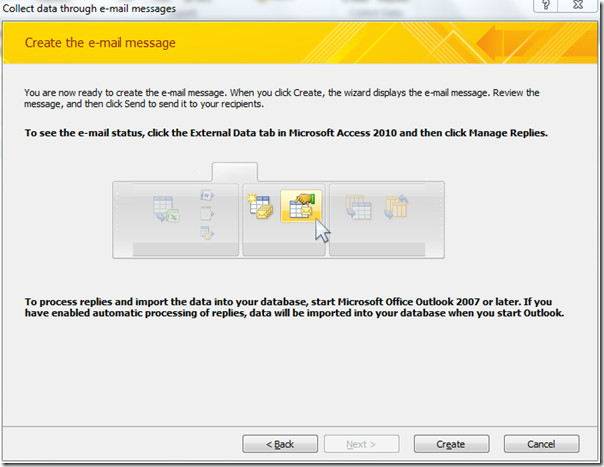 Outlook mail window will show up immediately,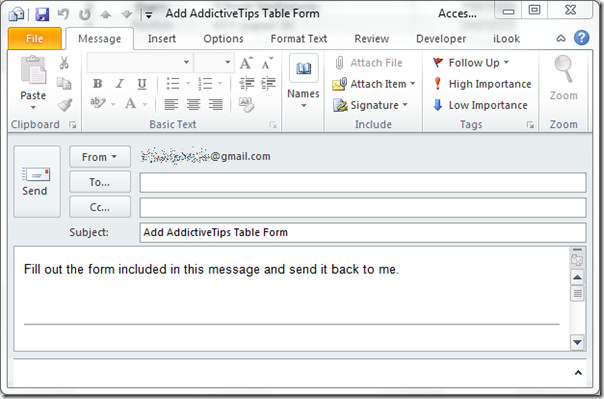 Enter the recipients email addresses. The data entry form can be seen in the screenshot below. Click Send to send the email with data entry form.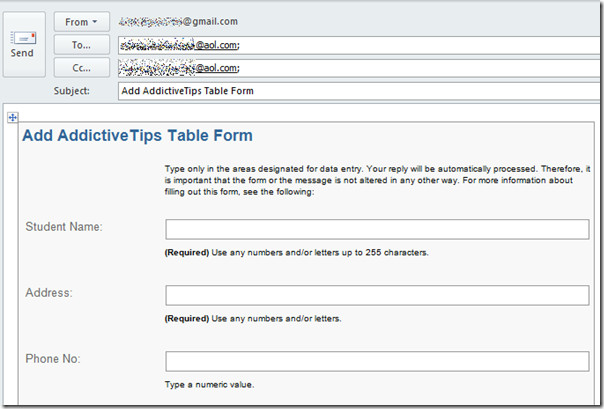 As you can see the AOL mail window in the screenshot below, we will add the Student Name, Address, and Phone No entries and reply the mail.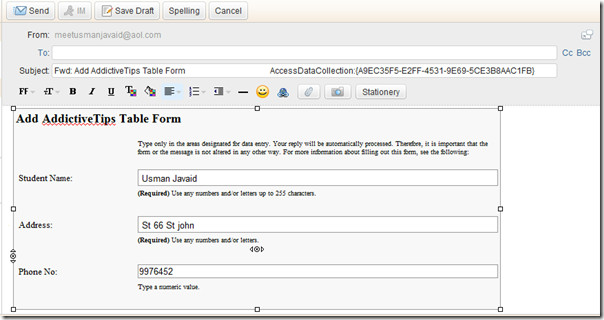 Open the Outlook account to check the email, if some recipients reply with data entry form filled, as we have received one reply as shown in the screenshot below.

On opening the table in Access 2010, you will notice that form entries are automatically appended in the selected table.

You can also check out our previously reviewed guides on How to import XML file in Access & Export database to PDF document