Create Outlook Email Reports And Extract Sender Email Addresses With Topalt Report
Scanning all the Outlook folders manually to create a list of unknown / unique senders and recipients is rather time consuming. So, if you want to know how many emails have you received since you first configure Outlook on your PC and looking for a simple way to extract a list of all the senders who sent you emails or had conversations with, try Topalt Report. It is a simple add-in for Outlook which provides such information in addition to generating reports of total bandwidth used and number of emails received over specified amount of time, and counting emails received from unique senders and total number of unique recipients. The application is developed to generate overall email evaluation report by considering different elements of Outlook, so you can quickly identify those senders and recipients who have been most active in conversations since defined time. The time specific options lets you quickly know the one-way and two-way email traffic rate. Additionally, you can generate reports by hour, week, month or by year and apply data filters to narrow down the search results.
After installing the Topalt Report, you need to launch Outlook and wait for Send/Receive process to complete. Once done, launch the app and follow simple on-screen instructions to follow the wizard steps.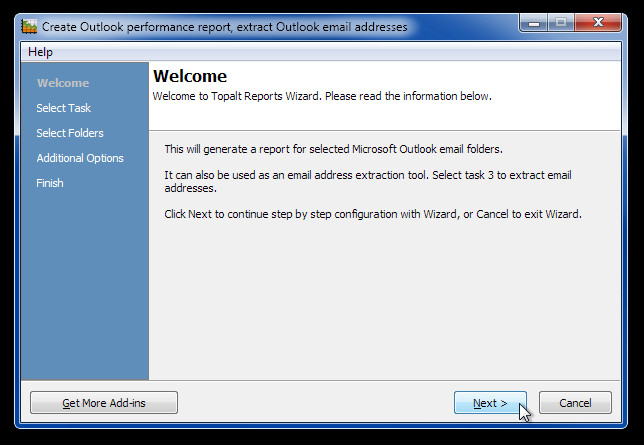 The second step is important. Here, you need to specify the type of report you would like to review. All the aforementioned report types are listed here. Select one and click Next to proceed further.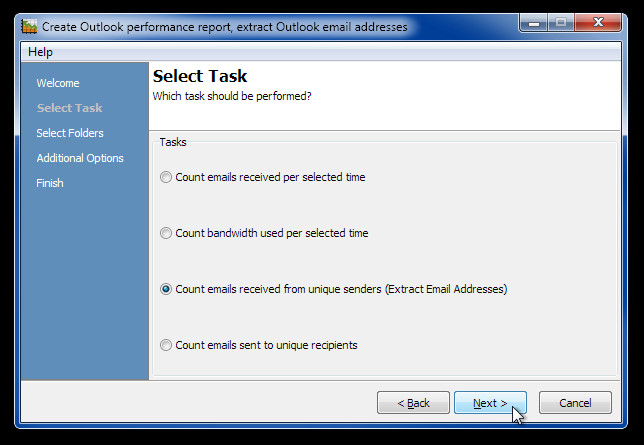 In third step, choose the email folders which are to be scanned and click Next to specify date range and count type (by Day/Week/Month) for counting the number of emails in order to generate specified type of report.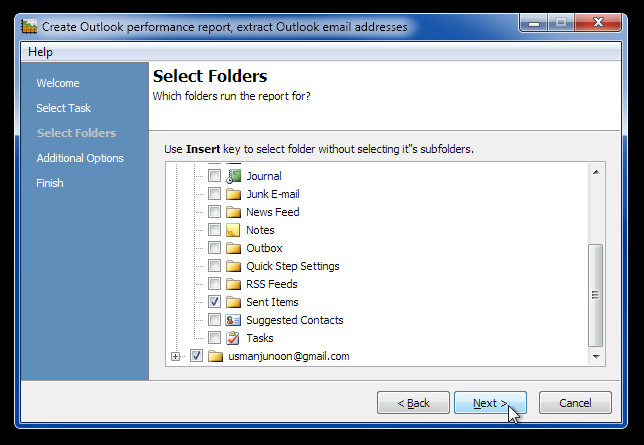 The last step shows all the data it collected during the scan process with an option to export the list in Excel supported CSV format.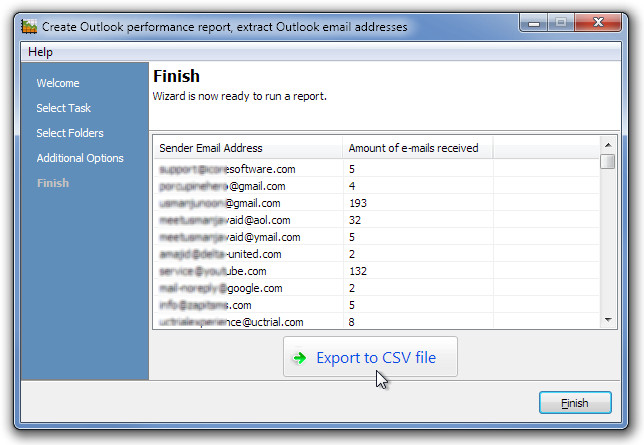 It works with Outlook 2000, 2003, Outlook 2007, and Outlook 2010