Enhance Excel Chart Designs & Perform Advanced Data Analysis With XL Toolbox
If you're a power user of Microsoft spreadsheet program – Excel, you might need some additional advance tools to manage and analyze your data flow, charts, formulas, and other different elements of workbook. XL Toolbox is an open source Excel addin which adds many tools and options to improve data analysis, flow, and data presentation. Apart from complementing Excel 2010's two important elements – Charts and Formulas, it empowers you by giving control over error bars, chart designs, and formula builder, while novel features to analyze variance (ANOVA), transposing columns / rows, and many other workbook management related features are also available. XL Toolbox also features a backup plan to help you save important workbooks immediately to prevent any sort of data loss. You can create backups at scheduled intervals, specify how many workbooks files will have to be regularly backed up, and change the backup plan anytime.
All the tools included in XL Toolbox are divided into three major sections which are General, Data Tools, and Chart. To begin, launch Excel and head over to newly added XL Toolbox tab.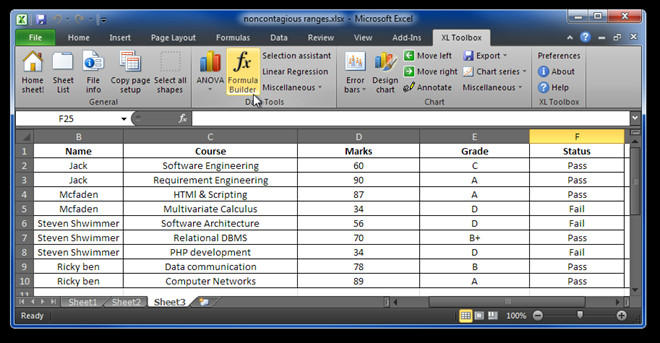 From General section, you can quickly bring up all the current Excel file basic info, view sheets list, and copy current page setup elements, such as, Header, Footer, Page Size, Orientation, Margins, etc., in order to apply same pattern on any other worksheet.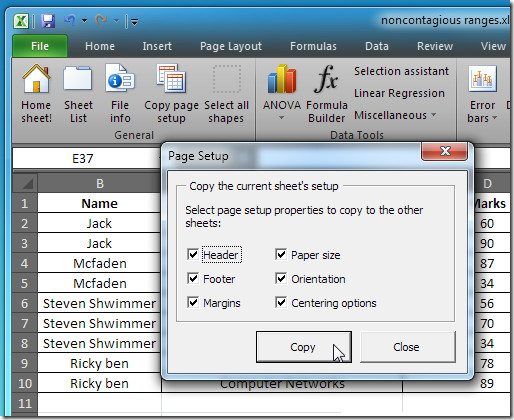 All the advanced data related tools and options are bundled in Data Tools section. Here, you can insert values to perform one-way and two-way analysis of variance, bring up Formula Builder to create one complex formula / function, evaluate Linear Regression and Co-relation, and open Transpose wizard.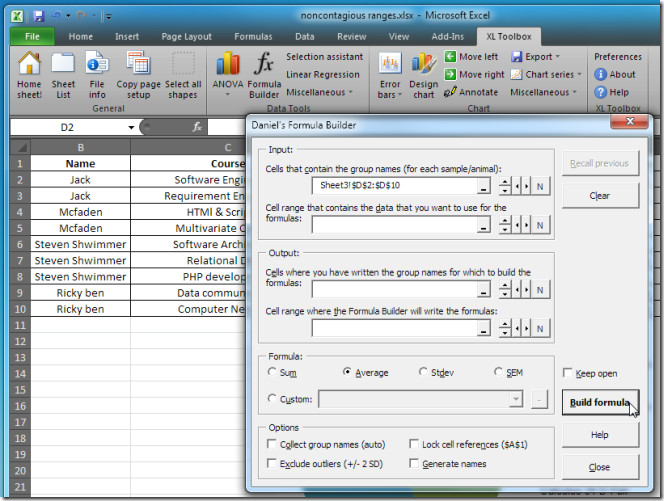 XL Toolbox offers a slew of tools to create, design and tweak with charts. The Chart Designer has options to customize the chart in any form. You can hide/unhide chart labels, change gridlines, adjust lines and width, and choose chart type from a list of Bars and Columns charts. Furthermore, you can save the settings of customized chart and load them anytime to quickly apply them over any new chart. Along with options to design customized chart, you have options to move between chart data, annotate chart, export saved chart and so on.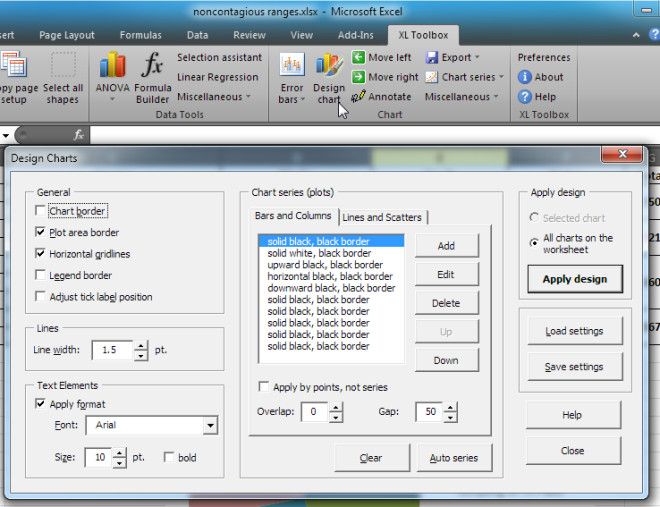 You will find full details on every provided feature on author's product page. It works on Excel 2003, Excel 2007, and Excel 2010.