Export Outlook Data In CSV Format [Outlook Backup]
As far as build-in Outlook 2010 export feature is concerned, it severely lacks data migration in bulk. Considering this downside, Code Two Outlook Export is a small yet powerful add-in which lets you easily export Contact list, Email information (dispersed in columns), Calendars' items, Notes, etc, in CSV (Comma Separated Values) format. Furthermore, it can exports all the data spread in different fields. To foster that, you can specify as many export fields as you want from pre-defined list and can create a customized field for holding required information.
After the add-in is installed, you'll find it under Home tab of all Outlook elements' windows; Contacts, Mail, Calendar, Tasks, Notes, etc. To export the data, select the Outlook element (folder) from main navigation bar, head over to Home tab, and under Outlook Export group, click Export.
Now specify the location where you want to export the data. From Export drop-down list, you can either select all the items in current folder or only selected items to be exported. You also have an option of adding/deleting export fields, which will be exported to CSV file. Click Add button to add a new column for holding information such as; Email address, Subject, Contact name, Business address, Body HTML, etc. Once all settings are in place, click Export button present at the lower part of the window to export the data at specified location.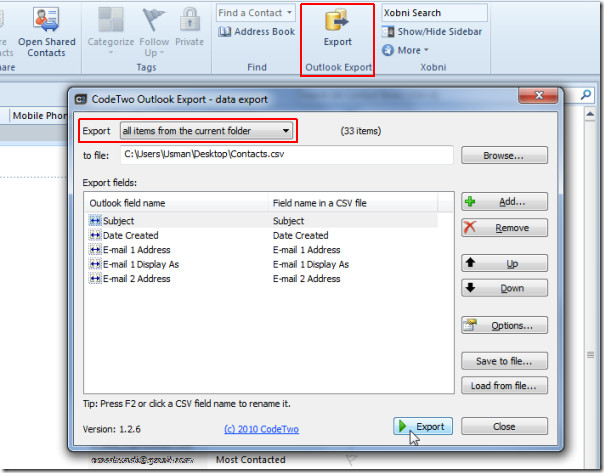 As it exports data in CSV format, you might want to change the settings for delimiters to be used. Click Options to configure different settings for; Delimiters, Field separator, and Text Qualifiers, etc.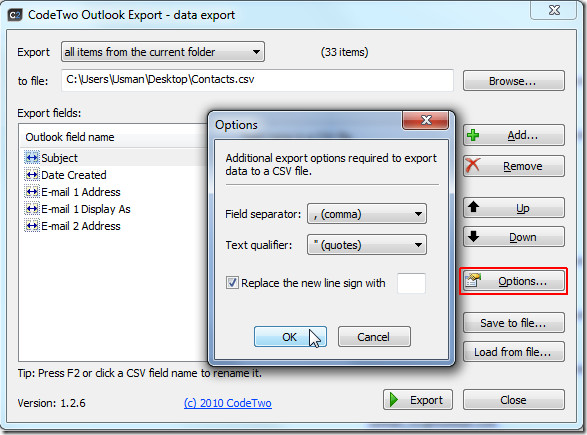 We consider it as a must-have tool for those who exports Outlook data frequently. Comparing with the standard Outlook build-in export feature, it can hold way more data and export in widely used CSV format which can be easily edited using MS Excel or other freeware tools available.
It runs on Outlook 2007 & Outlook 2010 (both 32 & 64 bit versions are supported). We have tested it in Outlook 2010 running on Windows 7 32-bit.
Download Code Two Outlook Export
For more, you can also check out previously reviewed Outlook Data Export Add-in.