How To Insert Signature Line In Word 2010
Rather than creating signature line yourself, Word 2010 offers a simple and direct way to insert signature line in the document. Besides that, it offers a wide range of options which you can change according to your needs while customizing the signature line content and other relevant signer instruction.
To insert the signature line, place the insert cursor where you need to insert & navigate to Insert tab, under Text group, click Signature Line.

A message will pop-up, click OK to add signature details. It lets you change the instruction to signer while offering you to add suggested signer's title.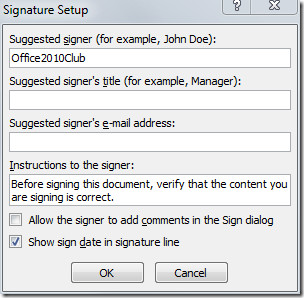 Once done, click OK to see signature line.