Insert Comments in Word 2010 Document
Word 2010 features a handy commenting system which allows user to comment on any part of document. You can comment out any word, phrase or sentence or paragraph for which you want to add description.
For inserting comments in document, select the text and head over to Review tab, and click New Comment.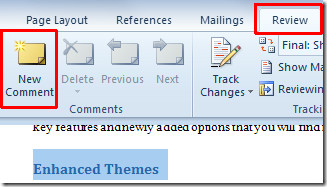 It will insert a comment box at the right side, now start adding description. Once done, click outside the comment box to attach comment with it.